So, I have good news and I have bad news.
The bad news is that I made these pretzel nuggets to use as part of another recipe that was going to blow all of our minds. Like, unbelievable recipe idea, you guys. But, I couldn't complete the recipe, because my daughter ate every single one of these pretzel nuggets right off of the baking sheet as they came out of the oven. Every. Single. One.

The good news is that I made pretzel nuggets that were so good they were more or less inhaled in about 3 minutes flat.
I'm waiting to make these again when my daughter is not around so that I can complete the other recipe. I just don't trust her around pretzel nuggets anymore. She's got this hungry look in her eyes and I just know she's waiting for me to pull another pan of pretzel nuggets from the oven.
Anyway, if you've ever been to a shopping mall, you know that Auntie Anne's makes some delicious pretzels and probably those mall pretzels are your favorite part about shopping trips. Now you can make them at home, easily, with about 30 minutes of hands on time.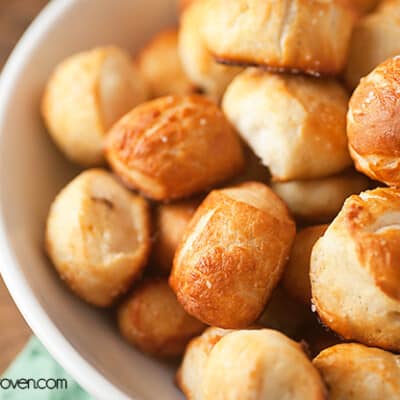 Pretzel Nuggets
Make these at home instead of heading to the food court. You won't regret it!
Prep40 minutes
Cook10 minutes
Rise Time1 hour 15 minutes
Total2 hours 5 minutes
Ingredients
2 1/4 teaspoons active dry yeast
2 tablespoons brown sugar
1 1/2 cups warm water about 110 degrees
3 cups all-purpose flour
1 cup bread flour may use all-purpose
1 teaspoon salt
2 cups hot water
2 tablespoons baking soda
2 tablespoons butter melted
Kosher salt for sprinkling
Instructions
In the bowl of a stand mixer fitted with the paddle attachment, add the yeast, sugar, and warm water. Let sit for 10 minutes.

Stir in both flours and the salt. Mix on medium speed, about 8 minutes, or until dough is soft, smooth, and elastic.

Transfer dough to an oiled bowl and let rise until doubled in a warm place free of drafts, about 1 hour.

Add the hot water and baking soda to a medium bowl and stir to dissolve the baking soda.

Grab a handful of dough and roll it into a long, thin snake, about 1/2 inch thick. Cut into 1-inch pieces.

Dunk each piece in the baking soda solution using a slotted spoon. Transfer to a paper towel lined plate to dry for about 30 seconds. Remove to a well greased baking sheet. When the baking sheet is full, set aside to rise for 15 more minutes.

Continue filling baking sheets with pretzel nuggets and bake, one sheet at a time, in a 400 degree oven for 10 minutes or until golden brown.

Brush with the melted butter and sprinkle with salt.

Serve with warm cream cheese, queso dip, or your favorite sauce for dipping.
Nutrition Information:
Calories: 60kcal (3%)| Carbohydrates: 11g (4%)| Protein: 1g (2%)| Cholesterol: 1mg| Sodium: 254mg (11%)| Potassium: 21mg (1%)| Vitamin A: 20IU| Calcium: 3mg| Iron: 0.5mg (3%)