Our JALAPENO CREAM CHEESE DIP is the ultimate football food – and it's ready in just 20 minutes from start to finish! Serve with crackers or chips and get ready to see this dip disappear!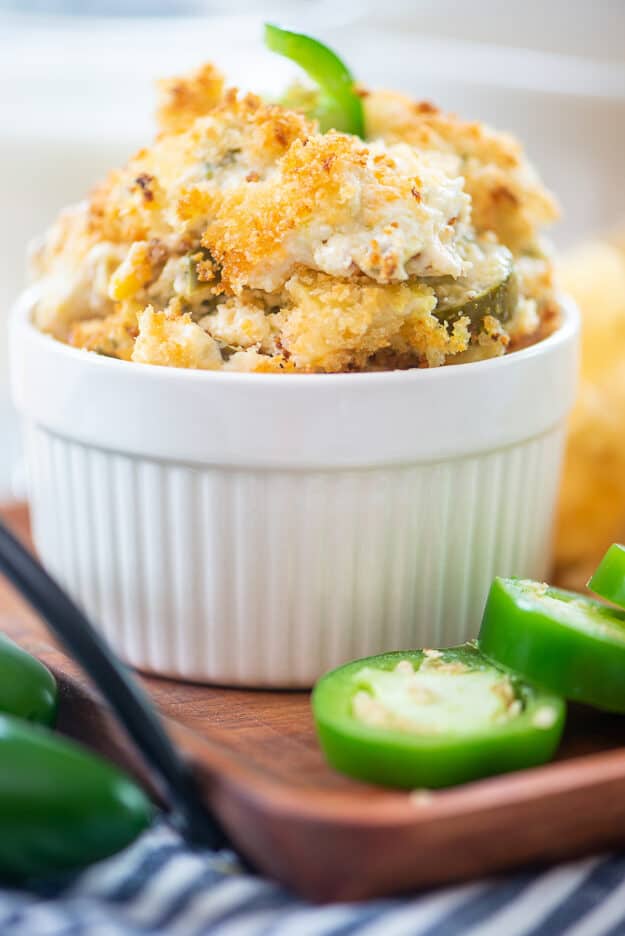 I've got football on the brain over here. No, I don't care about the teams or the game or any of that other completely interesting football stuff that the rest of the world cares about, I just care about the snacks.
I live all year long for football season so that I have a valid reason to eat chips and dip (hello keto buffalo chicken dip!) and Hawaiian ham and cheese sliders and grape jelly meatballs and buffalo chicken pizza at least every Sunday and sometimes Mondays and Thursdays.
This Jalapeno Popper dip is the perfect football food. It's creamy, cheesy, spicy, and a huge hit with both the football fans and the people that are just there for the food.
Jalapeno Popper Dip Ingredients:
This post contains affiliate links. As an Amazon associate and member of other qualifying programs, I earn from qualifying purchases.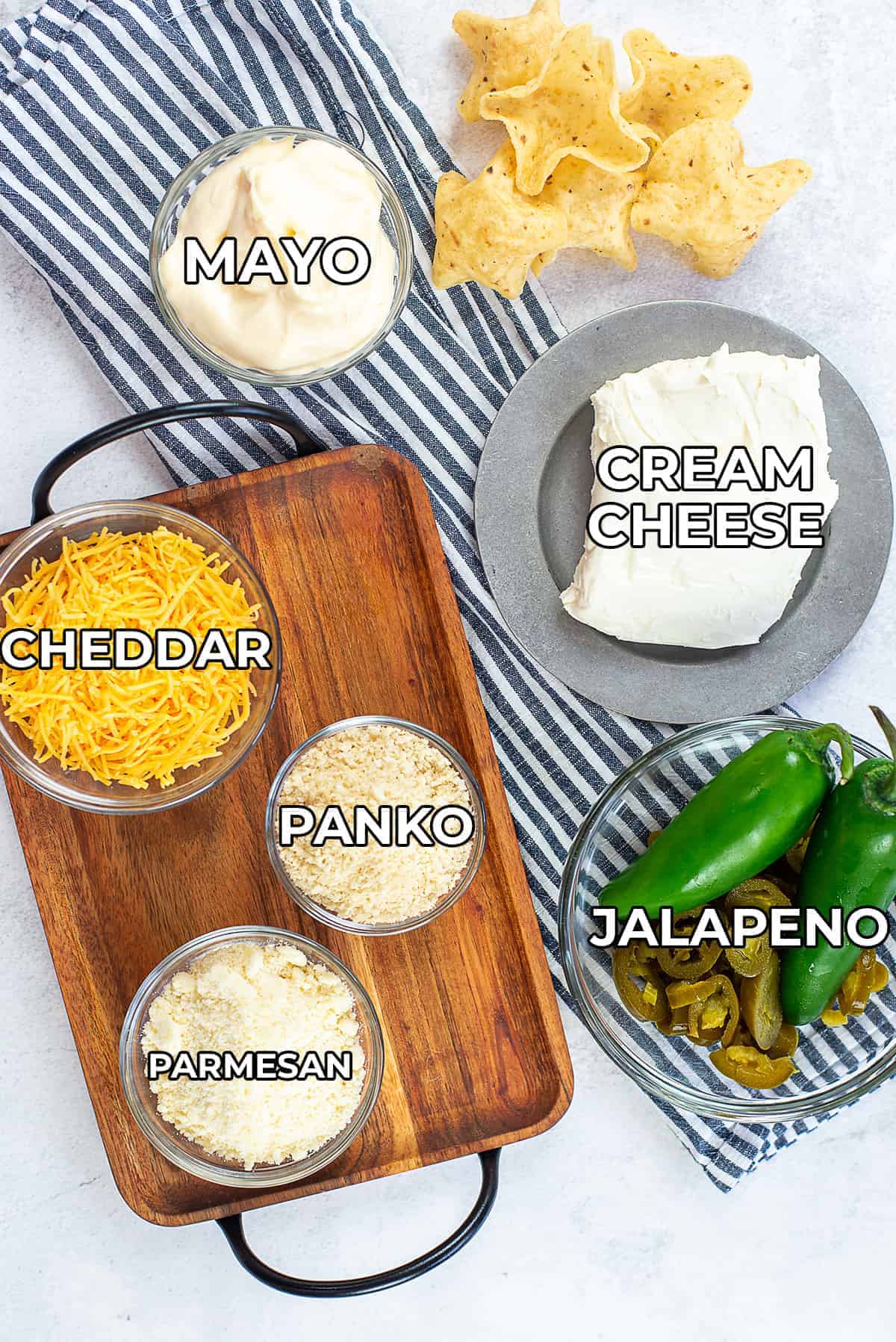 Cheese – Cream cheese, Cheddar cheese, and Parmesan cheese!
Mayonnaise – We don't think this dip tastes at all like mayo, but if you hate the stuff you can try subbing in sour cream.
Pickled Jalapenos – This is a great way to get the flavor of jalapenos without quite as much heat, which makes it a little more universally loved.
Fresh Jalapenos – You can adjust these to suit your heat preferences.
Panko – This gives the dip a crunchy topping.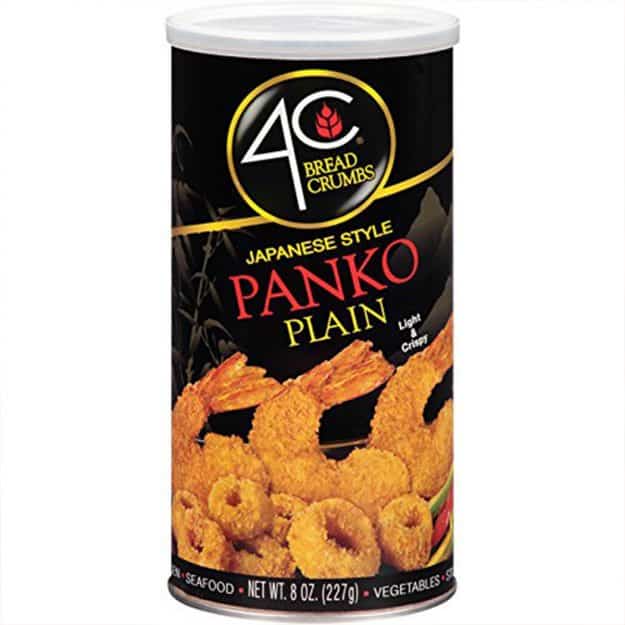 Panko is a Japanese bread crumb that is light, airy, and crispy. It can be found in most any grocery store. We highly recommend using Panko over traditional bread crumbs in any breading recipe where you want a crispy finished product.
What Readers are Saying!
"Just wanted to let you know that I made this dip yesterday for my family. Everyone loved it! The pickeled jalapenos were a little too hot for me, so I didn't use as much. Oh, and my husband put it in the oven before I had a chance to add the crunchy topping… I guess that's my excuse to make it again next weekend? ?" – Kelly
How To Make Jalapeno Cheese Dip:
Dice: To get started with this jalapeno cheese dip recipe you'll need to dice up the canned and fresh jalapenos.
To cut some of the heat, remove the seeds and membranes from the fresh jalapeno before dicing.
Mix: Add the diced peppers to a mixing bowl and then mix in the mayonnaise and the cheeses.
When they are well combined you can add the mixture to a baking dish and spread it out evenly.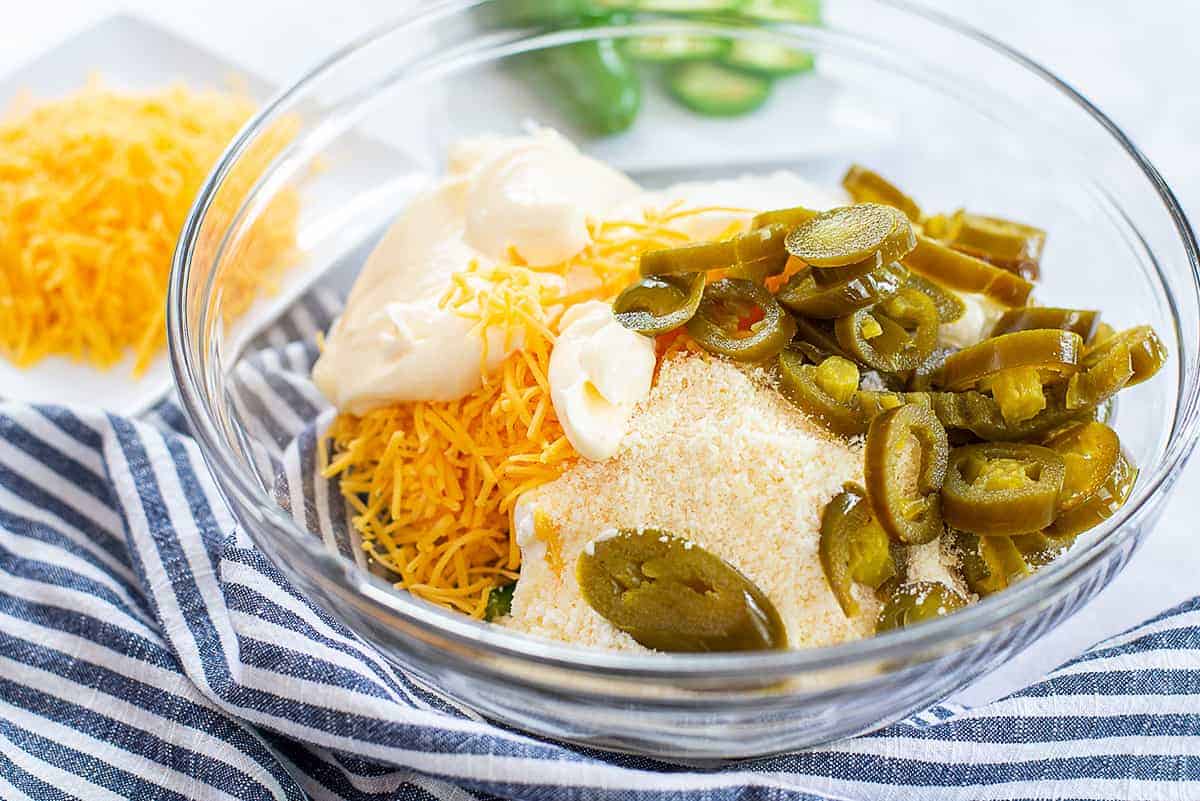 Top: We're going to take this jalapeno dip recipe to the next level by using an ingredient that makes just about anything taste better: Panko!
Mix together the Panko and some more Parmesan cheese together and generously spread it over the top of the dip. It'll make the perfect crispy topping for this game day dip recipe!
Helpful Tip!
Don't have any Panko?
Well that is sad, but if you don't have any Panko you can always use regular old bread crumbs or skip the crispy topping entirely.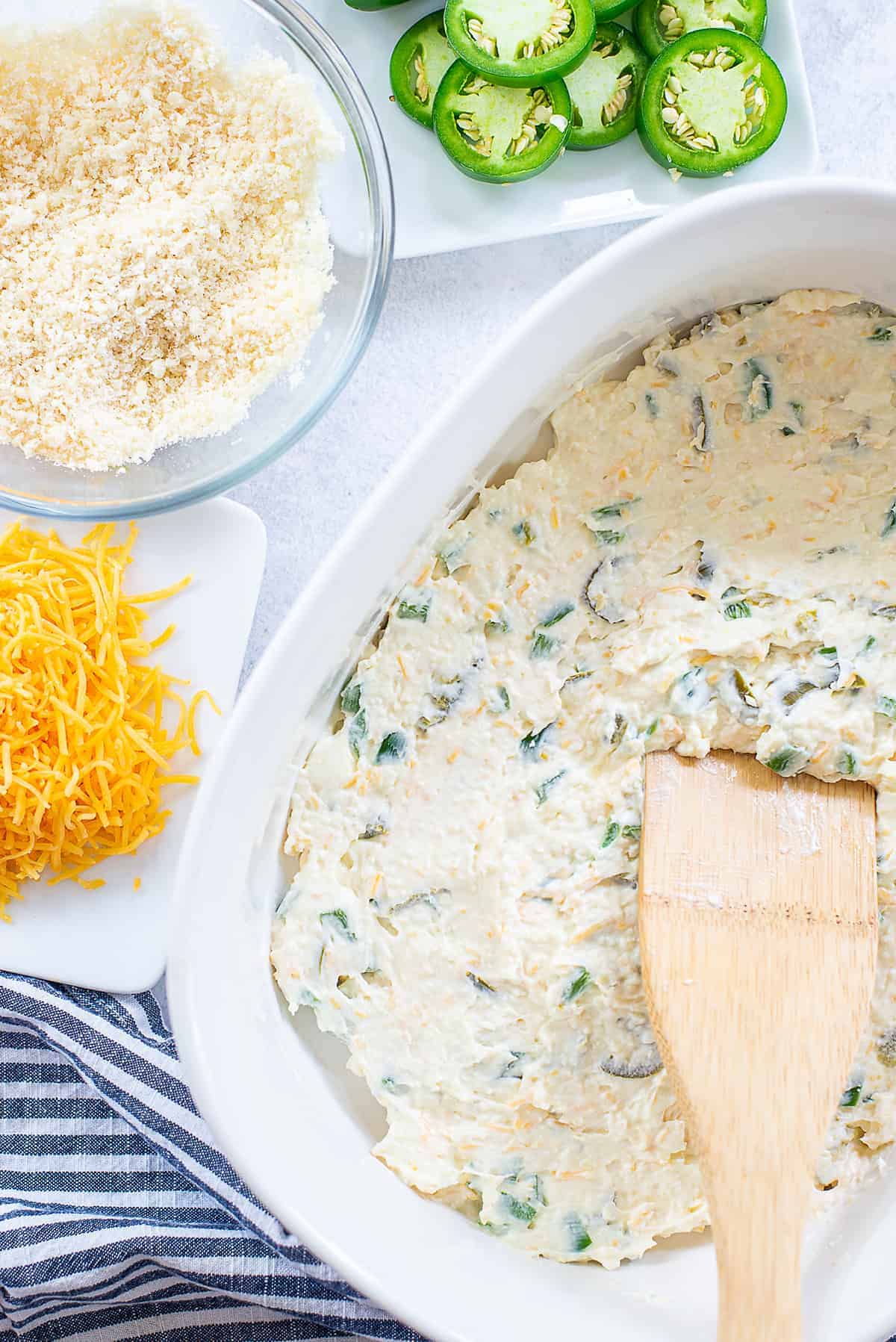 Bake: One last step before you can get down to snacking. Just pop the baking dish into the oven and let it bake for about fifteen minutes to get all hot and melty inside with a crispy golden topping.
Finally, you can serve with your favorite chips! If you want to get fancy, try out these homemade Air Fryer Tortilla Chips. Your guests will really appreciate you going the extra mile with homemade chips and dip!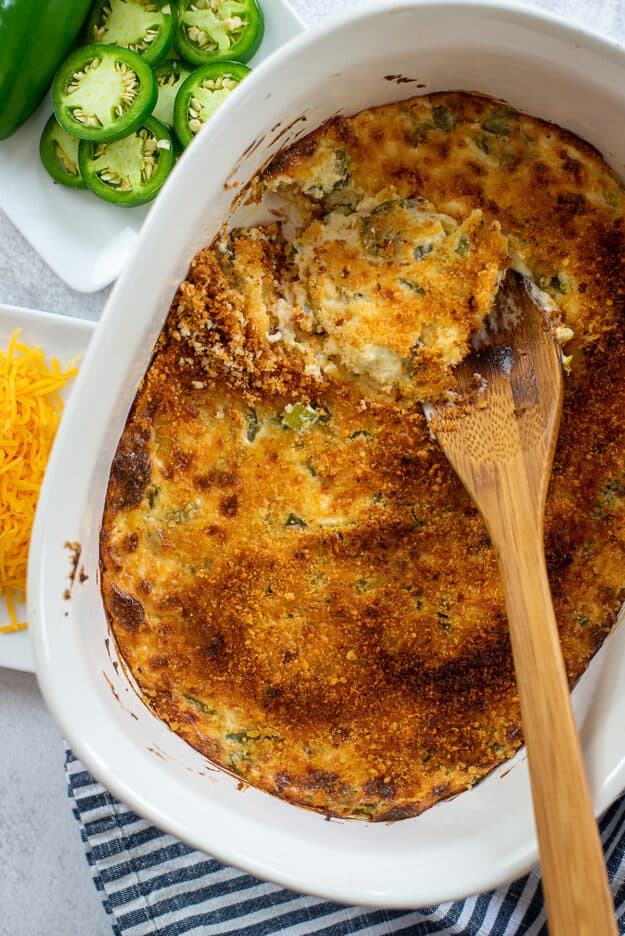 FAQ's:
What should I dip in Jalapeno Popper Dip?
We like to dip tortilla chips, crackers, and fresh vegetables in this cheesy jalapeno dip. The dip is also good spread on Hawaiian rolls or used as the filling in a grilled cheese sandwich!
Is jalapeno cream cheese dip spicy?
This dip can be as mild or as spicy as you like. As written, the recipe does have a kick to it. To keep it more mild, use the 'tamed' pickled jalapenos and use less fresh jalapenos. To make it more spicy, use regular canned jalapenos and leave in the seeds and membranes when mincing the fresh jalapenos.
Can I make this in the air fryer?
Absolutely! Spread the dip into a small dish that will fit inside your air fryer and air fry at 350 degrees, covered with foil, for about 10 minutes. Remove the foil, add the Panko and butter, and air fry for another 5 minutes.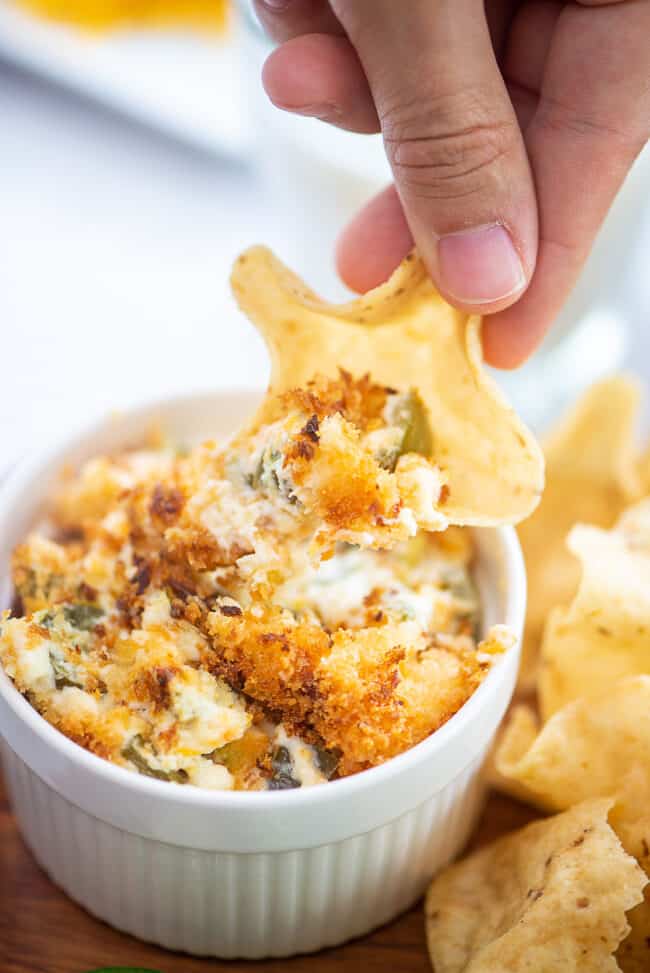 MORE DIP RECIPES!
Jalapeno Cream Cheese Dip too spicy for you? We've got a ton of other dip recipes. In fact, there is a whole category that you can find right here. Below are just some of our favorites: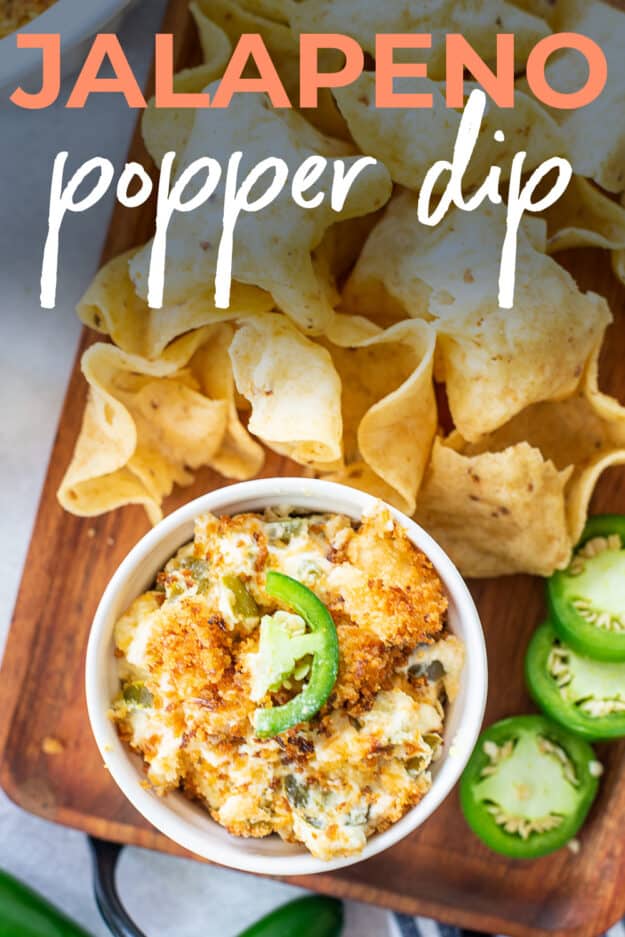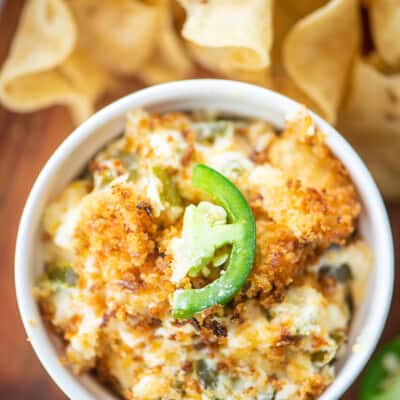 Jalapeno Popper Dip
This dip is perfect for serving up at football games. Everyone loves the spicy dip with crackers or tortilla chips.
Prep5 minutes
Cook15 minutes
Total20 minutes
Ingredients
2 small jalapeno peppers
4 ounces canned pickled jalapenos
8 ounces cream cheese softened
1/2 cup mayonnaise
1/2 cup shredded cheddar cheese
1/2 cup shredded parmesan cheese
1/4 cup panko bread crumbs
2 tablespoons melted butter
Instructions
Preheat oven to 350 degrees. Spray an 8×8 baking dish with non-stick spray.

Slice the jalapenos in half and scrape out the seeds and membrane to discard. Mince the jalapeno.

Dice the pickled jalapenos and place in a mixing bowl with the fresh jalapeno, cream cheese, mayonnaise, cheddar, and Parmesan.

Stir well to combine. Spread mixture into prepared baking dish.

Sprinkle the Panko over the top of the dip and drizzle with the butter.

Bake for 15 minutes or until the cheese has melted and the top is golden brown.

Serve with crackers, chips, or vegetables for dipping.
Tips & Notes:
We prefer to use the 'tamed' pickled jalapenos to keep things from getting too spicy. Reduce or increase the amount of fresh jalapeno to taste. As written, this is fairly spicy.
Nutrition Information:
Calories: 188kcal (9%)| Carbohydrates: 3g (1%)| Protein: 4g (8%)| Fat: 18g (28%)| Saturated Fat: 8g (50%)| Polyunsaturated Fat: 5g| Monounsaturated Fat: 4g| Trans Fat: 1g| Cholesterol: 38mg (13%)| Sodium: 400mg (17%)| Potassium: 63mg (2%)| Fiber: 1g (4%)| Sugar: 1g (1%)| Vitamin A: 584IU (12%)| Vitamin C: 4mg (5%)| Calcium: 108mg (11%)| Iron: 1mg (6%)