Our Crockpot Chili Cheese Dip is made with just 4 ingredients, turns out so smooth and creamy, and is perfect for dipping chips or Fritos!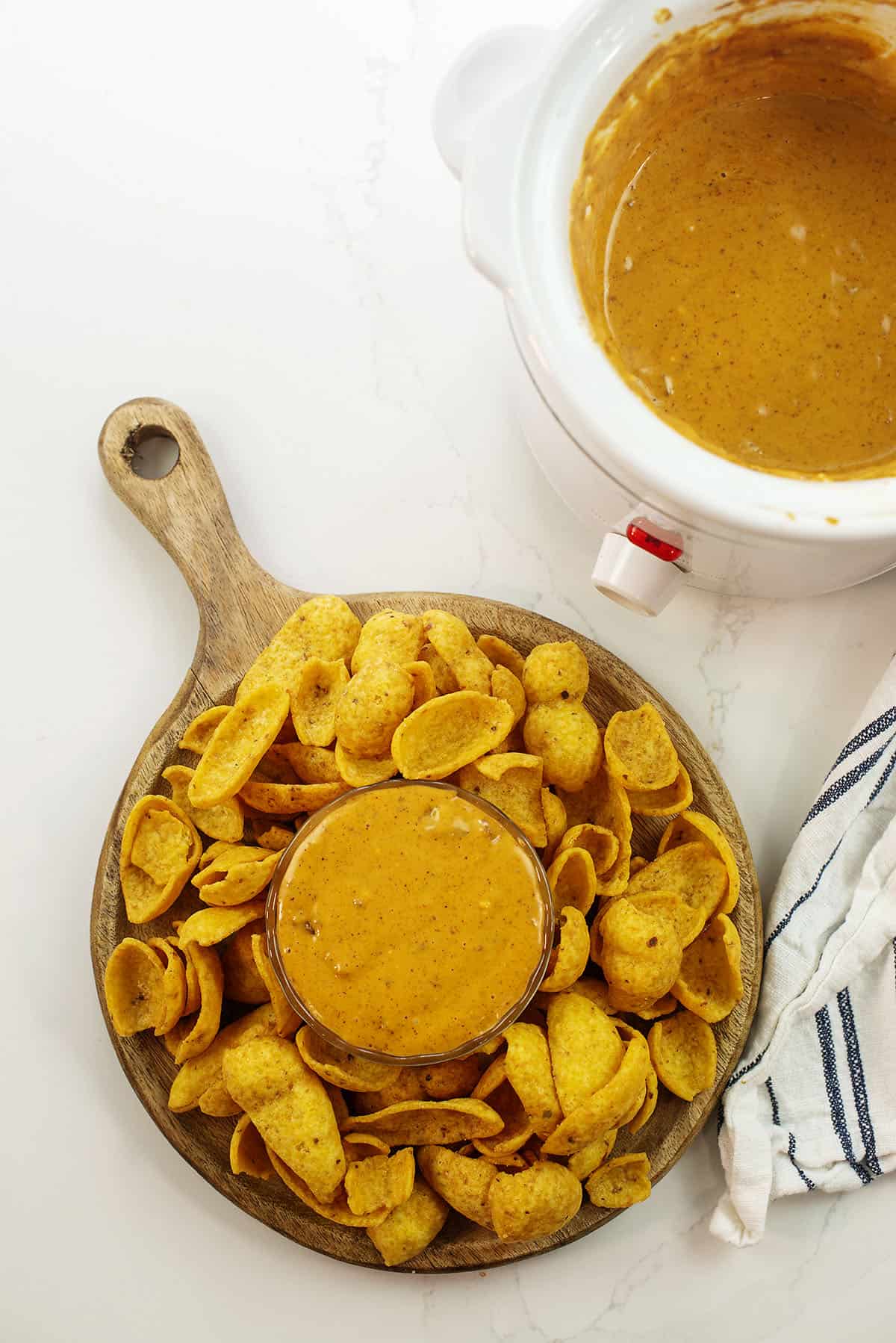 Is there anything better than an event where dip is the main food group?
Hello, Superbowl. I'm talking about you.
I'm not into football, but I'm majorly into football food, like this Chili Cheese Dip made with just 4 simple ingredients. Turns out so creamy, so cheesy, just begging you to dive in face first. Or, you know, Frito first. Either way!
This recipe is very similar to our Rotel Dip – just 4 ingredients and one of them is Velveeta. I know some of you love to hate on Velveeta, but I firmly believe that it has it's place in the world.
It's not real cheese, but it makes the best dang dip if you ask me!
Ingredient Notes:
This post contains affiliate links. As an Amazon associate and member of other qualifying programs, I earn from qualifying purchases.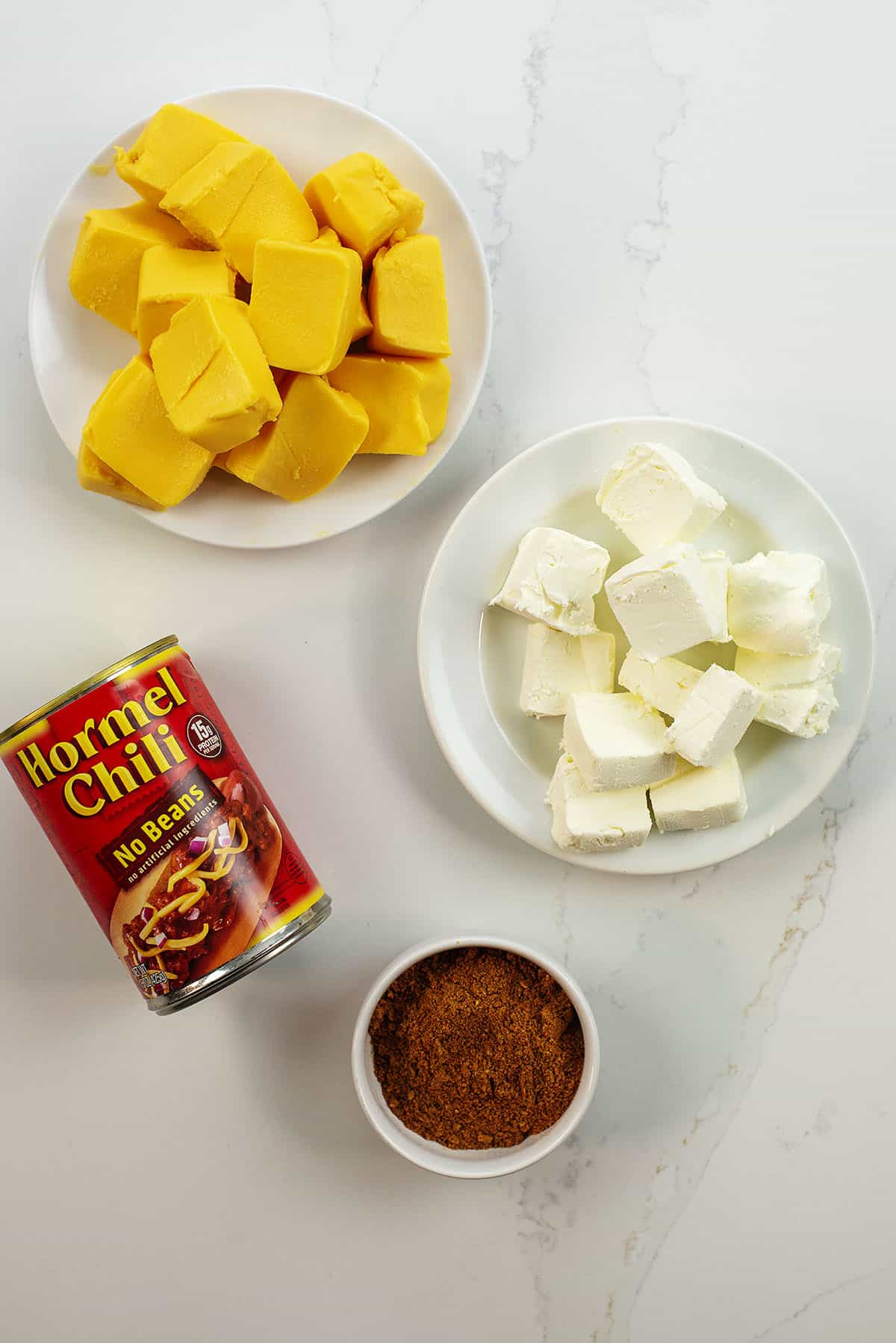 Cheese – This chili cheese dip starts with silky smooth Velveeta cheese that gets melted together with cream cheese to make the perfect base for this dip.
Chili – I'm using canned chili without beans for this recipe. Any brand of chili you like will work, or make your own homemade chili. This keto chili recipe without beans would probably work great, but honestly we like the canned stuff when it comes to dip.
Chili Seasoning – You should be able to find a packet of chili seasoning in the store. This ingredient is optional – it does add flavor, but it also makes the dip a fair bit salty. You'll have to use your best judgement on the amount to use…we'll include notes down in the recipe card.
What We Love About This Recipe:
This recipe is quick and easy to prepare, and it doesn't take long for it to melt together in the slow cooker.
Chili cheese dip is perfect for large gatherings! We serve it up for game days or holiday events.
Don't want to wait for the slow cooker to do it's thing? You can make this one the stove too!
How to Make Chili Cheese Dip:
Cheese: To get started you'll need to slice the Velveeta and cream cheese into cubes. They'll melt up nicely in the crockpot!
Chili: Pour the can of chili into the crockpot and then place the cubes of Velveeta and cream cheese over the top. Next, sprinkle on the packet of chili seasoning.
Slow Cook: Cover the crockpot and start cooking on low heat for 1 hour. Stir it up occasionally until the cheese has melted and the dip is good and hot! Every crockpot cooks differently, but around an hour should do the trick to melt the cheese.
Serve: After cooking for an hour set your crockpot to "warm" to keep it nice and melty until you are ready to serve. This dip is best served straight from the slow cooker!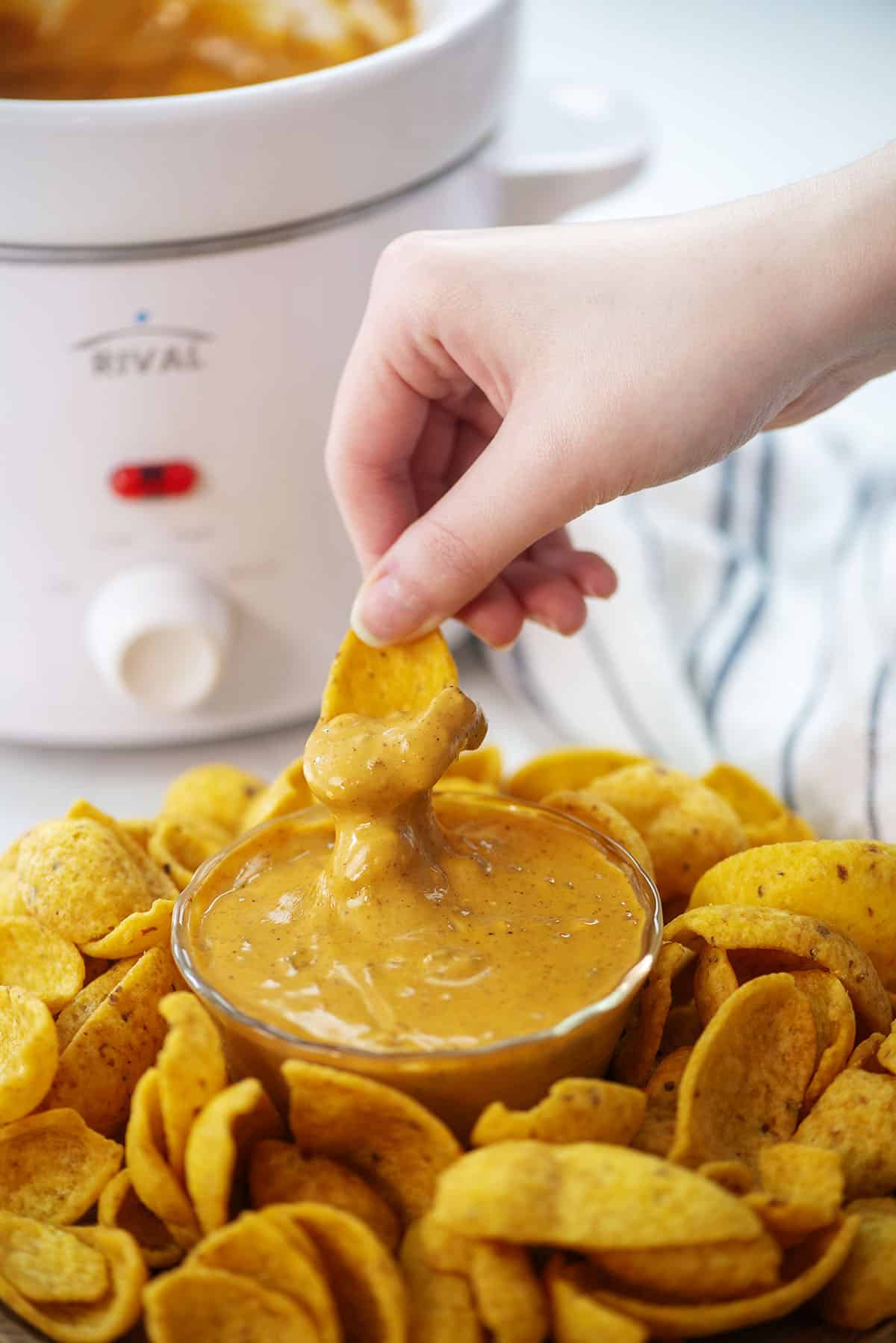 What to Serve with Chili Cheese Dip:
Just about anything that you'd normally dip with is going to taste pretty good with all that cheesy chili goodness! Here are some suggestions:
Fritos Scoops
Vegetables (Carrots, celery sticks, bell peppers, etc)
Hawaiian Rolls
Pretzels
Pork Rinds
Stove Top & Microwave Version:
We like to make this in the slow cooker so that we can keep the dip warm while serving.
However, it's simple to make this on the stove or in the microwave as well!
Stove Top: Add the chili, cheese, and seasoning to a large pot and cook over low heat, stirring often to keep the cheese from burning. Cook until the cheese has fully melted. Serve hot.
Microwave: Place all of the ingredients in a large, microwave-safe bowl and microwave until melted, stirring every minute. Serve hot.
FAQs:
How to store chili cheese dip?
Keep any leftover dip stored in an airtight container in the fridge for up to 3-4 days!
Can you freeze chili cheese dip?
Yes, this recipe should freeze pretty well especially without the beans. Store in a freezer safe container or bag for up to a few months. Reheat in the microwave in short bursts.
Can you make this with beans?
Yes! I prefer it without the beans but there is no harm in using chili with beans if that's what you prefer.
Is this spicy?
It will only be as spicy as the brand of chili and packet of chili seasoning mix that you use in this recipe. If you want a spicy hot chili cheese dip, add some cayenne pepper! You could also add in some sliced jalapeno.
MORE HOMEMADE DIP RECIPES!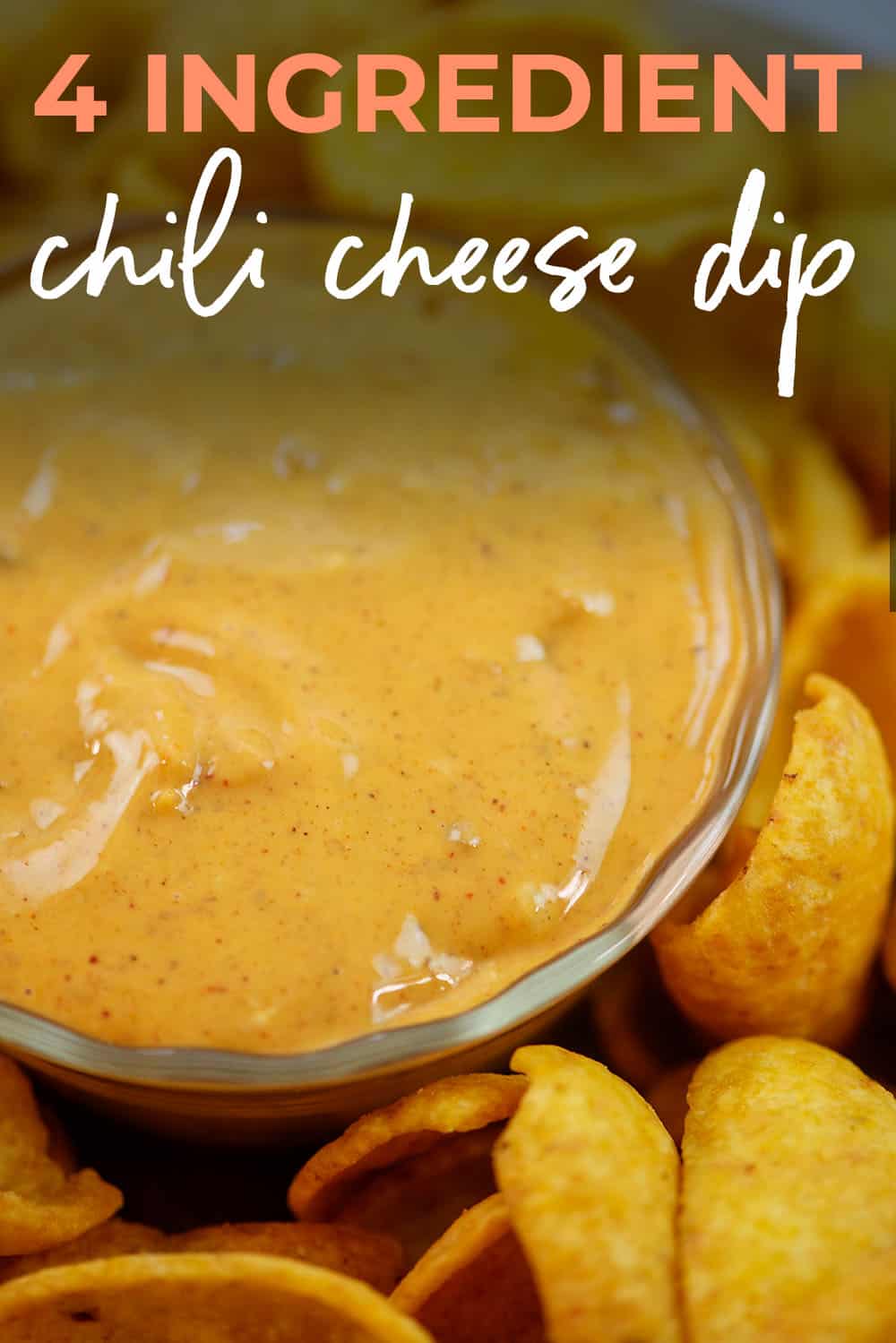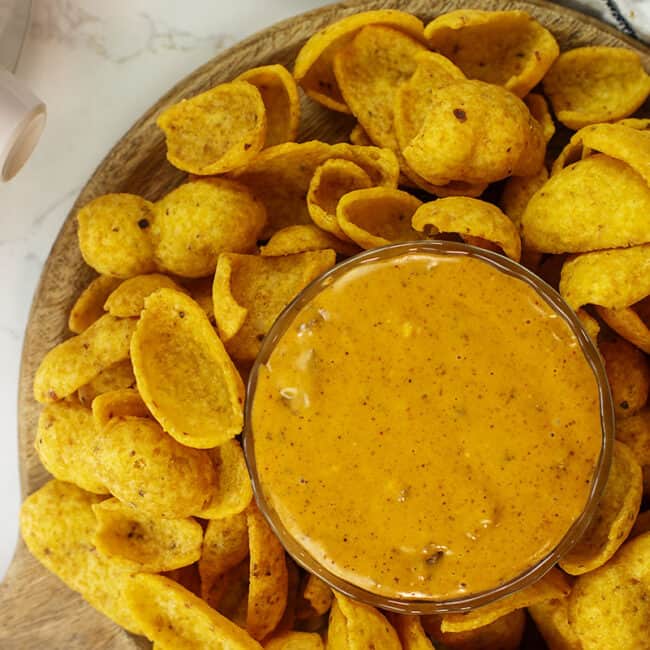 Chili Cheese Dip
This creamy dip has just 4 ingredients and couldn't be easier. We like to make this in the crockpot, but we included instructions for the stove and microwave as well.
Prep10 minutes
Cook1 hour
Total1 hour 10 minutes
Ingredients
16 ounces Velveeta cheese
8 ounces cream cheese
15 ounces canned chili without beans
1/2 packet chili seasoning see notes
Instructions
Chop the Velveeta and cream cheese into cubes.

Add the chili to a crockpot and place the cheese over the top.

Sprinkle on the chili seasoning.

Cover the crockpot and cook on low for 1 hour, stirring occasionally, until cheese has melted and dip is hot.

Set crockpot to 'warm' and serve straight from the crockpot with tortilla chips or Fritos or transfer to a serving bowl.
Tips & Notes:
Seasoning: We like lots of bold chili flavor in this dip, but the chili seasoning can make things a bit salty, especially if your chips are very salty. If you'd like to cut the salt back, use chili powder in place of chili seasoning or just stir the seasoning in at the end, to taste. Stove Top: To make this on the stove, add all of the ingredients to a large sauce pan and set over low heat. Cook, stiffing often, until the cheese has melted and ingredients are combined. Be careful not to let the cheese burn on the bottom of the pan. Microwave: Add everything to a large, microwave-safe bowl and microwave until melted, stirring every minute. Serve hot.
Nutrition Information:
Calories: 142kcal (7%)| Carbohydrates: 7g (2%)| Protein: 8g (16%)| Fat: 9g (14%)| Saturated Fat: 6g (38%)| Polyunsaturated Fat: 0.3g| Monounsaturated Fat: 2g| Cholesterol: 31mg (10%)| Sodium: 633mg (28%)| Potassium: 215mg (6%)| Fiber: 1g (4%)| Sugar: 3g (3%)| Vitamin A: 589IU (12%)| Vitamin C: 0.5mg (1%)| Calcium: 189mg (19%)| Iron: 1mg (6%)