This caramelized onion dip is a savory, creamy dip recipe that is perfect for chips, crackers, veggies, bread and anything else you can get your hands on!
Caramelized onions are one of those things that every cook should know how to make, in my opinion!
They transform plain old onions into something sweet, jammy, and honestly magical.
Sure, they do take time, but a lot of that is hands off and there is nothing difficult about making caramelized onions. They're worth every second of cook time and honestly the hardest part is not just eating them all with a fork the minute they're done!
Rather than eat them plain, this time we made Caramelized Onion Dip. We LOVE dips in our house – everything from Rotel Dip to 7 Layer Dip to (you knew it was coming…) Pumpkin Pie Dip!
This Caramelized Onion Dip is a major favorite with it's creamy base made of cream cheese and sour cream and the rich flavor thanks to the Worcestershire sauce and beef bouillon. Of course, the star is the caramelized onions.
Ingredient Notes:
This post contains affiliate links. As an Amazon associate and member of other qualifying programs, I earn from qualifying purchases.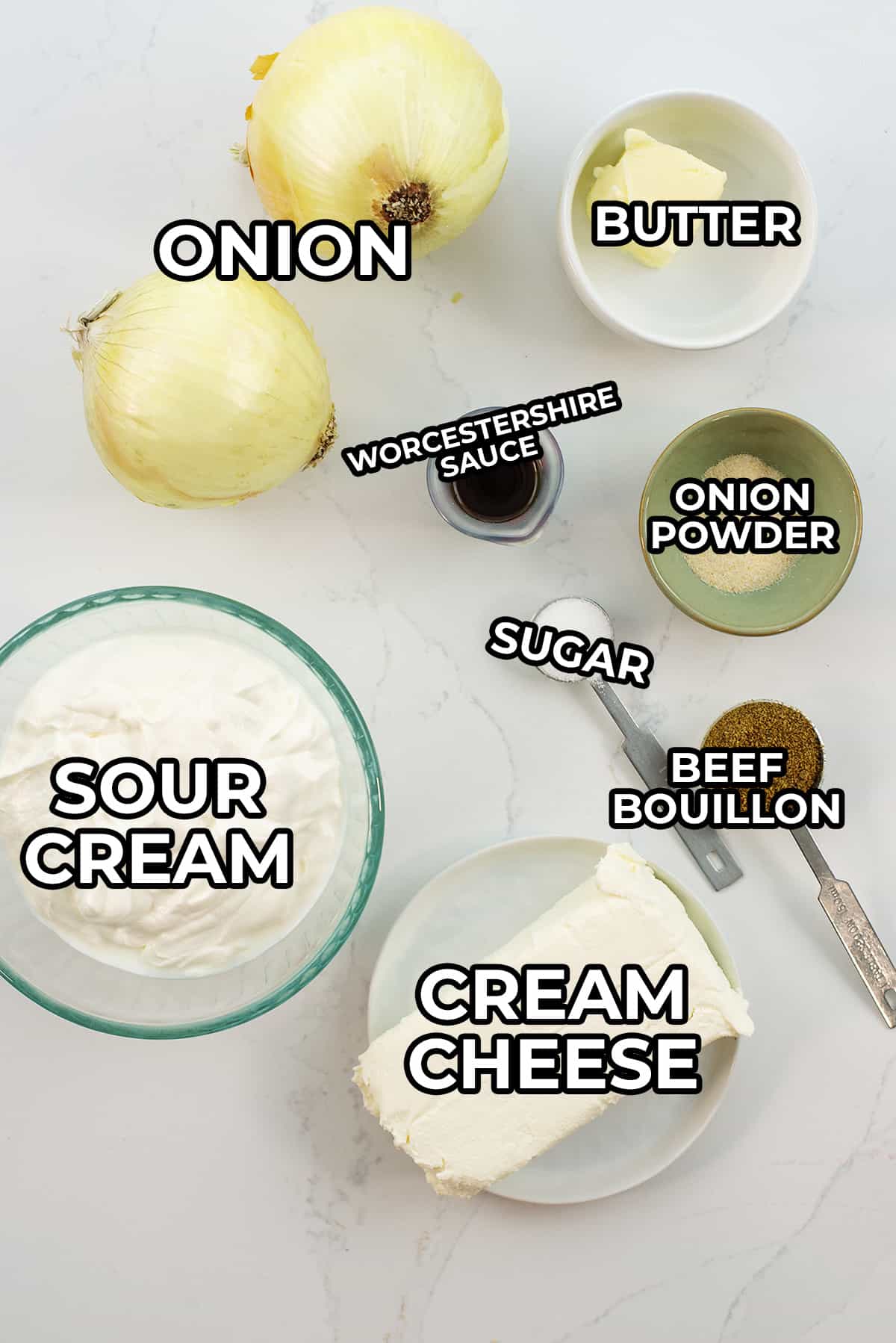 Onions – We're using yellow onions, but any variety will work well. We're putting 3 whole onions in this dip – they cook down quite a bit as they caramelize. We cook them in butter with a sprinkle of sugar to speed things along.
Cream Cheese – The base of most good dip recipes is cream cheese, in my opinion.
Sour Cream – This will add more creamy flavor to the dip.
Worcestershire Sauce – Just a little bit of this sauce adds loads of savory flavor to just about any dish.
Beef Bullion – Along with the Worcestershire, the beef bullion granules is basically concentrated flavor. It's going to add even more savory goodness to the dip.
What We Love About This Recipe:
Pretty much anything you'd normally use to dip, like chips or crackers, is going to go well with this sweet and savory dip!
It takes a little time and effort to make the caramelized onions, but they are worth it! And once you learn how, you can use them in lots of recipes.
You can easily double the onions and use half for other purposes – they're delicious on burgers and pizza or to make hummus!
Helpful Tools:
Mandolin Slicer – This handy tool will make slicing veggies so much simpler! It's safer and it is the best way to get perfectly thin slices of onion for this caramelized onion dip.

Cast iron skillets are my favorite! They heat so evenly, get piping hot for searing, and nothing is better than bacon fried in a cast iron skillet.
How to Make Caramelized Onion Dip:
Slice: Use a sharp knife or a mandolin to slice the onion into thin half moon pieces. You could also dice the onion if you'd prefer chunks in your dip instead of strips of onion.
Caramelize: Melt the butter in a heavy bottomed skillet and add the onions. Cook these down over medium heat for 10 minutes and then sprinkle on the sugar and salt. Be sure to stir every now and then.
The onions will need to cook for 30 to 40 minutes with stirring every 5 minutes or so. You want these to slowly brown from the sugar in the onions caramelizing – you don't want them to brown because your heat is too high.
They should look like this when done:
Dip: Add the cream cheese, sour cream, beef bouillon, Worcestershire, and onion powder to a bowl. If you've got an electric hand mixer it'll work perfectly for mixing this dip. Beat until the dip is creamy and smooth!
Onions: When the caramelized onions have cooled you can stir them into the cream cheese dip by hand until it's all well combined. All that's left now is to cover and refrigerate for 1 to 2 hours before it's ready for dipping!
What To Serve With Caramelized Onion Dip:
Pretty much anything that you'd normally dip with is going to taste great with this recipe. From chips, to veggies, to crackers. Here are some good suggestions:
Celery Sticks
Carrots
Mini Sweet Peppers
Crostini Bread
Potato Chips
Ritz Crackers
Pork Rinds
Pretzels
Pita Chips
FAQs:
How to store caramelized onion dip?
You can keep this onion dip recipe stored in the refrigerator well covered for 3 to 4 days.
Can I use any type of onion?
Any variety of onion can be used in this recipe. We use yellow onions most often.
How do you know when the onion is done?
If you've never made caramelized onions before, you might be surprised how long you actually cook them for. It takes a long time to get them perfectly caramelized, so you'll need to cook them low and slow to avoid burning them. You'll continue cooking until the onions reach a soft, jammy texture and are no longer crunchy.
Caramelized Onion Dip
This homemade caramelized onion dip is loaded with 3 entire onions that have been caramelized down into a sweet, jammy pile of goodness. The dip is rich and creamy and pairs perfectly with chips, crackers, or veggies.
Prep15 minutes
Cook50 minutes
Cooling Time15 minutes
Total1 hour 20 minutes
Ingredients
3 medium yellow onions
2 tablespoons butter
1 teaspoon sugar
1 teaspoon kosher salt
16 ounces sour cream
8 ounces cream cheese room temperature
1 tablespoon Worcestershire sauce
1 teaspoon beef bouillon granules
1 teaspoon onion powder
Instructions
Thinly slice the onions.

Add the butter to a large, heavy bottomed skillet over medium low heat and melt. Add the onions and cook for 10 minutes, stirring occasionally.

Add the sugar and salt to the onions and stir to combine. Continue cooking over medium low heat, stirring often enough to keep the onions from burning but letting them brown a bit before stirring. Continue cooking for 30 to 40 minutes or until caramelized to your liking. Add splashes of water if needed to keep the onions from drying out during cooking.

Remove the onions from the heat and let cool for 15 minutes.

Add the sour cream, cream cheese, Worcestershire sauce, beef bouillon, and onion powder to a mixing bowl and beat with an electric mixer until smooth and creamy.

Stir in the cooled onions by hand until well combined.

Cover and refrigerate for 1-2 hours to let the flavors meld.

Serve with potato chips, for dipping.
Tips & Notes:
The beef bouillon adds a savory, salty flavor to the dip that we love. To keep this vegetarian, you can swap the bouillon for a bit of salt, to taste. It won't have quite the same depth, but will still taste great.
Nutrition Information:
Calories: 112kcal (6%)| Carbohydrates: 6g (2%)| Protein: 2g (4%)| Fat: 9g (14%)| Saturated Fat: 5g (31%)| Polyunsaturated Fat: 0.4g| Monounsaturated Fat: 2g| Trans Fat: 0.05g| Cholesterol: 28mg (9%)| Sodium: 207mg (9%)| Potassium: 111mg (3%)| Fiber: 0.5g (2%)| Sugar: 4g (4%)| Vitamin A: 330IU (7%)| Vitamin C: 3mg (4%)| Calcium: 46mg (5%)| Iron: 0.2mg (1%)