This olive cheese dip is creamy cheesy dip perfection! The salty olives are so good in this creamy dip!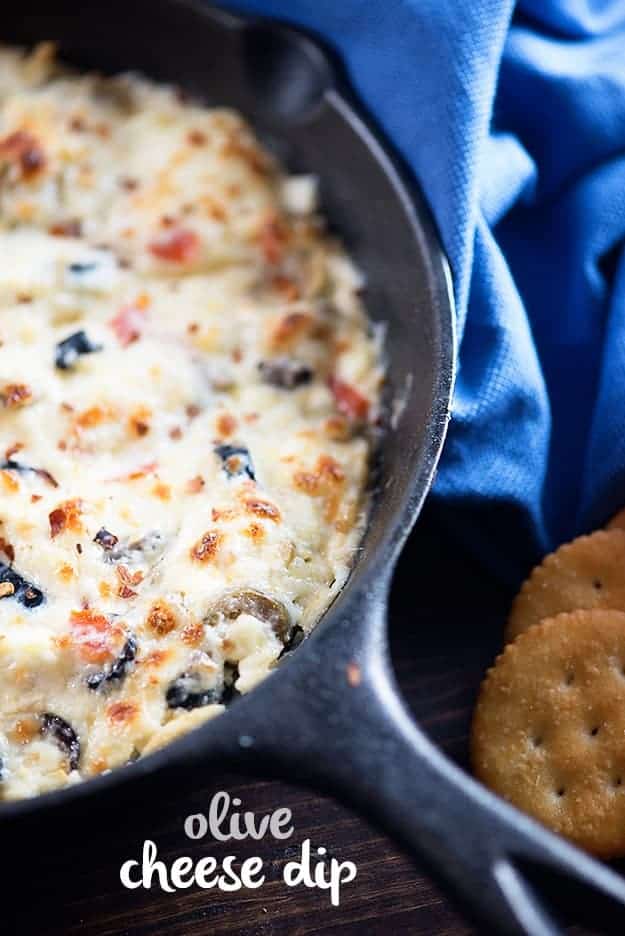 I have a slight confession to make to you guys.
Ready for it?
I'm obsessed with olives. Not the fancy kind that the good grocery stores have near the salad bar. I mean, those look nice and they taste fine but I always go for the jarred olives in the pickle aisle.
I love the classic green olives stuffed with pimentos that you find in a jar by the pickles.
They're perfect. So briny and weird and delicious.
When I was a kid I would drink the juice from the jar. TMI? Sorry.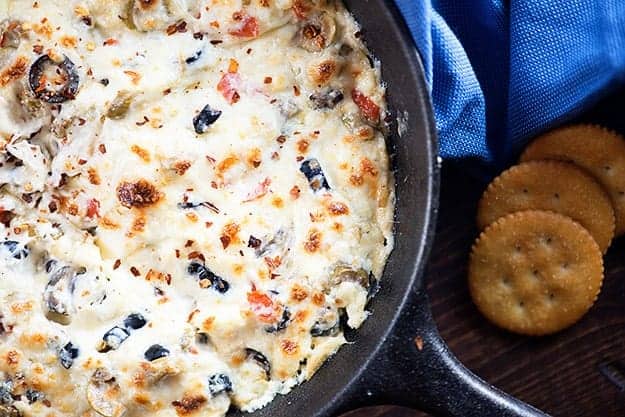 Anyway, black olives are generally okay with me.
I mean, I'm not going to just grab them and eat them plain, but if they're in something or whatever, I'm down.
Although, when I was a kid, I totally did that thing where I stuck them all on the ends of my fingers and made monster faces before eating them off.
No childhood is complete without that experience.
Anyway, black olives are especially good in my marinated cheese and olives! I love serving that to guests – seems so fancy, but it's actually the easiest thing in the world!
You literally mix some olives and cheese in a bowl and dump a yummy concoction of oil, vinegar, and herbs over the top. Good stuff.
Anyway, back to this olive dip.
It's so creamy and cheesy, just the way dip is supposed to be! But it's also packed with both black and green olives. It gives the dip a great texure and the saltiness of the olives really pairs well with the creaminess of the cheese. It's goooooooood.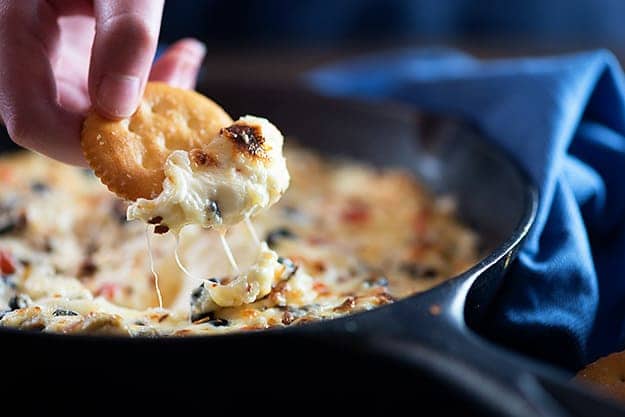 I know a few people on Team No Olives, but this dip might be the way to convert them over. I think it's worth trying anyway.
And hey, more for me if they decide to pass.
I like to slather this on little chunks of bread, dip crackers or Tostitos, or smear it on those little Pretzel Thins. No matter what you do with this stuff, I think you'll like it!
If you love olives as much as I do, be sure to check out my green olive and pecan spread. It's intensely olive flavored and I can not get enough of it!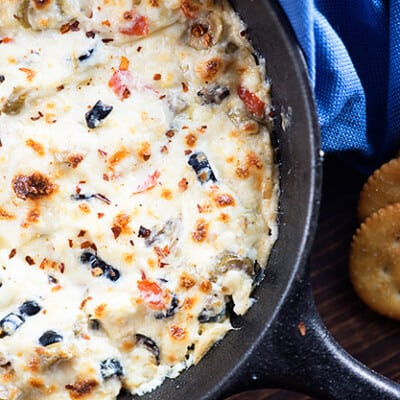 Olive Cheese Dip
This olive cheese dip makes a great appetizer for the olive lovers out there! With both black and green olives and loads of cheese, it's full of flavor and perfect spread on a cracker!
Prep5 minutes
Cook15 minutes
Total20 minutes
Ingredients
8 ounces cream cheese room temperature
2 cups shredded monterey jack cheese
1/4 cup mayonnaise
1 cup green olives diced
1 cup black olives diced
1 clove garlic minced
1 tablespoon red pepper flakes or less for more mild
Instructions
Preheat oven to 350 degrees.

Add all ingredients to a large mixing bowl and stir well to combine.

Spread into a small baking dish and bake for 15 minutes or until the cheese has melted and the dish is hot.

Serve with crackers or chips, for dipping.
Nutrition Information:
Calories: 201kcal (10%)| Carbohydrates: 2g (1%)| Protein: 6g (12%)| Fat: 19g (29%)| Saturated Fat: 8g (50%)| Cholesterol: 39mg (13%)| Sodium: 552mg (24%)| Potassium: 63mg (2%)| Vitamin A: 685IU (14%)| Vitamin C: 0.1mg| Calcium: 173mg (17%)| Iron: 0.4mg (2%)