Alert the media, y'all. I have important news. It's summer. The time of sweat. And bugs. And stinky children. Also, lots of delicious grilled meats. As you might have noticed, I've teamed up with Cracker Barrel to introduce y'all to their creamy, delicious, authentic cheeses. It's sort of a match made in heaven. They send me cheese, I sit on the couch eating cheese all day, husband comes home and asks how I spent my day, I say "working." Doesn't get any better than that.
Anyway, Cracker Barrel has also noticed that it's summer. Probably because anytime someone emails, calls, texts, or otherwise breathes in my vicinity, I complain about the heat. Or maybe they just happened to look out a window and notice the sunshine. I don't know. Who can say, really?
They've asked me to put together a delicious summer menu for y'all. To me, that means grilling. Because, duh. It's too hot for an oven and even if it wasn't too hot for the oven, I would still use the grill because fire is fun.
I've been eyeballing Megan's Hot Dog Week (and Deborah's hot dog week, too!) and I just knew deep in my soul that I had to bring you guys a hot dog recipe. I'm sorry, Megan, but five days of hot dogs are NOT ENOUGH. We need more. Git on it.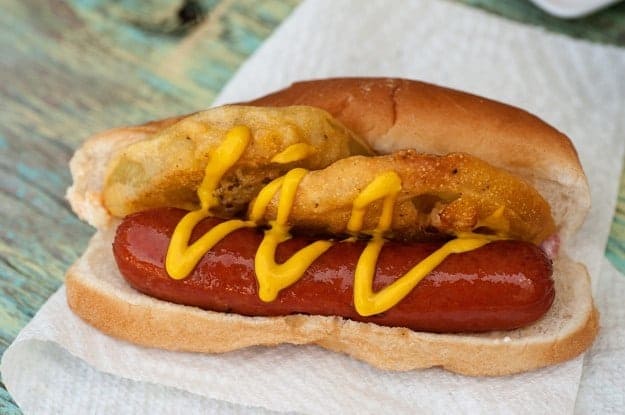 This Fried Green Tomato and Pimento Cheese Dog is inspired by Frank's Southern Belle Hot Dog that I devoured while in Austin last month. I basically took two of my favorite things, pimento cheese and fried green tomatoes, and stuffed them in a hot dog bun alongside a nearly burnt hot dog. I'm sorry, but nearly burnt (and even really, truly burnt) hot dogs are the way to go. My kids disagree though, so I only made one nice and crispy. The rest were just warmed through.
I made sure to make my pimento cheese with Cracker Barrel's award-winning Extra Sharp Cheddar and swapped out my usual Monterey Jack for their Jalapeno cheese to give things an extra kick. The Jalapeno cheese gave everything the perfect little burst of flavor! When you want rich, authentic flavors, Cracker Barrel cheese is the way to go! Cracker Barrel still uses their same heirloom cheese cultures that they used when they started making cheese back in 1954. When you have a perfect recipe, why change it?! What this means for you, is that you're going to get that rich, full flavor of authentic cheddar cheese every time you eat a slice of their award-winning cheese.
Now, it's not a full summer meal without Baked Potato Salad or Pasta Salad on the side!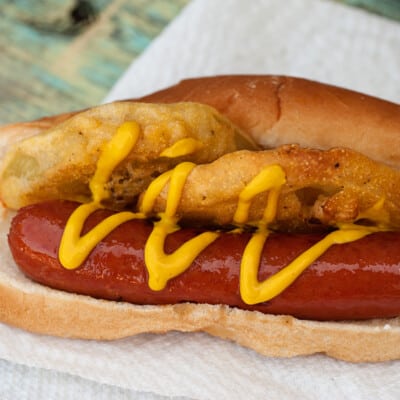 Fried Green Tomatoes and Pimento Cheese Hot Dogs
I basically took two of my favorite things, pimento cheese and fried green tomatoes, and stuffed them in a hot dog bun alongside a nearly burnt hot dog.

Prep5 minutes
Cook10 minutes
Total15 minutes
Ingredients
4 hot dogs
4 hot dog buns
1 green tomato
1/2 cup flour
1 teaspoon salt
1 teaspoon black pepper
1/2 cup milk
Vegetable oil, for frying the tomatoes
1 recipe Pimento Cheese (you'll only use a portion, but it's good to have extra on hand for snacking emergencies! Also, swap the monterey jack with Cracker Barrel's Jalapeno cheese for a kick!)
Mustard, for topping
Instructions
Add about an inch of oil to a deep skillet. Heat over medium heat to 350 degrees.

In a shallow bowl, combine the flour, salt, and pepper. In a second bowl, add the milk.


Slice the tomato into 1/4 inch thick slices and then slice in half. Dip each tomato piece into the milk and then dredge in the flour. Working in batches, fry the tomatoes until golden brown on each side, about 4 minutes total. Drain on a paper towel lined plate.


Cook hot dogs on the grill until heated through, about 5 minutes.


Spread the pimento cheese into the bottom of each hot dog bun and top with a cooked hot dog. Place two green tomato pieces alongside each hot dog. Drizzle with mustard, if desired. Serve immediately.

Nutrition Information:
Calories: 313kcal (16%)| Carbohydrates: 44g (15%)| Protein: 11g (22%)| Fat: 9g (14%)| Saturated Fat: 3g (19%)| Cholesterol: 23mg (8%)| Sodium: 1121mg (49%)| Potassium: 239mg (7%)| Fiber: 1g (4%)| Sugar: 5g (6%)| Vitamin A: 245IU (5%)| Vitamin C: 7.8mg (9%)| Calcium: 123mg (12%)| Iron: 3.5mg (19%)