Our Homemade Pimento Cheese recipe turns out so creamy, loaded with three different types of cheese, and packed with sweet pimentos. This Southern favorite is perfect for serving as a dip with crackers, spread between bread for a simple lunch, or melted on burgers!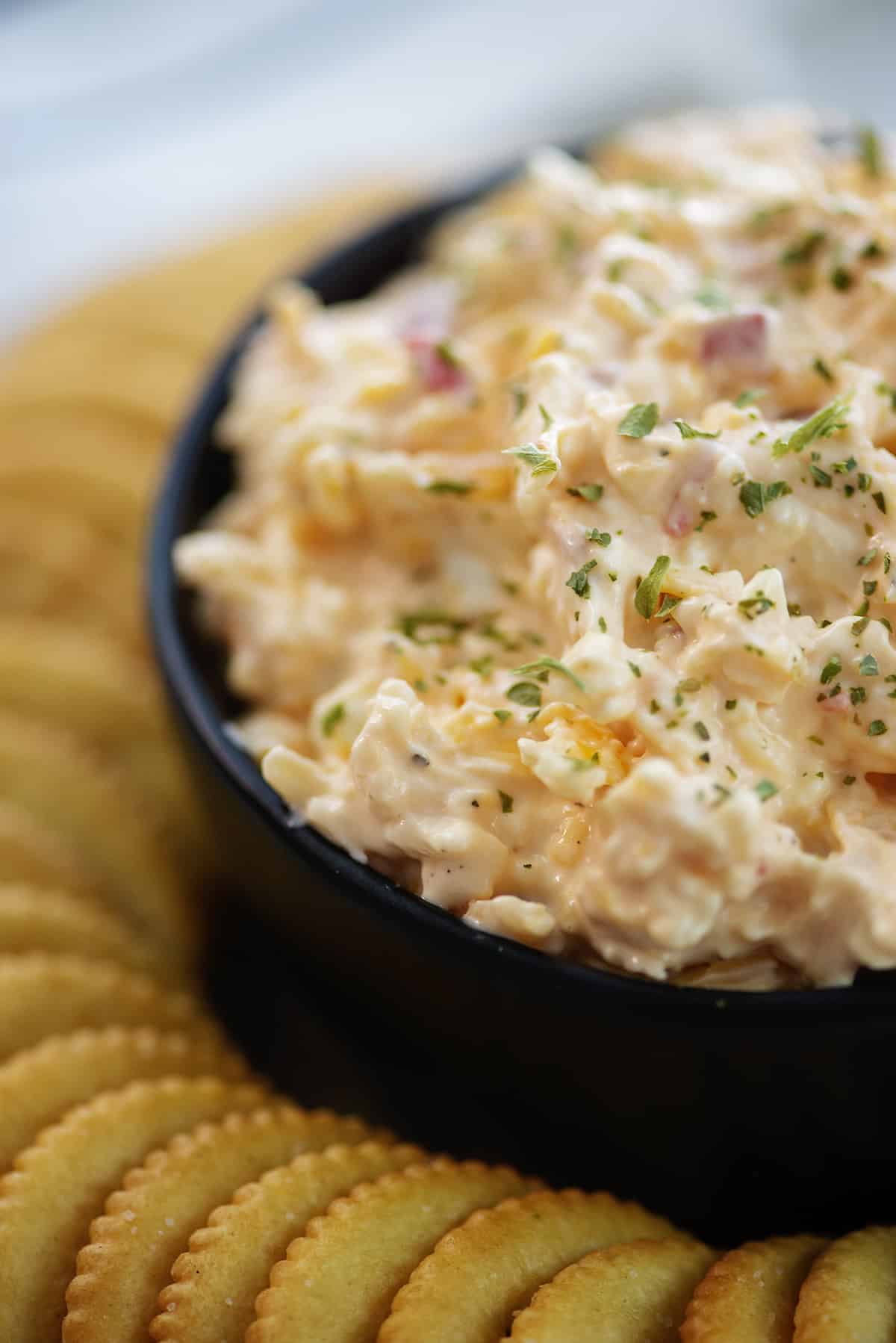 Have y'all ever had Pimento Cheese? I know. It's a Southern thing and those of you who live South of me are rolling your eyes. Of course you've had pimento cheese.
Those of you who live North of me? Not so much.
I'd like to change that.
Pimento Cheese is a southern delicacy – rich and creamy, begging to be eaten as a dip for crackers, spread between bread as a sandwich, on pizza (yes, we've made Pimento Cheese Pizza – with bacon, of course!), turned into a Pimento Cheeseburger, and even air fried into Pimento Cheese Bombs!
No need to get all fancy though. This homemade pimento cheese is really good just spread on a cracker and eaten in front of the TV.
And yes, I can promise you that this is SO MUCH better than the weird processed pimento cheese that you buy in little tubs at the grocery store with the weird after taste. This stuff tastes fresh and creamy and is seriously hard to resist!
Ingredient Notes:
This post contains affiliate links. As an Amazon associate and member of other qualifying programs, I earn from qualifying purchases.
Cheese – Our pimento cheese recipe calls for three types of cheese: cream cheese, cheddar, and Monterey jack.
Pimento – Jarred, diced pimento is what you are looking for here. You'll usually find it near the olives and pickles in the grocery store or with the canned veggies. It's often sold in small glass jars.
Mayonnaise – This is going to add even more creaminess and a little tangy flavor to the pimento cheese.
Seasoning – We're keeping it simple with garlic powder, salt, and pepper.
What We Love About This Recipe:
It's a really quick and easy recipe that's ready in just a few minutes.
You can use this pimento cheese on sandwiches or as a dip for chips, crackers, or veggies.
It stores well in the fridge and can last for a few weeks.
Spread it on burgers, plop it in your mac and cheese, or turn it into the ultimate grilled cheese sandwich!
How To Make Pimento Cheese:
Combine: Add all of the ingredients to a mixing bowl. Make sure that your cream cheese is at room temperature so that it mixes nicely.
Mix: Use a hand mixer to beat the cheese together to form a somewhat smooth and creamy mixture.
Serve: That's it! This pimento cheese recipe is so simple and ready in no time. See below for some suggestions on what to serve it with!
It's so easy to whip up dessert with this cute hand mixer. It doesn't take up much space and is a must for any kitchen!
Variations:
Bake your pimento cheese and serve it as a hot, melty dip with slices of toasted bread or crackers!
Mince jalapenos and add them to your pimento cheese for a spicy kick.
Swap the Monterey jack for a smoked gouda and stir in some smoked paprika to add a little smokiness.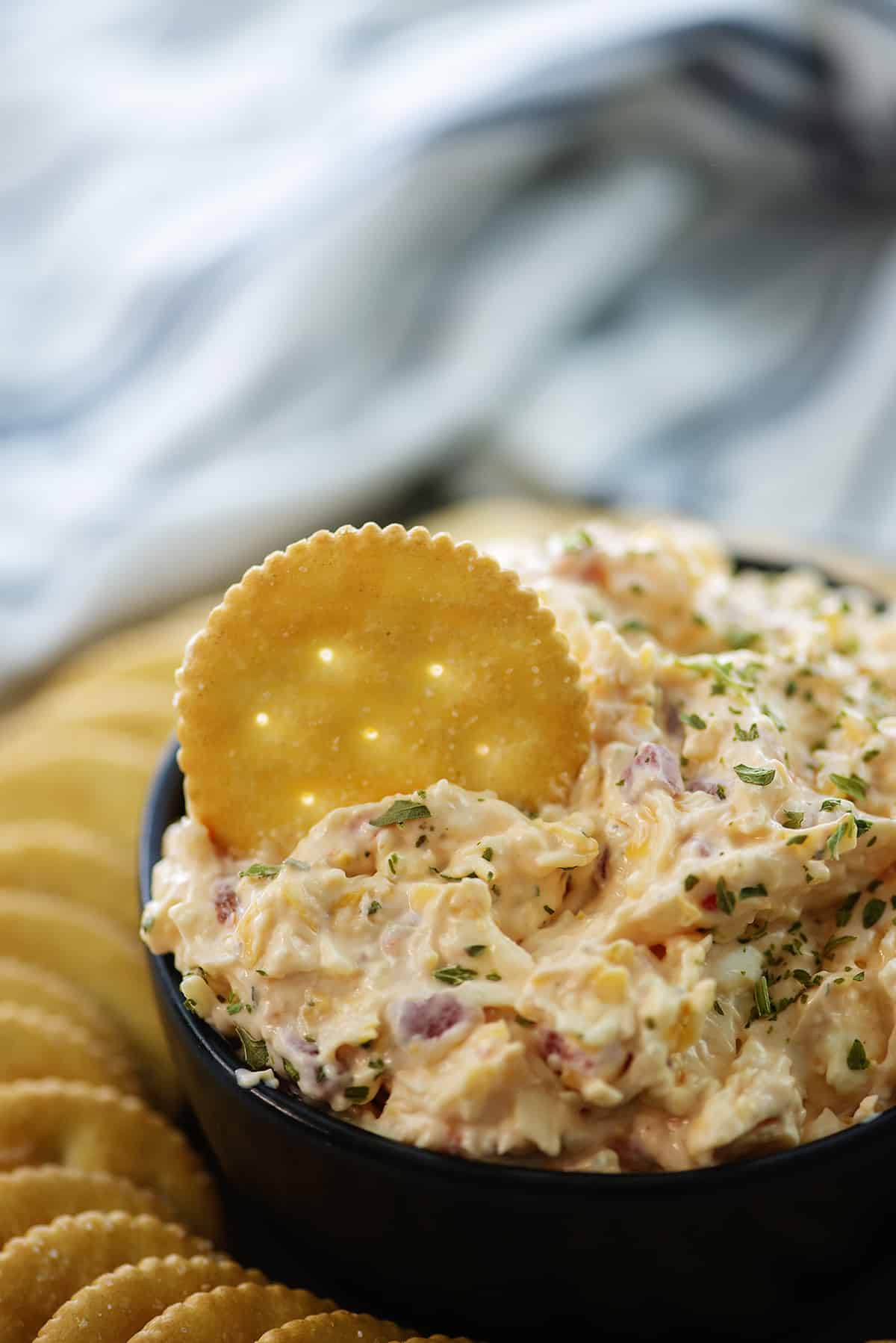 What To Serve With Pimento Cheese:
There are lots of great ways to enjoy this pimento cheese. It's perfect for sandwiches or dips, and here are a few suggestions:
Sandwiches (Plain with just the pimento cheese, or try it like a grilled cheese sandwich!)
Crackers
Crostini
Veggies (Carrots, celery, bell peppers, etc.)
FAQs:
What are pimentos?
They are diced red cherry peppers that tend to be sweet and have been packed or jarred in a brine.
How to store pimento cheese?
You can keep pimento cheese stored in an airtight container or jar in the fridge for up to three weeks, depending on the freshness of the ingredients that you used.
Pimento Cheese
This Southern pimento cheese recipe is so rich and creamy, thanks the three types of cheese. We use a hand mixer to stir this together to give it a smooth texture. So much better than the little tubs you buy in the store!
Prep10 minutes
Total10 minutes
Ingredients
4 ounces cream cheese room temperature
1 cup cheddar cheese freshly grated
1 cup Monterey Jack freshly grated
1/2 cup mayonnaise
3 tablespoons jarred diced pimento
1/2 teaspoon salt
1/2 teaspoon pepper
1/2 teaspoon garlic powder
1/2 teaspoon dried parsley for garnish
Instructions
Add everything but the parsley to a mixing bowl and beat with an electric mixer until smooth and creamy.

Spoon into a serving dish and sprinkle the top with parsley, if desired.

Serve with chips, crackers, and fresh vegetables for dipping or spread between bread as a sandwich.
Tips & Notes:
You can stir this together by hand if necessary, but it won't be nearly as creamy. Add a little minced jalapeno or grated onion, if desired. Adapted from Paula Deen.
Nutrition Information:
Calories: 129kcal (6%)| Carbohydrates: 1g| Protein: 4g (8%)| Fat: 12g (18%)| Saturated Fat: 5g (31%)| Polyunsaturated Fat: 3g| Monounsaturated Fat: 3g| Trans Fat: 0.01g| Cholesterol: 23mg (8%)| Sodium: 229mg (10%)| Potassium: 29mg (1%)| Fiber: 0.1g| Sugar: 0.5g (1%)| Vitamin A: 300IU (6%)| Vitamin C: 3mg (4%)| Calcium: 111mg (11%)| Iron: 0.2mg (1%)