This veggie pizza recipe is full of flavor from the ranch cream cheese and the crunchy fresh vegetables! We love to snack on this cold veggie pizza.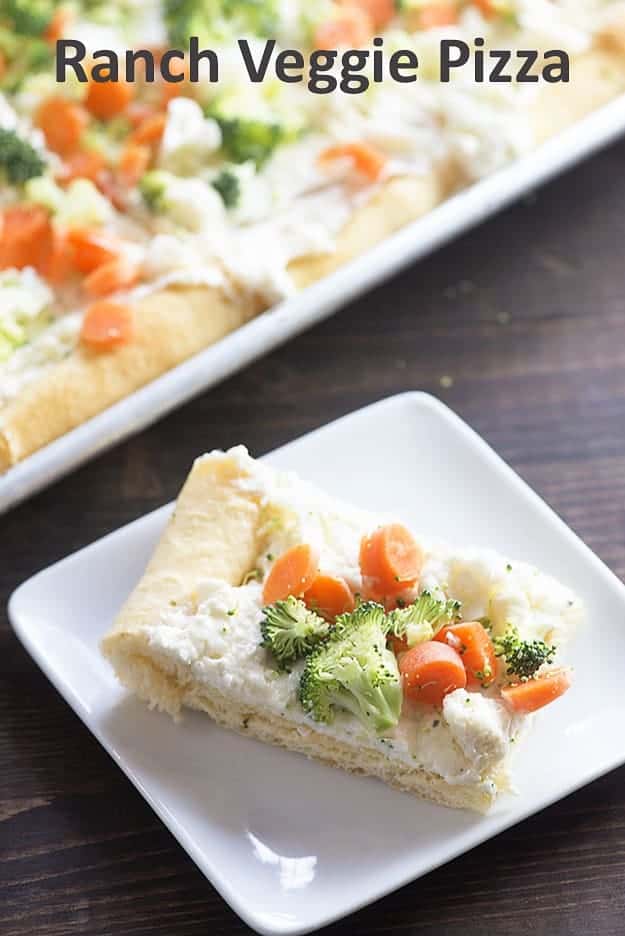 Okay, look. I'm aware that this recipe has been floating all over the dang internet for years now, but the thing is…I had never tried it. I mean, cold veggie pizza? That sounds nasty, right?
First – it's cold.
Second, it's vegetables. I realize that, as a responsible adult, it's my job to eat vegetables every now and again, but do we really have to put them on pizza? Seems rude.
Third, what's the weird white stuff all over it?
This cold veggie pizza is seriously good stuff.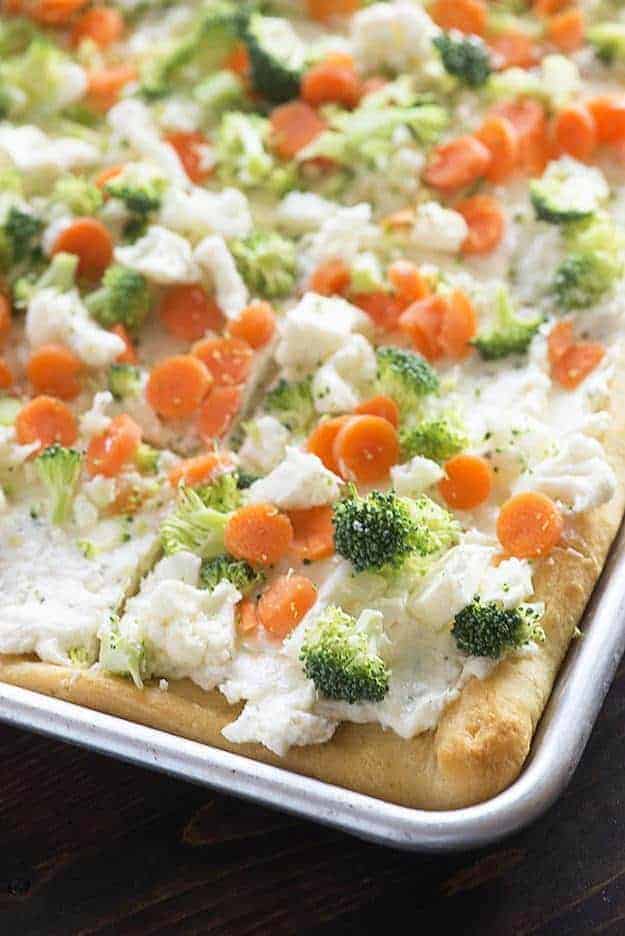 Then I showed up for a get together at my mother-in-law's house and she had a huge platter of little veggie pizza squares. I eyed them suspiciously.
"What's that creamy white stuff?" I asked her.
"Oh, just cream cheese and ranch powder," was her answer.
Y'all. I hoovered that entire platter of veggie pizza in my face so fast she left the room screaming in terror.
Cream. Cheese. Ranch. Powder. Pizza.
This stuff is GOOD. Like, majorly good. If you like to dip carrots and broccoli in ranch dip, which I do, because vegetables coated in ranch are delicious, then you are going to seriously freak out for this little pizza. It will become your new favorite thing.
I made it for lunch last week and nearly ate the whole thing myself, oh god, the shame.
If you haven't tried this, you're probably thinking that cold/room temp crescent dough sounds not great, but I'm here to tell you that, in this instance, it is absolute perfection.
It really works with the thick layer of ranch cream cheese and then the crunchy vegetables on top just put everything over the edge from "hey this is good," to "if anyone asks me to share, I will stab them with a fork."
Proceed with caution, is what I'm saying. And definitely don't try to sneak a bite of my veggie pizza. I will cut you.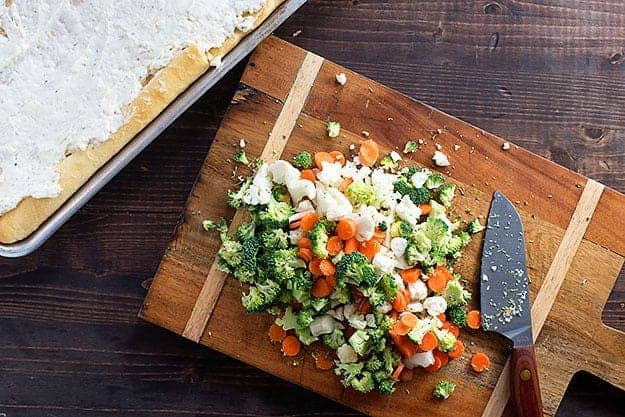 Tools You Need:
Sharp Knife: I love my Wusthof santoku knife for chopping the vegetables and just about everything else, too.
Food Processor: If you don't want to chop the vegetables by hand, toss them in your food processor. Quick and easy!
Half Sheet Pan: I use these pans every day. So useful.
Can't wait to hear what you think of my vegetable pizza!
If you love appetizers and snacks you should also try out my sweet Chex mix recipe, buffalo chicken dip recipe, fried pickles, and buffalo chicken sliders. I love appetizers and dips and snacks and share them often. 🙂
For more pizza, give this margarita pizza recipe a try! My taco pizza is yummy too!
Cold Veggie Pizza
This cold veggie pizza is a total classic. It makes a great snack or appetizer and is easily halved or doubled.
Prep10 minutes
Cook10 minutes
Total20 minutes
Ingredients
2 packages Pillsbury Crescent Dough Sheets
2 packages 8 ounces each cream cheese, room temperature
1/2 cup mayonnaise
1 ounce package dry ranch dressing mix
4 cups assorted chopped vegetables such as carrots, broccoli, and cauliflower
Instructions
Preheat oven to 375 degrees.

Unroll crescent dough sheets and place on half sheet pan. Press together to seal the edges to form one large crust.

Bake for 10 minutes or until lightly golden. Cool completely.

Add the cream cheese, mayonnaise, and ranch mix to a mixing bowl and stir well until combined.

Use an off-set spatula to spread the mixture over the cooled crust.

Chop the veggies into small pieces and sprinkle over the top of the cream cheese mixture.

Cut into small squares and serve.

This may be stored, covered tightly, in the fridge for up to 24 hours. It's best served fresh at room temperature.
Nutrition Information:
Calories: 159kcal (8%)| Carbohydrates: 12g (4%)| Protein: 3g (6%)| Fat: 11g (17%)| Saturated Fat: 4g (25%)| Cholesterol: 23mg (8%)| Sodium: 235mg (10%)| Fiber: 1g (4%)| Sugar: 1g (1%)