This cold veggie pizza recipe starts with soft crescent dough as the crust and gets topped with a creamy cheesy ranch topping and loads of fresh, crisp veggies. This is one of those snacks that people can't get enough of!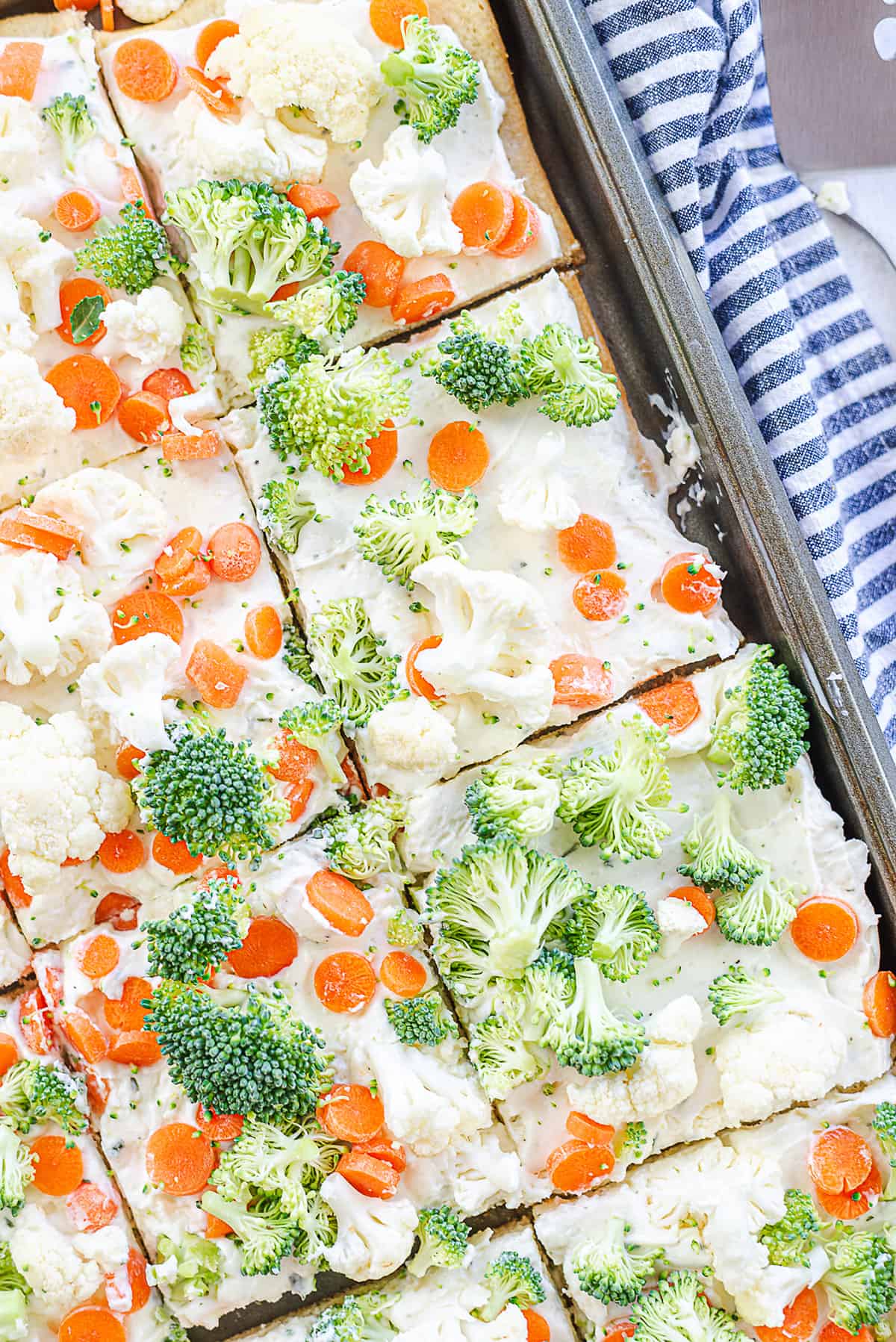 Okay, I'm aware that this recipe has been floating all over the dang internet for years now, but the thing is…I had never tried it.
I looked at it and thought..vegetables on pizza? Seems rude. I'll pass!
Then I showed up for a get together at my mother-in-law's house and she had a huge platter of little veggie pizza squares. I eyed them suspiciously.
"What's that creamy white stuff on top?" I asked her.
"Oh, just cream cheese and ranch powder," was her answer.
Y'all. I hoovered that entire platter of veggie pizza in my face so fast she is probably still traumatized.
Cream Cheese Veggie Pizza…who knew it was actually delicious and seriously irresistible??
Ingredient for Veggie Pizza Recipe: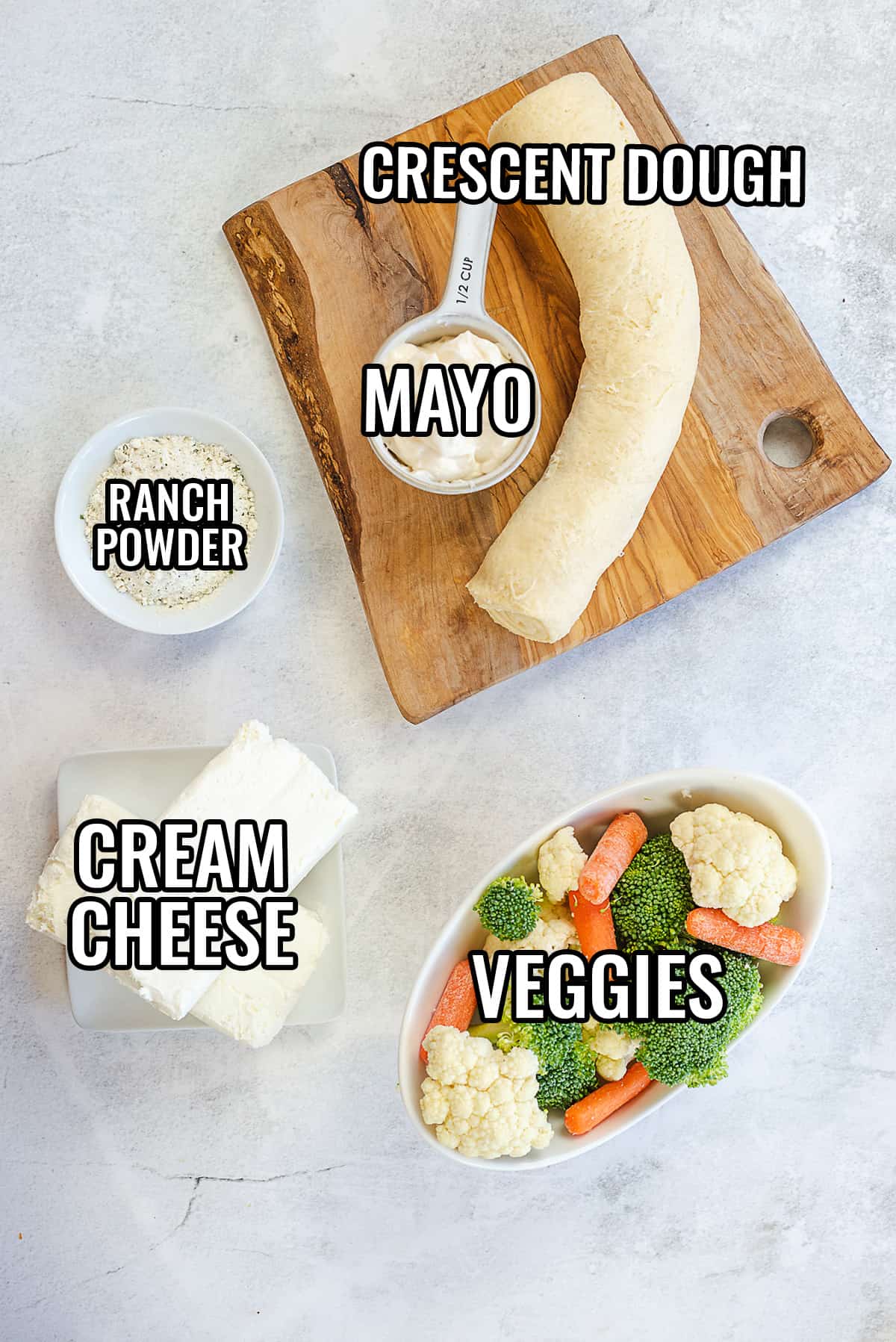 Crescent Dough – We use crescent dough sheets. They're just one big sheet of dough without the perforations. If you can't find those, regular crescent roll dough will work fine too.
Sauce – We're combining softened cream cheese and mayo with ranch dip powder. It's so creamy, loaded with flavor, and makes the perfect 'sauce' for this cream cheese veggie pizza.
Veggies – We use a mixture of carrots, broccoli, and cauliflower.
Extras – We've heard from many readers that they add sliced black olives, red onions, and peppers to their pizza and also top it all with a layer of shredded cheddar. Personally, I think it's perfect as I shared it, but feel free to add the extra cheese or any other veggies you might like.
What We Love About This Recipe!
This cold veggie pizza is super easy to prepare when using crescent dough sheets for the crust. It bakes up in no times and then it's just a quick and easy mix of the cream cheese and ranch. And that's what we really love most about this recipe – the ranch flavored cream cheese "pizza sauce"!
How to Make Veggie Pizza:
Crust: To prepare this easy pizza crust you'll just unroll both of the crescent dough sheets onto a half sheet pan and then press the edges together so that it forms one large crust. So easy! Now just bake it in the oven for 10 minutes until it is lightly golden. Let it cool completely – this will take an hour or so.
Helpful Tip!
Tools you will need:
Sharp Knife: I love my Wusthof santoku knife for chopping the vegetables and just about everything else, too.
Food Processor: If you don't want to chop the vegetables by hand, toss them in your food processor. Quick and easy!
Half Sheet Pan: I use these nearly pans every day. So useful.
Cream Cheese: Now to make the "pizza sauce." Mix together the softened cream cheese, mayonnaise, and dry ranch mix until well combined.
Spread that over the cooled crust. It'll be a nice thick layer.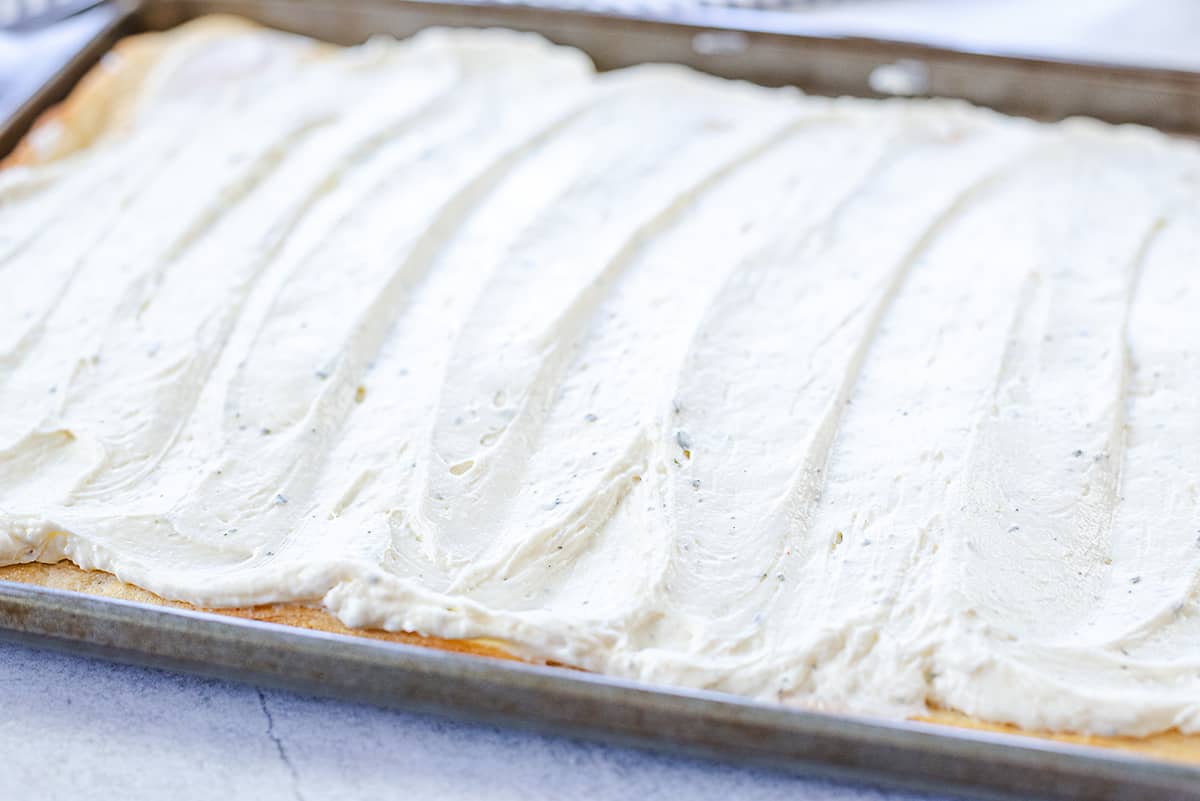 Veggies: Chop up your fresh veggies and then start loading them up as toppings for this cold veggie pizza! We really like the cauliflower, broccoli, and carrot mix but feel free to put your own spin on this one.
Slice: All that's left to do now is to slice the veggie pizza into squares and serve them up! They're perfect as an appetizer or snack and they're sure to go quickly at any gathering or party.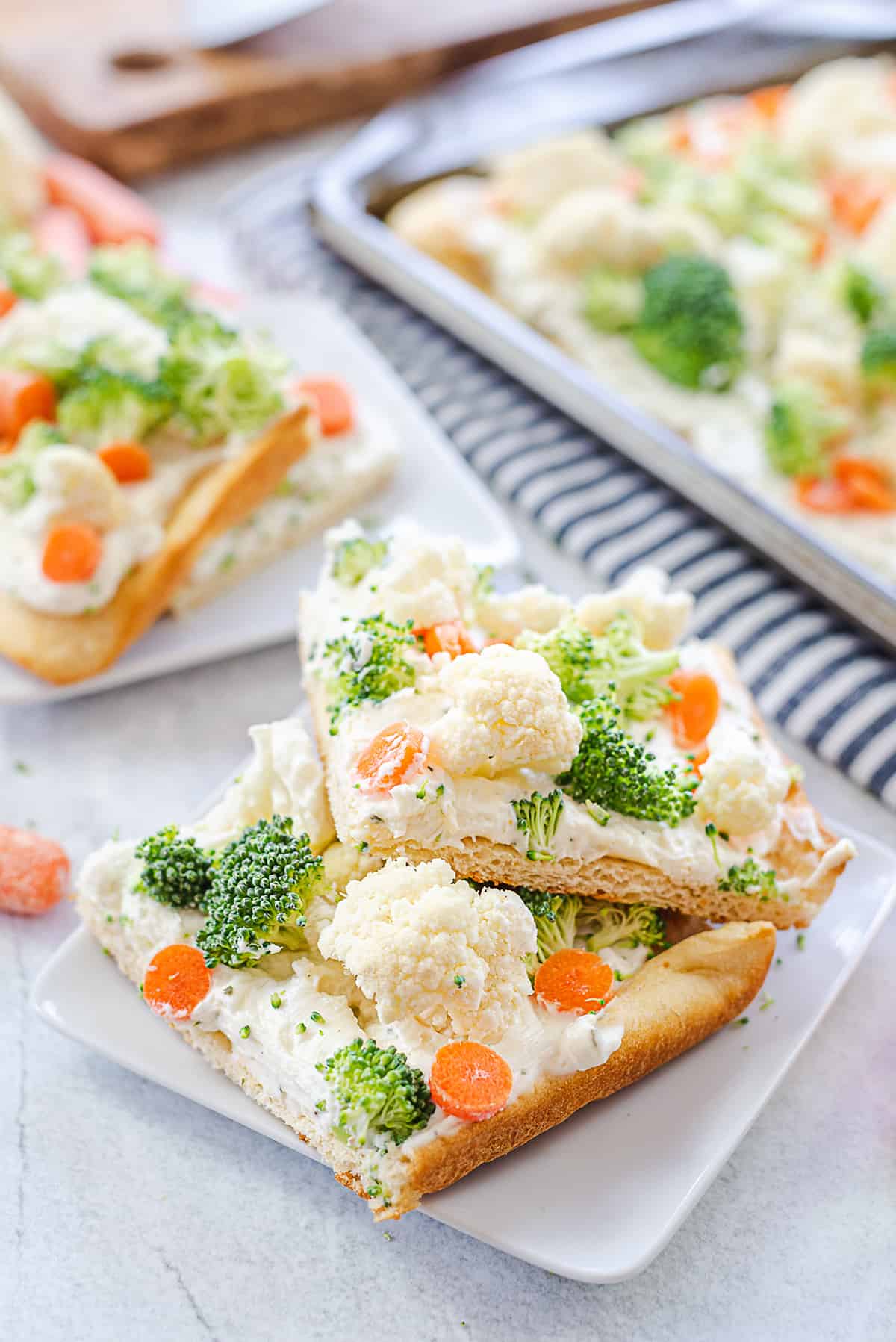 FAQs:
How to store veggie pizza?
This cold veggie pizza recipe is best store in the refrigerator well covered for up to a day. Let it come to room temperature before serving for the best taste.
Is veggie pizza healthy?
As much as I'd love to call this one health food, it does start with a can of processed dough and gets topped with cream cheese, mayonnaise, and packaged ranch seasoning. It's probably not the healthiest choice, but it makes a great treat that still packs in some nutritious vegetables.
What's on veggie pizza?
We put broccoli, cauliflower, and carrots on our veggie pizza, but peppers, onions, black olives, and cucumbers also make for a great topping. Many people top their pizza with shredded cheddar, too!
What Readers are Saying!
"This was fun to make. made it for family and they loved it . I used an extra pack of cream cheese and mixed with shredded cheese for the bottom n with bacon bits ! Oh my lord !!!!! It's amazing! Ty again for the recipe" – Jason
Can't wait to hear what you think of my vegetable pizza recipe!
If you love appetizers and snacks you should also try out my sweet Chex mix recipe, buffalo chicken dip recipe, fried pickles, and buffalo chicken sliders. I love appetizers and dips and snacks and share them often. 🙂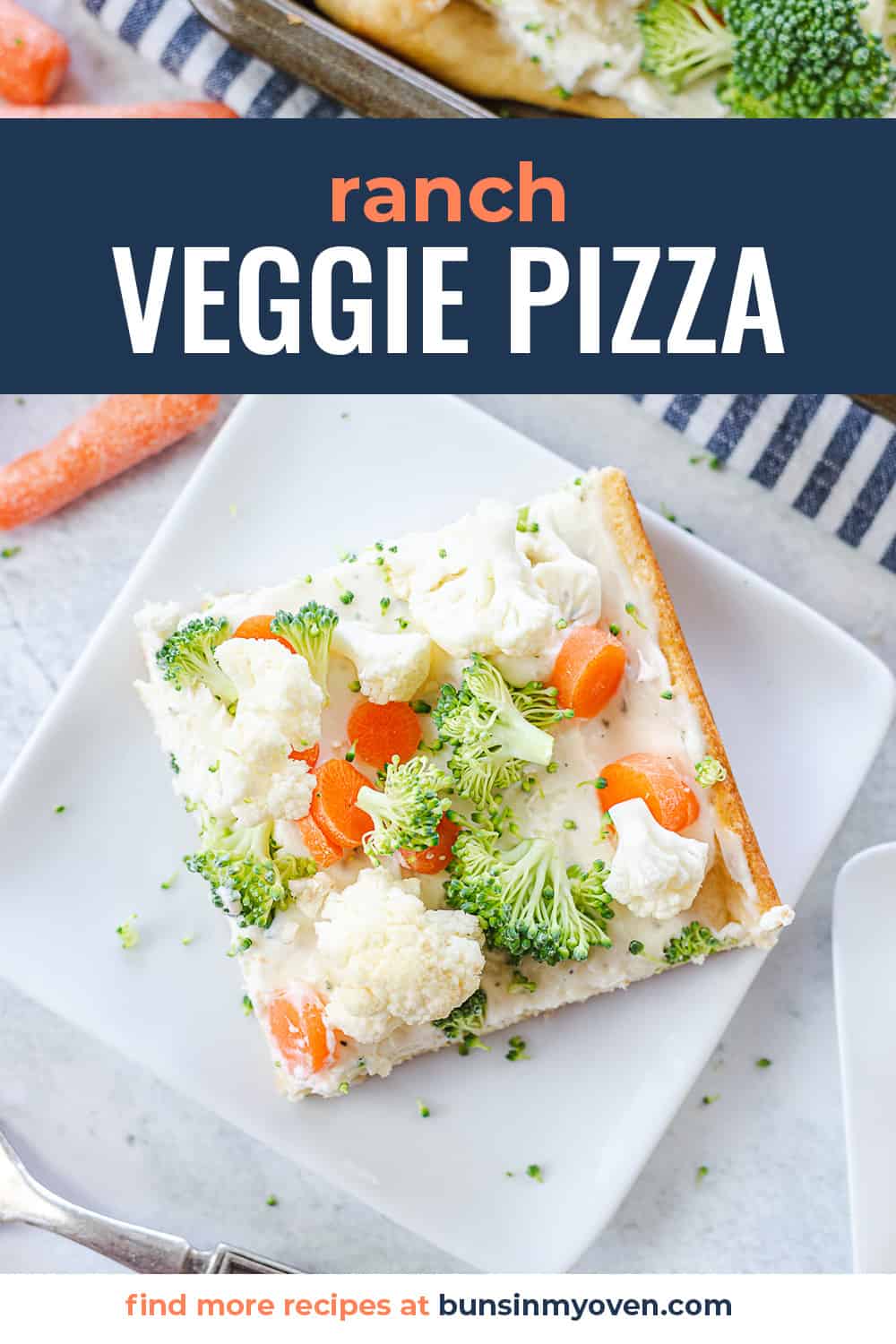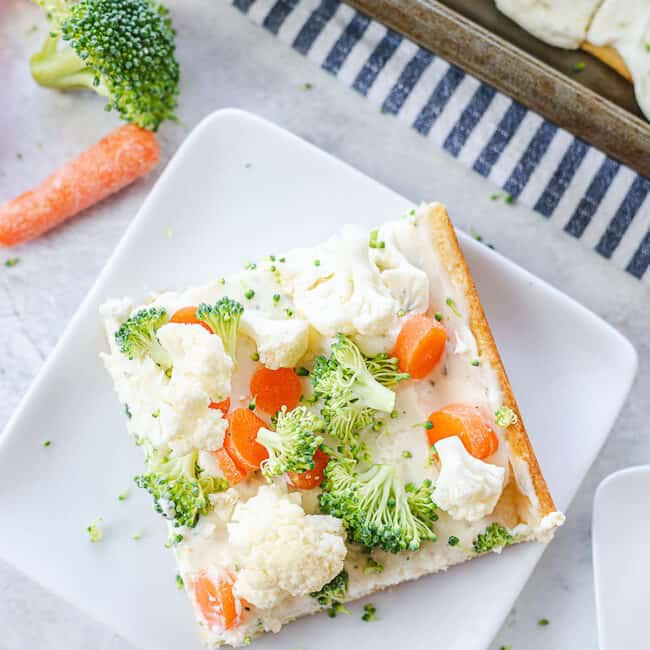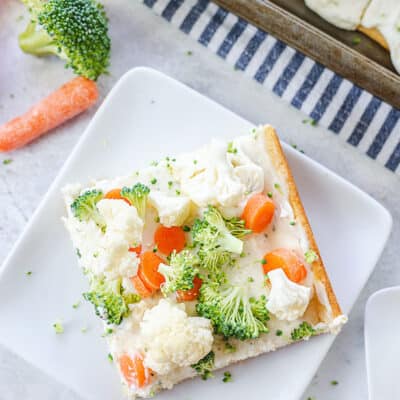 Cold Veggie Pizza
This cold veggie pizza is a total classic. It makes a great snack or appetizer and is easily halved or doubled. The crescent dough base is so soft and that cream cheese topping makes this one irresistible!
Prep20 minutes
Cook10 minutes
Cooling Time1 hour
Total1 hour 30 minutes
Ingredients
2 packages Pillsbury Crescent Dough Sheets
16 ounces cream cheese room temperature
1/2 cup mayonnaise
1 ounce dry ranch dip mix
4 cups assorted chopped vegetables such as carrots, broccoli, and cauliflower
Instructions
Preheat oven to 375 degrees.

Unroll crescent dough sheets and place on half sheet pan. Press together to seal the edges to form one large crust that covers the pan.

2 packages Pillsbury Crescent Dough Sheets

Bake for 10 minutes or until lightly golden. Cool completely, about 1 hour.

Add the cream cheese, mayonnaise, and ranch mix to a mixing bowl and stir well until combined.

16 ounces cream cheese, 1/2 cup mayonnaise, 1 ounce dry ranch dip mix

Use an off-set spatula to spread the mixture over the cooled crust.

Chop the veggies into small pieces and sprinkle over the top of the cream cheese mixture.

4 cups assorted chopped vegetables

Cut into small squares and serve.
Tips & Notes:
Crust – We like the dough sheets because they are just one uniform sheet of dough, but if you can't find those, the crescent rolls will work just as well. Roll the dough out and press together the perforations to make one large sheet of dough. Ranch Dip – If you're sensitive to sodium, use the ranch seasoning powder in place of the ranch dip mix. The ranch seasoning has a lower sodium content and won't be as salty. Variations – Bell peppers, onions, cucumbers, and sliced black olives are all good toppings. Many people sprinkle shredded cheddar over the top, but we find it unnecessary with all of the cream cheese. Storage – This may be stored, covered tightly, in the fridge for up to 24 hours. It's best served fresh at room temperature.
Nutrition Information:
Serving: 1slice| Calories: 247kcal (12%)| Carbohydrates: 17g (6%)| Protein: 4g (8%)| Fat: 19g (29%)| Saturated Fat: 8g (50%)| Polyunsaturated Fat: 5g| Monounsaturated Fat: 4g| Trans Fat: 1g| Cholesterol: 30mg (10%)| Sodium: 455mg (20%)| Potassium: 122mg (3%)| Fiber: 2g (8%)| Sugar: 3g (3%)| Vitamin A: 2396IU (48%)| Vitamin C: 4mg (5%)| Calcium: 35mg (4%)| Iron: 1mg (6%)
This recipe was original published in January 2017. It was updated with new photos in January 2022.