This TWICE BAKED POTATO CASSEROLE starts with baked potatoes that get mixed with sour cream, cream cheese, bacon, and cheddar for a delicious and comforting side dish. We serve this up for holidays and family get-togethers and it's always one of the first foods to go! Everyone loves a baked potato casserole!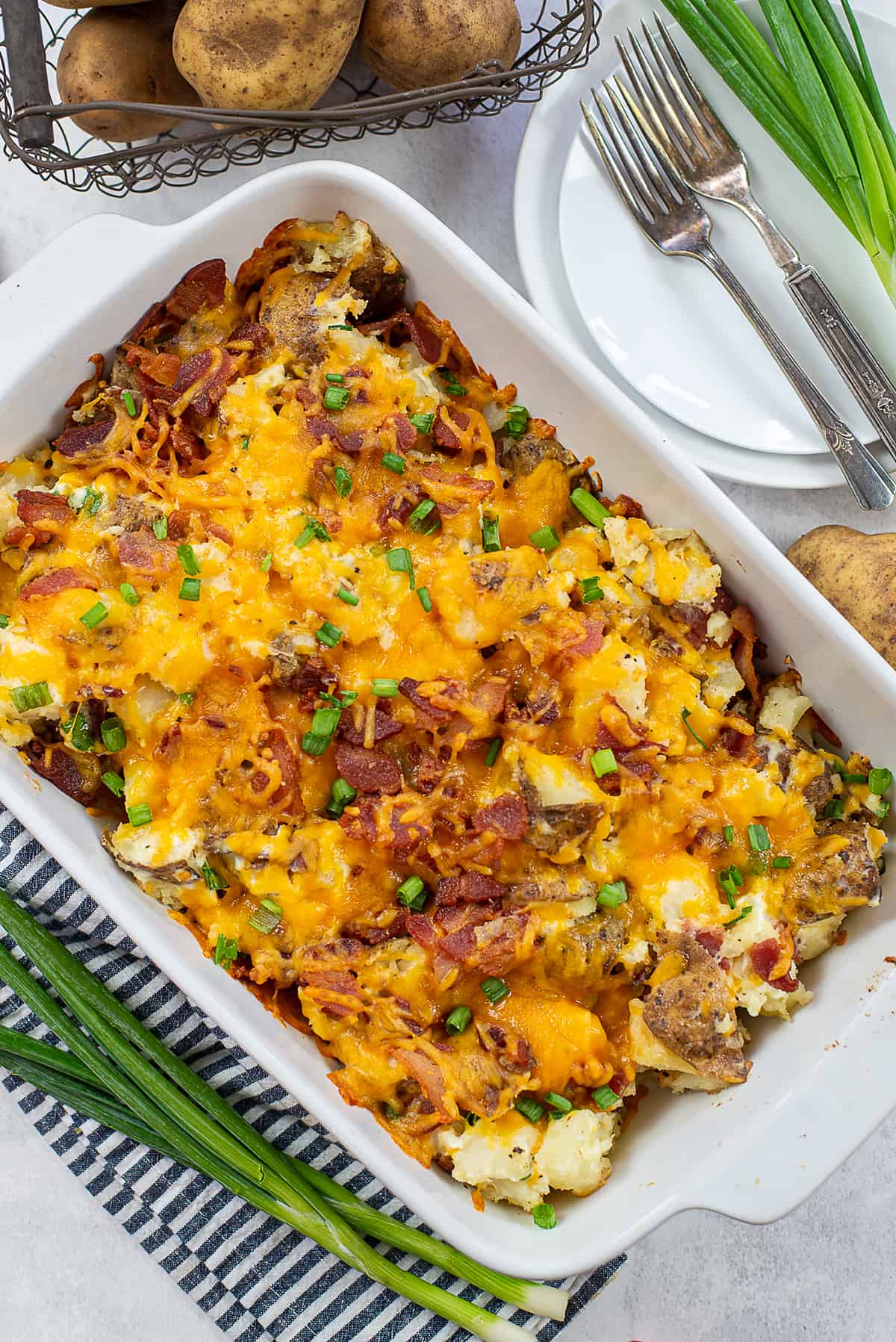 I'm definitely a summer girl when it comes to the sunshine and margaritas by the pool, but I'm all about fall and winter for two reasons…hoodies and casseroles.
I love a cozy hoodie. And if you've been around here for any length of time, you know that I LOVE a good casserole.
I'm from the Midwest…casseroles are in my blood.
This twice baked potato casserole is a total hit every time I make it. Pure comfort food loaded with tons of flavor. Pretty sure this is impossible to resist and it totally feeds a crowd so it's perfect for holidays or potluck dinners!

Ingredient Notes: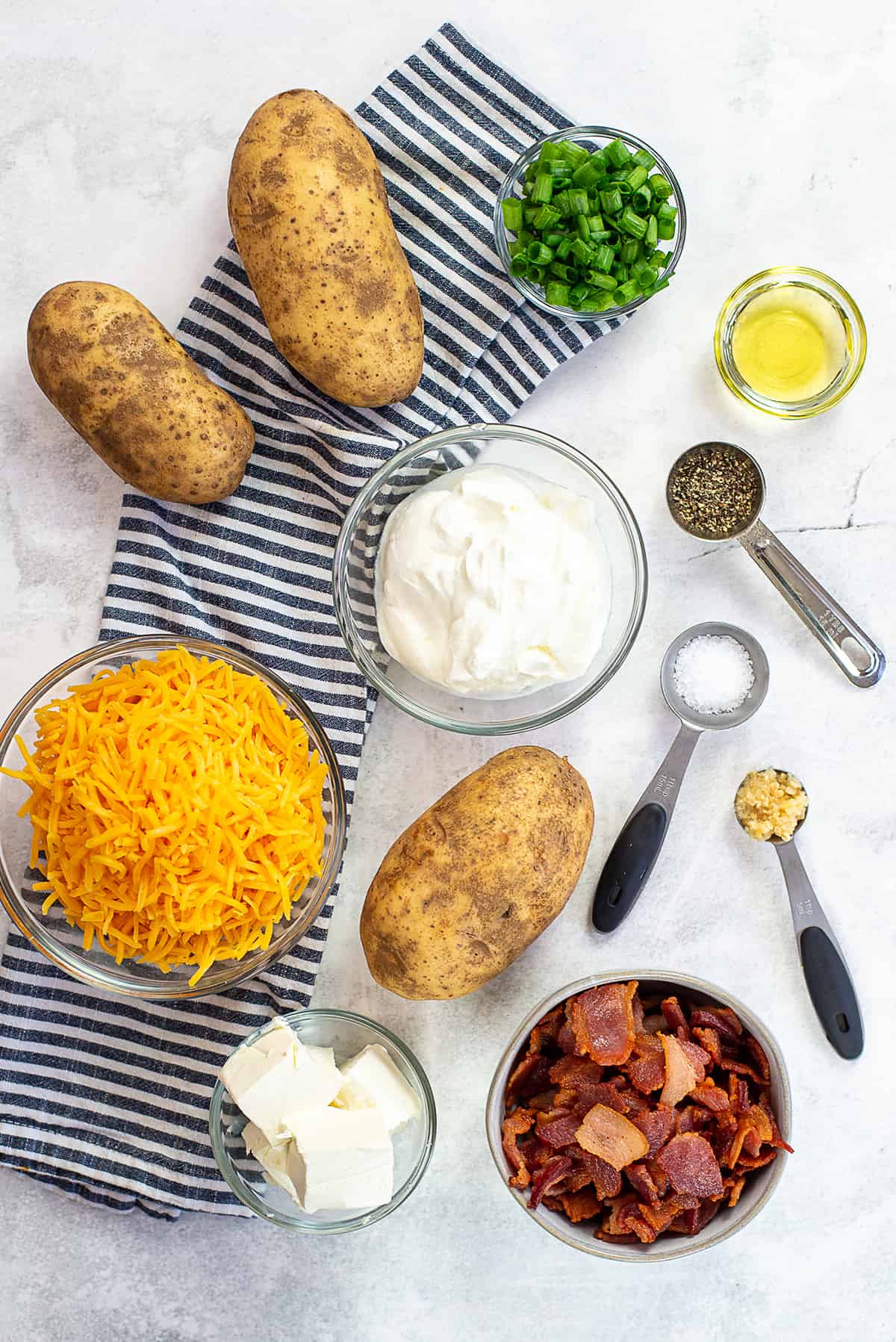 Russet Potatoes – These are the most popular type of potatoes for baking for a few good reasons, such as the starchiness. They hold up very well when being twice baked and they're so good loaded up with all the cheese and bacon!
Bacon – You'll want to fry and crumble your bacon. It can also be cooked in the microwave, baked in the oven, or use air fryer bacon here.
Cheese – Sharp cheddar and cream cheese come together to make the perfect combo.
Sour Cream – Loaded potatoes require sour cream – we use full fat, but you can use low fat or fat free if you prefer. Fat free Greek yogurt also works well.
What Readers are Saying!
"This was the most cheesey, potatoey, comfort foody thing to pair with ribs! I would have never thought of doing this, so thank you for posting this! A 9×13 pan was more than enough for my family of 5 (3 teenagers and 2 adults, so we can eat some food!!) it was so filling, and the leftovers were even better the next day!" – Devon
How to Make Loaded Potato Casserole: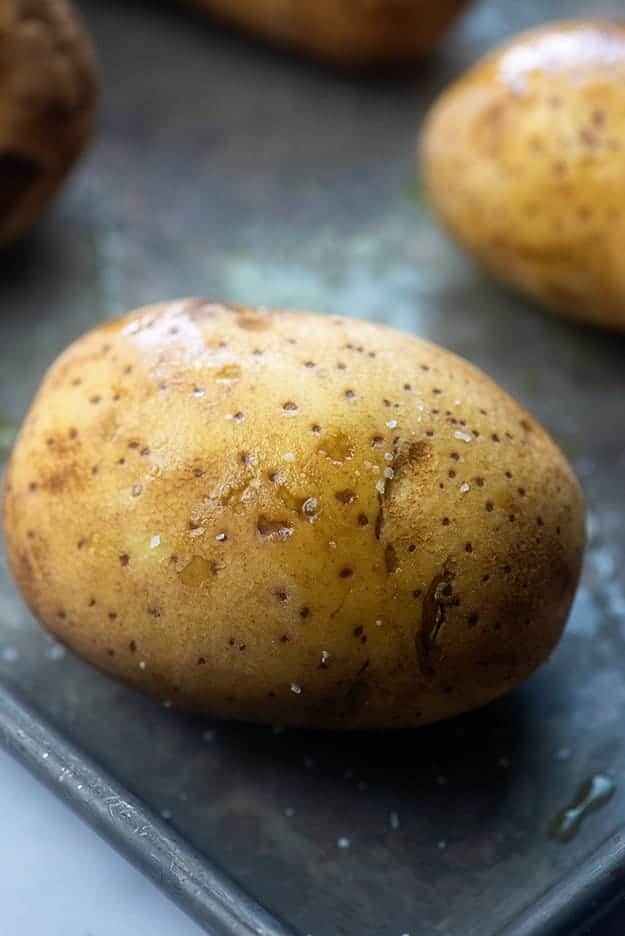 Baked Potatoes: Wash your potatoes, rub them with a little oil and salt, pop them on a baking sheet, and bake for around an hour.
Once your potatoes are cooked and cool enough to handle, chop them into bite-sized pieces and add them to a huge mixing bowl.
Coat: Top the baked potatoes with sour cream and softened cream cheese. Give it a good stir to coat the potatoes.
It's okay if the potatoes break up and start to mash a bit as you stir. This will just add to the creaminess of the casserole.
Combine: Mix together the cheddar and bacon and add half of that mixture to the potatoes along with some green onions, garlic, salt, and pepper.
Give it a good stir to get everything combined.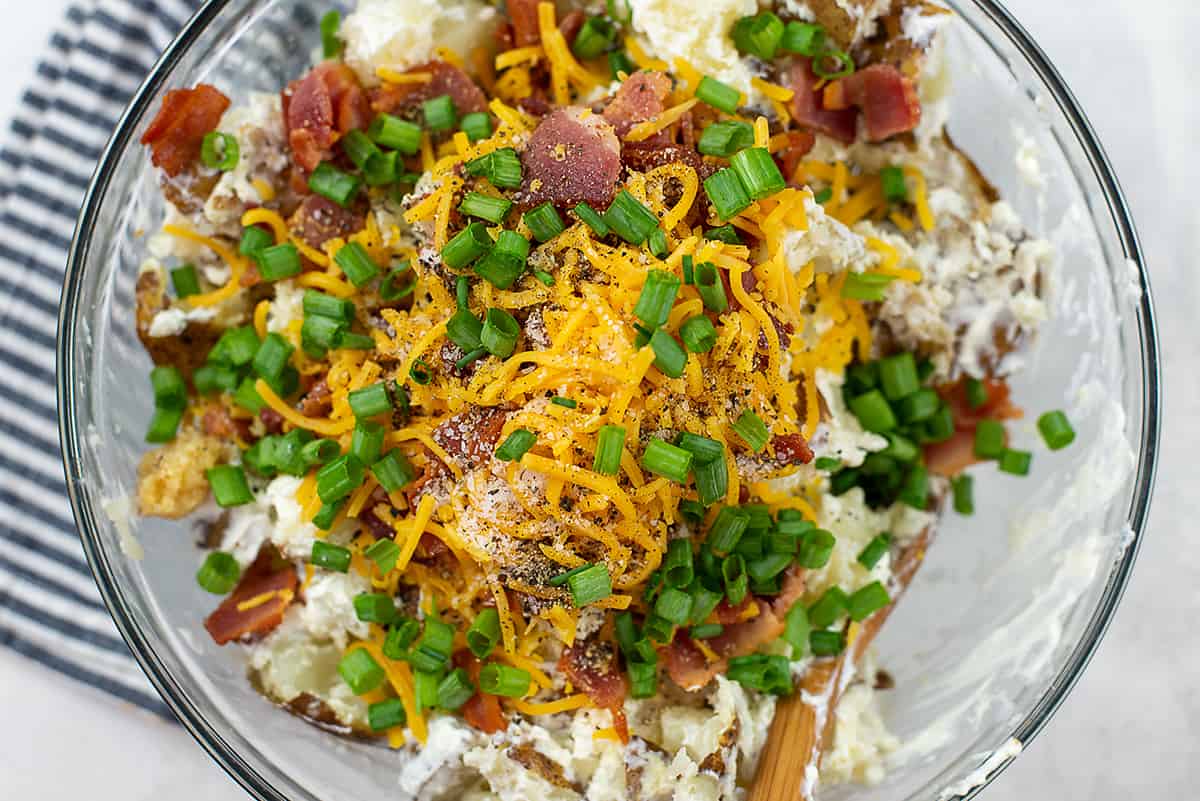 Bake: Spread the loaded potato casserole into a 9×13 baking dish and sprinkle the rest of the cheese mixture over the top.
Cover with foil and bake for 30 minutes and then remove the foil and bake another 10 minutes.
Sprinkle some more green onion on top before serving, if you like.
This cheesy twice baked potato casserole is divine, you guys! I know you're going to love it!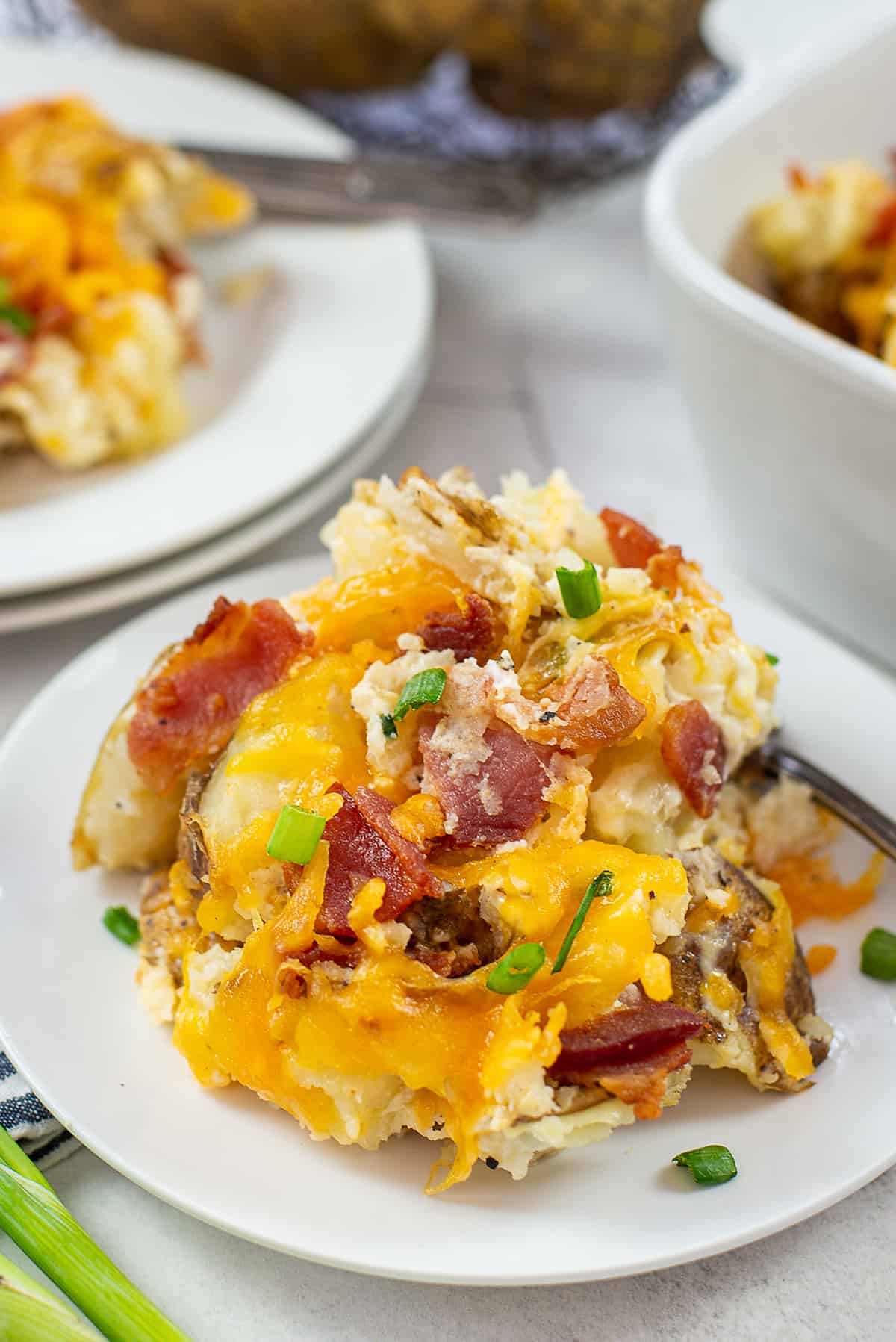 FAQs:
Can baked potato casserole be made ahead?
Yep – you can make as much or as little ahead of time as you like.

Bake the potatoes up to 3 days in advance and store them in the fridge. Chop and continue with the recipe as directed. The potatoes won't break down the same as they do when warm, but otherwise, this recipe works the same.

Alternately, you can make the recipe all the way up to baking and then pop it in the fridge the day before. Cover and bake as directed.
Can you freeze twice baked potato casserole?
Yes, for sure! Prepare the recipe up to baking, cover tightly with a double layer of foil, and freeze for up to 2 months. We like to let this thaw in the fridge overnight before baking and then just bake as directed.
Can I use a different meat?
It doesn't get much better than bacon for me, but if you want to swap out or just add a different meat like diced ham or chicken I think those would also work well in this recipe.
Can I refrigerate twice baked potato casserole?
Yep! The cooked dish should last if well covered for about 3 days.
More Casserole Recipes:
Million Dollar Mac & Cheese Casserole: A popular favorite recipe, this macaroni and cheese dish is super decadent!
Keto Buffalo Chicken Casserole: It might be low on carbs but it is not short on flavor!
Air Fryer Broccoli & Cheese Casserole: This is a classic casserole recipe made super simple with the use of an air fryer!
Chicken and Rice Casserole: The ultimate comfort food and so simple to make.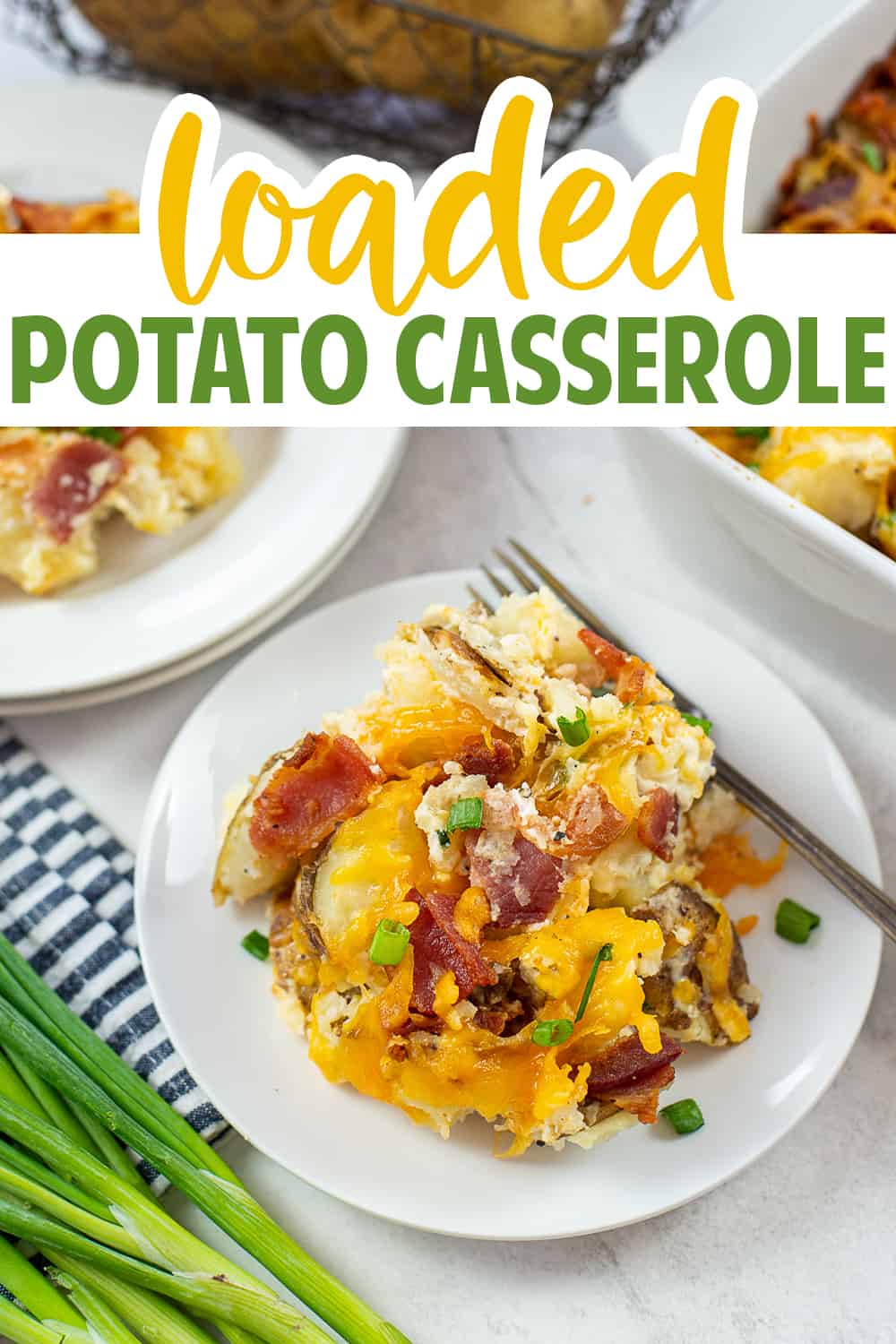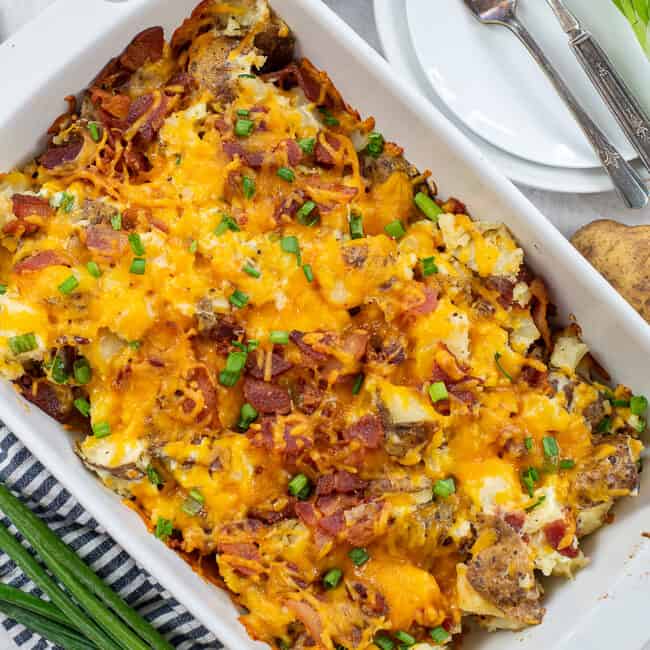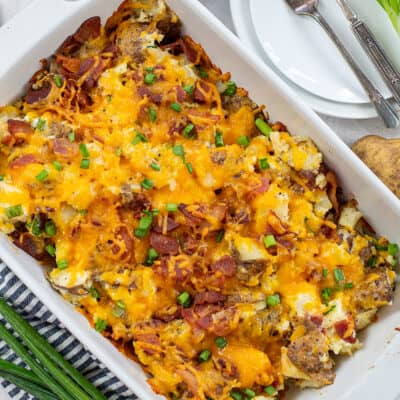 Twice Baked Potato Casserole
This loaded potato casserole is the perfect side dish to feed a crowd. Guests love it and it's simple to pull together.
Prep15 minutes
Cook1 hour 40 minutes
Ingredients
8 medium russet potatoes
1 tablespoon olive oil
1 1/4 cup sour cream
4 ounces cream cheese
1 pound bacon fried and crumbled
2 cups shredded cheddar
¼ cup chopped green onions
1 teaspoon minced garlic
1 teaspoon salt plus more for potatoes
1 teaspoon cracked pepper
Instructions
Preheat oven to 400 degrees.

Rub the oil over the potatoes and sprinkle with salt.

Bake for 45 minutes to an hour, until potatoes are tender and cooked through.

Reduce oven to 350 degrees.

Let potatoes cool for 15 minutes and then chop into bite-sized pieces.

Add the potatoes to a large mixing bowl with the sour cream.

Microwave the cream cheese until very soft and add to the potatoes. Stir to coat.

Mix the bacon and cheddar together in a small bowl. Add half of the mixture to the potatoes.

Add the green onions, garlic, salt, and pepper to the potatoes. Stir well to combine. The potatoes will begin to break down a bit as you stir. For a smoother consistency, keep stirring. For a chunkier consistency, stir gently until just combined.

Scoop potato mixture into a 9×13 baking dish.

Sprinkle the reserved cheese mixture over the top.

Cover with foil and bake for 30 minutes. Remove foil and continue baking for 10 minutes.

Sprinkle with additional green onions before serving, if desired.
Tips & Notes:
If you're in a hurry, you can microwave the potatoes until fork tender rather than baking them, though we do like the texture best when the potatoes are baked. You may swap the sour cream for 0% fat Greek yogurt to make this a bit healthier. We use sharp cheddar, but any variety of cheese you like should work well here.
Nutrition Information:
Serving: 1| Calories: 436kcal (22%)| Carbohydrates: 28g (9%)| Protein: 14g (28%)| Fat: 30g (46%)| Saturated Fat: 14g (88%)| Cholesterol: 68mg (23%)| Sodium: 618mg (27%)| Potassium: 738mg (21%)| Fiber: 2g (8%)| Sugar: 2g (2%)| Vitamin A: 500IU (10%)| Vitamin C: 9mg (11%)| Calcium: 193mg (19%)| Iron: 2mg (11%)
This recipe was updated with new photos in December 2021. Original photo below.