This INSTANT POT POTATO SOUP is thick, creamy, and fully loaded with cheddar and bacon. We love how quick it is to make this soup in an Instant Pot or pressure cooker.
My family isn't generally real big on soup for dinner, so while I do sneak in soup here and there, it's not a regular occurrence in our house.
Except for thick, rich, creamy, fully loaded potato soup. That one is on repeat in our house because everyone goes absolutely nuts for it.
I've always made this crockpot potato soup, but one day I forgot to start it in time for dinner. I did a little experimenting by converting it for the Instant Pot and it is every bit as good as the original, but so much faster!
These are basically the same recipe, so if you don't have an Instant Pot, just click that link up there and go for the slow cooker version. If you've got all afternoon, the slow cooker version is just as good.
If you're in a hurry, grab your Instant Pot. Potato soup in the Instant Pot is going to make for some very happy bellies, I can tell you that. 🙂
Our Instant Pot Bean Soup is another big hit around here!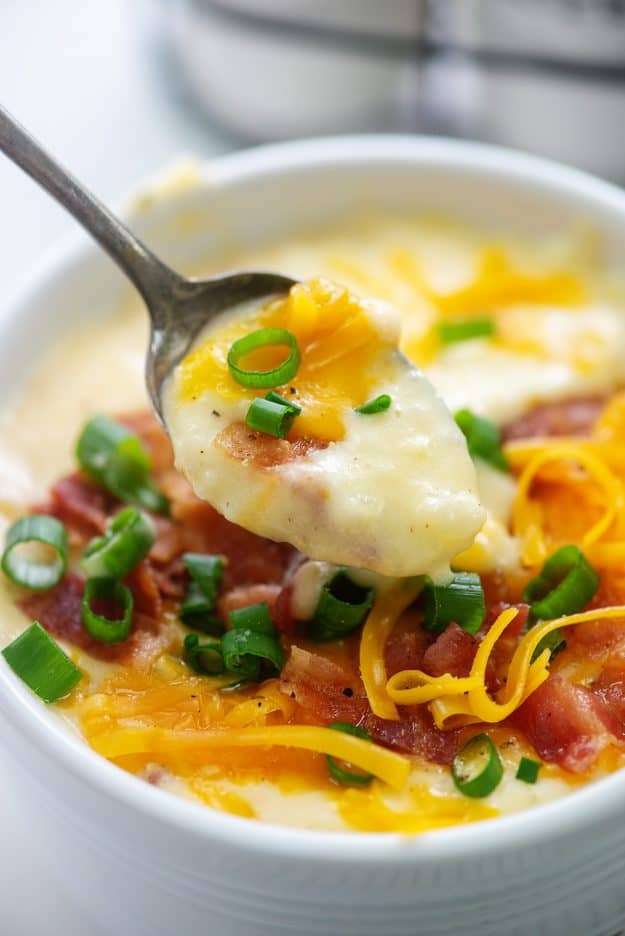 How to Make:
Saute: This soup is full of tasty ingredients, and to really get the flavors going we need to start with BACON! That's how everything should begin. 😉

Set the Instant Pot to Sauté and add the chopped bacon, cooking until it is almost crisp. Add the onion and garlic to really kick up the flavor and cook until it has softened and smells great!
Pressure: Pour in the chicken broth and stir well. Be sure to scrape the bottom good to get all bacon and onion flavor you can! This will also prevent you from getting a burn error on your Instant Pot. Add the potatoes, and toss in the salt and pepper.

Cover the Instant Pot, set the lid to sealing, and set the pressure to high. It only takes 10 minutes for your potatoes to cook! Set the timer and prepare for the next step.
Mash: When the cook time is finished release the pressure carefully and open the lid. Grab your potato masher or a similar suitable tool and start mashing! You can make the consistency whatever you like. We got for creamy with just a few chunks here and there.
Thicken: The flour and milk mixture is going to help thicken things up. You can easily combine them in a mason jar and shake to combine (younger kids love to help with this), or just whisk them together in a small bowl. Add the mixture to the pot and stir well. Next, add the evaporated milk and the heavy cream and stir again until well combined. (I told you this soup was creamy, right?!)

Set the pot to Sauté again and allow it to cook for about 5 minutes, stirring occasionally until the soup has thickened to your liking.
Cheese It Up: Finally you can add in all that tasty shredded cheddar cheese. Pour it in and stir until it has melted and combined. Feel free to add more salt and pepper depending on your taste, and then ladle it up!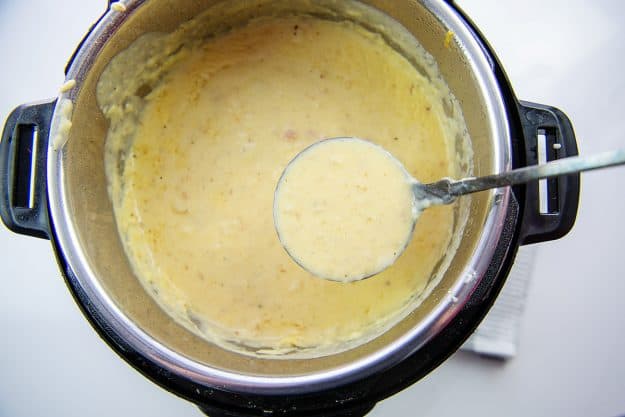 Serve: We're going for a LOADED Instant Pot Potato Soup, which means it's time to break out the good stuff. Top each bowl with crumbled bacon, extra cheddar, and diced green onions or chives. A dollop of sour cream is nice as well!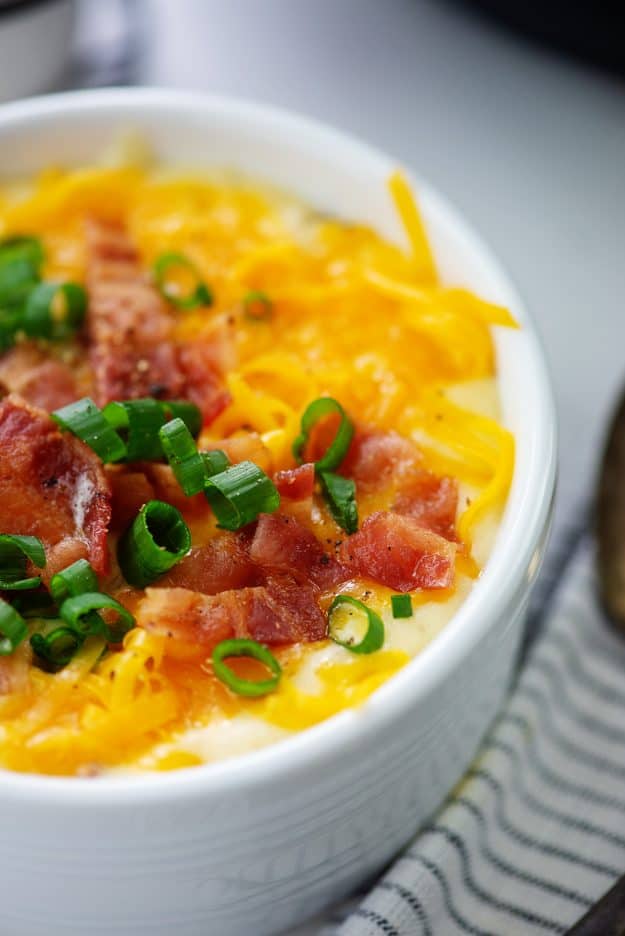 SUBSTITIONS/ADDITIONS!
A can of cream of chicken soup could be used in place of the heavy cream. My substitute for cream of chicken soup would also work.
This recipe uses russet potatoes. We're going for a baked potato soup vibe here. You can sub in Yukon Gold if preferred.
Reheating the Leftovers
This soup is perfect for making ahead and leftovers reheat beautifully!
Reheat individual servings in the microwave until hot. Add a splash of milk to thin it out to your desired consistency.
Reheat the whole pot of soup on the stove, stirring in milk once the soup is hot, if needed.
This soup does thicken as it sets in the fridge. When cold, it will almost look like mashed potatoes. It thins out when reheating.
serving suggestions:
Pair this soup with…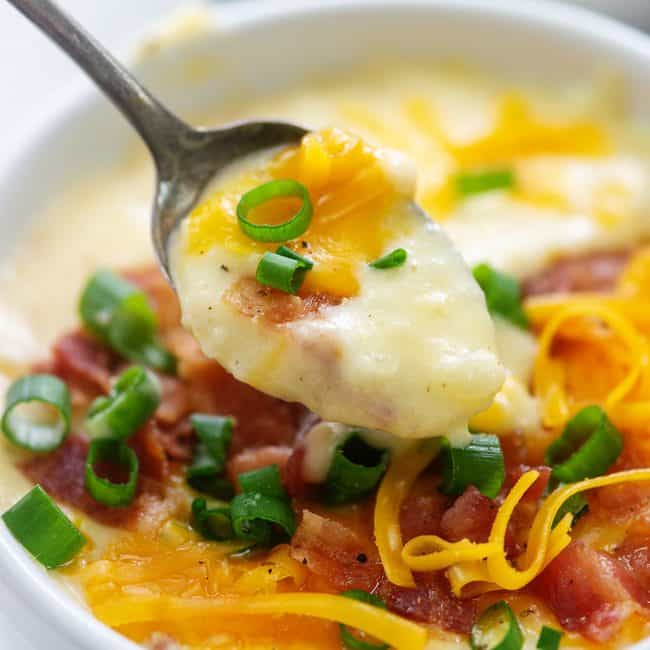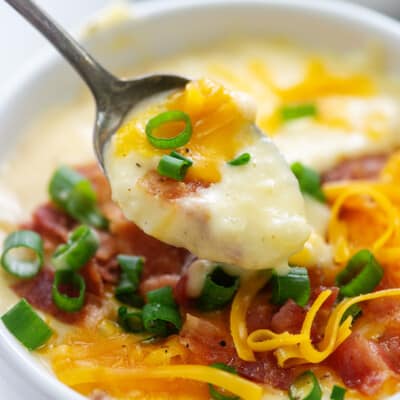 Instant Pot Potato Soup
This potato soup comes out so thick and creamy in so much less time than traditional potato soup! It's rich, hearty, and filling and reheats perfectly. Top it off with plenty of cheddar, bacon, and green onions.
Prep10 minutes
Cook25 minutes
Time To Pressure10 minutes
Total45 minutes
Ingredients
6 slices bacon chopped
½ sweet onion diced
1 clove garlic minced
5 large Russet potatoes peeled and diced
3 ½ cups chicken broth
1 teaspoon salt
1 teaspoon ground pepper
1 cup milk
½ cup flour
12 ounces canned evaporated milk
1 cup heavy cream
2 cups shredded cheddar
bacon, green onions, and cheddar for topping the soup
Instructions
Set the Instant Pot to saute and add the bacon. Fry bacon until nearly crisp.

Add the onion and garlic to the Instant Pot with the bacon and cook until onion has softened and garlic is fragrant.

Add the chicken broth to the pot and stir well, being sure to scrape the bottom of the pan so as not to get a burn error when cooking.

Add the potatoes, salt, and pepper to the pot and stir.

Cover the pot, set the lid to sealing, and turn to high pressure. Cook for 10 minutes.

Release the pressure carefully.

Use a potato masher to mash the potatoes to reach the desired consistency.

Add the flour and milk to a mason jar and close tightly. Shake well to combine. Alternately, whisk the flour and milk together in a small bowl.

Pour flour mixture into the soup and stir to combine. Add the cream and evaporated milk to the soup and stir.

Turn pot to saute and cook, stirring constantly, for 5 minutes or until the soup has thickened to your liking.

Stir the cheddar cheese into the soup until smooth and melted. Taste and add additional salt and pepper, if needed.

Ladle hot soup into bowls and garnish with cheddar, bacon, and green onion, if desired.
Tips & Notes:
Our crockpot potato soup is the same recipe with a different method, if you prefer not to use the Instant Pot.
Nutrition Information:
Calories: 585kcal (29%)| Carbohydrates: 57g (19%)| Protein: 20g (40%)| Fat: 32g (49%)| Saturated Fat: 18g (113%)| Trans Fat: 1g| Cholesterol: 97mg (32%)| Sodium: 1035mg (45%)| Potassium: 1334mg (38%)| Fiber: 3g (13%)| Sugar: 8g (9%)| Vitamin A: 884IU (18%)| Vitamin C: 22mg (27%)| Calcium: 413mg (41%)| Iron: 3mg (17%)