This Instant Pot Vegetable Beef Soup is rich, hearty, and packed with tender beef and loads of veggies. This is a from scratch recipe that will taste like you spent hours on, but it's ready in less than an hour with minimal hands on time.
I used to basically be obsessed with the Campbell's vegetable beef soup in a can.
I'd make it almost every day for lunch in the summer when we were home from school. So dang good, hearty, filling, and easy!
Of course, I grew up and now I'm very…meh…about canned soup. I actually don't remember the last time I ate it myself, but every now and then my kids heat up a can and the smell just takes me right back to my childhood. Yum!
This homemade Instant Pot vegetable beef soup is, of course, a million times better than the canned stuff. It's fresh, flavorful, and you know exactly what went in it.
Using the Instant Pot just makes it extra quick and simple. Plus, there is something about pressure cooking soup that makes it taste like it's been simmering away all day long.
Take my Instant Pot Bean Soup – loads of flavor, minimal work.
I already had an Instant Pot Vegetable Soup, so I started there when making this beefy version.
👩‍🍳 How to Make Instant Pot Vegetable Beef Soup:
Sear stew meat in a little olive oil in your Instant Pot until nicely browned on all sides.
Add potatoes, carrots, onions, and garlic and cook for about 5 minutes.
Pour in the beef broth and delgaze the pan. Deglazing the pan is just done by adding liquid to the hot pan and then using a spoon or spatula to scrape up the browned bits stuck on the bottom. This step is important – if you skip it, you'll likely get a burn notice when trying to pressure cook your soup.
Add a can of tomatoes, green beans, corn, and seasonings to the pot and give it a stir. Cover, set the vent to sealing, and pressure cook for 8 minutes.
Let the pressure release naturally for 15 minutes, open the lid, and stir in some freshly chopped parsley.
Taste the soup and add additional seasonings if needed. We find that pressure cooked foods tend to need a bit more salt than I would normally use.
🌿 Spices for Vegetable Beef Soup:
We tend to keep it simple when it comes to seasonings. We want big flavors, but we don't want to spend a fortune buying obscure spices that will expire before we use them.
For this vegetable beef soup, we're seasoning with Worcestershire sauce (it adds such a richness!), Italian seasoning blend (this is just a spice mix of different Italian herbs), and salt and pepper. We also stir in fresh parsley at the end to give it a fresh flavor.
Helpful Tip!
Make your own Italian Seasoning!
Add equal parts of dried basil, oregano, parsley, thyme, and rosemary to a small mason jar.
Close the lid tightly and shake to combine.
Store in your spice cabinet for up to 6 months.
Leftover Hack!
This soup will freeze well.
Cool completely, pour into a ziptop freezer bag, and lay flat in the freezer.
To reheat, thaw in the fridge or under warm water and reheat on the stove.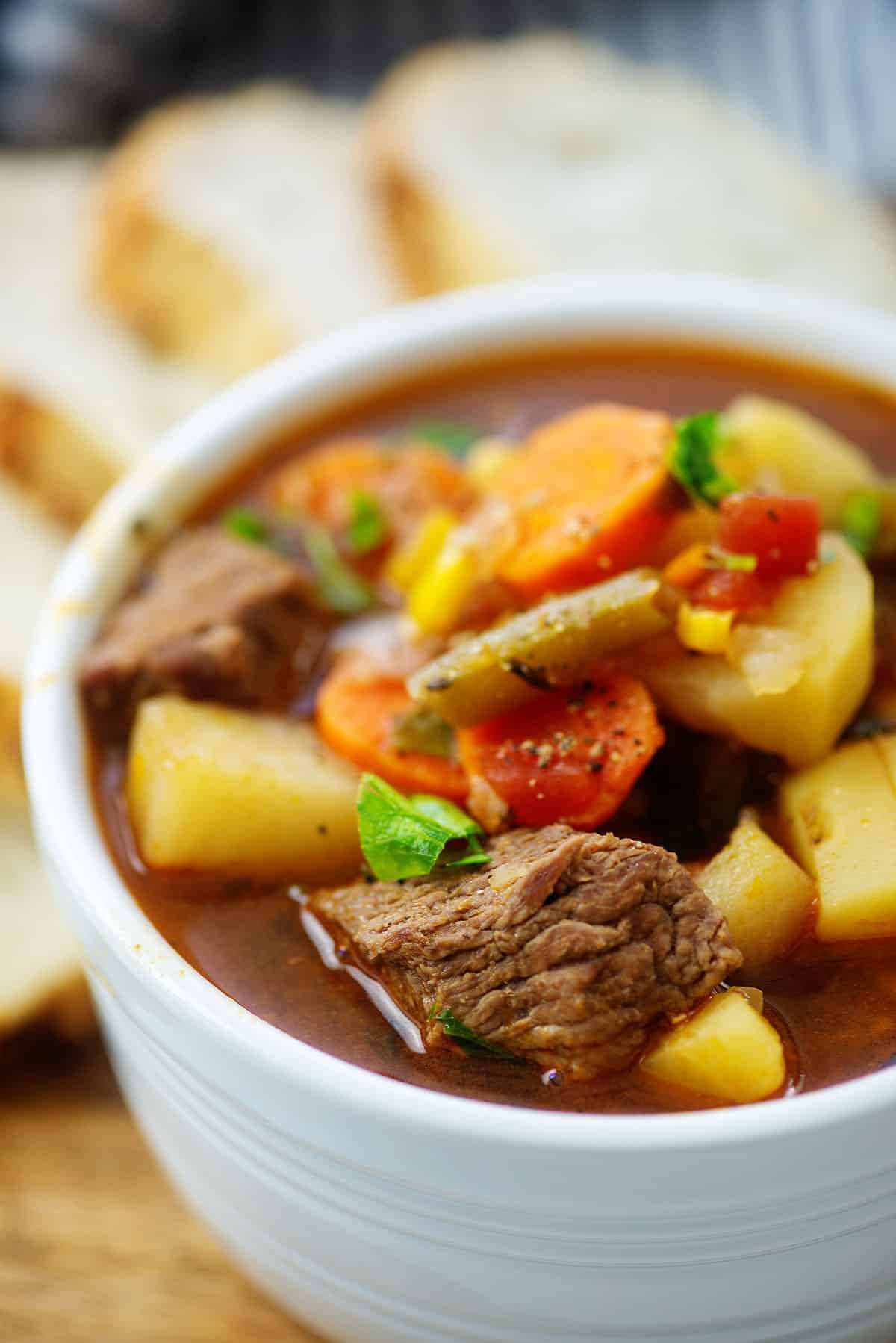 Make It a Meal!
Pair this with…
Instant Pot Vegetable Beef Soup
This vegetable beef soup is rich, hearty, and packed with tender beef and vegetables. It's made so quickly thanks to the Instant Pot, but it tastes like it's been simmering for hours.
Prep15 minutes
Cook15 minutes
Pressure Build Up & Release35 minutes
Total1 hour 5 minutes
Ingredients
1 tablespoon olive oil
1 ½ pounds beef stew meat
3 medium carrots diced
2 large Russet potatoes peeled and diced
1 medium onion diced
3 cloves garlic minced
5 cups beef broth
14 ounces canned diced tomatoes
12 ounces frozen green beans
12 ounces frozen corn
2 tablespoons Worcestershire sauce
1 1/2 teaspoons Italian seasoning
1 1/2 teaspoons salt
1 teaspoon cracked pepper
¼ cup fresh chopped parsley
Instructions
Turn the pressure cooker to 'saute' and, once hot, add the olive oil. Add the beef and cook until browned on all sides. Stir in the carrots, potatoes, onion and garlic, and cook until onions begin to soften, about 5 minutes.

Add the broth to the pot and deglaze the bottom of the pan. Scrape the bottom of the pan well or you will get a burn notice when pressure cooking.

Add the tomatoes (with juice), green beans, corn, Worcestershire sauce, Italian seasoning, salt, and pepper to the pressure cooker and stir to combine.

Place the lid on the pressure cooker, set the valve to sealing, and cook on high pressure for 8 minutes.

Let the pressure release naturally for 15 minutes before opening the quick release valve.

Add the parsley to the pot, stir well to combine, and add additional salt or pepper, if desired.

Serve immediately.
Tips & Notes:
Feel free to swap in other vegetables that you like or omit ones you don't want. This recipe is very forgiving and easily adaptable.
Nutrition Information:
Calories: 303kcal (15%)| Carbohydrates: 37g (12%)| Protein: 26g (52%)| Fat: 7g (11%)| Saturated Fat: 2g (13%)| Cholesterol: 53mg (18%)| Sodium: 1181mg (51%)| Potassium: 1211mg (35%)| Fiber: 5g (21%)| Sugar: 5g (6%)| Vitamin A: 4337IU (87%)| Vitamin C: 24mg (29%)| Calcium: 96mg (10%)| Iron: 5mg (28%)