Taco chili is a fun twist on two family favorites! This hearty recipe is loaded with seasoned beef, beans, and all the taco flavors you crave, served up in a bowl and topped with sour cream, cheddar, and crumbled tortilla chips.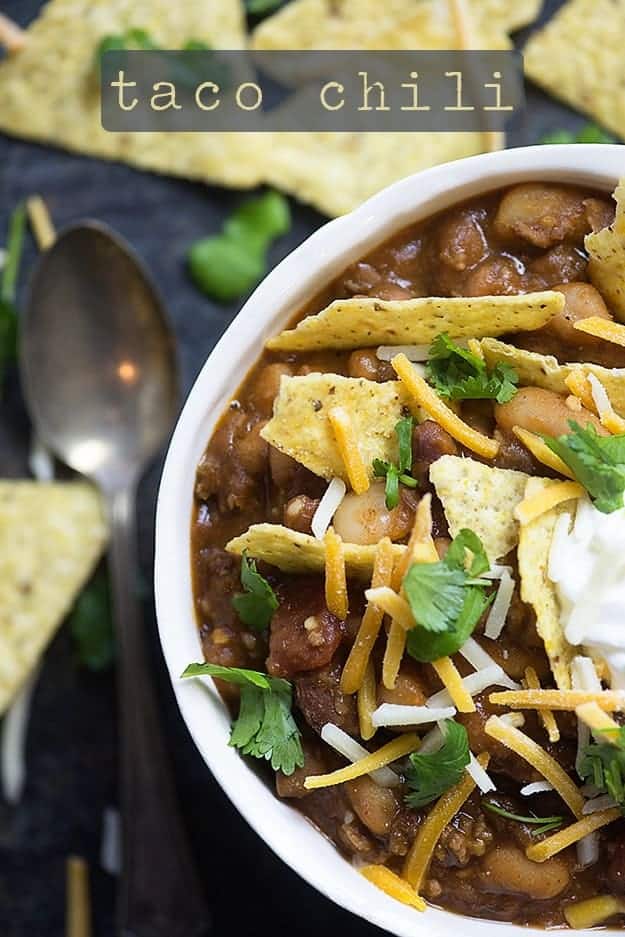 Look. It was only a matter of time before I turned a taco into something that you could eat with a spoon, you guys.
I'm taco obsessed. My fried tacos are a favorite. My taco pasta is divine. My carnitas tacos are life. I even turned tacos into sliders. I'm a taco fan.
I'm also a chili fan. Especially this time of year. This cool weather practically demands chili. And football games? Dude, you better be serving chili to your hungry football fans. It's the law.
Anyway, it was high time that I married tacos and chili together and here we are with this hearty Taco Chili recipe!
Dried Beans Vs. Canned:
This is a really easy recipe, but it does start with a package of dried beans. We love using dried beans because they're so economical and I just feel like a champ when I cook up a pot full of tender beans.
If you're using dried beans, just follow the recipe as directed. You won't even need to soak your beans before using them – just let the cook on the stove for a few hours and they'll turn out perfect.
If you'd like to use canned beans, use 3 to 4 cans of your choice of beans, depending on how many beans you'd like in your chili. You'll also reduce the liquid down from 8 cups to 2-3 cups, depending on how liquid-y you like your chili.
Taco Chili
Taco chili is perfect for nights when you're craving tacos but need something warm and hearty. This will feed a crowd!
Prep10 minutes
Cook2 hours 15 minutes
Total2 hours 25 minutes
Ingredients
20 ounces dried 15 bean soup mix see notes
8 cups water
1 pound ground beef
1 large sweet onion chopped
2 cloves garlic minced
2 packets taco seasoning
1 teaspoon cumin
1 teaspoon chili powder
14 ounces canned diced tomatoes
10 ounces canned enchilada sauce
4 ounces canned diced green chiles
1 teaspoon salt more to taste
Instructions
Rinse and sort through the dried beans, removing any debris. Add beans to a large stock pot over high heat and pour in the water.

Bring to a boil, reduce to a simmer, and cover the pot.

Let cook for 1 hour and 30 minutes, stirring every 30 minutes.

When beans are tender, brown the beef, breaking it up as it cooks. Once the meat is broken up, add the onion and garlic and continue cooking and stirring until the beef is cooked through. Drain the fat from the beef.

Add the meat to the pot of beans, along with the taco seasoning, cumin, chili powder, diced tomatoes, enchilada sauce, green chiles, and salt. Stir well.

Cover and continue cooking on low for 45 minutes or until beans are fully cooked. To thicken the chili, continue simmering the chili with the lid off to cook down the liquid.

Serve with your favorite taco toppings, such as grated cheddar, avocado, sour cream, and tortilla chips.
Tips & Notes:
If your bean soup came with a packet of seasoning, feel free to either add it to the pot or save for another use. If you'd prefer to use canned beans, you'll want 3 to 4 15 ounce cans of beans (any beans, your choice), drained, along with around 3 cups of water, more or less depending on how thick you like your chili. Add the beans to a pot with the cooked beef and remaining ingredients and simmer for 30 minutes.
Nutrition Information:
Serving: 1bowl| Calories: 184kcal (9%)| Carbohydrates: 9g (3%)| Protein: 11g (22%)| Fat: 11g (17%)| Saturated Fat: 4g (25%)| Cholesterol: 40mg (13%)| Sodium: 802mg (35%)| Potassium: 311mg (9%)| Fiber: 1g (4%)| Sugar: 5g (6%)| Vitamin A: 335IU (7%)| Vitamin C: 12.5mg (15%)| Calcium: 50mg (5%)| Iron: 2.1mg (12%)
Ingredient Notes:
This post contains affiliate links. As an Amazon associate and member of other qualifying programs, I earn from qualifying purchases.
Bean Soup Mix – We're using a 15 bean soup mix, loaded with a variety of dried beans like navy, black, pinto, and more. You can use a different mix of beans or even only one variety if you prefer! The recipe card includes instructions for using canned beans as well.
Ground Beef – We use a lean ground beef, but any variety will do.
Taco Seasoning – You can keep it simple and use a couple of packets of your favorite store bought taco seasoning, or try this homemade taco seasoning recipe! You can control exactly how much spice you want if you make it yourself.
Garlic & Onion – Some minced garlic and chopped sweet onion will add even more flavor to this taco chili recipe. You could use other varieties of onion here too.
Cumin & Chili Powder – A must in chili, if you ask me!
Canned Ingredients – You can save time and effort by using a few simple canned ingredients including diced tomatoes, diced green chiles, and enchilada sauce. For more of a kick, swap the green chiles for canned jalapenos.
What We Love About This TACO CHILI Recipe:
Flavor: Chili recipes are never short on flavor with all that seasoning, and this recipe is no exception! The taco seasoning really spices it up, and the green chiles and other ingredients help too. This taco chili recipe has great bold flavor!
Gatherings: It's hard to beat a great big pot of chili for parties, family gatherings, or potlucks at work. This recipe makes a lot and will feed a crowd!
Meal Prep: Making a big pot of soup or chili is perfect for meal prep. Just portion into individual containers and grab and go!
How To Make Taco Chili:
Beans: Rinse and sort through your dried beans to remove any debris. Add the beans to a large pot with 8 cups of water. Bring your beans and water to a boil, then reduce to a simmer and cover the pot.
Let this cook for 90 minutes stirring every half hour.
Helpful Tip!
Cooking Dried Beans
Soaking is optional – you can soak the beans before using or skip this step. I don't notice a difference aside from cook time, so I generally do not soak beans before cooking them.
Don't salt your beans until they're partially cooked. The beans won't get as tender if you add salt to the cooking water.
Ground Beef: When the beans are tender, brown the beef, onions, and garlic until it is cooked through and drain the fat. Add one packet of taco seasoning to the meat and stir to coat. Add the meat to the pot of beans along with the rest of the ingredients.
Cook: Cover and cook on low heat for another 45 minutes.
Serve: See below for suggestions on toppings! We also love to serve this taco chili with homemade cornbread. My sweet cornbread contrasts nicely with the spice, or try my jalapeno cheddar cornbread for even more heat!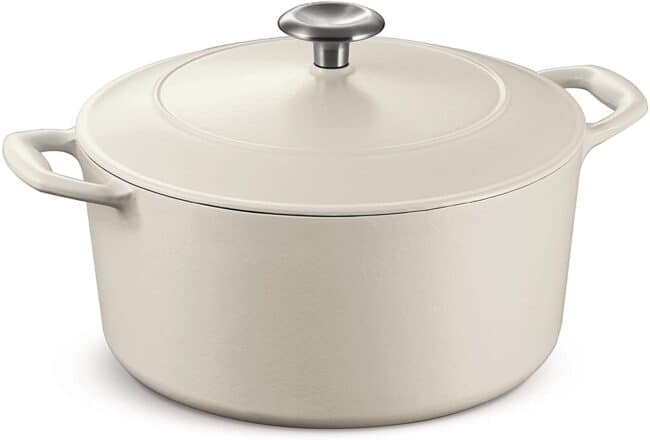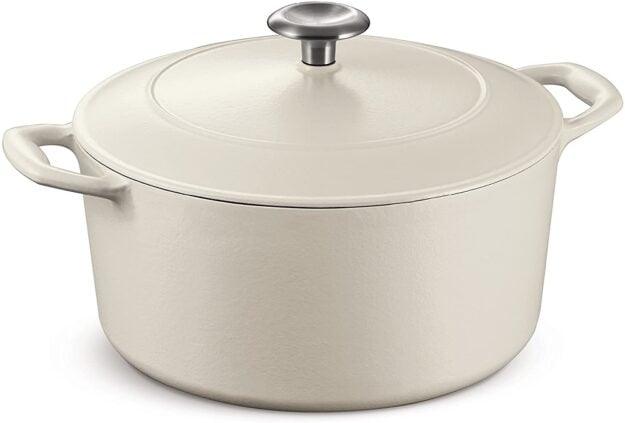 This gorgeous Dutch oven is perfect for making soup, pot roast, and more. It goes from stove to oven as needed and looks pretty enough to leave out on your stovetop as decoration.
Taco Chili Toppings:
The taco chili is pretty good as is but there's no reason you can't make it even better! That means loading it up with all your favorite taco toppings. Try it with any (or all) of these:
Avocado
Sour Cream
Black Olives
Tortilla Strips
Frito Chips
Green Onion
Shredded Cheese
Sliced Jalapenos
FAQ's:
How to store leftover taco chili?
Let the chili cool completely before storing in a covered or airtight container in the fridge for up to 3 to 4 days. You can also freeze this taco chili recipe for up to a few months.
Is this chili very spicy?
This Taco Chili recipe is not very spicy, but it's easy to make it more spicy! Swap the canned green chiles for canned diced jalapenos and swap the canned diced tomatoes for Rotel.
MORE HOMEMADE CHILI RECIPES!