Slow cooker chili from scratch! This recipe is a keeper!
The other day my kiddos asked me to make them our favorite Fall dinner – chili and grilled cheese sandwiches.
I mean, I'm totally sad about the end of summer and closing up the pool and putting away the flip flops, but chili? And grilled cheese sandwiches? Sure. Fall can be here now. I'm ready.
I went the from scratch route on the chili, because sometimes you just gotta do things up right. For me, from scratch means that I did not use beans from a can. I started with a bag of dried beans and I let everything cook all day in the slow cooker. That is some chili perfection right there.

I'm working with Hurst's Beans again this year, because y'all seemed to love the bean recipes I shared with you last year. Remember the crock pot baked beans I shared? And the pulled pork and pintos? Yesssss. So good.
This time around I grabbed a bag of Hurst's Slow Cooker Chili. It comes with a mix of beans and a chili seasoning packet. There are instructions right on the back of the package for making chili, but I had to doctor things up a bit.
I'm a sucker for super meaty chili and I really, really love it with shredded beef instead of ground beef. Have you tried it like this? It's amazing.
I started with a trimmed chuck roast that was about 2 1/2 pounds and I added in the beans, some garlic, a bunch of onion, and BEER. Because, hey. Beer. If you're opposed, you can totally just use water instead.
Anyway, I hope you give this slow cooker chili a try. It's so hearty and filling and it's absolutely perfect for this time of year. Just be sure to have a grilled cheese or a slice of cornbread handy for serving with it!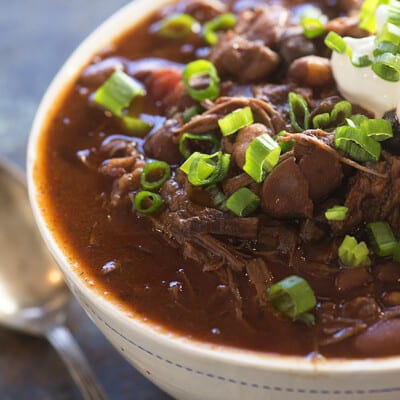 Slow Cooker Chili
Slow cooker chili made with shredded beef instead of ground! This recipe is a keeper!
Prep10 minutes
Cook6 hours
Total6 hours 10 minutes
Ingredients
1 package Hurst's Beans Slow Cooker Chili
1 sweet onion
3 cloves garlic
1 jalapeno more to taste
2 1/2 pounds trimmed chuck roast
12 ounces beer
4 1/2 cups water
15 ounces canned diced tomatoes
6 ounces tomato paste
2 teaspoons salt
2 teaspoons pepper
Instructions
Add the beans to a colander and sort through, removing any debris. Rinse and place in slow cooker.

Dice the onion,garlic, and jalapeno and place in the slow cooker with the beans.

Place the trimmed chuck roast over the top of the beans and sprinkle with half of the chili seasoning packet.

Pour the beer and water into the slow cooker and cover.

Cook on high for 5 hours.

Shred the roast with two forks. Stir in the tomatoes, tomato paste, salt, pepper, and remaining chili seasoning.

Cover and cook on high for 1 more hour.

Serve with sour cream, cheddar, green onions, crackers, etc.
Nutrition Information:
Calories: 202kcal (10%)| Carbohydrates: 10g (3%)| Protein: 26g (52%)| Fat: 6g (9%)| Saturated Fat: 2g (13%)| Cholesterol: 73mg (24%)| Sodium: 741mg (32%)| Fiber: 2g (8%)| Sugar: 5g (6%)