White bean chicken chili is so hearty and perfect for cool nights! My easy white chicken chili is made from scratch, too!

Let's talk about this white chicken chili, shall we?
I, for one, have always stuck my nose up at this stuff. Chili? That is white? How dare you?
WHO DO YOU THINK YOU ARE ANYWAY?
Then I ate a bowl of it and I was like, yep, we're friends now.
I'm fairly obsessed with this white chicken chili recipe and I think it's time I shared it with you. You're going to flip for this hearty chili recipe.

I've been working with Hurst's Beans this year to bring you recipes featuring their dried beans and this white chicken chili fits the bill perfectly. I know a lot of people start with canned beans, but I'm telling you, dried beans are the way to go. They're so flavorful and yummy and you just feel really accomplished when you whip up a perfectly cooked pot o' beans. Plus, they're a lot cheaper than canned. Trust me on that.
If you love white beans, you'll love this white bean soup too!
I started with Hurst's Beans Great Northern Beans with Ham Seasoning for this recipe. The little packet of ham seasoning adds this great smoky flavor to the chili that you're going to love. You can find Hurst's Beans with your other dried beans in most grocery stores. Wal-Mart generally has the most variety available in my area, so be sure to check there if you're struggling to find them.
I like to keep this somewhat mild for the kiddos and wimps in my family (real talk: the wimp in this family is my husband), but I do add in tons of the canned diced green chiles. They're pretty mild, but since I add quite a few it gives the chili a great flavor with just a bit of kick. You can certainly decrease the chiles if you're suuuuuuper wimpy opposed to spice.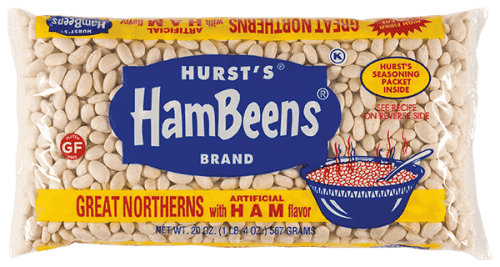 I also like this white chicken chili nice and thick! Depending on how hard you boil the beans, you'll have a decent amount of liquid in the pot when you add the milk. That's totally okay – you'll just continue cooking the soup, uncovered, until the liquid has evaporated and your soup is as soupy as you'd like it. You can also add additional milk to make it even thinner, if that's your jam.
For more recipes to use up those bags of super economical dried beans, check out my Instant Pot Tex-Mex Beans and my pulled pork and pinto bean recipe. A traditional red slow cooker chili is always good too!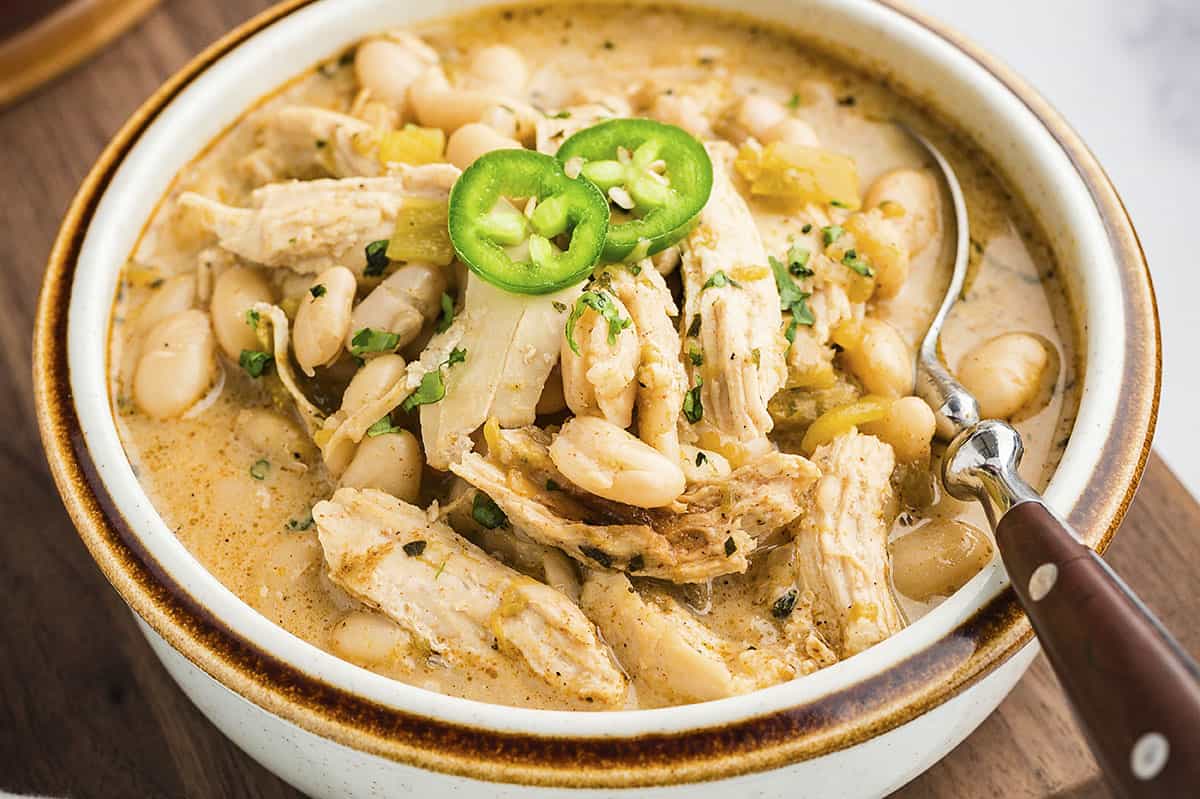 White Chicken Chili
This easy white chicken chili recipe is made from scratch. It's a hearty dinner that's perfect on chilly nights.
Prep20 minutes
Cook2 hours 15 minutes
Total2 hours 35 minutes
Ingredients
1 tablespoon butter
1 sweet onion diced
12 ounces canned green chiles diced
2 cloves garlic minced
1 package Hurst's Beans Great Northern Beans with Ham Seasoning
8 cups chicken broth
2 cups cooked shredded chicken
1 cup whole milk
2 teaspoons ground cumin
1 teaspoon salt
1 teaspoon black pepper
cilantro for serving
Instructions
Melt the butter in a large dutch oven or stock pot over medium heat. Once melted, add the onion and continue cooking until softened, about 3 minutes.

Add the chiles and garlic to the onions and cook for 2 minutes more, stirring often.

Rinse and sort through the beans and discard any debris. Add beans to the pot of onions along with the chicken broth.

Bring to a boil and reduce to a simmer. Cover the pan and let cook for 2 hours, checking occasionally to be sure there is still enough liquid in the pot to cook the beans. Add additional broth as needed.

After two hours, check beans for tenderness. Continue cooking until beans are as tender as you'd like. Once tender, add the shredded chicken, milk, cumin, salt, pepper, and packet of ham seasoning from the package of beans to the pot and stir well.

Return to a simmer and continue cooking, without the lid, until some liquid has evaporated and the chili has thickened up to your liking.

Serve topped with fresh cilantro.
Nutrition Information:
Calories: 294kcal (15%)| Carbohydrates: 21g (7%)| Protein: 19g (38%)| Fat: 15g (23%)| Saturated Fat: 5g (31%)| Cholesterol: 54mg (18%)| Sodium: 1127mg (49%)| Fiber: 2g (8%)| Sugar: 10g (11%)