This Tuscan White Bean Soup is the perfect slow cooker soup recipe for a chilly night! Big thanks to Hurst's Beans for sponsoring this post. And thank you for supporting the brands that help make this blog possible!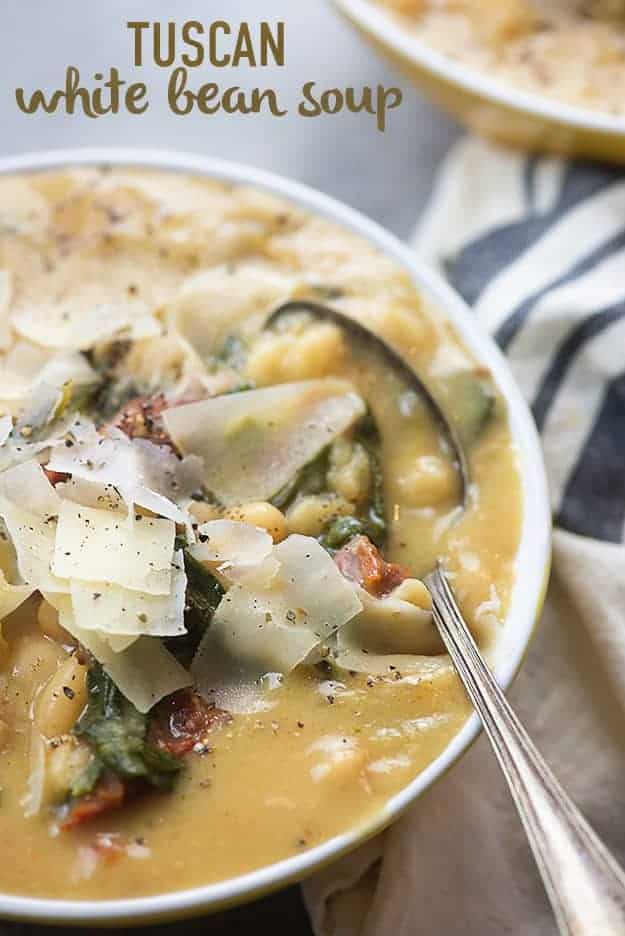 I have a wee bit of a confession to make.
Sun-dried tomatoes and I have not always been friends. Honestly, it's my fault completely. Those tangy little tomatoes did nothing to make me turn my nose up at them aside from look really weird.
I'm a terrible person, aren't I?
It's just…they're so wrinkly. And strange. And tomatoes are usually juicy and plump and sold in the produce section.
These are basically tomato raisins and I'm sorry, but I'm not a huge raisin fan. So I shunned the humble sun-dried tomato all of my life until one day I was like, no more. I will branch out and I will try something new.
Y'all. I am straight up obsessed with sun-dried tomatoes. They pack in so. much. flavor. It really should be illegal.
I'm working with Hurst's Beans again this year (yay!) to bring you some more recipes featuring their dried beans. Do you remember my taco chili, my drunken beans recipe, or my pressure cooker pinto beans? All made with Hurst's dried beans and they're so good!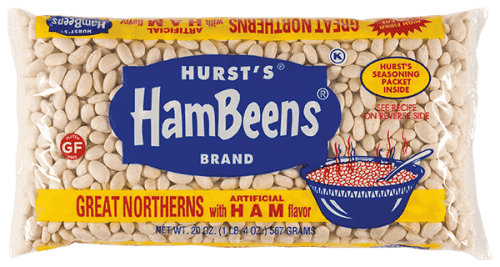 One of the things I really love about Hurst's Beans is that they come with a little seasoning packet along with the beans. You don't have to use it, of course, but I pretty much always do. The ham seasoning that came in the pack of Great Northern Beans I used for this soup added a great smoky flavor to the soup. So tasty!
My Tuscan White Bean Soup is thick, creamy, and packed with flavor.
This soup is really thick and hearty. I added just a touch of half and half (that's half whipping cream and half milk for my non-American readers) to get things nice and creamy.
This soup is packed with Great Northern beans, chopped baby spinach, and lots of sun-dried tomatoes. The tomatoes really do pack such a punch of flavor.
You can use the dry packed sun-dried tomatoes or the tomatoes in oil, but if you use the oil packed tomatoes, be sure to drain them well. Save the oil for another use because it's full of flavor!
Hope you guys love this soup as much as we do! It's really great for hungry Trick or Treaters this time of year and works well for hungry football fans too! Basically, anytime you've got a big group around who need something warm and hearty, this Tuscan White Bean Soup is a total winner!
Give this Tuscan white bean soup recipe a try and let me know what you think!
Tuscan White Bean Soup
This simple soup is bursting with flavor!
Prep10 minutes
Cook5 hours
Total5 hours 10 minutes
Ingredients
1 package Hurst's Great Northern Beans with Ham Flavor
1 onion diced
3 cloves garlic minced
9 cups chicken broth
1 cup half and half
5 ounces sun-dried tomatoes drained
6 ounces baby spinach
1 teaspoon red pepper flakes more to taste
1 teaspoon salt
2 teaspoons ground pepper
shaved Parmesan for serving
Instructions
Place the dry beans into a colander and rinse thoroughly with cold water. Check for any small stones or debris and discard.

Add the beans, onion, garlic, and chicken broth to a large slow cooker. Cover and cook on high for 4 hours or until beans are tender.

Add the half and half to the beans. Dice the tomatoes and spinach into bite sized pieces and add to the pot of beans.

Season with red pepper flakes, ham seasoning packet, salt, and pepper.

Cover and cook on low for 1 hour.

Stir well before serving. Serve with shaved Parmesan on top, as desired.
Tips & Notes:
This recipe originally called for 1 tablespoon of red pepper flakes, but we received quite a few reviews that people found it too spicy. I've reduced the red pepper flakes to 1 teaspoon, but feel free to add to taste.
Nutrition Information:
Calories: 199kcal (10%)| Carbohydrates: 24g (8%)| Protein: 11g (22%)| Fat: 7g (11%)| Saturated Fat: 3g (19%)| Cholesterol: 19mg (6%)| Sodium: 751mg (33%)| Fiber: 3g (13%)| Sugar: 13g (14%)