You're going to love this slow cooker soup, full of tender beans, Cajun seasonings, and chunks of Andouille sausage. This post is sponsored by Hurst's Beans. Thank you for supporting the brands that support this blog!
Did I tell you guys about the time my husband took me to see Wicked? It was last week, so I'm guessing I haven't told you yet or I'd remember. 😉
Anyway, he bought us tickets in the second row, because he knew that I'd been wanting to see the show for years. Good job, Husband!
Then he surprised me with some gorgeous earrings, to make our date night special. Really good job, Husband.
Then, during the intermission he gifted me with what is basically the funniest moment of my life.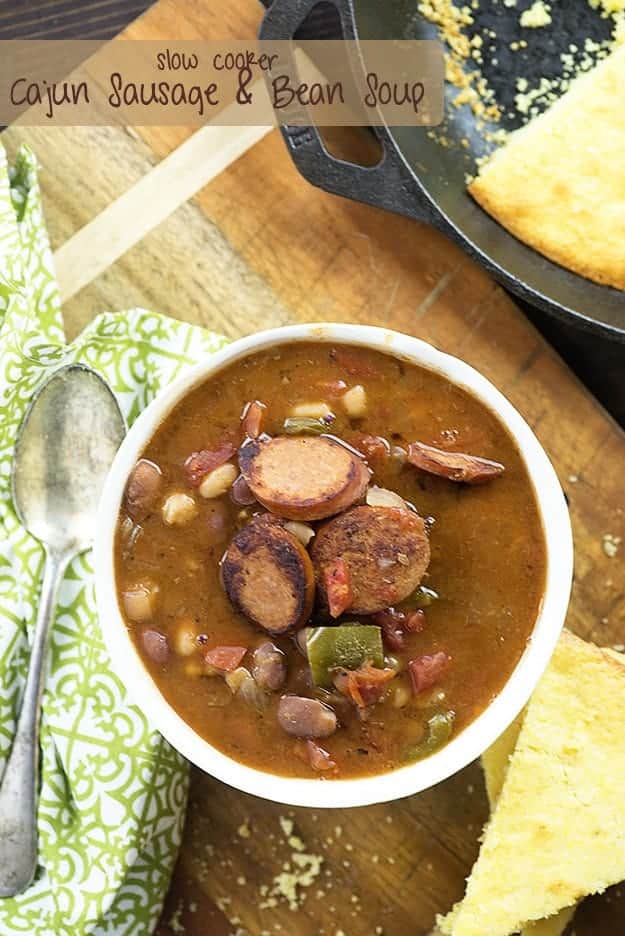 I don't want to give anything major away here, but Wicked covers the story of the wicked witch of the west from The Wizard of Oz. I don't think it's a spoiler to tell you that…she's green. She was born green and she stays green and the lady who plays her in the show is painted green from head to toe.
Well, my darling color blind husband couldn't figure out why everyone gasped when they held up the bright green baby after it was born. Nor could he figure out why everyone was gasping and shuddering in horror every time they met her on the streets or at school. Why was she such an outcast? She looked pretty to him! Very tan. Nice hair. Etc, etc.
Finally, he realized during one of the songs that girlfriend was green. The man has lived his entire life not realizing that the wicked witch of the west was green. HOW IS THAT A THING? HOW DOES ONE NOT KNOW THIS?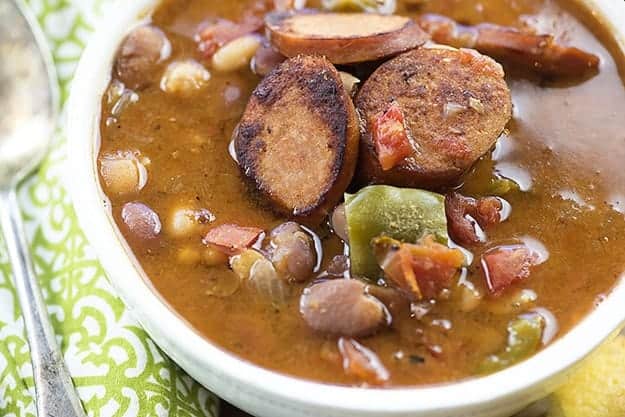 I love him. But I will never not make fun of him for this. Of course, I also find it strangely charming and adorable. I could not stop laughing when he told me about his struggles during intermission!
Anyway, that has nothing to do with this soup, I just had to get it off my chest. The world needed to know that story!
So, let's talk soup now, shall we? We shall.
I've been working with Hurst's Beans to bring you some creative recipes using their packages of dried beans. I love Hurst's Beans, because their bags of beans come with a little seasoning packet inside that you can use to add a burst of flavor to your beans. The ham flavoring in the pinto beans is especially nice, adding this bit of smokiness to the beans that really makes them pop.
This time around, I made you a slow cooker soup recipe featuring their Cajun 15 Bean Soup. You'd never guess, but the package comes with 15 different types of beans! 😉 It also contains a little packet of Cajun seasoning, making your soup super easy to season perfectly.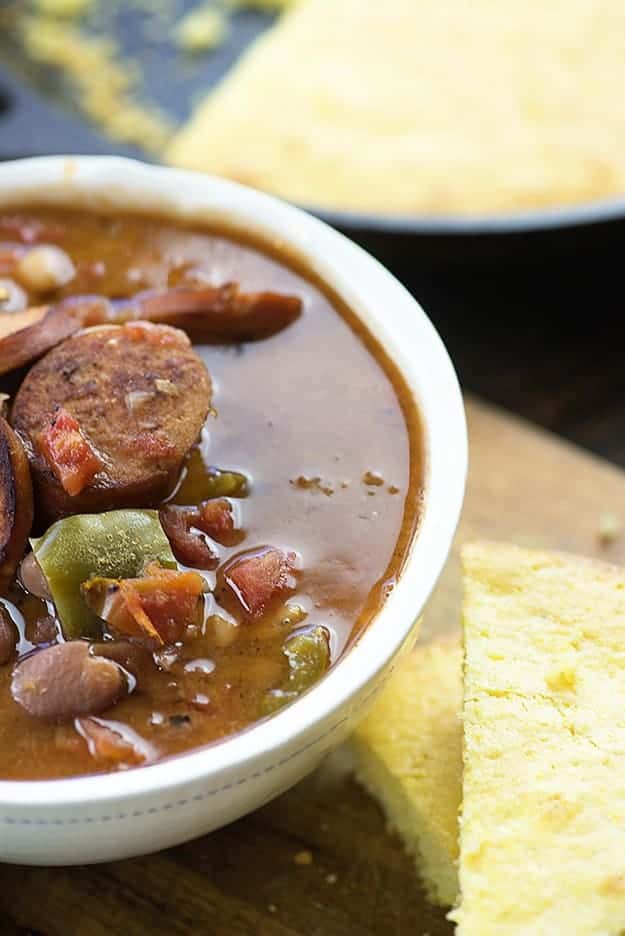 I added the beans to the slow cooker, along with some onion and bell pepper, and a whole lotta chicken broth. That'll take about 5 hours on high to get your beans nice and tender. Then you swirl in the Cajun seasoning, some diced tomatoes, and a big pan of browned Andouille sausage. You could skip the browning step, if you're majorly in a hurry, but the best thing about this type of sausage is the crispy edges, if you ask me.
It'll take another hour on high after that and you'll have this perfectly seasoned Cajun soup. It's not overly spicy, but has just the right amount of kick. If you really don't like spice, use smoked sausage instead of Andouille and that will make it a bit more mild, but honestly, I'm a wimp and I thought this was perfection.
I served this with cornbread. I like to crumble my cornbread up in the bowl like crackers, but I'm weird. You can also serve this with rice.
Either way, I think you'll find that this makes a perfect, hearty bowl of soup that is excellent for this time of year.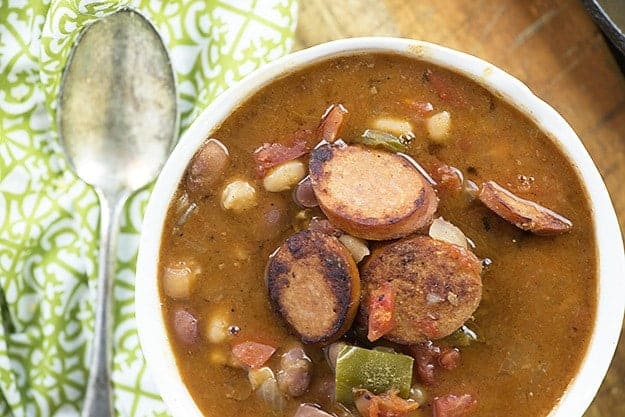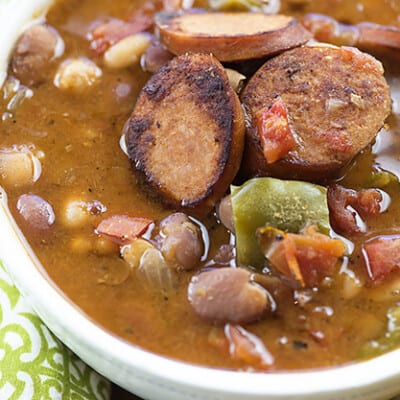 Slow Cooker Cajun Sausage and Bean Soup
This slow cooker soup recipe is full of Cajun flavor. The andouille sausage pairs so well with the beans.
Prep10 minutes
Cook6 hours
Total6 hours 10 minutes
Ingredients
1 package Hurst's Beans Cajun 15 BEAN SOUP
1 green bell pepper diced
1 sweet onion diced
6 cups chicken broth
2 cups water
1 pound Andouille sausage
15 ounces canned diced tomatoes
Instructions
Rinse the beans and sort through to remove any debris. Set aside the seasoning packet.

Place rinsed beans in a slow cooker with the bell pepper, onion, chicken broth, and water.

Cook on high for 5 hours.

Slice the sausage into thin coins and cook in a large skillet over medium high heat until browned on both sides, about 5 minutes.

Add the sausage and tomatoes to the slow cooker, along with the packet of Cajun seasoning. Stir well.

Cook for 1 more hour or until ready to serve.

Serve with rice or corn bread, as desired.
Nutrition Information:
Calories: 272kcal (14%)| Carbohydrates: 14g (5%)| Protein: 12g (24%)| Fat: 19g (29%)| Saturated Fat: 6g (38%)| Cholesterol: 38mg (13%)| Sodium: 841mg (37%)| Fiber: 2g (8%)| Sugar: 7g (8%)