This Cajun Chicken and Sausage Pasta recipe is made with a simple creamy sauce and is loaded with Cajun flavors. Ready in less than 30 minutes!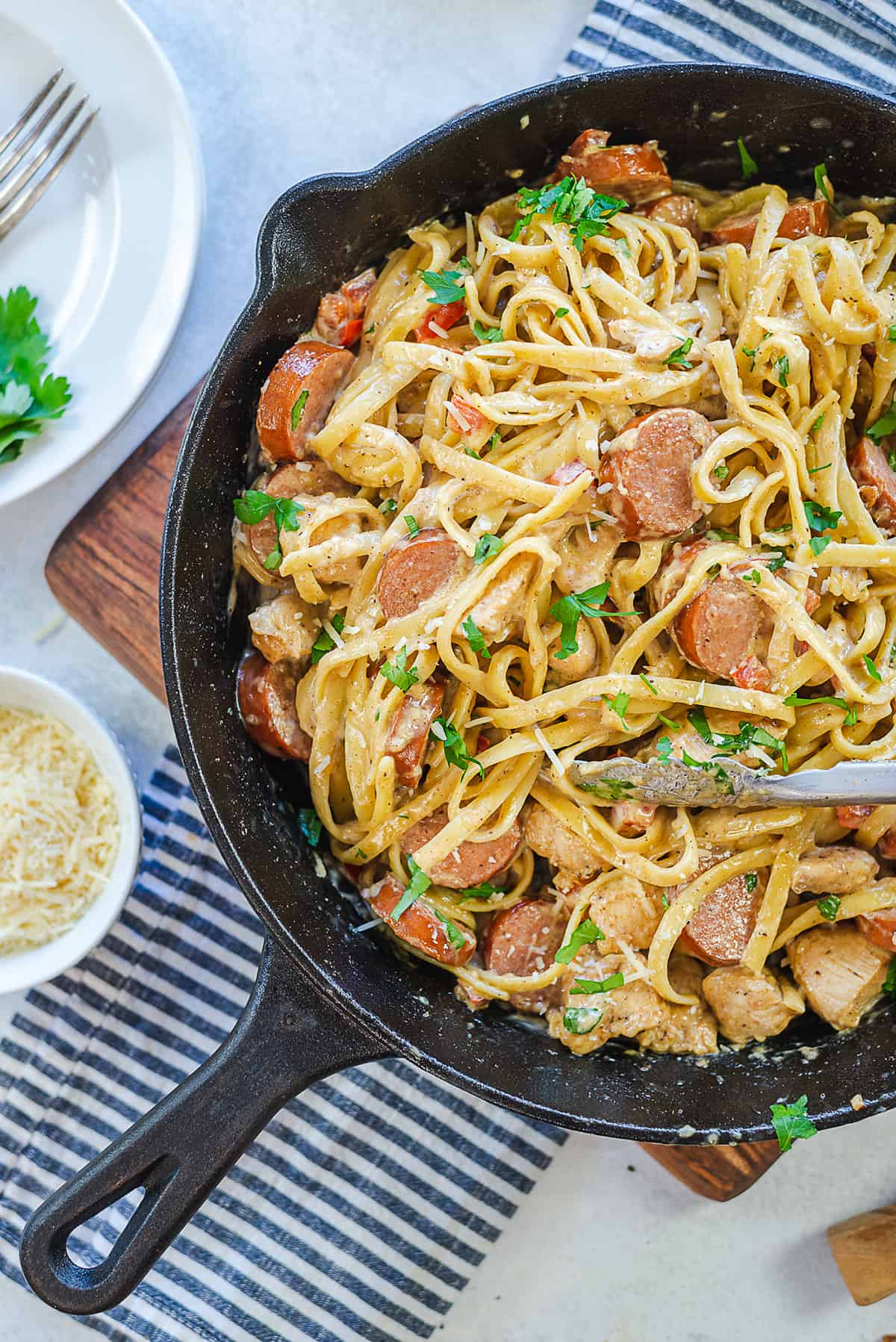 Ever since we discovered Tony Chachere's Creole Seasoning, we've been on a serious creole/cajun kick over here.
I put Tony's seasoing blend on literally everything.
We use it to make air fryer pork chops or to season chicken breasts before tossing them on the grill, obviously.
But we're also using it to season food at the table – I've even sprinkled it on spaghetti. Not kidding when I say I use it on everything! 😉
So, a creamy Cajun chicken pasta was obvioulsy necessary.
This is a riff on our Cajun Shrimp Pasta, which is a definite favorite around here!
We just mixed things up by adding chicken and andouille sausage to the pasta.
Ingredient Notes:
This post contains affiliate links. As an Amazon associate and member of other qualifying programs, I earn from qualifying purchases.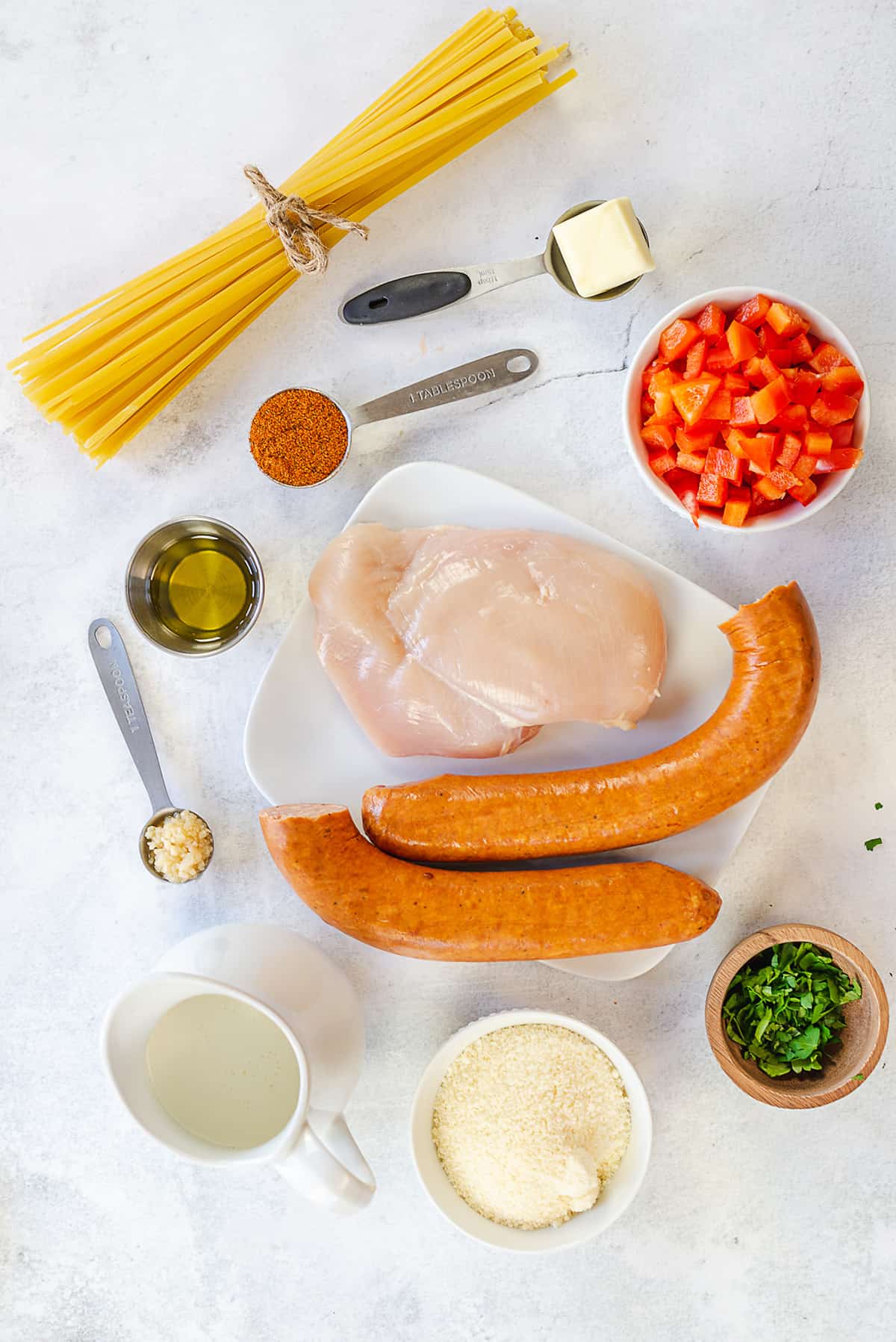 Pasta – I like to use fettucine pasta for this recipe because the noodles are thick and they taste amazing in the creamy cheese sauce, but I think just about any type of pasta would work.
Chicken – We use boneless, skinless chicken breasts, but thighs also work well.
Sausage – Andouille sausage will add the most flaovr, as it's more heavily seasoned, but smoked sausage will work fine.
Cajun Seasoning – You can use your favorite Cajun seasoning here. We love Tony Chachere's.
Bell Pepper – We like the sweetness of a red bell pepper, but any color is fine.
Cream Sauce – You'll mix together heavy cream and Parmesan cheese to create a creamy sauce for this Cajun chicken and sausage pasta.
What We Love About This Recipe!
We'll take any excuse to use Cajun seasoning! The chicken and sausage go really well together, and the creamy sauce helps balance out some of the heat. It's a rich, flavorful dish that everyone can enjoy!
How to Make Creamy Cajun Pasta:
Pasta: Boil until al dente and drain, making sure to reserver 1/2 cup of the pasta water.
Chicken: Chop, season, and cook the chicken in oil and butter. Set that aside.
Sausage: Chop the sausage and veggies and add that to the skillet to cook until browned. Remove that and set aside with the chicken.
Cream Sauce: This Cajun pasta recipe wouldn't be complete without the creamy cheese sauce! Pour the heavy cream into the skillet and bring it to a simmer before removing from the heat and stirring in the Parmesan until it has melted.
Combine: You can now add the chicken, sausage, and peppers back to the skillet with the cheese sauce. Stir it all up until the meat and veggies are fully coated in the sauce. We like to finish this off by topping it with some parsley!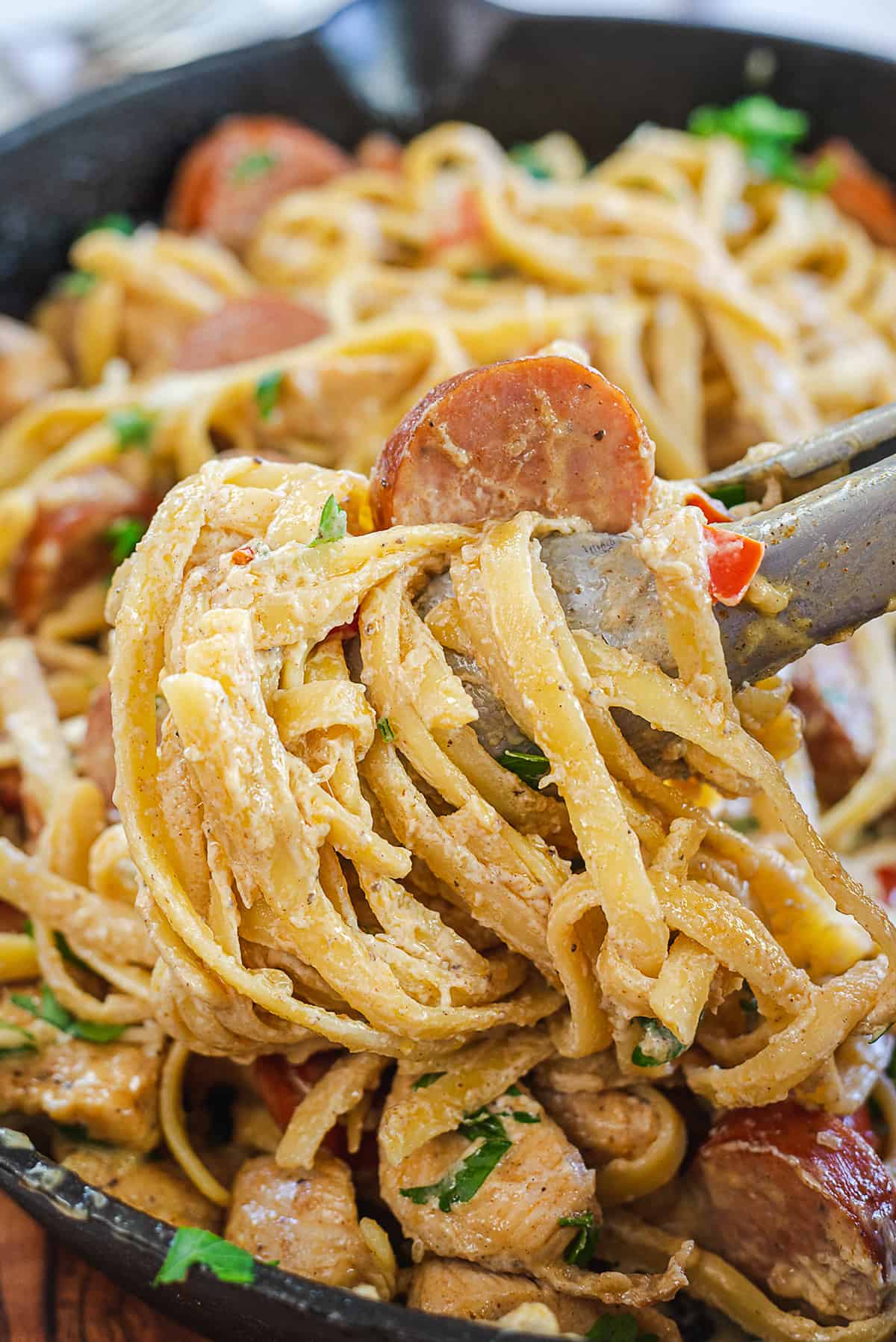 Helpful Tip!
Sauce too thick?
If the sauce is too thick for your liking, you can add in the reserved pasta water, a couple of tablespoons at a time, until it reaches the consistency you prefer.
Recipe Tips:
Make sure to use heavy cream, so that your sauce is thick, creamy, and comes together properly. Milk or half and half won't work quite the same.
If the sauce is thicker than you'd like, stir in a bit of the reserved pasta water. It's full of starch from the pasta and will keep the sauce creamy and smooth while thinning it out.
Make sure to use shredded Parmesan cheese – not the powdery stuff in the green can. Freshly shredded is great, but a bag of shredded Parmesan works too!
Add some onion in with the bell pepper, if your family likes onion. We left them out to accomodate picky eaters.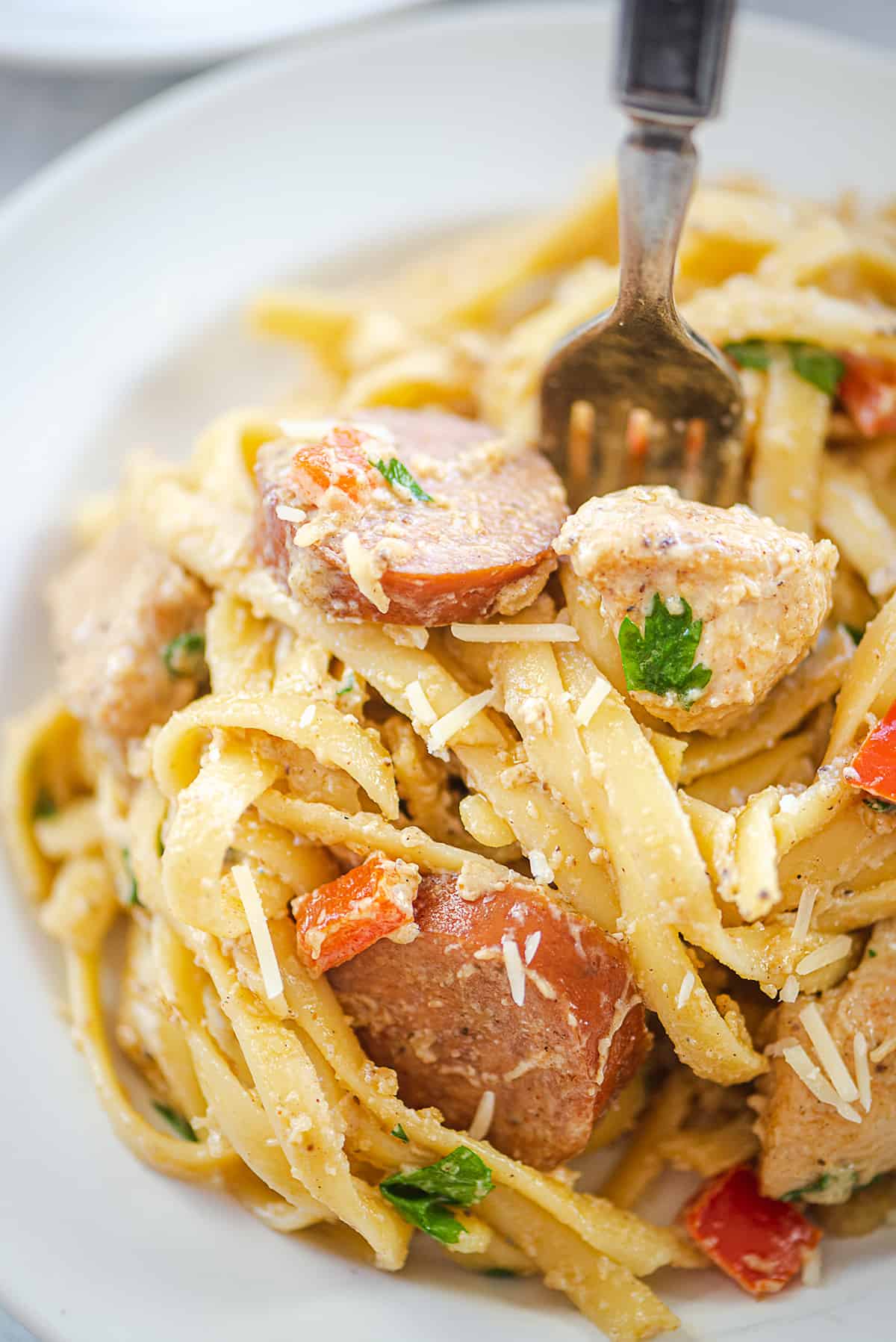 FAQs:
Can I store this Cajun pasta recipe?
This Cajun chicken & sausage pasta should be stored in the fridge, covered, for up to 3 days. It'll reheat well in the microwave. Be sure to stir halfway through cooking for even heating.
Is this recipe very spicy?
Cajun seasoning can have a bit of a kick, so it will depend on what brand of seasoning and andouille sausage you use. Taste and add additional seasoning as needed.The cream sauce really tones down the heat. If it isn't spicy enough for you try adding some red pepper flakes.
MORE CAJUN RECIPES!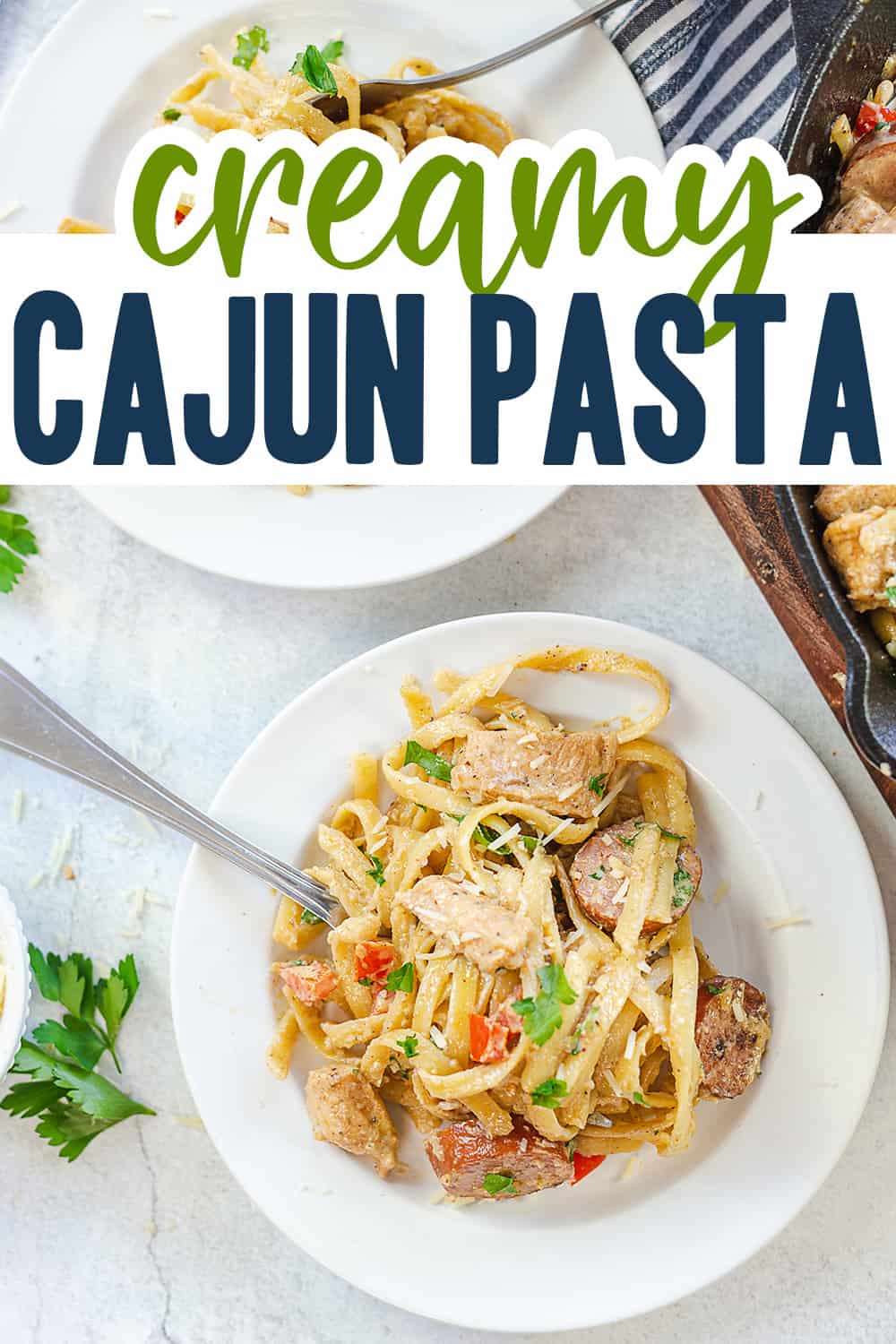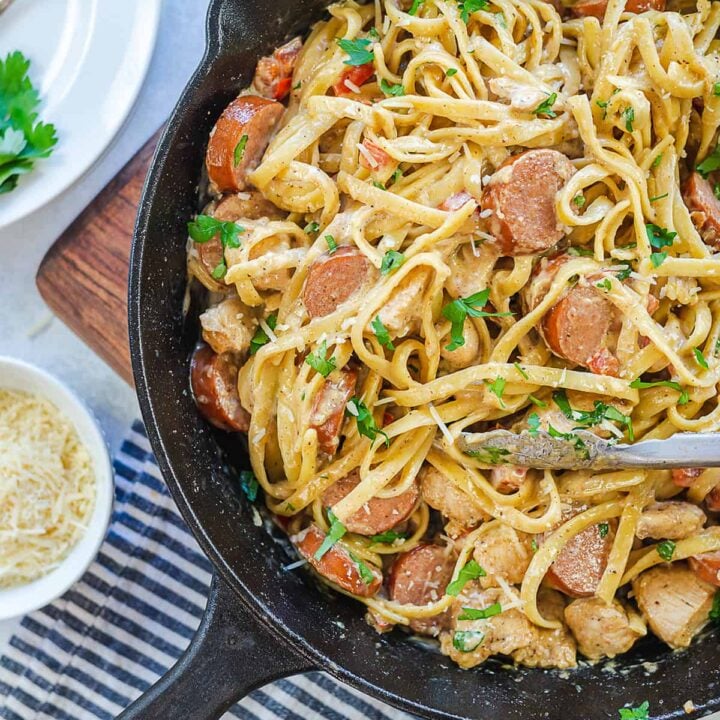 Cajun Chicken and Sausage Pasta
This is a quick dinner, ready in less than 30 minutes and loaded with big flavor thanks to the Cajun seasoning. We serve this with a large green salad on the side.
Prep5 minutes
Cook20 minutes
Total25 minutes
Ingredients
8 ounces fettuccine pasta
1 pound boneless skinless chicken breasts
1 tablespoon olive oil
1 tablespoon butter
1 tablespoon Cajun seasoning divided
8 ounces andouille sausage
1 red bell pepper diced
2 cloves garlic minced
1 ¼ cups heavy cream
¾ cup shredded Parmesan cheese
1 tablespoon minced parsley
Instructions
Bring a large pot of salted water to a boil. Cook pasta to al dente. Drain, reserving ½ cup of pasta water.

While the water is coming to a boil and the pasta is cooking, chop the chicken into bite sized pieces.

Heat a large heavy bottomed skillet over medium heat. Add the oil and butter and cook until butter has melted.

Season the chicken with half of the Cajun seasoning.

Add the chicken to the skillet and cook, stirring often, until cooked through, about 6-7 minutes. Remove and set aside.

Add the sausage to the skillet along with the peppers. Sprinkle the remaining Cajun seasoning over the top and cook for 5 minutes, stirring often, until the sausage has browned and the peppers have softened. Stir in the garlic and cook for 30 seconds more. Remove from the pan and set aside with the chicken.

Add the cream to the pan and bring to a simmer. Remove from the heat. Add the Parmesan cheese and stir until the cheese has melted.

Return the chicken, sausage, and pepper to the pan along with the cooked pasta. Stir well to coat.

To thin the sauce, add reserved pasta water, a couple tablespoons at a time, until the sauce reaches your desired consistency.

Sprinkle with parsley before serving.
Tips & Notes:
We prefer chicken breasts, but thighs may be used instead.
We love Tony Chachere's seasoning blend here, but any Cajun seasoning will work well. Just taste and adjust for salt as needed. Tony's is quite salty, so we don't call for additional salt in the recipe.
Nutrition Information:
Calories: 627kcal (31%)| Carbohydrates: 31g (10%)| Protein: 35g (70%)| Fat: 40g (62%)| Saturated Fat: 19g (119%)| Polyunsaturated Fat: 3g| Monounsaturated Fat: 14g| Trans Fat: 1g| Cholesterol: 193mg (64%)| Sodium: 672mg (29%)| Potassium: 604mg (17%)| Fiber: 2g (8%)| Sugar: 2g (2%)| Vitamin A: 2198IU (44%)| Vitamin C: 28mg (34%)| Calcium: 208mg (21%)| Iron: 2mg (11%)