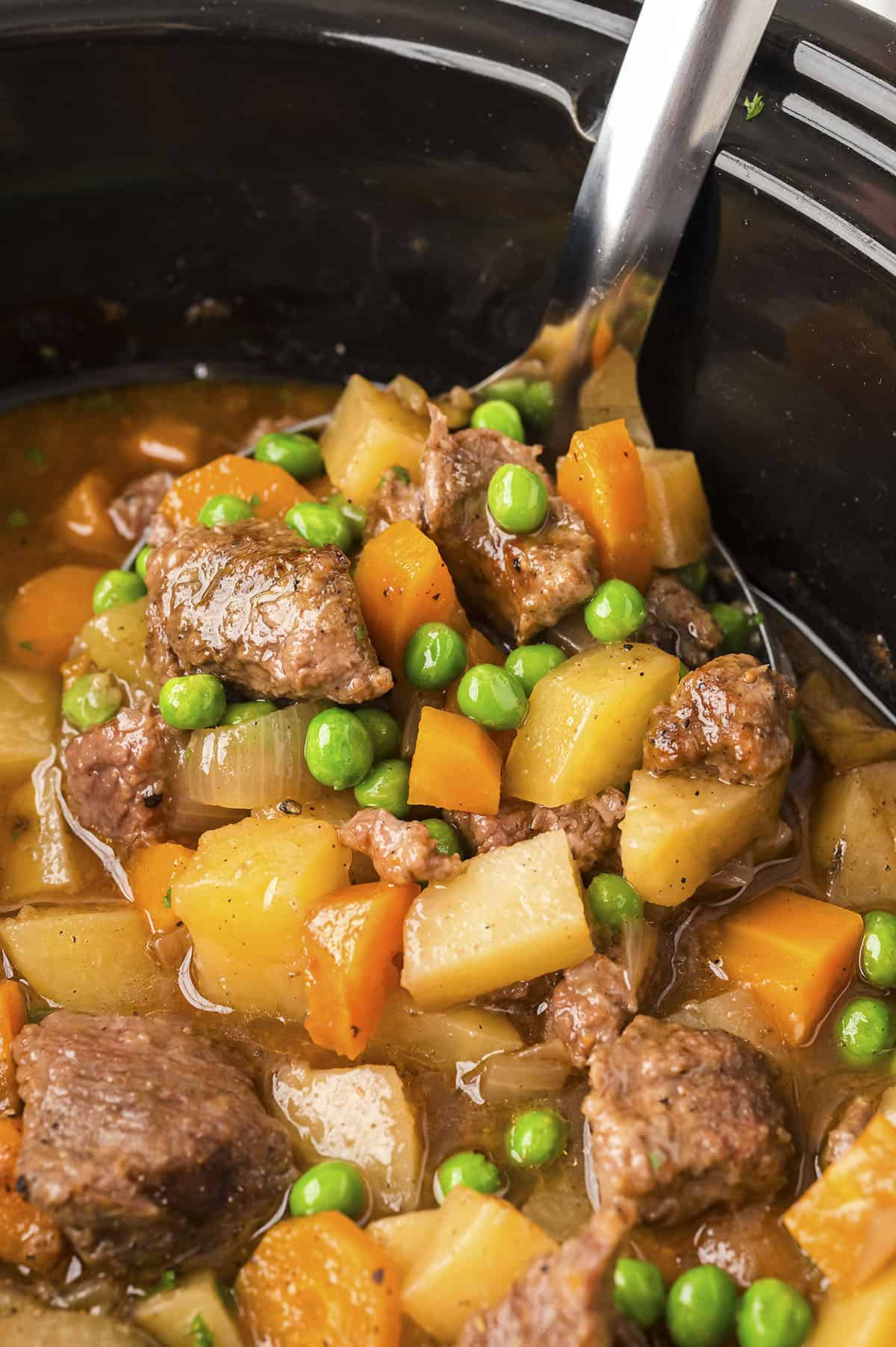 You guys want to hear something a little funny?
My husband doesn't like soup. Or stew. Or any kind of meal that isn't meat, potatoes, and maaaaaaybe a veggie but only if I insist. 😉
Onions are the devil, in his opinion, and we all know that a good soup has onions. So. He's obviously the worst. Except that he's also adorable and I like him, so I keep him around.

Anyway, he works out of state right now, which means that most weeknights the kids and I are on our own for dinner. Ah-ha! That explains it, doesn't it? All the soups I've been sharing lately! Cheeseburger soup, Cajun bean soup, chicken corn chowder, allllll the soup!
Yes, we've been enjoying the heck out of soup season without the husband around.
So, when I teamed up with PRE® Brands to create a recipe for you guys using their 100% grass fed beef, I did not jump straight for the filet mignon. I went for the stew meat.
Luckily for my husband, PRE was kind enough to send me a box full of every product they offer (steak to ground beef to stew meat to chuck roast!) – including his favorite filet mignon. We feasted on steak that weekend and it was divine. I really love the way PRE includes cooking times on the package of meats. Because grass fed beef is a bit leaner than you might be used to, the meat cooks a little quicker, so they've included guidelines to follow and they worked great.
We've gone through every cut of meat they offer at this point and have been so impressed with them. Bonus points: they're always sold fresh, never frozen, and they're available at my local Wal Mart. Check their store locator and see where you can pick some up! You can also get their cuts of beef through AmazonFresh in select cities.
Anyway, yes, the steak was great. But then my husband left and I made the kids and I this super hearty, super filling, super amazing slow cooker beef stew. We all loved it! It was quick to toss together in the morning and then it had the house smelling amazing while I was home working. None of us could wait for dinner time.
I loaded this stew up with chunks of tender beef, bites of potatoes, plenty of sweet carrots, and yes – onions. I keep the onions in big chunks for my little one who likes to pick them out. She takes after her daddy.
I think your family will love it just as much as mine did!
And be sure to read about PRE Brands Obsessive Pick Process. It's really interesting to hear about their guidelines for bringing you the absolute best quality beef they can.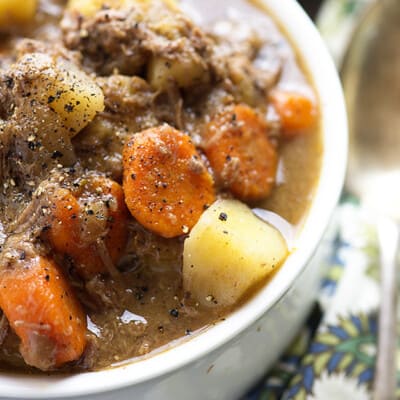 Slow Cooker Beef Stew
Slow cooker beef stew is such a hearty and filling meal!
Prep20 minutes
Cook10 hours
Total10 hours 20 minutes
Ingredients
1 pound stew meat
1/4 cup flour
1 tablespoon seasoned salt
1 tablespoon olive oil
4 medium yellow potatoes
4 large carrots
1 sweet onion
2 cloves garlic
1 bay leaf
2 teaspoons black pepper
2 cups beef broth
1 tablespoon Worcestershire sauce
Instructions
Add the beef to a medium bowl with the flour and seasoned salt. Stir to coat.

Heat the olive oil in a large skillet over medium high heat. Add the coated beef and cook until browned, stirring as needed.

Place meat in slow cooker.

Peel and dice the potatoes, carrots, and onion. Mince the garlic. Add to the slow cooker with the bay leaf.

Sprinkle the pepper on top and pour the broth and Worcestershire sauce into the slow cooker.

Cook on low for 10-12 hours or high for 6-7 hours.

Remove the bay leaf, stir well, and add salt and pepper as needed before serving.
Nutrition Information:
Calories: 451kcal (23%)| Carbohydrates: 60g (20%)| Protein: 34g (68%)| Fat: 10g (15%)| Saturated Fat: 3g (19%)| Cholesterol: 71mg (24%)| Sodium: 1441mg (63%)| Fiber: 8g (33%)| Sugar: 10g (11%)