This CROCKPOT VEGETABLE BEEF SOUP is a hearty soup full of beef and vegetables in a rich, savory broth that is perfect for cold Fall or Winter days! We love how simple this cozy soup is to throw together and it turns out perfect every time.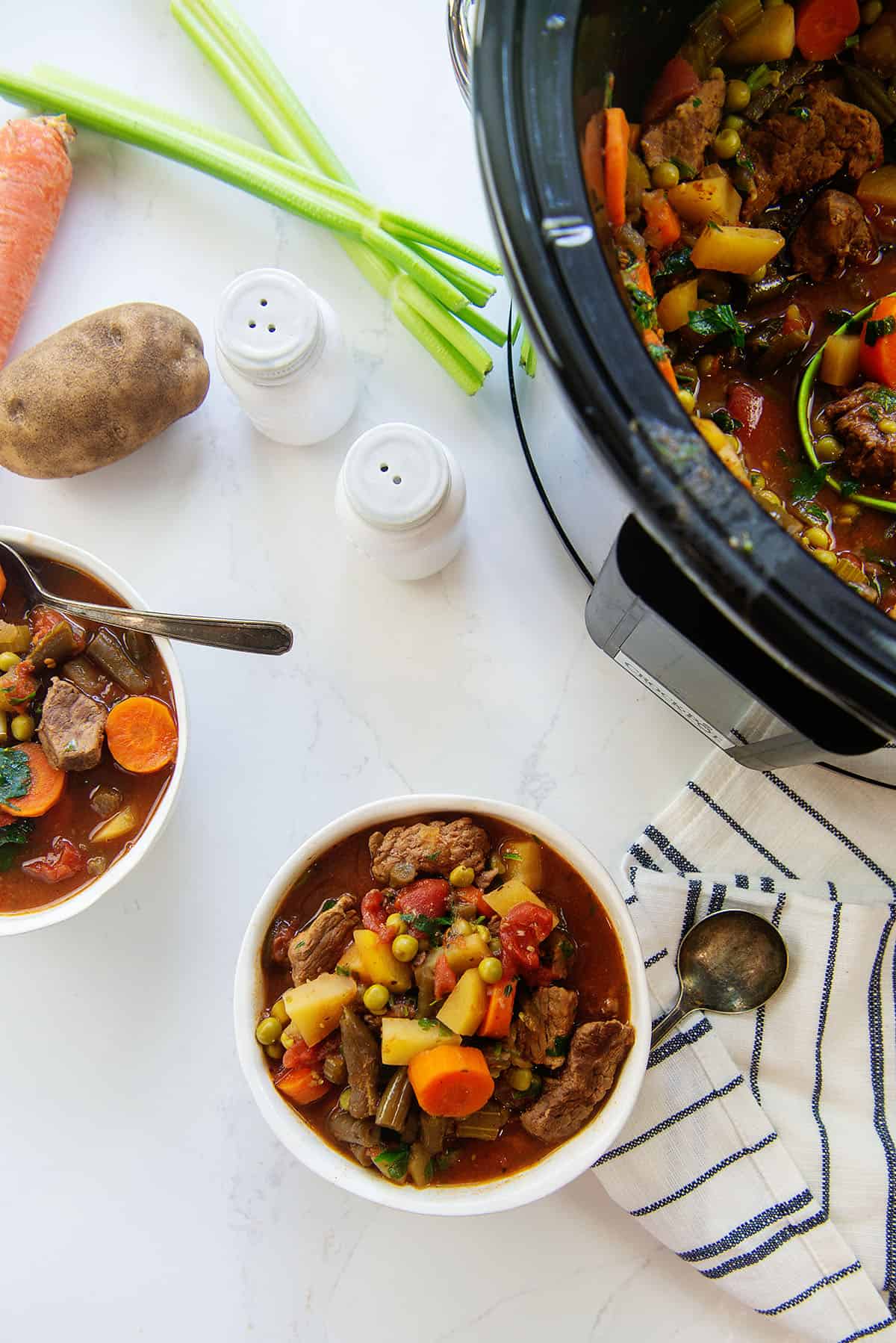 Growing up, the cans of vegetable beef soup were my all time favorite lunch. They were so savory and delicious to me as a kid.
As an adult…I'm more of a homemade soup kind of girl. 😉
We love to make this crockpot vegetable beef soup for dinner, freeze leftovers in individual portions, and take them out for a quick lunch.
There's just something about a cozy bowl of soup that makes your family feel loved and warm and safe.
We think this soup is delicious served with our sweet cornbread, Irish soda bread, or beer bread.
Ingredient Notes:
This post contains affiliate links. As an Amazon associate and member of other qualifying programs, I earn from qualifying purchases.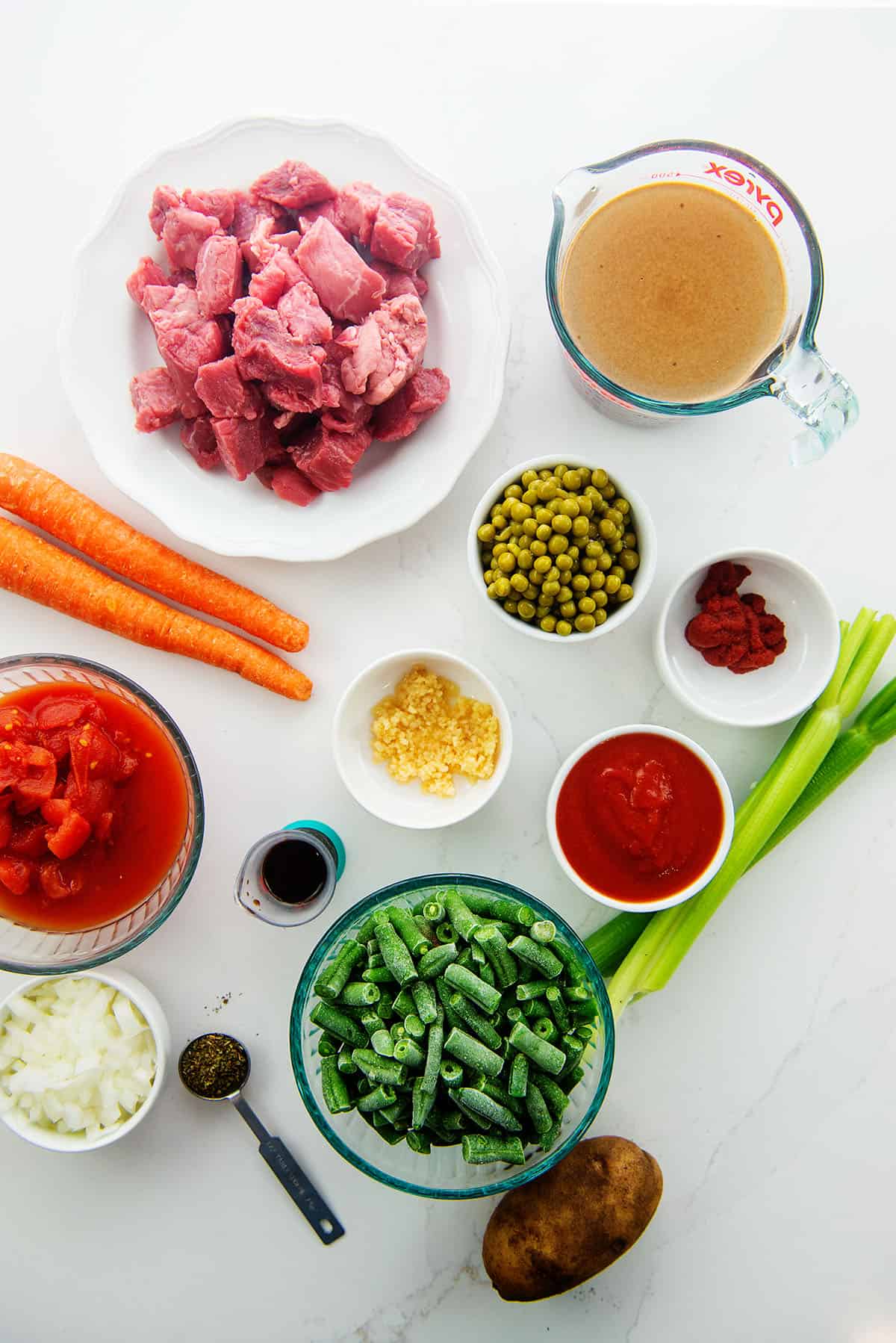 Beef – We're keeping it simple by using stew meat here, but we'll list out some other options down below.
Vegetables – We're loading this vegetable beef soup with plenty of onions, carrots, celery, garlic, tomato, frozen green beans, potatoes and frozen peas. This is a thick, hearty soup full of tasty veggies! You can add others that you like or remove the ones you don't, too!
Tomato – This vegetable soup has lots of good tomato flavor from the canned tomatoes, tomato sauce, and tomato paste! Don't worry, it won't overpower the other flavors, but it does make for a rich, savory broth.
Broth – We'll need a few cups of beef broth for the soup. You can use canned or boxed broth or make your own! I usually try and find the good stuff.
What We Love About This Recipe!
This is one of those recipes that we love to enjoy on a cold Fall or Winter day! This slow cooked vegetable beef soup is full of hearty meat and veggies and is just loaded with flavor after simmering in a crockpot for hours.
What kind of beef is best for vegetable beef soup?
We're partial to beef stew meat, because it's easy to find, economical, and already cut into bite-sized pieces for you.
Another great option is to buy a chuck roast (loads of flavor!) and chop it into bite-sized pieces.
You could even use ground beef in this vegetable soup if you preferred!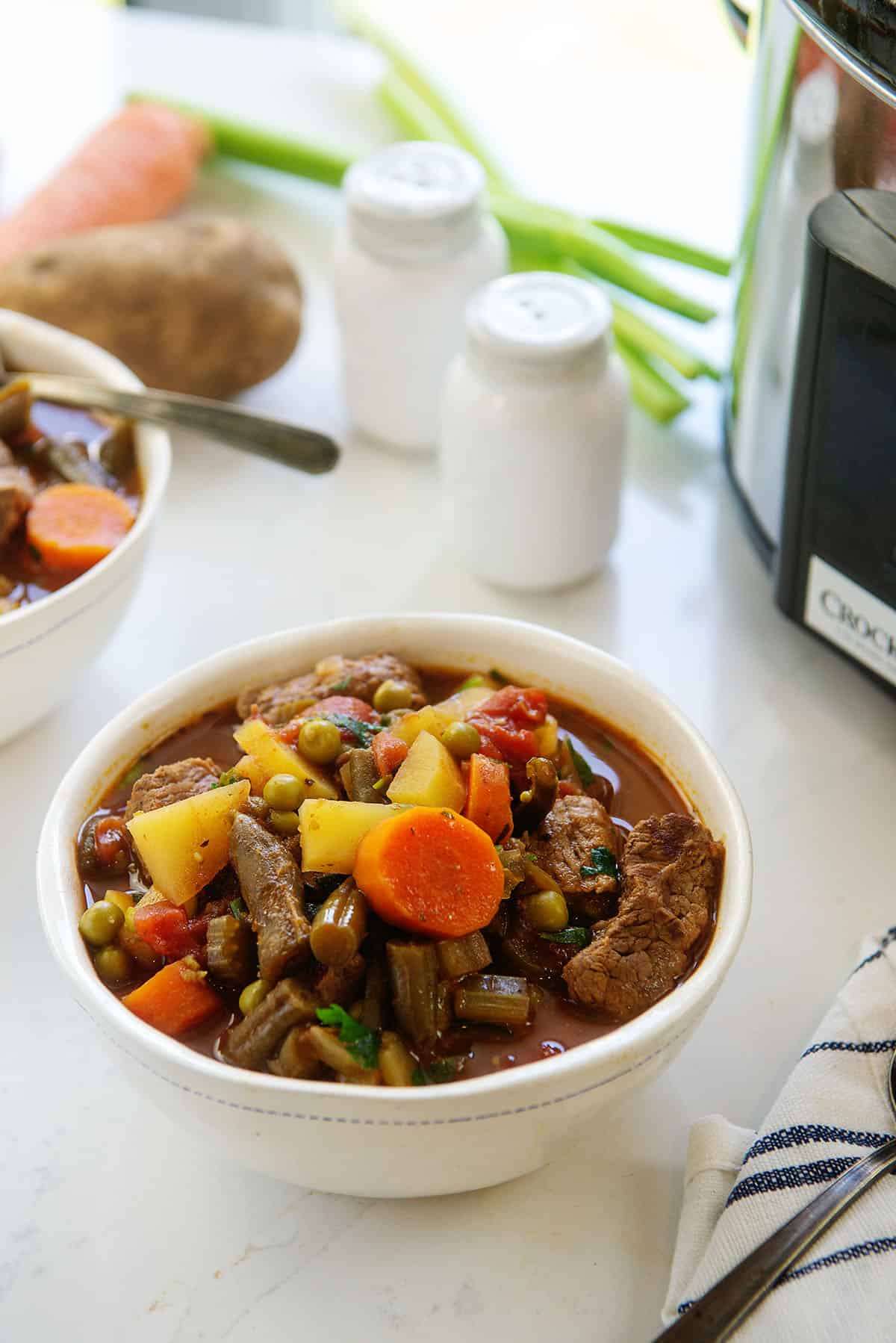 How to Make Crockpot Vegetable Beef Soup:
Beef Stew Meat: We'll start this vegetable beef soup recipe by enhancing the flavor of a few of the ingredients before they go into the crockpot.
First up is the beef! Add the stew meat to a skillet on high heat with olive oil. Sear the meat until all sides have been browned, cooking in batches if necessary. When you've finished remove the beef to the crockpot.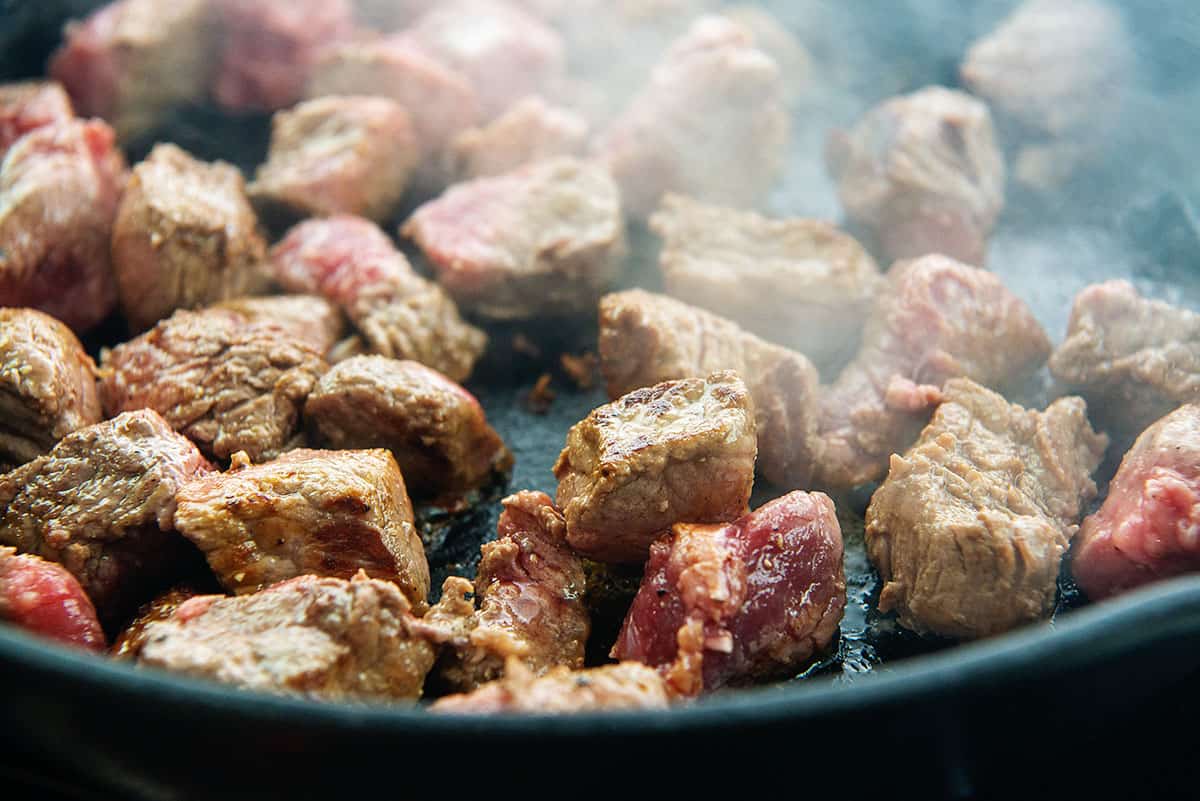 Veggies: Next we're going to make sure some of the veggies also get a nice sear! Use a little more olive oil if you need it and then add in the onion, carrots, and celery to the same skillet you used to brown the beef.
We're not cooking the veggies all the way through here, they'll finish in the crockpot. We just want to add a little flavor!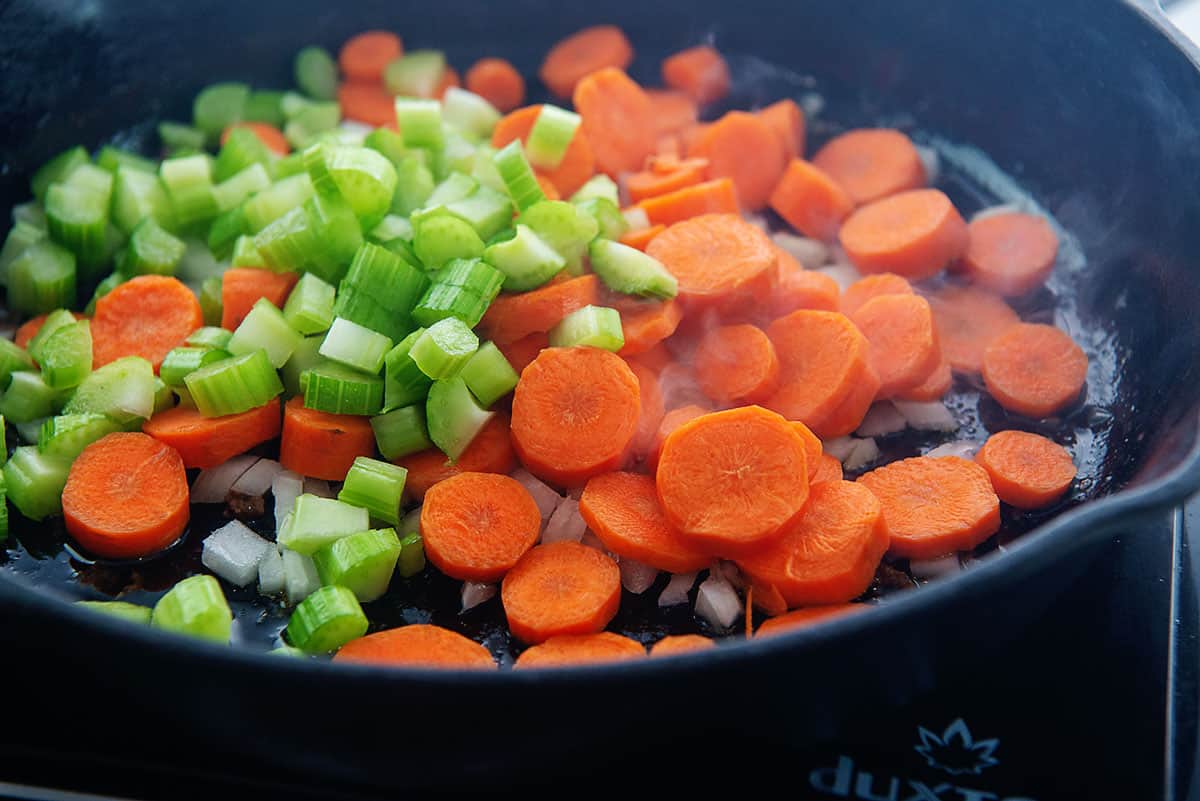 Slow Cook: Add the veggies you just cooked to the crockpot along with the seared stew meat. Now you can pour in the beef broth and add all of the remaining listed ingredients except for the peas and the parsley.
The potatoes, frozen green beans, and canned tomatoes will add even more vegetables to this hearty soup! Don't forget the Italian seasoning and Worcestershire sauce either.
When you've got it all added to the crockpot you can cover and cook! High will take 4 hours, low will take 8! But you're not quite done yet…
Helpful Tip!
If you want a thinner soup, just add more broth. If you like a thick, hearty vegetable beef stew, toss the raw beef in a bit of flour to coat before searing. The flour will thicken the broth as it cooks.
Finish: After the vegetable beef soup has finished slow cooking on high or low, there's just one thing left to do. Stir in the frozen peas and the parsley! The soup will be hot enough to quickly heat up the peas without any extra cooking.
That's it! Add salt and pepper to taste and serve it while it's good and hot.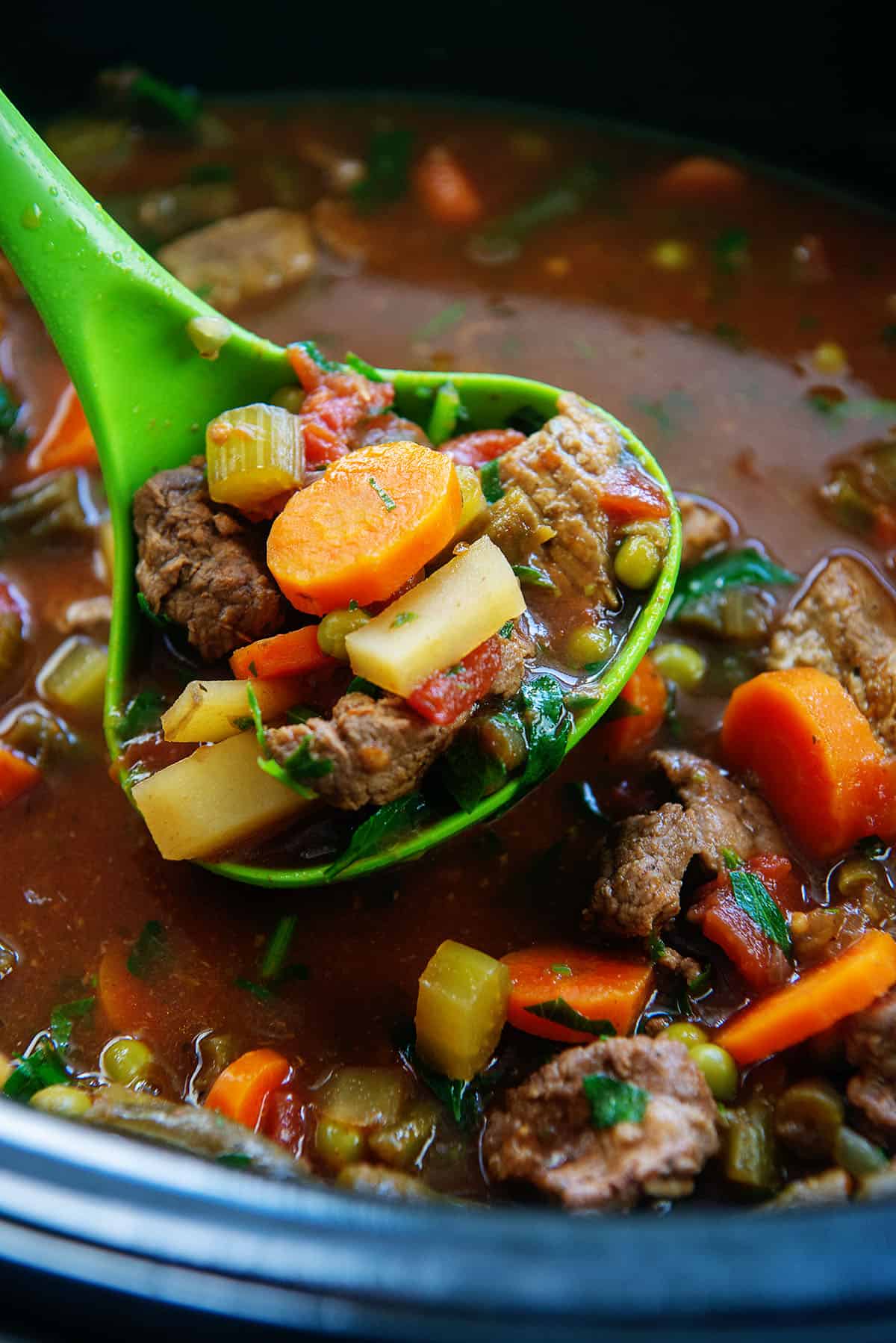 FAQs:
What's the difference between soup and stew?
A soup is going to be thinner, with more liquid in which the meat and vegetables are submerged.

A stew is thicker with ingredients that aren't always fully covered in liquid.
What vegetables can I use in vegetable beef soup?
We're calling for potatoes, green beans, peas, carrots, celery, and onions, but the options are endless. Stir in some frozen corn, fresh bell peppers, turnips, sweet potatoes, or mushrooms for more variety.
How do you store leftover vegetable beef soup?
Your vegetable beef soup will last in the refrigerator, in a tightly covered dish, for 4-5 days. It's great for meal prepping and is easily reheated in the microwave!
Freeze Leftover Soup!
More soup than you know what to do with? It freezes beautifully!
To freeze your crockpot vegetable beef soup, cool the soup completely, place in freeze safe bags in the portion size you prefer, and lay flat to freeze. Thaw overnight in the fridge before reheating.
More Soup Recipes To Try: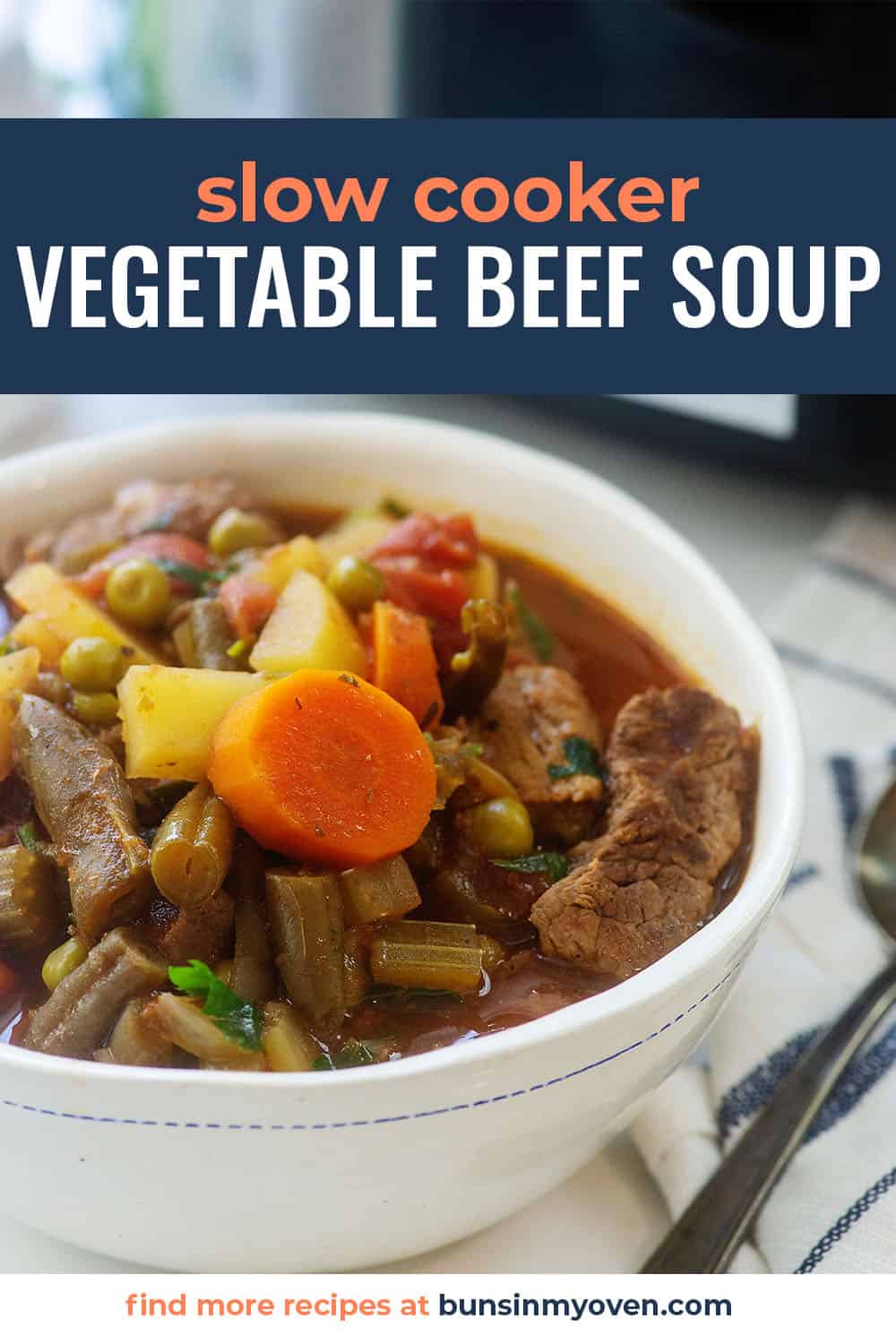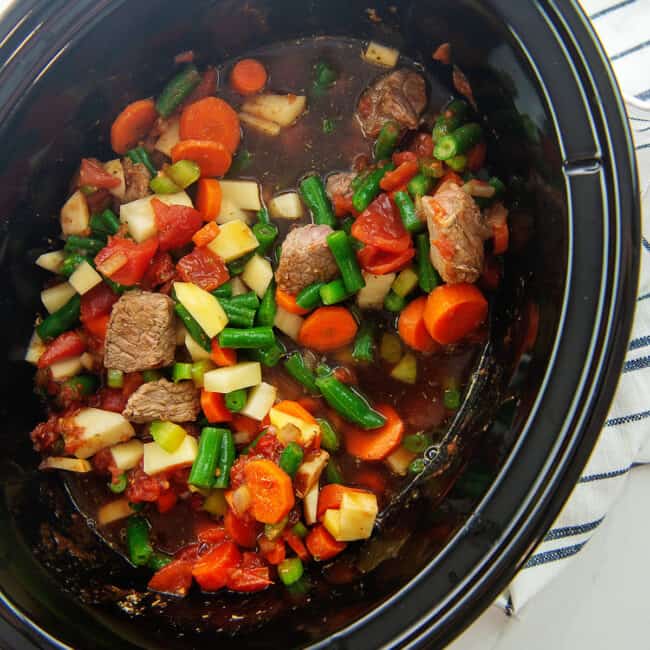 Crockpot Vegetable Beef Soup
This savory soup is so simple to make thanks to the crockpot and it turns out so rich and flavorful! We loaded it with some of our favorite vegetables, but it's easy to mix and match to suit your tastes. Our recipe calls for stew meat to keep things easy, but you can swap in a chopped chuck roast or even ground beef if that's what you have on hand.
Prep30 minutes
Cook4 hours
Total4 hours 30 minutes
Ingredients
1 tablespoon olive oil
1 ½ pounds beef stew meat
2 teaspoons salt
1 teaspoon cracked pepper
1 medium onion diced
3 cloves garlic minced
3 medium carrots diced
2 large Russet potatoes peeled and diced
2 ribs celery diced
14 ounces canned diced tomatoes
8 ounces tomato sauce
2 tablespoons tomato paste
12 ounces frozen green beans
2 cups beef broth
2 tablespoons Worcestershire sauce
2 teaspoons beef bouillon granules
1 1/2 teaspoons Italian seasoning
1 cup frozen peas
¼ cup fresh chopped parsley
Instructions
Heat a large skillet over high heat. Add the oil to the skillet.

Season the beef with the salt and pepper and then sear the meat, cooking in batches, until browned on all sides. Remove the beef to a crockpot.

Add the onions to the skillet and cook for 5 minutes or until translucent. Add the garlic and cook 30 seconds more. Remove to the crockpot.

Add all of the remaining ingredients aside from the peas and parsley to the crockpot and stir to combine.

Cover and cook on high for 4 hours or low for 8 hours.

Remove the lid and stir in the peas and parsley. The peas will quickly warm up in the hot soup.

Taste and add additional salt and pepper, if desired.

Serve hot.
Tips & Notes:
To make this lower in carbs, swap the potatoes for turnips and reduce or omit the carrots and peas. Leftovers will keep well in the fridge for up to 5 days or in the freezer for up to 3 months. The beef bouillon is optional, but does help make for a richer, more savory broth.
Nutrition Information:
Calories: 282kcal (14%)| Carbohydrates: 32g (11%)| Protein: 25g (50%)| Fat: 7g (11%)| Saturated Fat: 2g (13%)| Polyunsaturated Fat: 1g| Monounsaturated Fat: 3g| Cholesterol: 53mg (18%)| Sodium: 1179mg (51%)| Potassium: 1245mg (36%)| Fiber: 6g (25%)| Sugar: 8g (9%)| Vitamin A: 4711IU (94%)| Vitamin C: 31mg (38%)| Calcium: 104mg (10%)| Iron: 5mg (28%)