Juicy, tender slow cooked chuck roast that pulls apart! This BBQ pulled beef is perfect for sandwiches or all on it's own.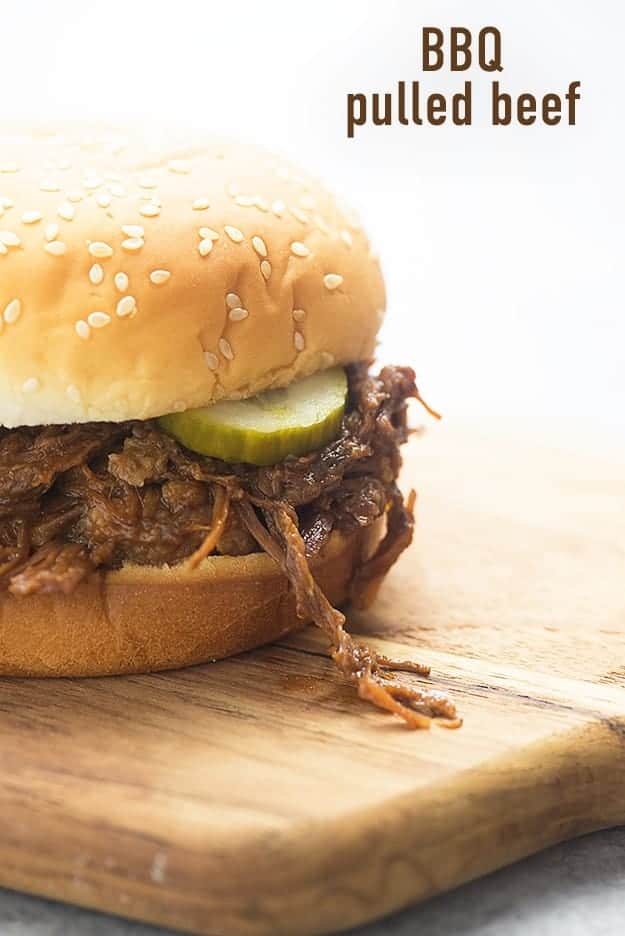 Okay, look.
I am well known for my pulled pork. I make it often and everyone loves it. It's a favorite around here for me because it's simple and it's a favorite of my guests because it's downright delicious.
Sometimes I like to get a little crazy and switch from a pork shoulder to a chuck roast and turn that pulled pork into some seriously amazing pulled beef.
This slow cooker shredded beef is seriously out of this world good and I believe it's thanks to a special little secret of mine that I'm about to share with you.
Are you ready?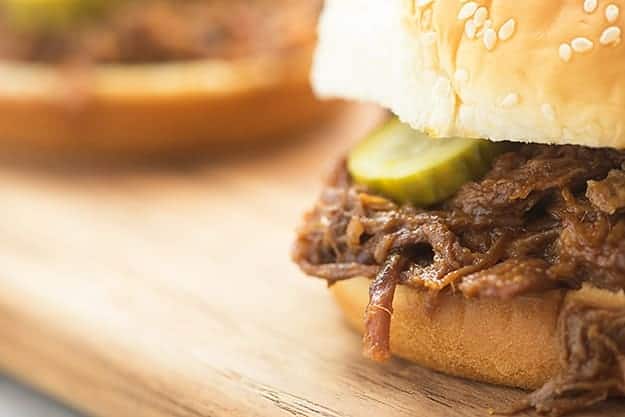 Pulled Beef Secret Ingredient:
Mustard. Mustard is the secret.
That's a weird secret to have, but it's a good one because holy cow this beef is flavorful and perfect and you're going to probably eat so many sandwiches that you'll hate yourself afterwards.
Slather a chuck roast in good old American style yellow mustard and then season it all with our BBQ dry rub.
I make my own barbecue dry rub for this recipe as well as for my pulled pork and I get that this might sound a little intimidating, but if you have a spice cabinet, you've totally got this down. Barbecue dry rub is easy. You just dump a bunch of spices into a bowl and stir. Boom. Done.
Tender Beef:
You'll pop everything into the slow cooker for 8 hours or so and then get your forks ready to shred.
Every now and then I hear from people making my French dip recipe that their beef doesn't shred and they think they've overcooked it.
The opposite is actually true. If your meat isn't shredding, it's not cooked enough. Cover it back up and turn the slow cooker to high. Try again in 30 minutes or so. Easy peasy.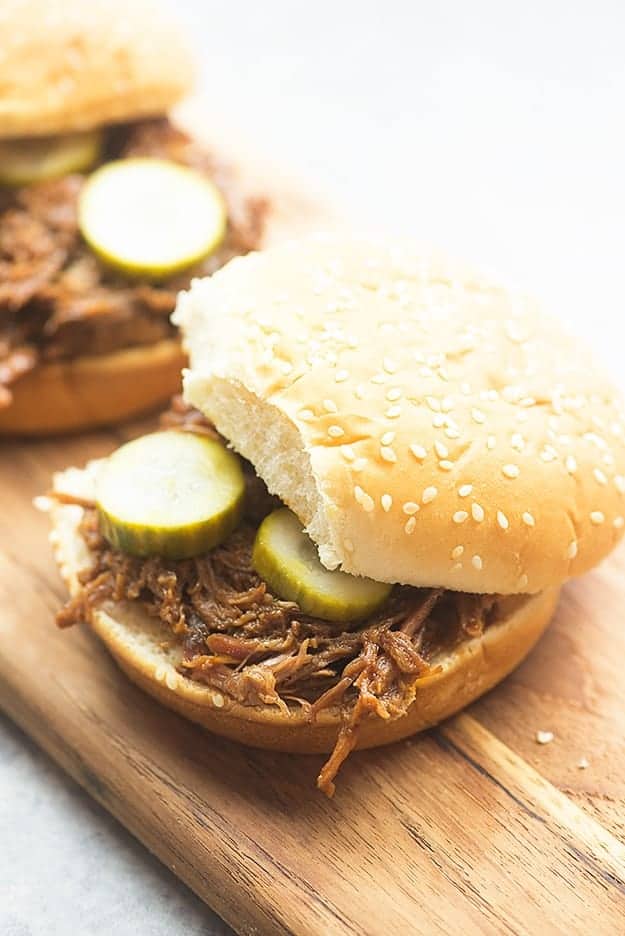 Now, I like my shredded beef nice and saucy, so after everything is shredded, I move on to my other secret step. This recipe is full of secrets. 😉
Pop the shredded beef into a skillet and sprinkle on a little more dry rub. Then you squirt in some of your favorite barbecue sauce. We prefer this Carolina BBQ sauce – it's sweet, tangy, and really simple to make.
Cook it over medium heat, stirring often, for a few minutes. The sauce really soaks into the meat and the sugars start to caramelize and all is right in the world.
I serve this on sandwich buns with pickles. My dill pickle slaw would be great on this too!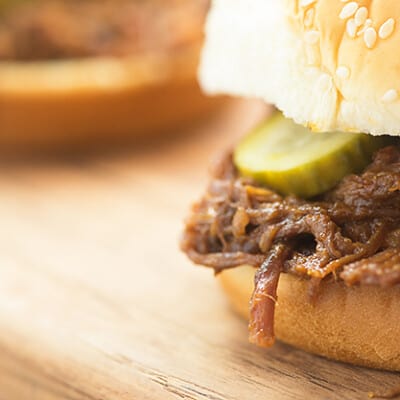 Barbecue Shredded Beef
This slow cooker shredded beef is seriously out of this world good and I believe it's thanks to a special little secret of mine that I'm about to share with you.

Prep10 minutes
Cook8 hours 10 minutes
Total8 hours 20 minutes
Ingredients
1/4 cup brown sugar
1/4 cup paprika
2 tablespoons garlic powder
2 tablespoons onion powder
1 tablespoon salt
1 tablespoon pepper
1 tablespoon chipotle pepper powder
1 tablespoon parsley flakes
3 pounds chuck roast
2-3 tablespoons prepared yellow mustard
Sandwich buns and pickles, for serving
Instructions
Add the brown sugar, paprika, garlic powder, onion powder, salt, pepper, chipotle powder, and parsley to a small bowl and stir to combine. Remove 1 tablespoon of dry rub and set aside for later.

Coat all sides of the chuck roast with the mustard.

Liberally coat the roast in the dry rub. You may not need all of the rub. Store any excess in a covered container for another use.

Place roast in a slow cooker on low for 8 hours.

Shred the meat with two forks and transfer to a large skillet. Sprinkle with reserved tablespoon of dry rub and add barbecue sauce.

Cook over medium heat for 5 minutes, stirring often.

Serve on sandwich buns with pickles, if desired.
Nutrition Information:
Calories: 196kcal (10%)| Carbohydrates: 9g (3%)| Protein: 17g (34%)| Fat: 10g (15%)| Saturated Fat: 4g (25%)| Cholesterol: 58mg (19%)| Sodium: 622mg (27%)| Potassium: 383mg (11%)| Fiber: 1g (4%)| Sugar: 6g (7%)| Vitamin A: 990IU (20%)| Vitamin C: 0.7mg (1%)| Calcium: 32mg (3%)| Iron: 2.4mg (13%)