Hi guys! You all know we visited Gulf Shores a month or two ago, right?
I mean, I feel like I never shut up about that place. It's my favorite budget-friendly beach spot in the US. I've been going for years now with the kids and we all love it so dang much.
This trip the husband couldn't make, but my mama and daddy came along for the ride. And oh, what a beautiful ride it was.
Those sunsets over the ocean are to die for, you guys.
We're always sure to hit up our favorite spots when we're in Gulf Shores for the week. Those spots mostly include restaurants, because hi. Have we met yet?
My all time favorite joint to eat at is Lambert's Cafe. The food is total perfection and you get a ton of it. I ordered a hamburger steak during one of our trips there and it was a full pound. A pound! Of hamburger! Smothered with gravy and good stuff. Oh man. It was good, but I had to take most of it to go. Not only do you get huge portions, they pass around the sides, family style. Servers stop by your table and just dish up whatever you want. Their potatoes and onions are what dreams are made of. And the rolls? They throw them at you from across the room. It's just a really fun place!
We also swung by the pier to visit with the wildlife. This little dude told me to tell you all hello. And after he did, I ran screaming. Birds freak me out. Especially big ones like that!
One of my other favorite places is Lulu's. The food isn't quite as good as Lambert's, but the atmosphere is just as fun. The kids love the ropes course, I love that it's right on the water, and the fried green tomato BLT is all I ever want to eat.
So, the kids maybe don't look thrilled on the outside, but they're partying on the inside. Okay, actually, it had been a long day of swimming and jumping waves and building epic sand castles and they were just pretty worn out. Vacationing is hard, hard work.
We also are always sure to hit up Moe's when we visit Gulf Shores. This time around I got the 'Bama Style Pulled Pork Sandwich. That's smoked pork, barbecue sauce, white sauce, and their marinated slaw all piled on a bun. So good, y'all.
I came home and immediately set about recreating it, which is where this Alabama White Sauce Grilled Chicken came from. (That recipe is blowing up on Pinterest! Have you pinned it yet?)
These sandwiches are outrageous. They take me right back to Alabama, with salt and wind in my hair, sand in places it doesn't belong, and a belly full of good barbecue. The two barbecue sauces mix together so perfectly, the sweet, tangy coleslaw adds the perfect texture, and the pork is divine. You guys are going to love digging into these sandwiches!
I used my favorite Ninja slow cooker to make the pork, but if you have a smoker, you're more than welcome to smoke the meat.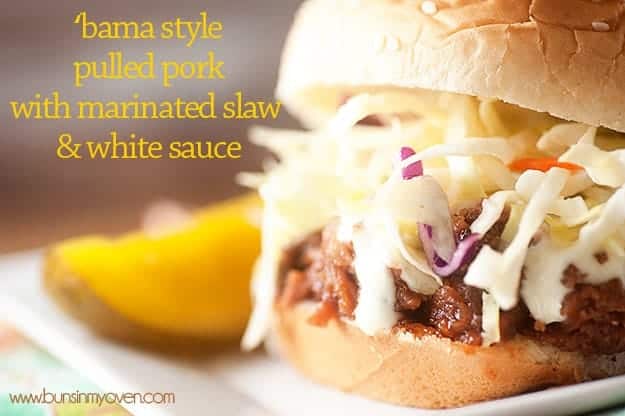 Alabama Style Pulled Pork Sandwiches
Tender pulled pork only gets better when it's coated in my famous rub, tossed in barbecue sauce, and sandwiched between two buns with homemade slaw and Alabama white sauce. This is a crowd pleaser that you'll want to make again and again.
Prep30 minutes
Cook8 hours
Total8 hours 30 minutes
Ingredients
For the pork:
3 pound boneless pork shoulder roast
1/4 cup smoked paprika
1/4 cup brown sugar
3 tablespoons garlic powder
3 tablespoons salt
2 tablespoons onion powder
2 tablespoons ground black pepper
1 tablespoon dried parsley flakes
1 cup bottled barbecue sauce or my Carolina barbecue sauce
For the marinated slaw:
1/2 cup apple cider vinegar
3/4 cup sugar
1 teaspoon ground mustard
1 teaspoon salt
1 teaspoon olive oil
4 cups coleslaw mix
For serving:
Pickles as desired
Sandwich Buns
Instructions
To make the pork, add the pork roast to a slow cooker. In a small bowl, combine the dry seasonings and mix well. Generously sprinkle the dry mixture over the pork, patting it in and turning to coat all sides. Store any remaining rub in an airtight container.

Set the slow cooker to low and cook for 8 hours.

When the pork is done, shred the meat with two forks. Add the barbecue sauce and toss to coat.

Make the slaw as soon as you put the pork in the slow cooker, so that it has time to marinate.

Add the vinegar, sugar, mustard, salt, and olive oil to a small saucepan and turn heat to medium. Bring to a boil, stirring occasionally. Let cool for 30 minutes.

Add the coleslaw mix to a large bowl and pour the cooled marinade over it. Stir to coat. Cover and refrigerate for 8 hours.

Assemble each sandwich with pulled pork, colelsaw, and a drizzle of white sauce.
Nutrition Information:
Calories: 359kcal (18%)| Carbohydrates: 48g (16%)| Protein: 22g (44%)| Fat: 8g (12%)| Saturated Fat: 2g (13%)| Cholesterol: 69mg (23%)| Sodium: 3368mg (146%)| Potassium: 672mg (19%)| Fiber: 3g (13%)| Sugar: 39g (43%)| Vitamin A: 1785IU (36%)| Vitamin C: 14.6mg (18%)| Calcium: 74mg (7%)| Iron: 2.9mg (16%)