Italian Beef is one of our favorite meals to make in the slow cooker! The meat is so juicy and flavorful and it's perfect on a sandwich roll.
I can't lie to you guys. Sometimes I feel like a total weirdo with the recipes I put out here on the Internets.
For example, the grape jelly meatballs? That recipe has been around forever. My mama was eating those meatballs in the 70s. Then I come along and put it on the web like it's a new thing? Weird.
But, the fact is, many of you had never tried those meatballs and now you have and so my job here is done.
Goodbye forever.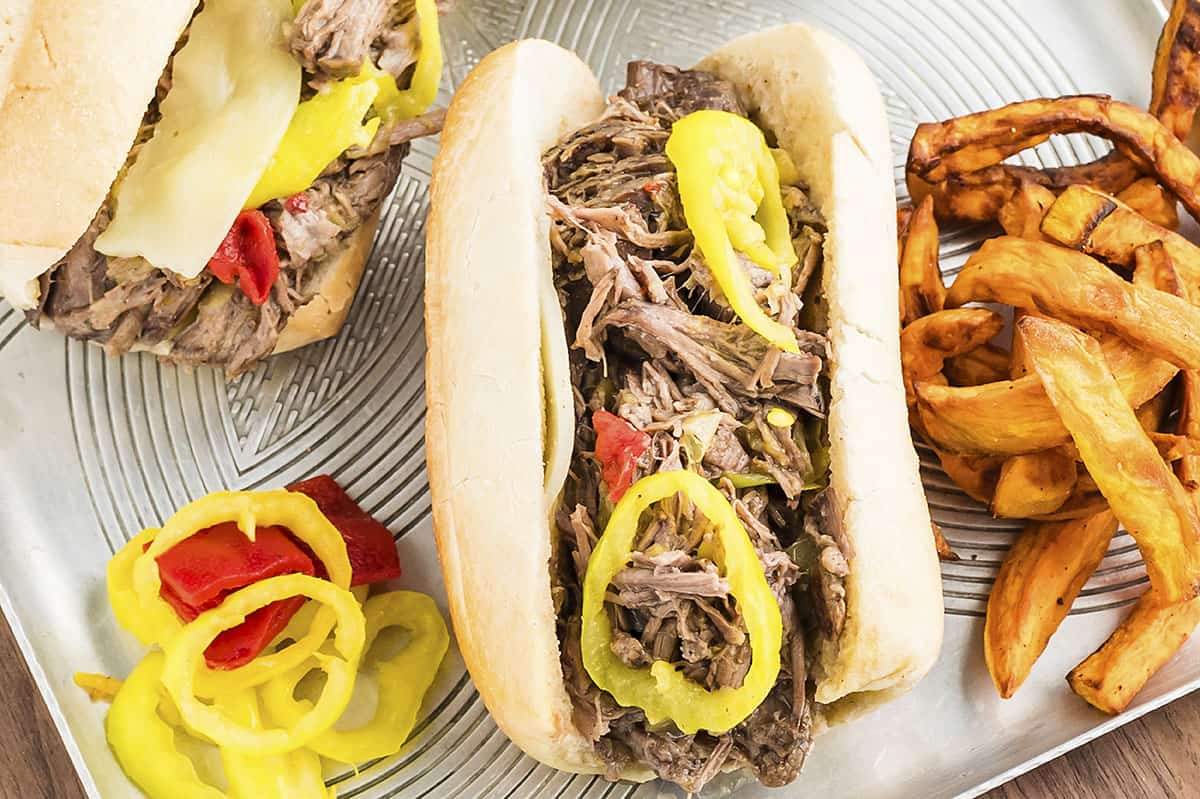 Oh wait, no. I forgot. I have another recipe like that. It's my Italian beef sandwich recipe. It's one that has been around forever. One that so many people already use and love.
One that is totally going to get me hate mail, because "this isn't even a recipe, it's just a bunch of packaged crap in a crockpot."
One that is going to get me told, "you didn't make this up, my mom has been making this my whole life." But! Also a recipe that is going to get me comments like "my whole family loved this, THANK YOU!" <— Those are the people I'm trying to reach right now, k?
My Italian beef recipe is so easy, but I made you a video of the process anyway!
Check out the video and then give this simple slow cooker recipe a try!
My whole family does totally love this recipe. It's bursting with flavor and it's easy to the peasy. This is one that is similar to my slow cooker French dip, in that you throw some goodies in a slow cooker and then walk away. When you come back you'll have the most amazing smelling dinner that you won't be able to wait to dive into. Then you get it all on your plate and you take a bite and it's like woah. Did I really make something so good? Is this real life?
You guys are going to love this simple crock pot Italian Beef sandwich recipe!
I used my Ninja Slow Cooker (affiliate link) in this recipe. It works great!
I could eat an Italian Beef Sandwich every day – how about you?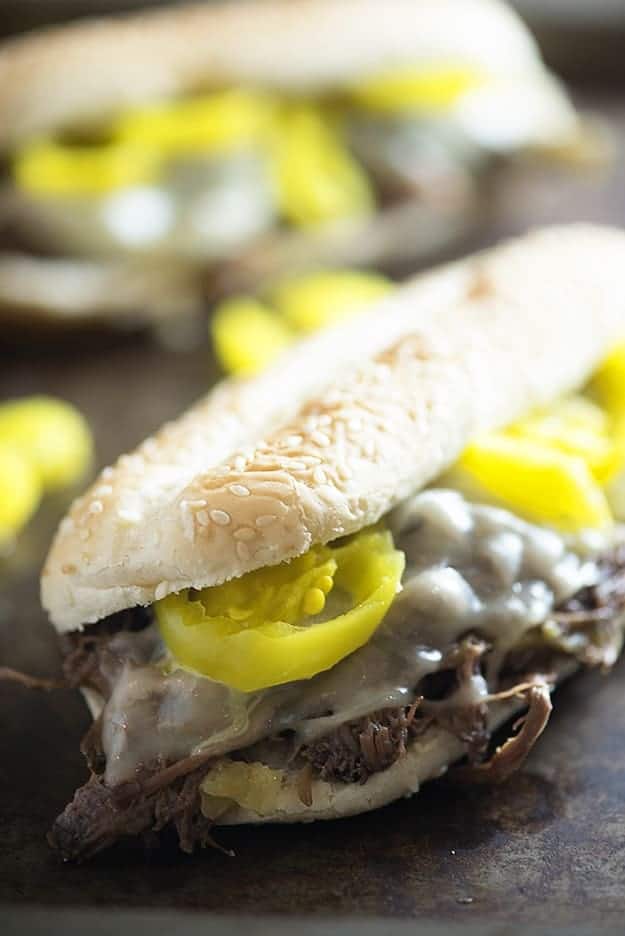 Italian Beef Sandwiches
Tender, juicy shredded chucke roast makes a perfect sandwich filling. The banana peppers in this recipe don't make the beef spicy, but they do add a delicious zesty flavor. We serve with extra peppers on top!
Prep5 minutes
Cook8 hours
Total8 hours 5 minutes
Ingredients
3-4 pound chuck roast
2 envelopes Italian dressing seasoning
16 ounce jar banana peppers
8 sandwich rolls
16 slices provolone cheese
extra banana peppers for serving
Instructions
Place chuck roast, Italian dressing seasoning, and banana peppers (with juice) into a slow cooker.

Cover and cook on low for 8 hours or high for 4 hours.

Shred meat with two forks and place on sandwich rolls.

Top with cheese and extra banana peppers, if desired.
Tips & Notes:
All slow cookers are different and some take longer/shorter than others. If your meat is not easily shredding after cooking, keep cooking it! It will get tender and easy to shred if it cooks long enough. If you double this recipe or use a larger roast, you will need to add cooking time as well.
Nutrition Information:
Calories: 646kcal (32%)| Carbohydrates: 35g (12%)| Protein: 63g (126%)| Fat: 28g (43%)| Saturated Fat: 14g (88%)| Cholesterol: 166mg (55%)| Sodium: 955mg (42%)| Fiber: 3g (13%)| Sugar: 2g (2%)
More slow cooker favorites: