Mississippi Pot Roast is juicy, tender and full of flavor after slow cooking in a ranch and au jus seasoning mix with pepperoncini peppers! Just 6 ingredients and 10 minutes of prep!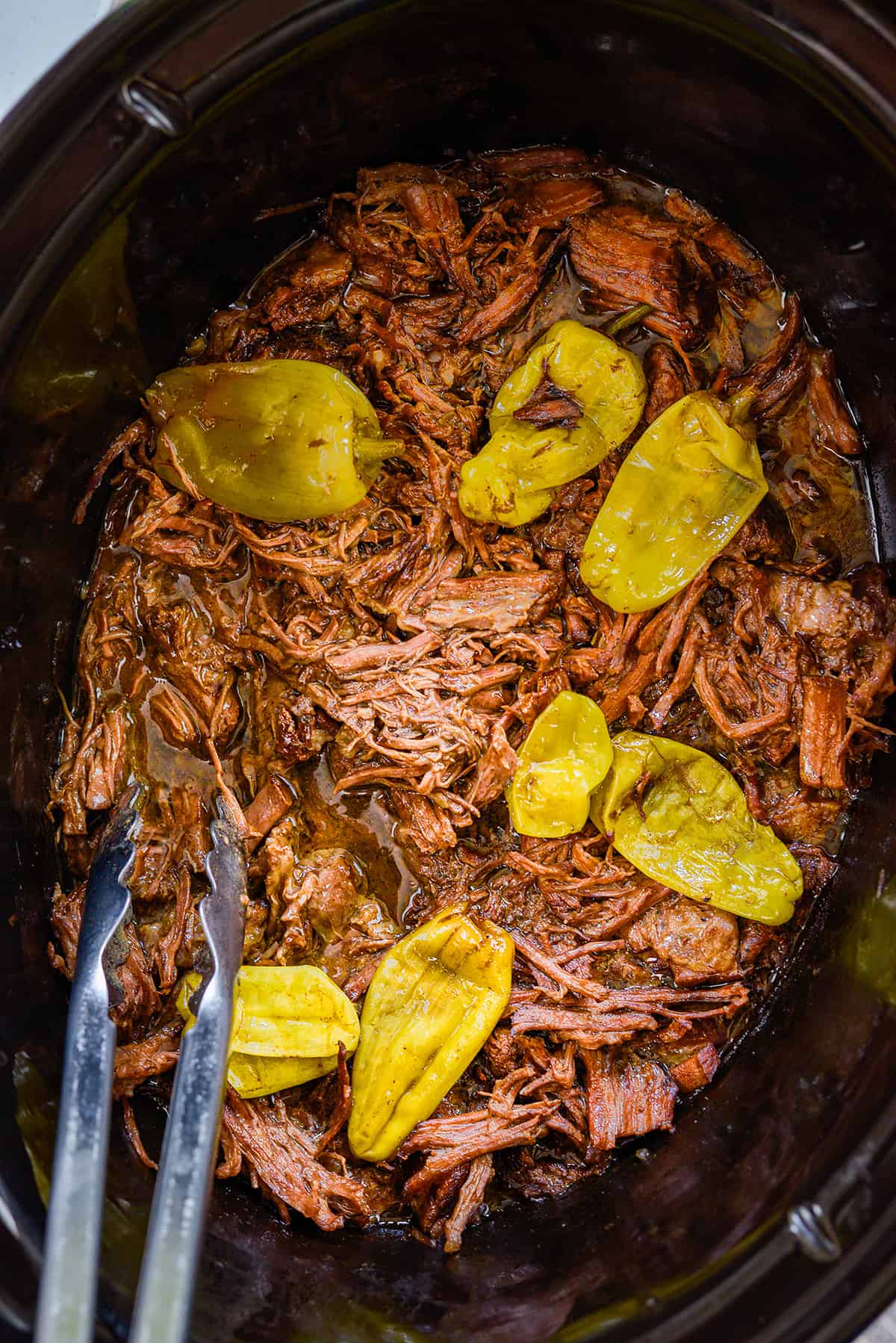 Like the rest of the world, I'm obsessed with Mississippi Pot Roast! It is one of the easiest ways to get a tender, flavorful roast on the table and it's a foolproof recipe that you really can't mess up!
We've shared our Mississippi Chicken before, but we'd never gotten around to sharing the classic, mostly because you'll find it on just about every other website out there. But, we decided it didn't matter – this pot roast recipe is too good to not have a permanent home here on Buns In My Oven!
We love making this in the slow cooker. It turns out so tender and flavorful, the meat just falls apart when it's done, and your house will smell amazing. We've also made Instant Pot Mississippi Pot Roast, if you're in a hurry though!
Ingredient Notes:
This post contains affiliate links. As an Amazon associate and member of other qualifying programs, I earn from qualifying purchases.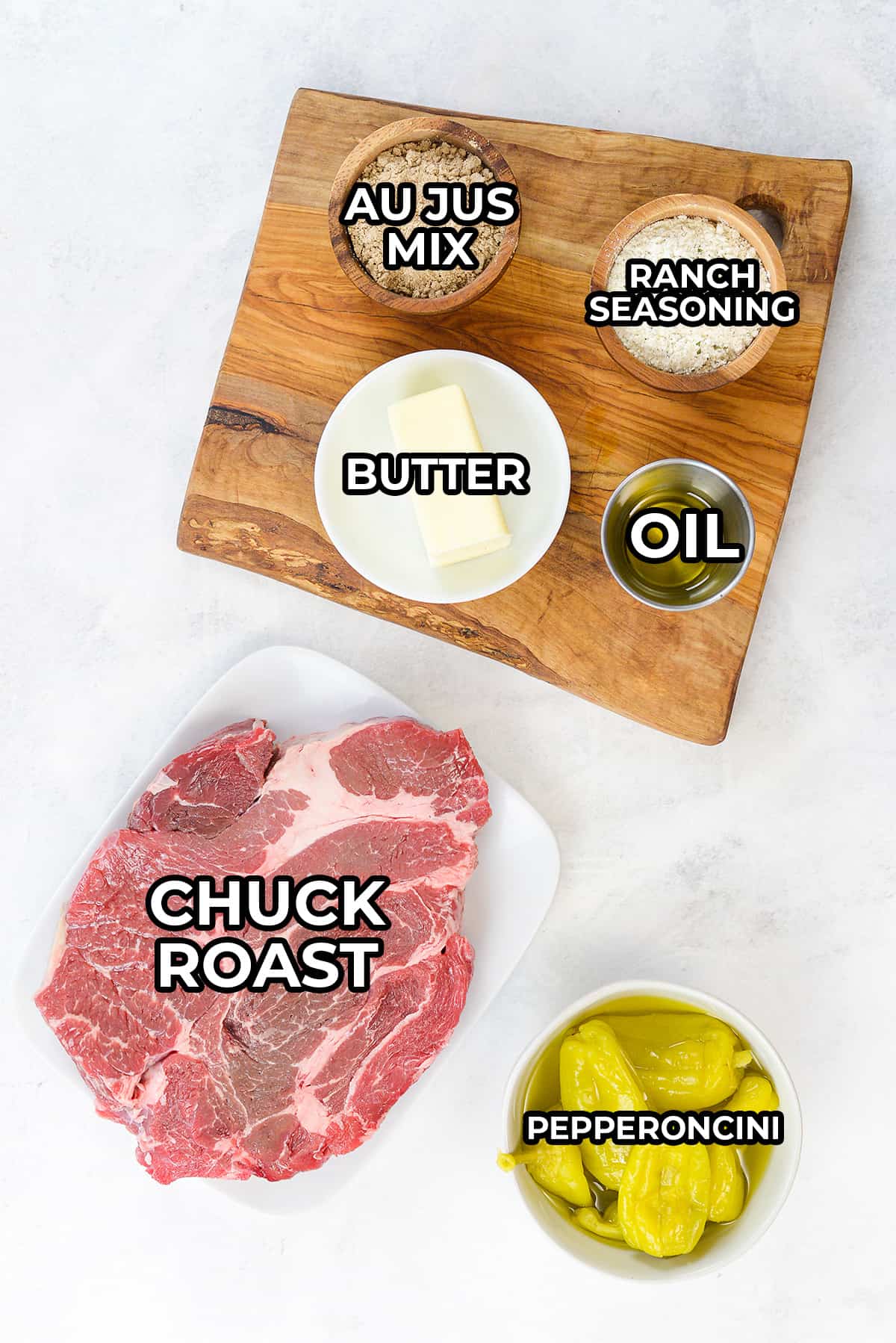 Chuck Roast – You'll need about a 3 to 4 pound chuck roast. Look for a well marbled roast at your favorite meat market or butcher shop!
Ranch Seasoning Mix – Be sure to use ranch seasoning mix and not ranch dip mix. They both come in little packets, but the dip mix has a lot more sodium and will make for a saltier roast.
Au Jus Gravy Mix – This is a little packet of seasonings that adds loads of savory flavor to the roast.
Butter – We like to top the roast off with some butter and the pepperoncini. It'll melt and add flavor to the meat, and to the savory juice, which is perfect for spooning over the pot roast when serving!
Jarred Pepperoncini – Don't skip these! The pot roast itself won't be spicy. You can choose to serve the peppers or discard them after cooking, but don't skip them because they do add something special to the recipe.
Pepperoncini Juice – You'll get this from the jar of peppers. Add half a cup of the juice with the roast to add moisture, and most of all, flavor!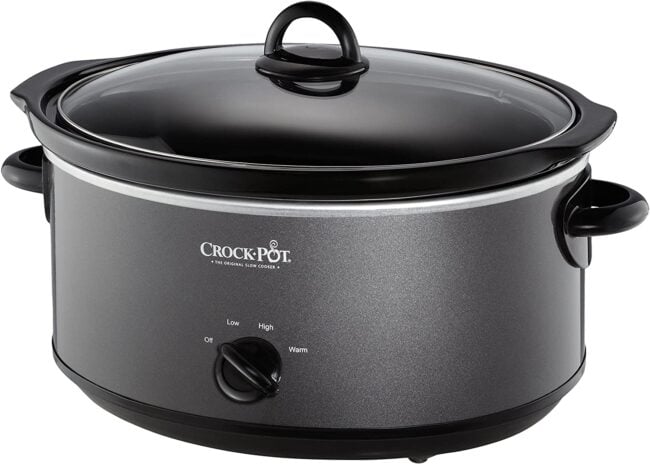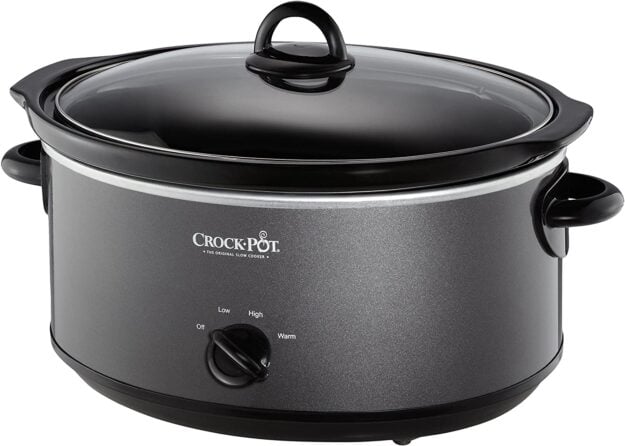 In the market for a new slow cooker? We love this 7 quart Crockpot. It's simple to use, cooks evenly, and is very budget friendly. Plus, it has a 4 1/2 star rating with over 5,000 reviews on Amazon!
What We Love About This Recipe:
It's nice to just add everything to the slow cooker and let it go to work! It takes awhile but it always makes perfectly fork tender and juicy roast.
You can easily switch it up and make this same recipe in an Instant Pot or the oven. See below for more details.
This savory beef is so tender and flavorful. Perfect over mashed potatoes or on a bun as a sandwich.
How to Make Mississippi Pot Roast: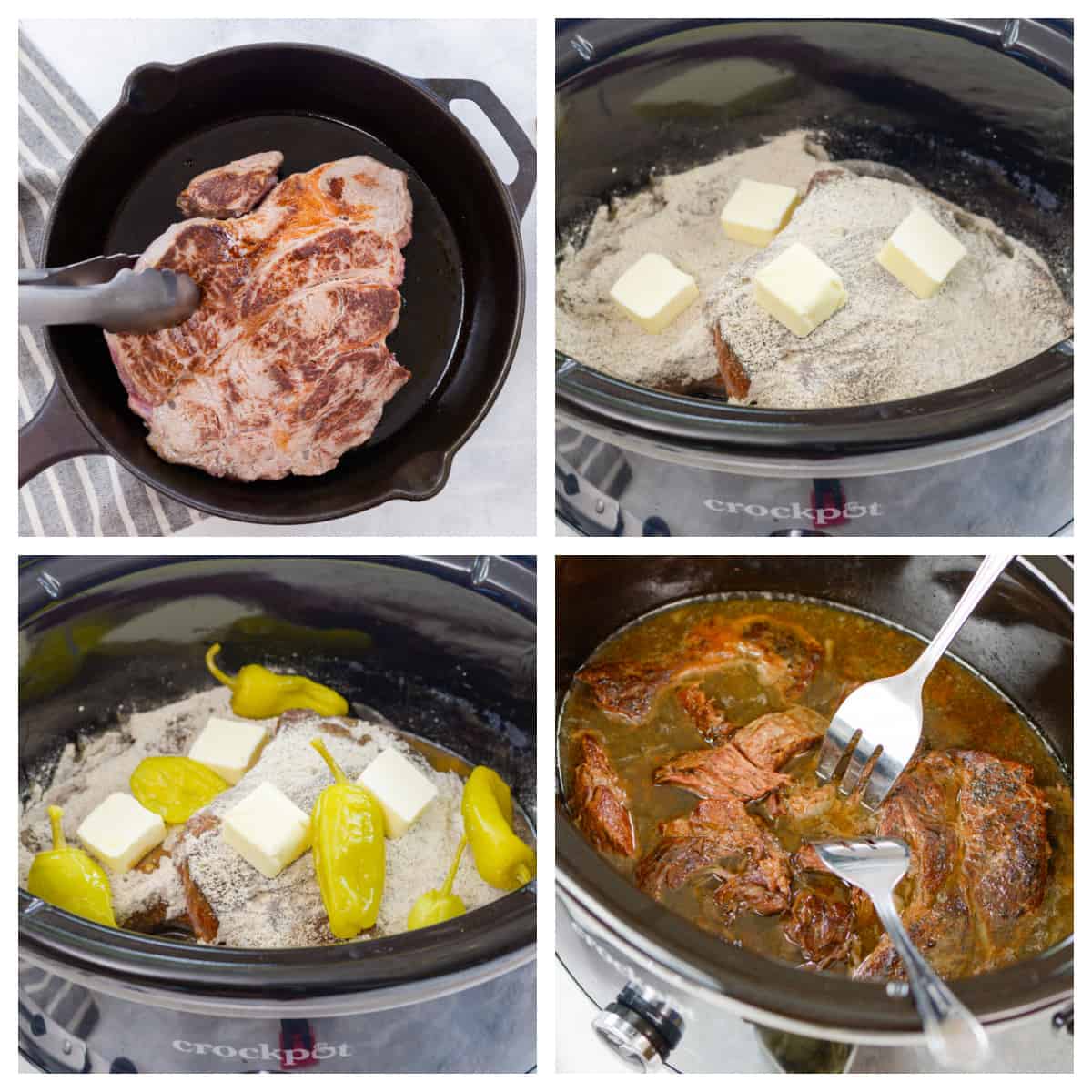 Sear: Searing the beef in a bit of oil before adding it to the crockpot will add extra flavor. This step can be skipped if you're in a rush, but we like to take the time when possible.

Cast iron skillets are my favorite! They heat so evenly, get piping hot for searing, and nothing is better than bacon fried in a cast iron skillet.
Season: After you've seared the chuck roast place it into your crockpot and then sprinkle on the ranch seasoning and au jus gravy mix! Top with pieces of butter.
Peppers: Place the peppers over the top and pour in some of the juice from the jar.
Helpful Tip!
The peppers in this recipe after slow cooking are only mildly spicy. If you're worried about spiciness you don't have to add as many. They add lots of flavor though, so if you like that kind of thing use plenty!
Slow Cook: Cover the crockpot and cook on high for 4-6 hours or low for 8-10 hours. That should be plenty of time to get it perfectly fork tender, but you can let it cook longer if it isn't tender yet!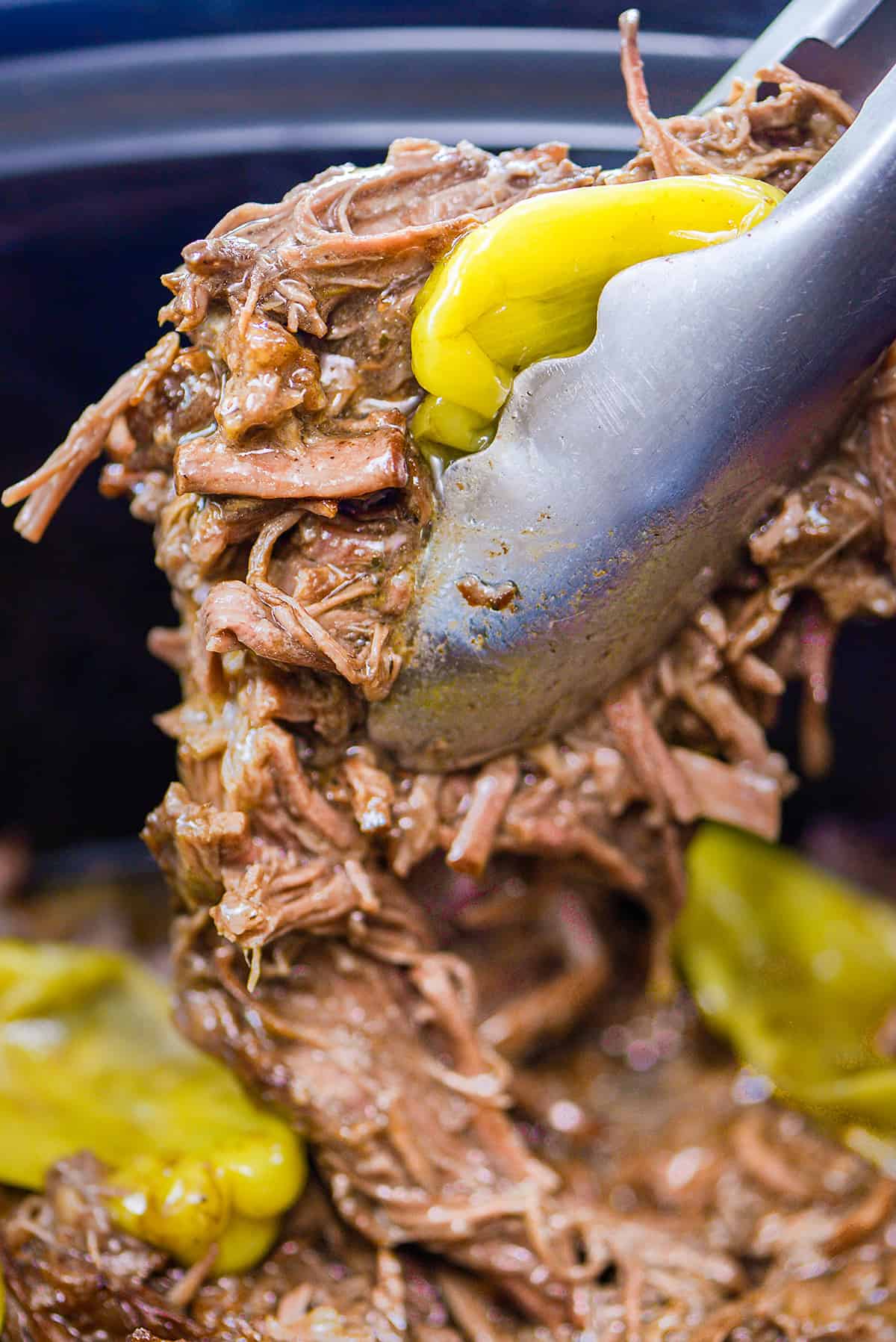 Serve: When the Mississippi pot roast has finished slow cooking and the meat is fork tender you can remove it from the crockpot and shred it up or slice it! All that juice left in the crockpot is perfect for serving over the roast.
I'd also recommend trying this roast with the juice served over my baked mashed potatoes or Instant Pot mashed potatoes with a side of air fryer carrots!
Additional Cooking Methods:
I love the crockpot because it always makes perfectly fork tender and juicy meals! But it can take awhile. There are a couple of other methods that'll work just as well with this recipe!
Instant Pot Mississippi Pot Roast – This recipe works the same way in the Instant Pot, just a lot faster! It'll take about an hour on high pressure with a 15 minute release. I've linked to a keto recipe that is similar!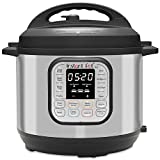 I absolutely love my Instant Pot! It's great for recipes quick pot roast recipes, to cook perfect rice, cook chicken to shred (the best!), and so much more.
Baked Mississippi Pot Roast – This will take a bit longer than the Instant Pot but it's still a little quicker than a slow cooker. I'd recommend roasting this in a Dutch oven at 275 degrees for 3-4 hours or until it is fork tender.
I think that slow cooker pot roast is a little more forgiving and usually results in tender and juicy roast. There is a bit more risk of the roast drying out and not being fork tender when you bake it in the oven.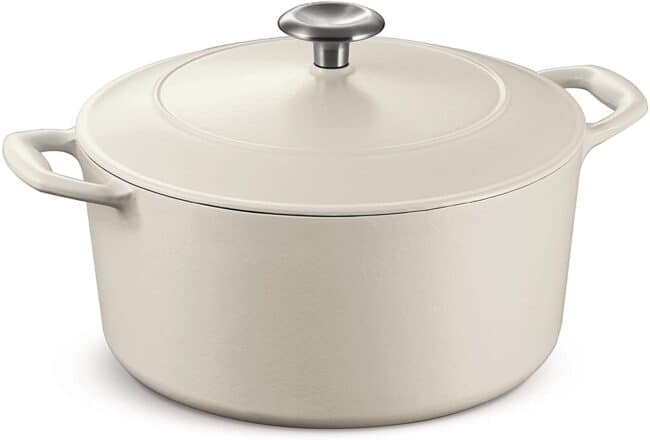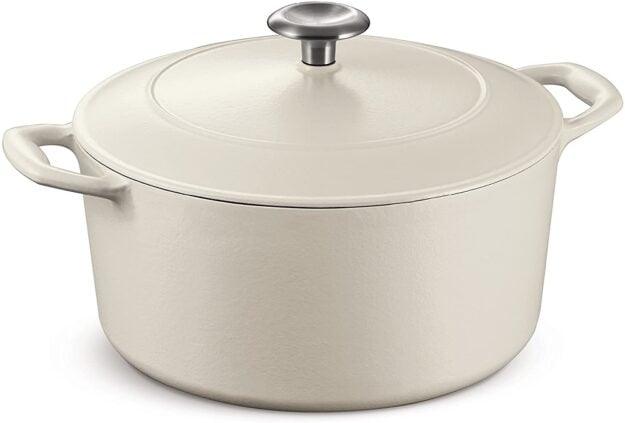 This gorgeous Dutch oven is perfect for making soup, pot roast, and more. It goes from stove to oven as needed and looks pretty enough to leave out on your stovetop as decoration.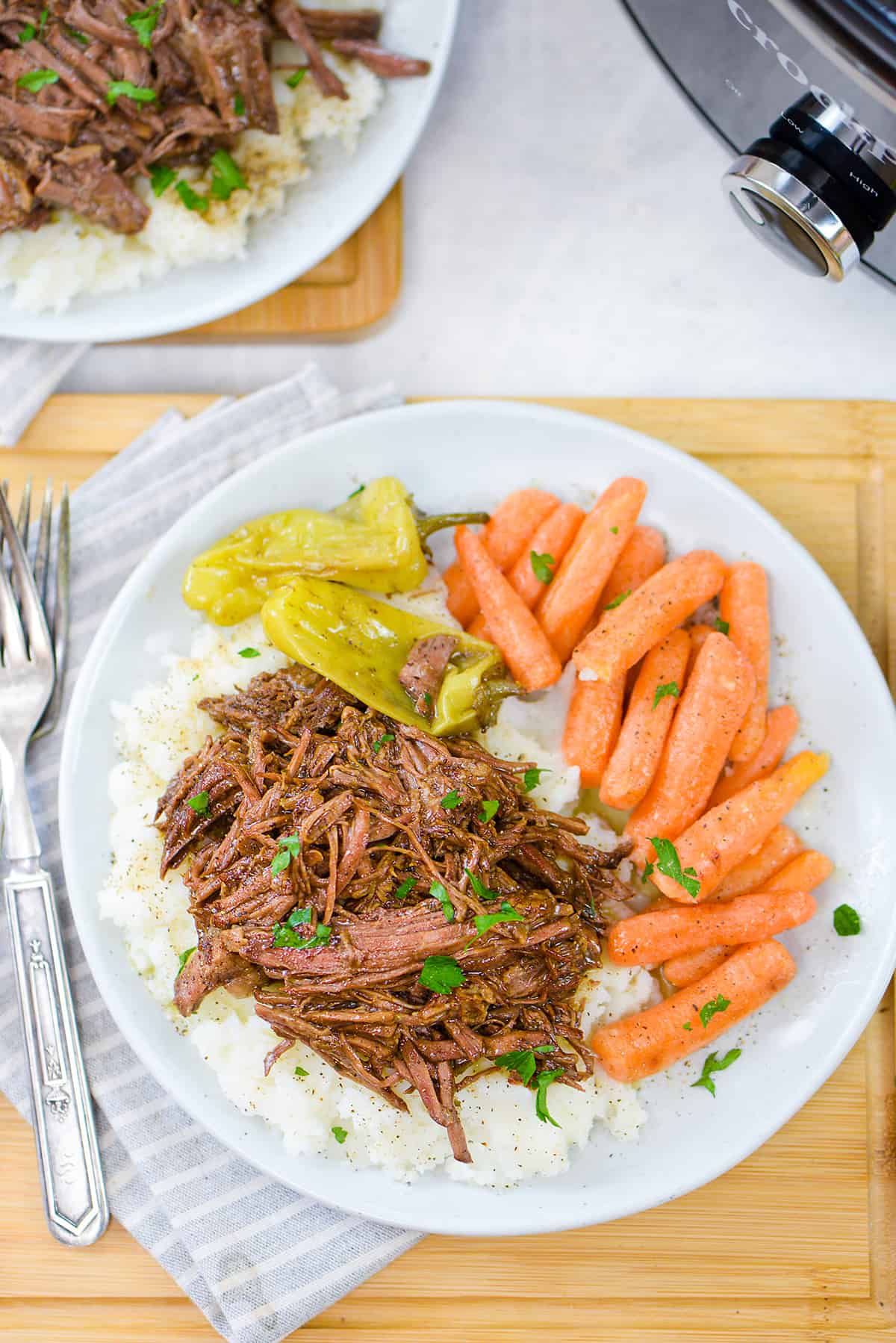 Leftover Hack!
You can turn leftover Mississippi pot roast into all kinds of wonderful leftover meals! Make tacos, quesadillas, sliders, or sandwiches with your leftover roast.
FAQs:
Can I store Mississippi pot roast?
Yep! It should last 4-5 days in a sealed container in the fridge. Reheat in the microwave or on the stove.
What is Mississippi pot roast?
If you are wondering why it is called Mississippi pot roast, the answer is simple! A person in Mississippi came up with the recipe, it got really popular, and the rest is history!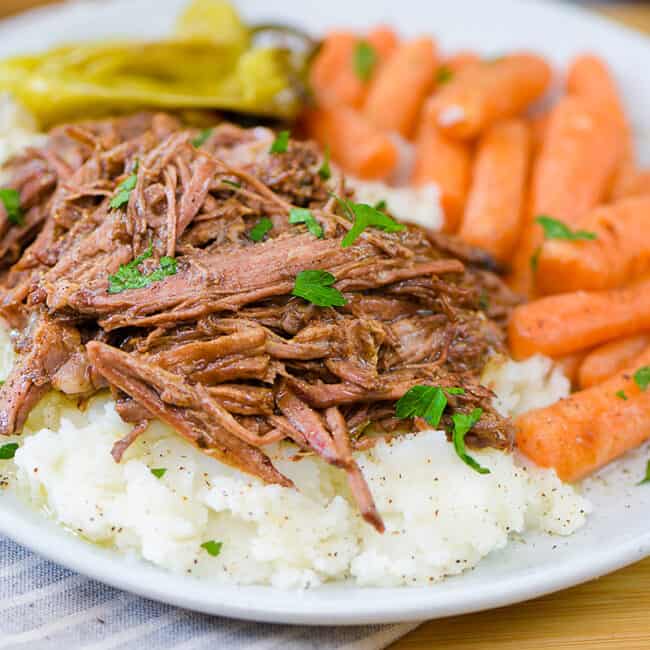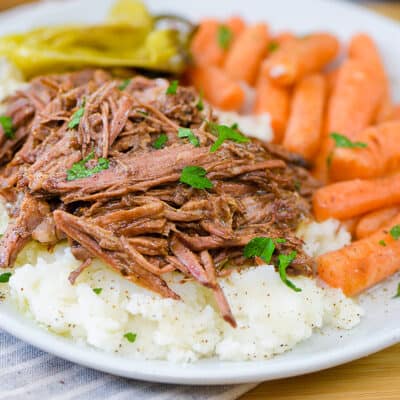 Mississippi Pot Roast
Our Mississippi Pot Roast cooks all day in the slow cooker, making for a tender, flavorful roast that is perfect over mashed potatoes. This is such an easy recipe, but we think it's the best pot roast out there!
Prep10 minutes
Cook8 hours
Total8 hours 10 minutes
Ingredients
3-4 pounds chuck roast
1 tablespoon oil
1 packet ranch seasoning mix
1 packet au jus seasoning
¼ cup butter
6 pepperoncini peppers plus ½ cup juice from jar
Instructions
Heat the oil in a large, heavy bottomed skillet, such as cast iron and then add the roast and sear on all sides.

Place the roast in a 6 quart crockpot and sprinkle on the ranch and au jus seasoning.

Slice the butter into 4 pieces and arrange over the pot roast. Top with the peppers and pour the juice from the jar into the bottom of the crockpot.

Cover and cook on high for 4 hours or low for 8 hours. Continue cooking until pot roast easily shreds apart with a fork – this may take more or less time depending on how hot your crockpot runs.

Remove the pot roast from the slow cooker and shred or slice. Spoon juices from the crockpot over the roast before serving.
Tips & Notes:
Be sure to use ranch seasoning and not ranch dip mix as the dip has a lot more sodium and will make for a much saltier dish. The peppers do not make this spicy. You may serve them with the roast or discard them after cooking.
Nutrition Information:
Calories: 384kcal (19%)| Carbohydrates: 2g (1%)| Protein: 33g (66%)| Fat: 27g (42%)| Saturated Fat: 12g (75%)| Polyunsaturated Fat: 2g| Monounsaturated Fat: 13g| Trans Fat: 1g| Cholesterol: 133mg (44%)| Sodium: 447mg (19%)| Potassium: 586mg (17%)| Fiber: 0.3g (1%)| Sugar: 0.1g| Vitamin A: 225IU (5%)| Vitamin C: 6mg (7%)| Calcium: 32mg (3%)| Iron: 4mg (22%)