This Mississippi pot roast with potatoes and carrots takes your average pot roast and veggies recipe to a whole new level of flavor! The simplest mix of au jus, ranch seasoning, and pepperoncini adds big, bold flavor to this pot roast!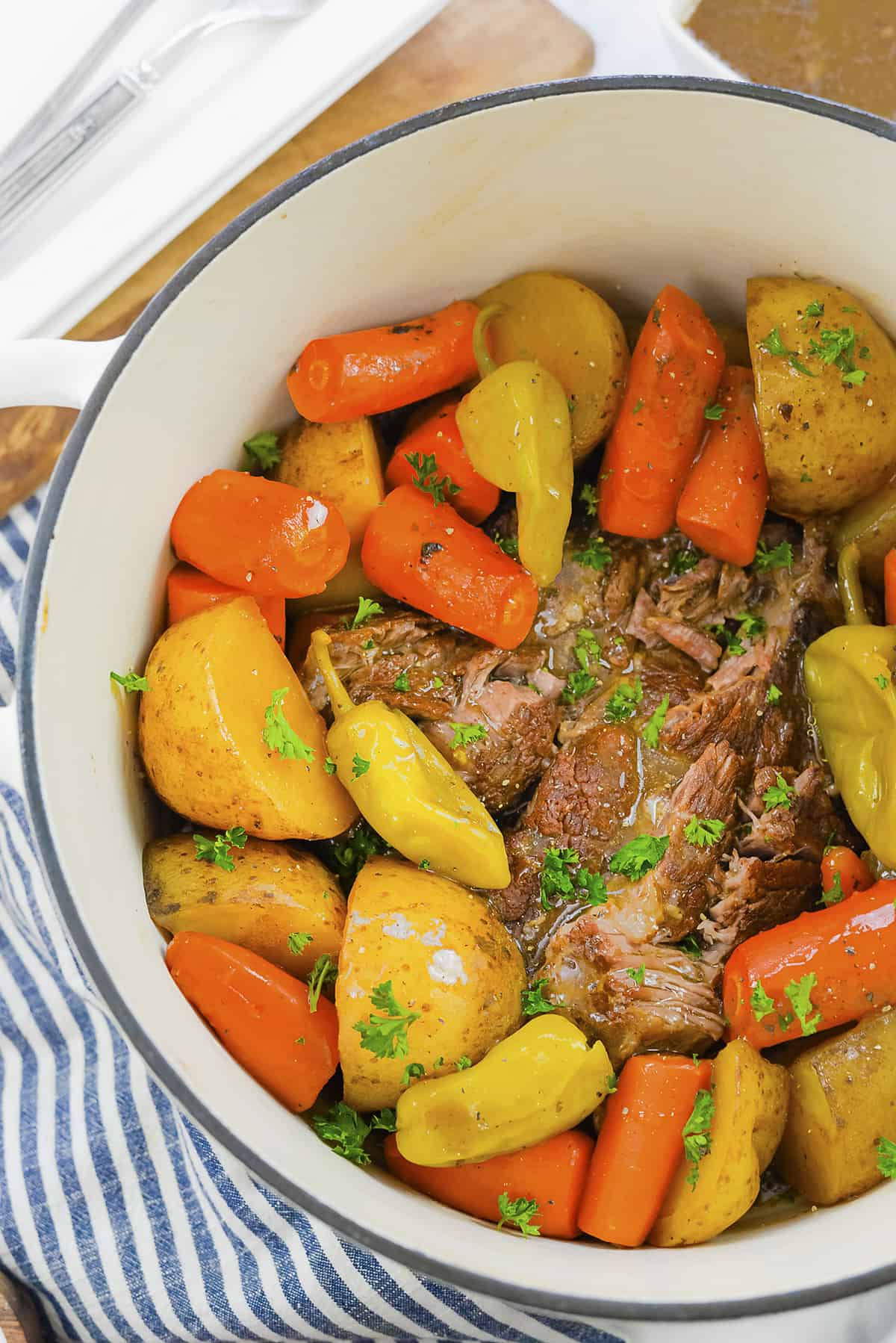 I'm back yet again with another twist on the Mississippi pot roast – this time cooked in the oven with potatoes and carrots!
I love our Mississippi Pot Roast cooked in the crockpot. Tender, shredded beef that's seasoned with a packet of au jus and ranch, topped with pepperoncini and butter, and slow cooked all day…what's not to love?
But this time around we wanted to share how to make Mississippi pot roast in the oven, and we wanted to add potatoes and carrots to the roast to make it more of a complete, classic pot roast dinner!
The result is a tender, flavorful beef that falls apart in your mouth, perfectly cooked carrots and potatoes that soak up the rich flavors of the beef, and a house that smells amazing when everyone walks in for dinner!
Ingredient Notes:
This post contains affiliate links. As an Amazon associate and member of other qualifying programs, I earn from qualifying purchases.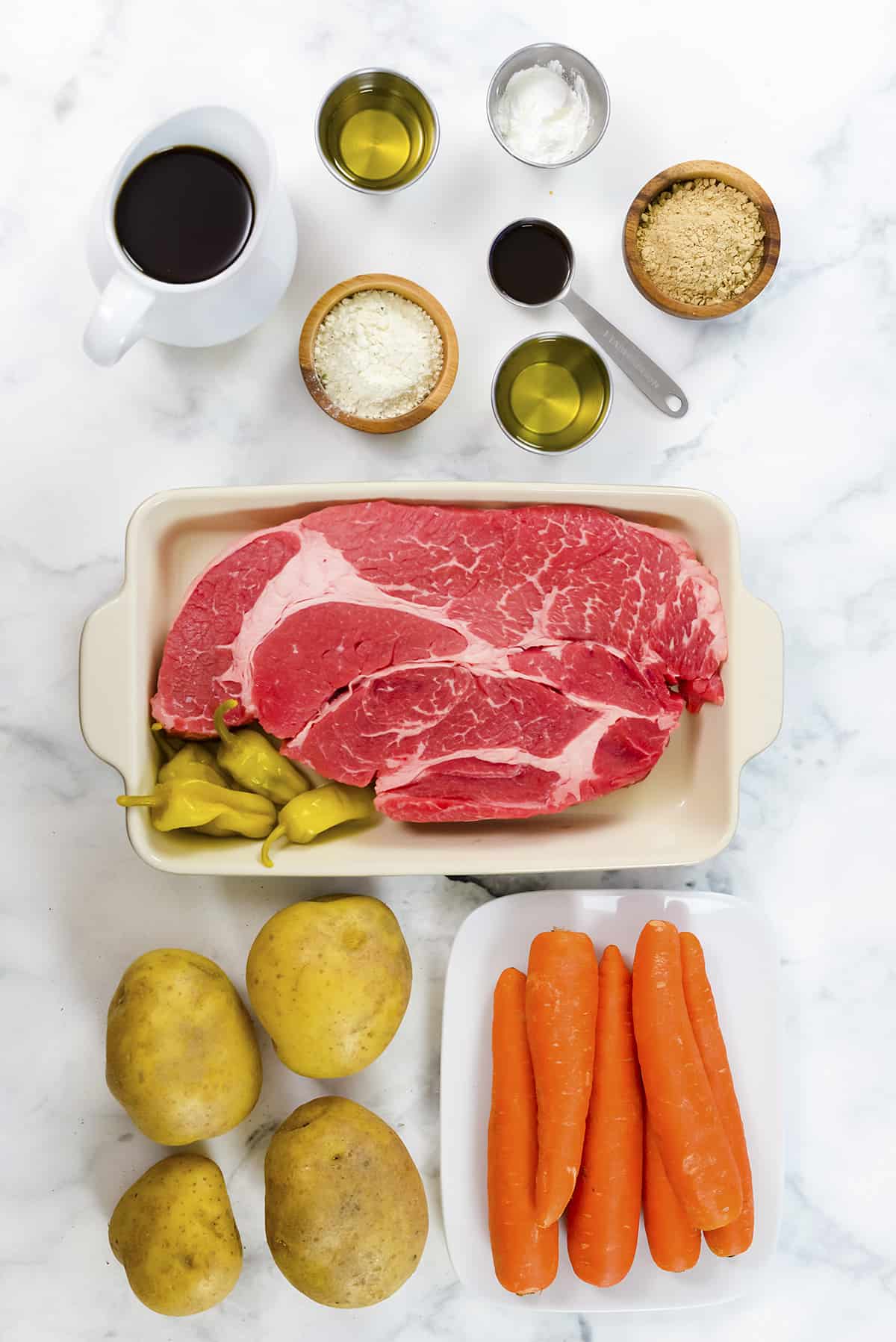 Chuck Roast – This flavorful cut of beef will come out perfectly tender and easy to shred or slice after slow roasting in the oven with the veggies, seasoning, and broth. It's hard to beat a chuck roast when it comes to flavor.
Potatoes & Carrots – Just about every classic pot roast recipe includes some root vegetables, which get nice and tender and take on all that flavor from the beef. I'm using Yukon Gold potatoes but any variety will work.
Beef Broth – The beef needs some liquid to roast in so that it doesn't dry out, and the broth will add more savory flavor. Plus, the potatoes and carrots will soak some of that up!
Worcestershire Sauce – This isn't traditionally found in Mississippi roast, but we're adding a bit of extra seasoning since we're also add potatoes and carrots.
Seasoning – You'll add a packet of ranch seasoning mix and au jus seasoning mix in with the roast and veggies which will take the flavor in this dish to the next level!
Pepperoncini Peppers – I like to use whole pepperoncini peppers, because they're easy to pick out if you don't like the peppers. Some of us eat the peppers with the roast and others skip them. Either way, they add a nice bit of flavor to the roast – even for those that don't like hot peppers. Be sure to save some of the juice from the jar. It'll go in with the roast to add some extra flavor.
Cornstarch – You'll add this at the end to thicken up the sauce into a savory gravy that you can serve over the roast and vegetables.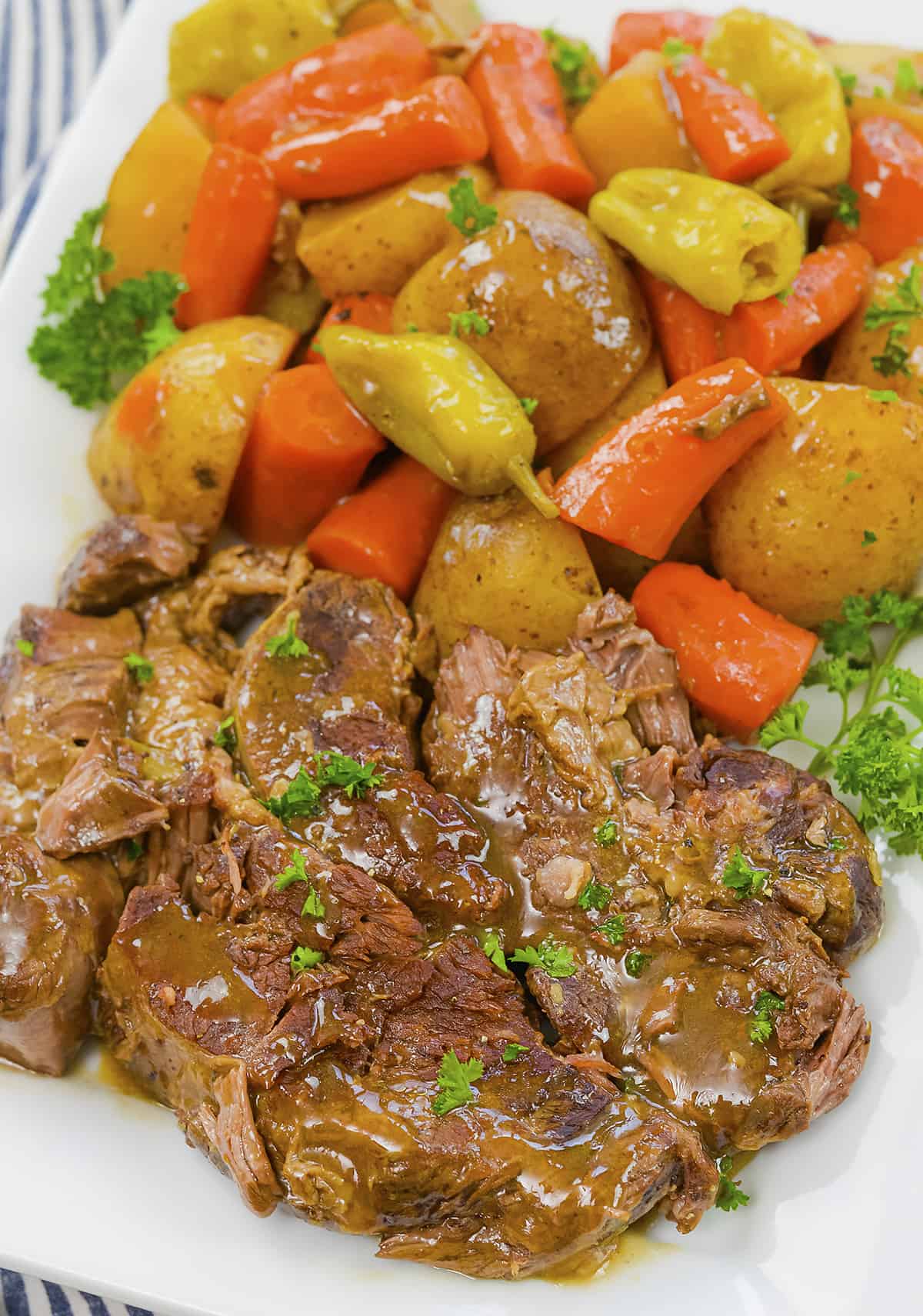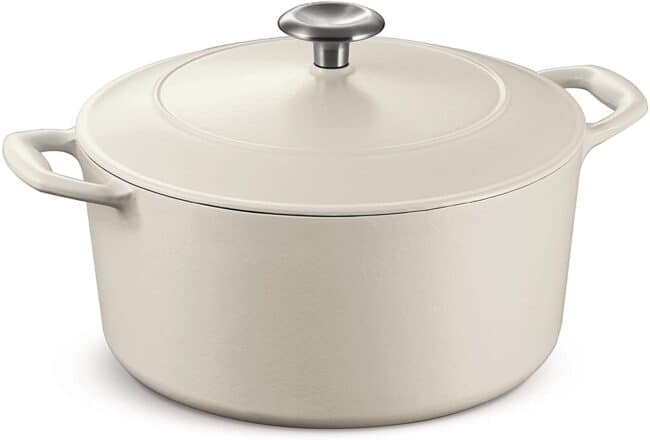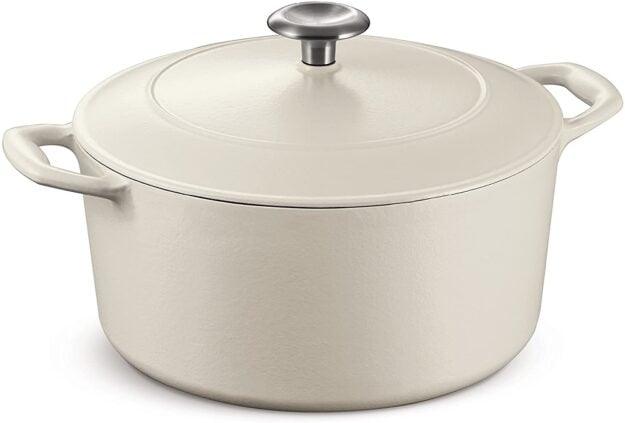 This gorgeous Dutch oven is perfect for making soup, pot roast, and more. It goes from stove to oven as needed and looks pretty enough to leave out on your stovetop as decoration.
What We Love About This Recipe:
This Mississippi pot roast with carrots and potatoes is just about the most savory recipe ever! You will love how juicy and flavorful the chuck roast and veggies are.
The pepperoncini peppers add so much flavor to this recipe without making it spicy! The peppers really balance out the rich flavors.
We make a simple gravy to top everything with – adds the perfect finishing touch.
How to Make Mississippi Pot Roast in the Oven: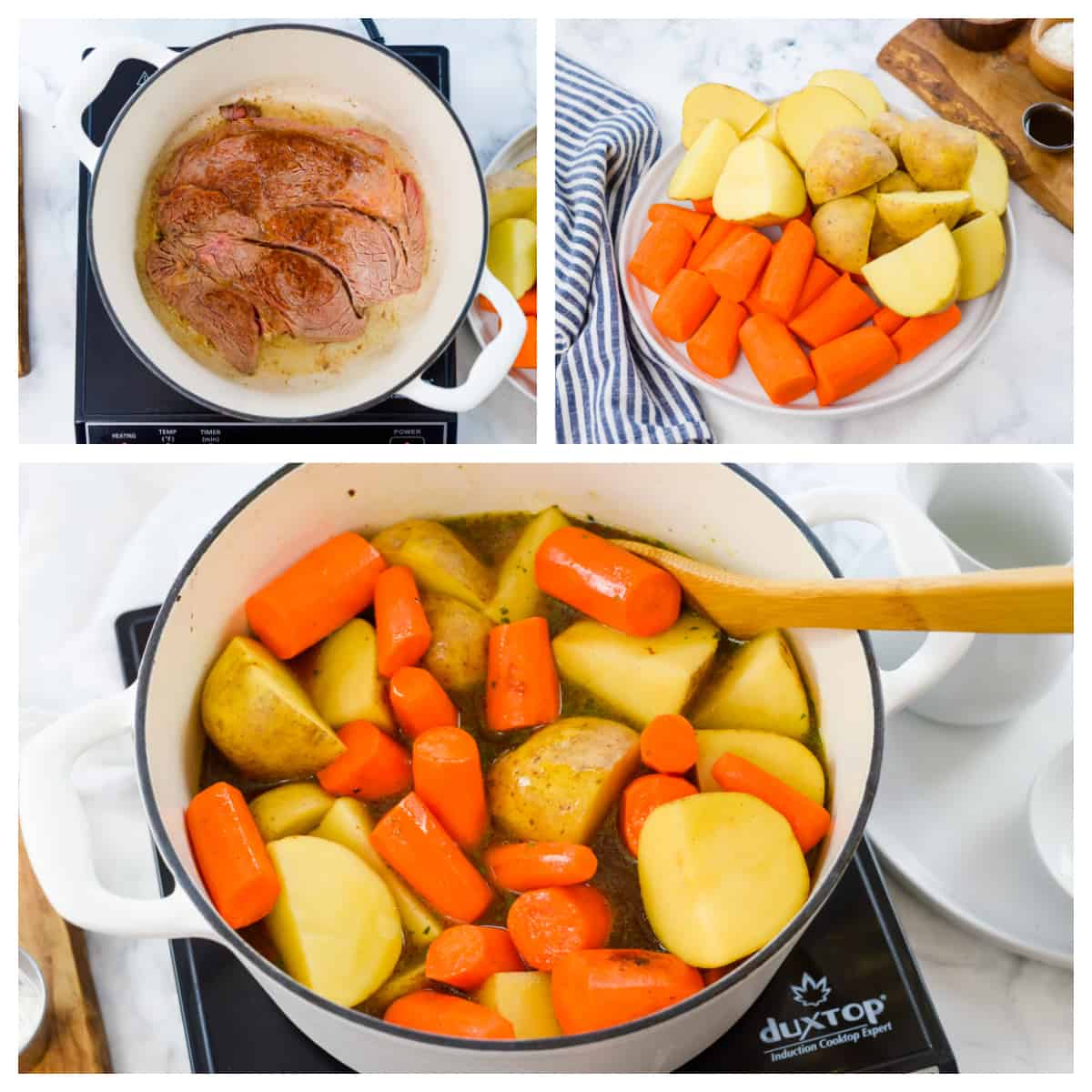 Sear: Heat some oil in a large Dutch oven over high heat on your stove. Add the chuck roast to the pot and sear it well on all sides. Remove and set it aside, then add some more oil to the pot.
Prepare: Peel and cut the carrots into smaller pieces, and dice the potatoes into halves or quarters of a similar size.
Add the carrots and brown them up a bit over the high heat, cooking for 1 to 2 minutes. You're just putting a quick sear on these for extra flavor!
Broth: Remove the carrots and add the beef broth along with the Worcestershire sauce to the Dutch oven. Scrape the bottom of the pot to deglaze it – those browned bits on the bottom equal major flavor!
Seasoning: You can now add the packets of ranch seasoning and au jus, along with the peppers and juice from the jar of peppers. Whisk it up and add the roast and veggies to the pot.
Helpful Tip!
The peppers in this recipe after slow cooking are only mildly spicy and are easily picked out and discarded. If you're worried about spiciness you don't have to add as many, but we don't find the meat or veggies to be spicy at all. The pepperoncini add lots of flavor though, so if you like that kind of thing use plenty!
Roast: Make sure everything is at least partially submerged in the liquid in the pot. It does not need to cover the meat and veggies, it's okay if the tops are sticking out.
Place the lid on the pot and transfer to your preheated oven. It'll take about 3 hours for the beef to get perfectly tender and falling apart!
Gravy: When the roast is done you can remove it with the veggies to a serving platter. Now for the gravy! Skim off any excess fat from the liquid, then place the pot on the stove over medium heat.
Bring the liquid to a low boil, then separately whisk together some cornstarch and water. Add that mixture to the liquid and whisk well to combine and thicken the gravy.
Helpful Tip!
If you want a thicker gravy you can add more cornstarch slurry and continue cooking and whisking until it is as thick as you'd like.
Serve: Pour the savory gravy over the Mississippi pot roast with potatoes and carrots to finish the dish off. Serve this savory pot roast recipe while it is good and hot!
Our Mississippi Pot Roast is a complete meal, thanks to those perfectly cooked potatoes and carrots, but you can definitely round things out with our beer bread or quick dinner rolls to soak up that extra gravy!
More Mississippi Favorites:
Love the flavors going on in this pot roast? We do too!
That's why we've also shared recipes for Mississippi Chicken and Mississippi Pork Roast!
Leftover Hack!
If you've got leftover pot roast then you've got just what you need to make my Mississippi pot roast sliders. With melty provolone cheese and a savory buttery sauce you'll love these little sandwiches!
Veggies on the Side:
We've heard there are people out there that don't love the potatoes and carrots cooked with the pot roast. (Who are you and how are you so wrong?!)
I'll never understand not loving the richly flavored and tender veggies that come from a pot roast, but I'm here to help! 😉
Leave the veggies out of this recipe and reduce the broth to 2 cups. Cook as directed. You may need to add a bit more beef broth when making the gravy if it gets thicker than you'd like, but otherwise the recipe will work just the same.
Serve with some Instant Pot Mashed Potatoes and Air Fryer Carrots.
FAQs:
Can I store Mississippi pot roast?
This roast with potatoes and carrots should last 4-5 days in a sealed container in the fridge. Reheat in the microwave for best results.
What is Mississippi pot roast?
If you are wondering why it is called Mississippi pot roast, the answer is simple! A person in Mississippi came up with the recipe, it got really popular, and the rest is history!
Can I leave out the vegetables?
If you prefer to cook your vegetables separately, you may leave them out of this recipe. You can cut down the broth to 2 cups, though you may need to whisk in more at the end if the gravy is thicker than you'd like.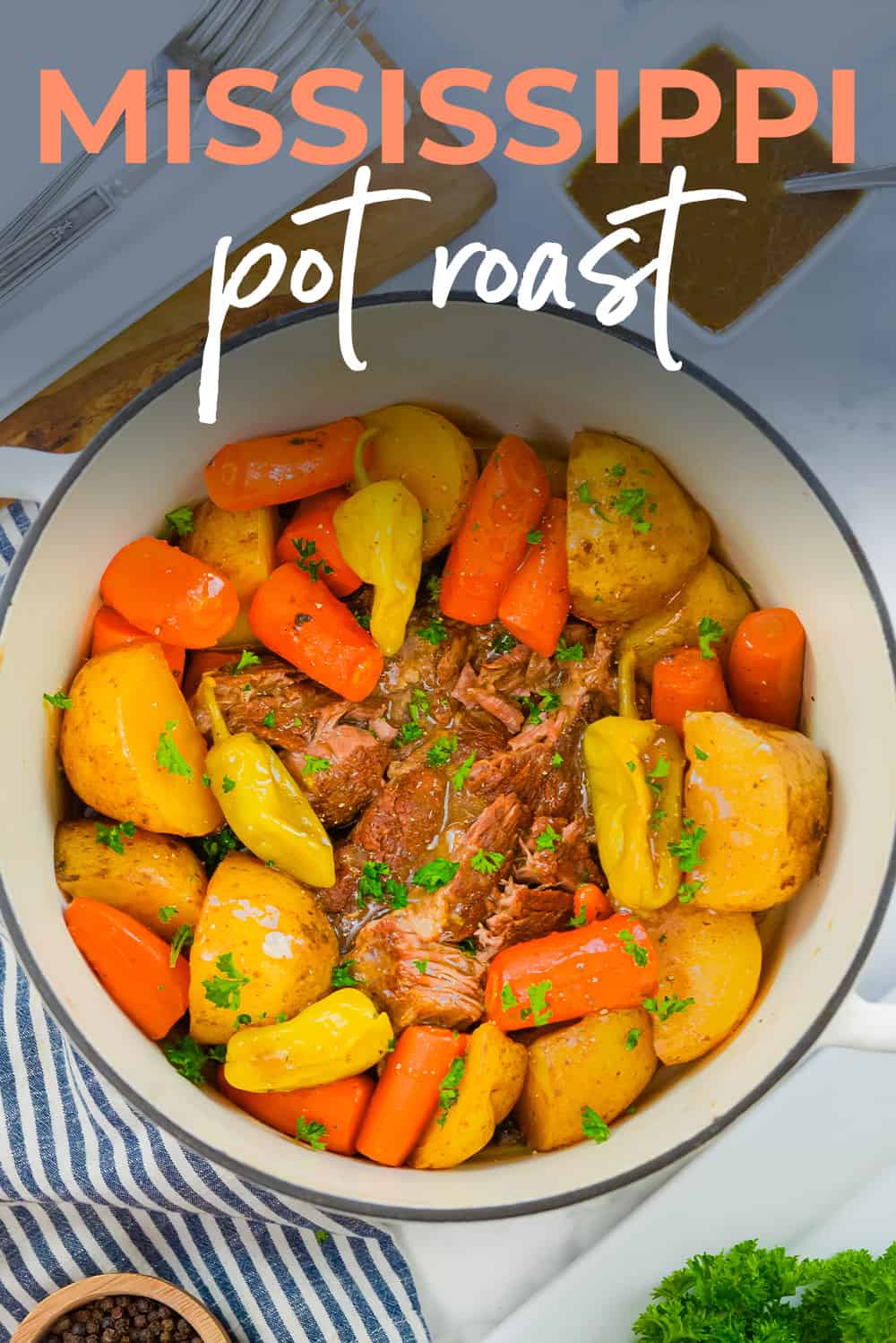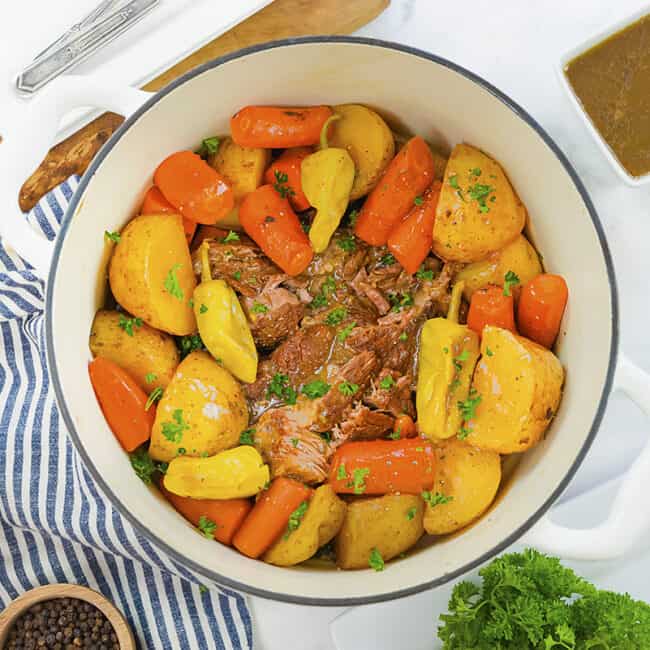 Mississippi Pot Roast with Potatoes and Carrots
This tender pot roast is cooked in the oven with potatoes and carrots to make the ultimate family dinner. The simple blend of seasonings add so much flavor and this roast will quickly become a favorite.
Prep20 minutes
3 hours 15 minutes
Total3 hours 35 minutes
Ingredients
3-4 pounds beef chuck roast
8 whole carrots
1 1/2 pounds Yukon Gold potatoes
2 tablespoon olive oil divided
3 ½ cups beef broth
1 tablespoon Worcestershire sauce
1 packet ranch seasoning mix
1 packet au jus seasoning mix
4 whole pepperoncini peppers
¼ cup pepperoncini juice from jar of peppers
3 tablespoons cornstarch
Instructions
Preheat oven to 275 degrees.

Trim any excess fat from the chuck roast. Peel the carrots and cut into 2 inch pieces. Cut the potatoes into halves or quarters so they're all a similar size.

Heat a large dutch oven over high heat. Add 1 tablespoon of oil and heat until shimmering.

Place the chuck roast in the pot and sear on all sides. Remove the chuck roast and set aside.

Add the remaining tablespoon of oil to the pot. Once hot, add the carrots and let brown a bit, cooking for 2-3 minutes. Remove the carrots and set aside.

Add the beef broth and Worcestershire sauce to the dutch oven and deglaze the pan, scraping up any browned bits.

Add the ranch seasoning, au jus, pepperoncini, and pepperoncini juice and whisk together.

Return the roast to the pot. Add the carrots and potatoes, making sure everything is partially submerged in the liquid – it's okay if the tops are sticking out.

Place the lid on the dutch oven and transfer to the preheated oven. Roast for 3 hours or until beef is very tender and falling apart.

Carefully remove the beef and vegetables from the pot and place on a serving platter.

To make gravy for the pot roast, remove any excess fat from the liquid in the pot.

Place pot on the stove over medium heat and bring to a low boil.

Whisk together the cornstarch with ¼ cup of water. Add this mixture to the pot of liquid and whisk well to combine. Continue cooking and whisking until gravy is as thick as you'd like.

Pour the gravy over the meat and vegetables and serve.
Tips & Notes:
We tend to cut the potatoes in half (rather than quarters) so that they are a bit larger and don't overcook. If you cut them too small, they will fall apart and turn to mush as they cook. Cut particularly large potatoes into quarters so that everything is a similar size. Continue cooking the gravy until it has thickened to your liking. If you think it needs more cornstarch, be sure to make a slurry with water before adding extra or you'll have a lumpy gravy. The pepperoncini do not make the meat or vegetables spicy. They do add a unique flavor to the whole dish and we do not recommend leaving them out. You may pick them out and discard before serving if you don't like the peppers themselves.
Nutrition Information:
Calories: 578kcal (29%)| Carbohydrates: 27g (9%)| Protein: 47g (94%)| Fat: 31g (48%)| Saturated Fat: 12g (75%)| Polyunsaturated Fat: 3g| Monounsaturated Fat: 17g| Trans Fat: 2g| Cholesterol: 156mg (52%)| Sodium: 1100mg (48%)| Potassium: 1335mg (38%)| Fiber: 3g (13%)| Sugar: 1g (1%)| Vitamin A: 259IU (5%)| Vitamin C: 23mg (28%)| Calcium: 64mg (6%)| Iron: 6mg (33%)