Mississippi Chicken is a simple crockpot chicken recipe – just dump and go for juicy, flavorful chicken that is perfect over mashed potatoes or in a sandwich.
The last two weeks we've had my 13 year old daughter's friend staying with us.
A little summer break fun for them, because the friend lives out of state and they don't get to see each other often.
It's been fine.
Totally fine.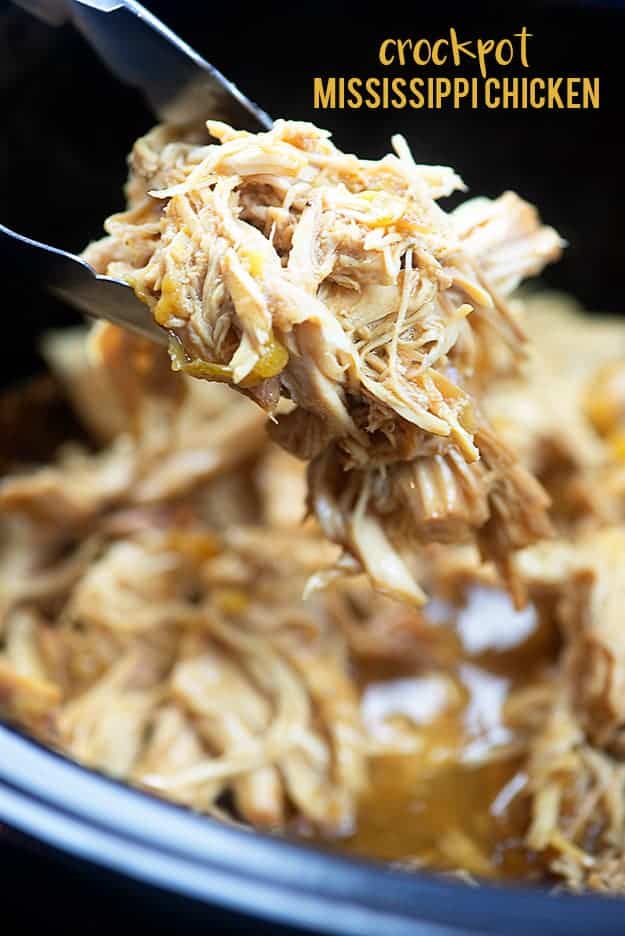 Except…I miss my daughter.
You see, Emma (my kiddo) and I are buddies. I mean, yes, I'm the mom and I do the parenting and I tell her no more of my homemade brownies, and take away her phone when I think she's been scrolling through Instagram for too many hours in a row.
But, we're still totally buddies. She goes on shopping trips with me and we have a few series on Netflix (okay, a lot of series on Netflix) that we watch together and she floats around the pool with me and bakes with me and just generally interacts with me throughout the day.
NOT ANYMORE.
Not when she has an actual friend around for two weeks straight.
I'm not sure I've seen the two of them, outside of the times they emerge from her bedroom to ask for rides or food.
Rides. And food. That's all I'm good for anymore.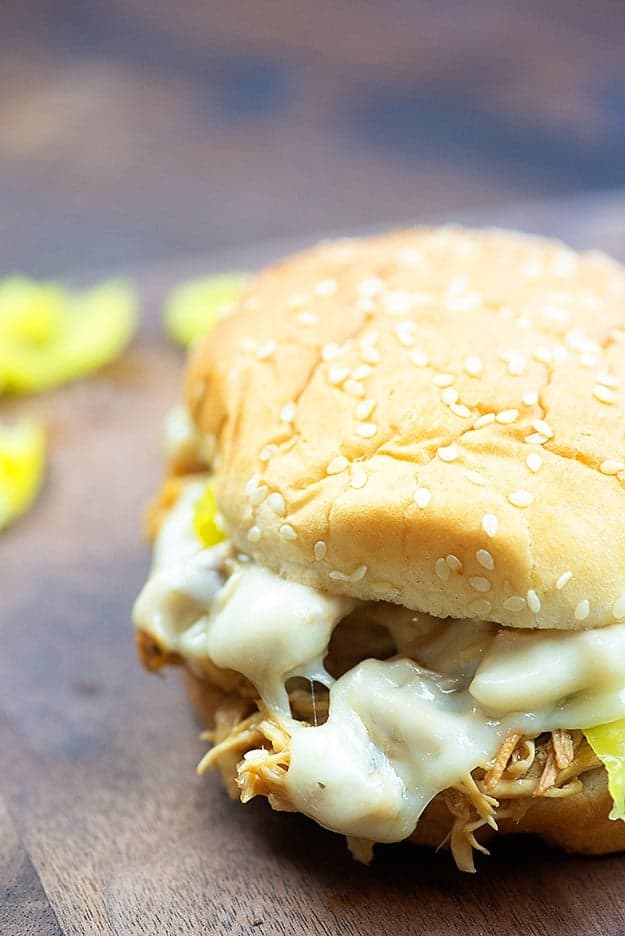 Parents of teens, tell me you can relate. Also tell me that she's going to be my friend again soon. I miss my little buddy.
Anyway, like I said – all they want are rides and food, so to make my life easier, I've been using the slow cooker.
Enter this Mississippi chicken recipe.
Crockpot Mississippi chicken is one of those slow cooker recipes where you dump a few ingredients in the slow cooker without any prep work and you walk away. I love that!
How to make Mississippi Chicken:
Start with a 6 quart slow cooker and 3 pounds of chicken breast. You could use thighs, if you prefer dark meat.
Add the chicken to the slow cooker and then top it off with a packet of Au Jus gravy mix. You'll find this in the grocery store near the packets of chili seasoning and canned gravy.
You'll also add in a packet of ranch dressing mix.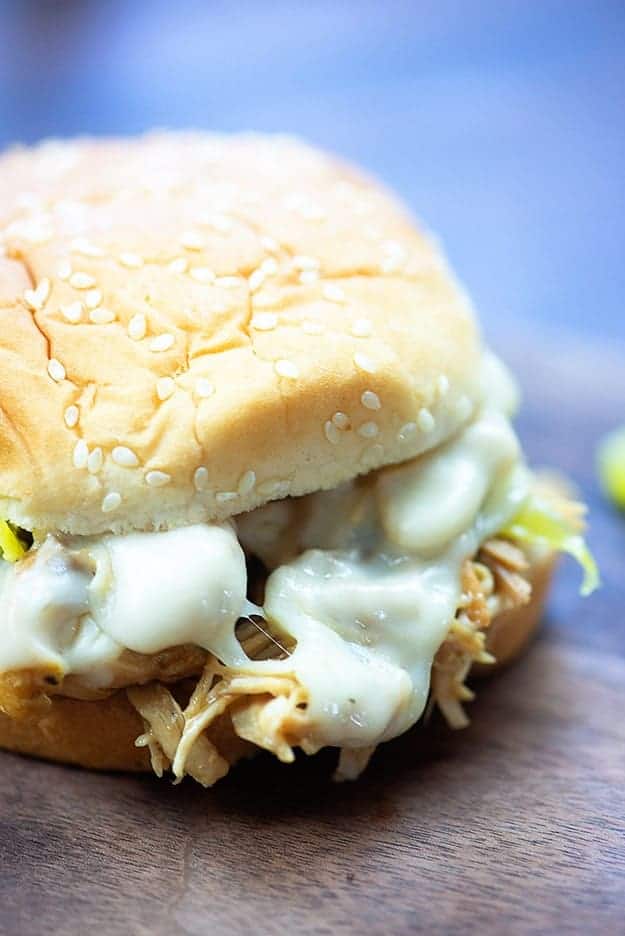 Just sprinkle those right over the top of the chicken and then dump in some pepperoncini. These peppers are only mildly spicy and they definitely lose most of their heat as they cook with the chicken. I would rate this dish as not even a little spicy when it's finished cooking, so I wouldn't stress at all if you're feeding little ones or people who hate spice. 😉
Next comes the good part – a stick of butter!
I literally just add all of these things to the slow cooker with the butter right on top. You don't even have to stir.
No liquid is necessary either. The chicken will cook in it's own juices along with the melted butter.
Slow cooker shredded chicken:
Cover this up and cook on high for 3 hours or low for 6-8 hours.
The chicken is done when it easily shreds apart with a fork.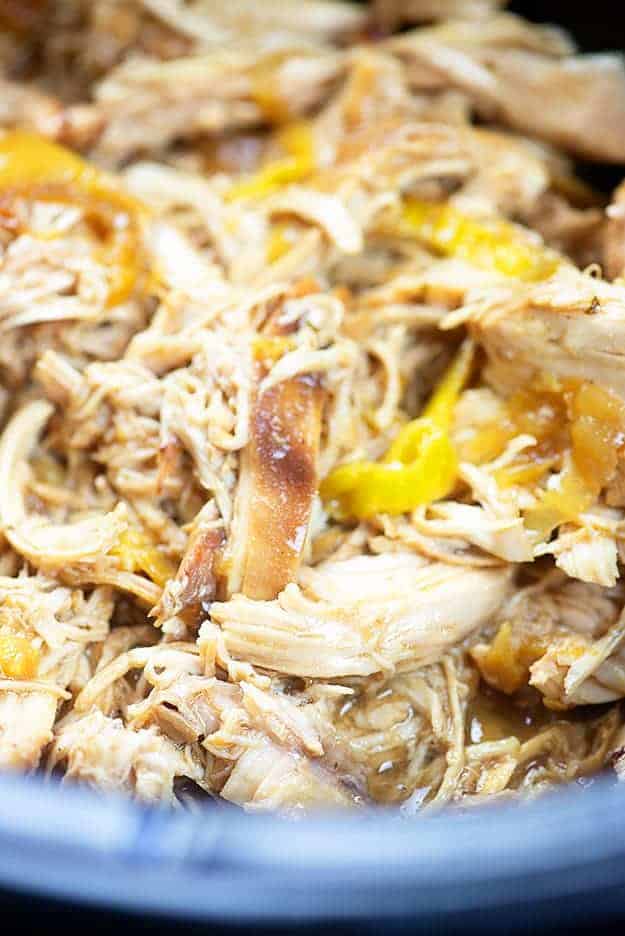 After shredding, stir well to coat the chicken in the juices from the slow cooker.
Serve this shredded chicken over some homemade mashed potatoes, buttered egg noodles, or on a sandwich bun.
I went the sandwich route this time and topped it off with a slice of provolone cheese.
So good, you guys!!
What to serve with Mississippi Chicken:
Italian Pasta Salad – I love cold side dishes during the hot summer months and keep this pasta salad on hand for busy weeknights. It goes great with just about everything and it's bursting with goodies, like pepperoni, fresh mozzarella, spinach, and more.
Jiffy Corn Casserole – If you don't mind turning your oven on, this corn casserole is completely amazing. It's so creamy, sweet, and delicious. It always gets rave reviews.
Broccoli Cheese Casserole – Adding cheese to broccoli is a sure win in my house and this low carb casserole never fails with my family.
More slow cooker recipes:

Crockpot BBQ Chicken – this one starts with a simple homemade sauce and ends with tangy, sweet BBQ sandwiches!
Slow Cooker Ribs – oh yes, you can make ribs in the crockpot and they're SO easy and they turn out perfect every time.
Crockpot Chicken Tacos – Taco night happens often in our house and this slow cooker recipe creates some of the best tacos ever!
Slow Cooker Wings – no need to fry your chicken wings. Toss them in the slow cooker and then crisp them up under the broiler. These are always a crowd pleaser.
Crockpot Pork Roast: Smothered in gravy and delightful over noodles or mashed potatoes.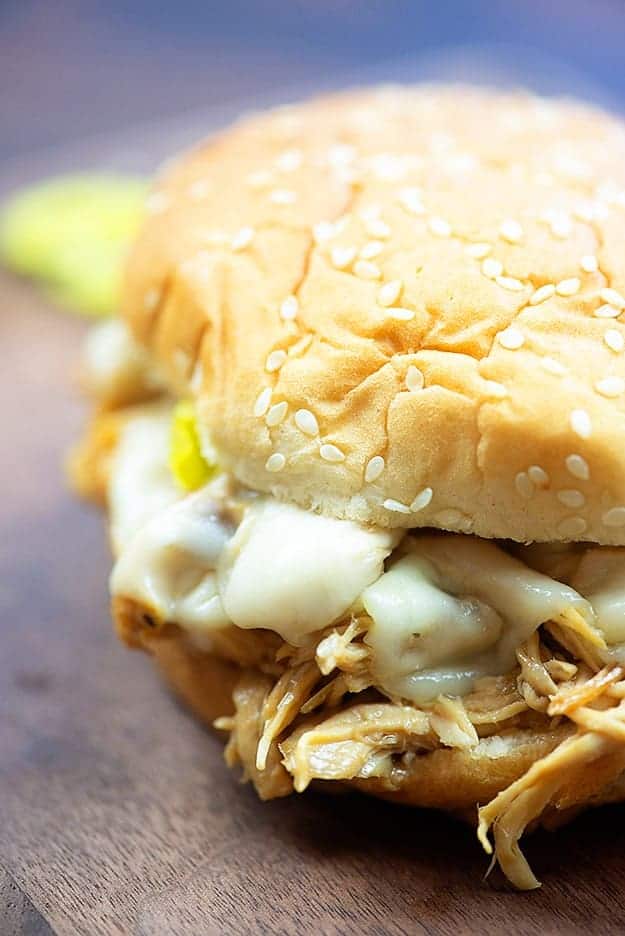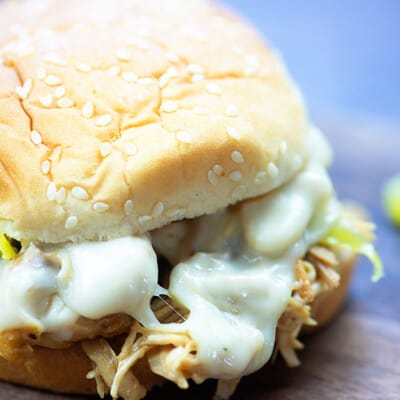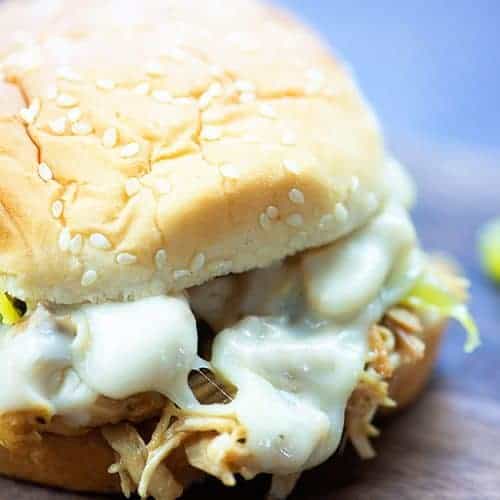 Mississippi Chicken
This slow cooker shredded chicken comes out flavorful and juicy every time. Serve over mashed potatoes or egg noodles or turn it into a sandwich and top with some cheese.
Prep5 minutes
Cook6 hours
Total6 hours 5 minutes
Ingredients
3 pounds boneless, skinless chicken breasts
1 packet au jus gravy mix
1 packet ranch dressing mix
1 cup pepperoncini sliced
1/2 cup butter
Instructions
Add all of the ingredients to a slow cooker. Cover.

Cook on high for 3 hours or on low for 6-8 hours until chicken is tender and easily shreds.

Shred the chicken with a fork and stir well to coat in the sauce from the slow cooker.
Nutrition Information:
Calories: 206kcal (10%)| Carbohydrates: 1g| Protein: 24g (48%)| Fat: 10g (15%)| Saturated Fat: 5g (31%)| Cholesterol: 92mg (31%)| Sodium: 375mg (16%)| Potassium: 446mg (13%)| Vitamin A: 305IU (6%)| Vitamin C: 9.9mg (12%)| Calcium: 9mg (1%)| Iron: 0.5mg (3%)