This post is sponsored by Crock-Pot® brand. Thank you for supporting the brands that support this blog!

Alright, so tell me the truth. Is all of this back to school business creating havoc in your lives?
Me too, friends.
I mean, my kids are homeschooled, so that certainly makes the morning routine easier. I'm not sure how you all wake up so early, make lunches, check that people smell decent, and still get them out the door with matching shoes on time for the bus. This blows my mind.
Of course, I have my own set of challenges related to school season. Those challenges mostly involve working on the blog in between helping with math questions and reading reading reading together. My kids are now in 11th grade and 6th grade, so I'm really mostly hands off, but even so, it takes time.
I've been struggling to keep up with the house work, school work, and work work. I won't lie.

Of course, this time of year is perfect for my Crock-Pot® slow cooker and I've been whipping up all kinds of delicious dinners with minimal prep. I'm really excited to have partnered with the Crock-Pot® brand to bring you recipes that your family is going to LOVE this year! Just wait til you see all the good ideas I have up my sleeve.
They sent me their touch screen Crock-Pot® slow cooker and I love how sleek it is. It cooks evenly and the touch screen controls are just fun to work with.
The Crock-Pot® brand website also has plenty of creative recipes on their website and I suggest you click on over and check around. You might just find a new family favorite! Click here to check out their recipes!
First up, I'm sharing a recipe that brings me back to my high school years, when I was constantly hanging out with my boyfriend-turned-husband, who had his own apartment but literally not a single pot or pan. Luckily, the man lived close to a drive-thru joint that produced a pretty killer chicken sandwich. I was always ordering the Chicken, Bacon, and Swiss sandwich. It came topped with honey mustard and the flavors all complemented each other perfectly.
I set out to recreate that sandwich, but avoid the frying of the chicken. No one has the time or inclination to fry up a chicken breast on a busy week night.
I whipped up a simple honey mustard dressing that I poured over some chicken breasts in the Crock-Pot® slow cooker. Turned that to low for about 4 hours and then shredded it all up.
This chicken is pretty delicious on it's own, but when you put it on a grilled bun, top it with a big slice of Swiss cheese, and a few pieces of crispy bacon, it's really just divine. I served it alongside some chips, because I was being a lazy mama, but it would also work great with my cauliflower potato salad!
I hope you guys give this simple recipe a try. I think you'll love it!
For more slow cooker recipes, try my bourbon chicken and Italian beef!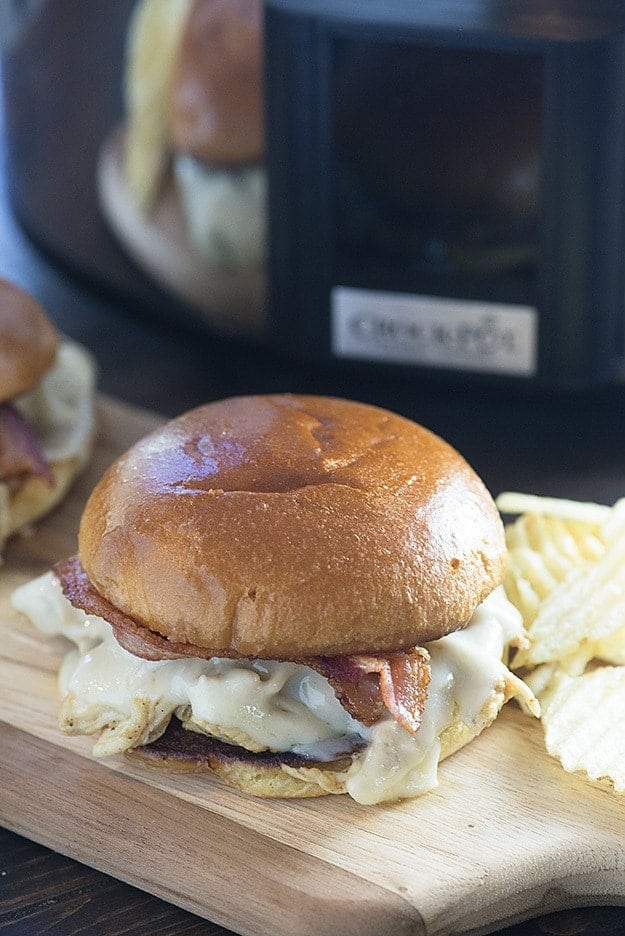 Slow Cooker Honey Mustard Chicken Sandwiches
These slow cooker chicken sandwiches are so tasty. That honey mustard sauce soaks into the chicken making it extra juicy and flavorful.
Prep20 minutes
Cook4 hours
Total4 hours 20 minutes
Ingredients
1 1/2 pounds boneless skinless chicken breasts
1/2 cup mayonnaise
3 tablespoons yellow mustard
2 tablespoons honey plus more, as desired
1 tablespoon vinegar
1 teaspoon ground black pepper
6 slices bacon fried crisp
6 slices Swiss cheese
6 sandwich rolls toasted if desired
Instructions
Add the chicken to the Crock-Pot® slow cooker.

In a small bowl, whisk together the mayonnaise, mustard, honey, vinegar, and pepper.

Pour mixture over chicken and spread to cover the chicken.

Cover and cook on low for 4 hours.

Shred chicken with forks when cooked through.

Spoon chicken into sandwich rolls, top with cheese and bacon. Serve hot.
Nutrition Information:
Calories: 687kcal (34%)| Carbohydrates: 38g (13%)| Protein: 43g (86%)| Fat: 39g (60%)| Saturated Fat: 12g (75%)| Cholesterol: 135mg (45%)| Sodium: 760mg (33%)| Fiber: 2g (8%)| Sugar: 7g (8%)