This crock pot pork roast is one of the easiest crock pot recipes ever! Just 3 ingredients and the gravy makes itself right in the slow cooker. You'll end up with tender, flavorful pork roast and gravy that's perfect over mashed potatoes, rice, or egg noodles!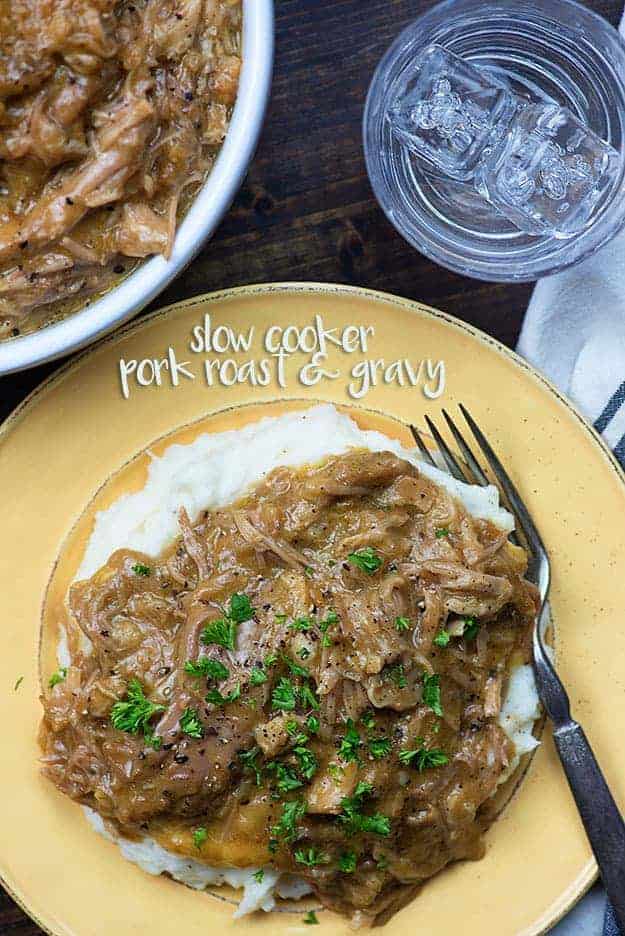 I received a comment from a reader the other day that they only use their slow cooker in the winter.
You guys, just curious, are all of you that way? Is the slow cooker a seasonal thing or do you use it year round??
Personally, I use it all year, especially when I have recipes like this crock pot pork roast!
I use it in when it's cold out because it always produces comfort food. I use it when it's warm out because it keeps me from heating up the kitchen.
And I use it most of all because it's convenient and easy and the food always comes out delicious.
Am I alone? Tell me I'm not alone.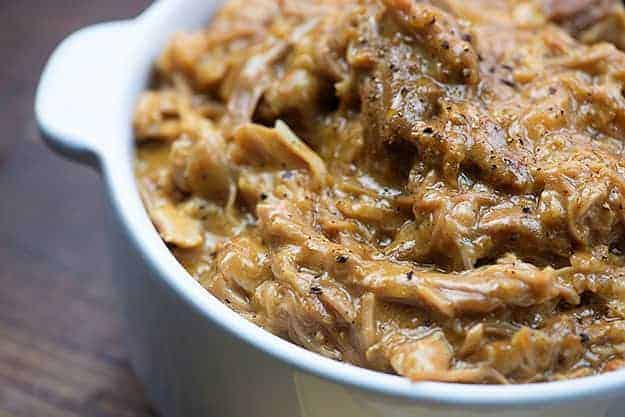 Anyway, making pork roast in the crock pot is something you'll want to eat allllll. year. long.
So good.
Plus, there's just 3 ingredients in this recipe.
Is this real life?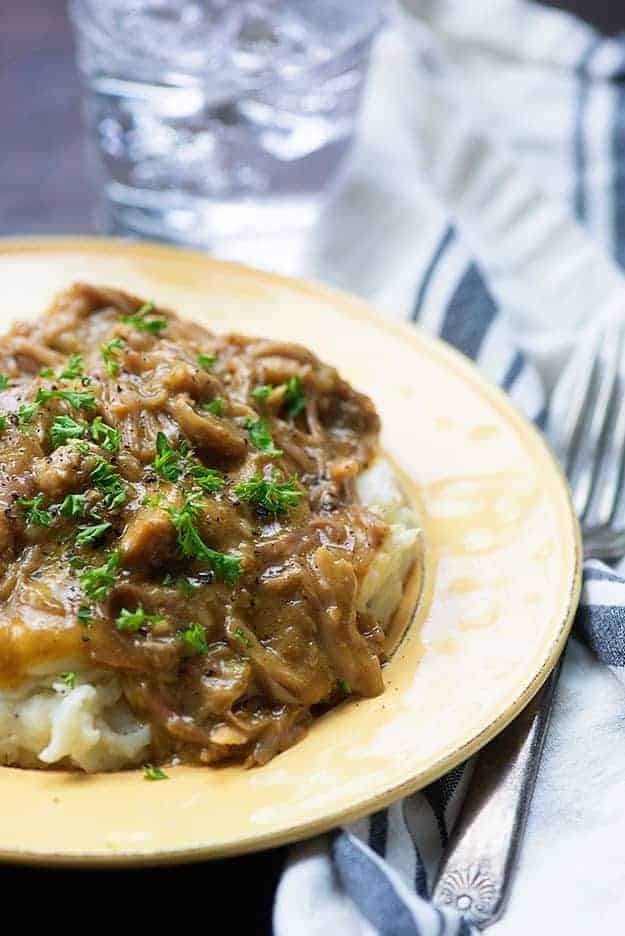 Ingredient Notes:
This post contains affiliate links. As an Amazon associate and member of other qualifying programs, I earn from qualifying purchases.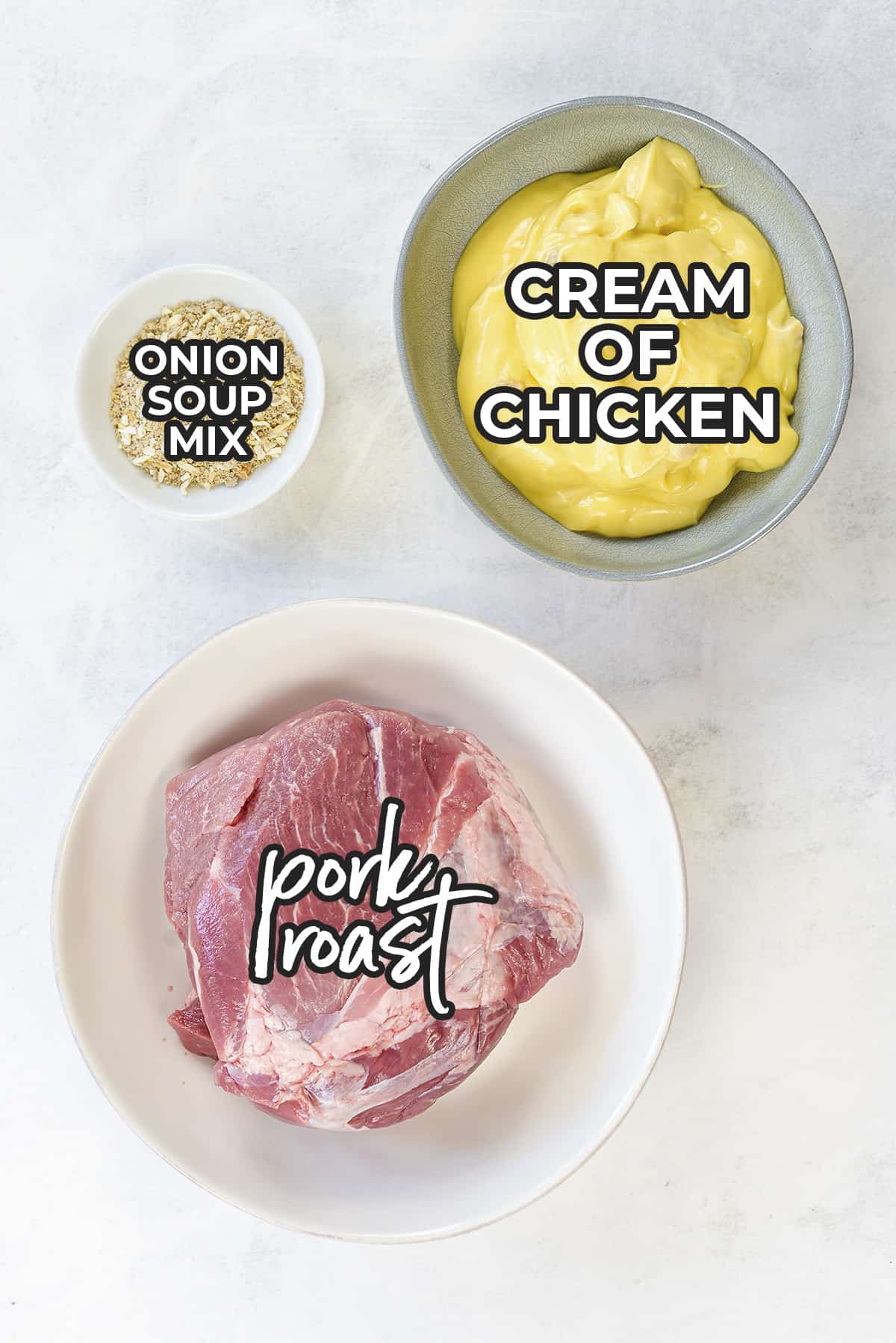 Pork Roast – I'm using a pork roast that is about two pounds in size. See the FAQs below for more info on exactly what cut of pork roast to use!
Cream of Chicken Soup – You could get the canned stuff. Or you could try my substitute for cream of chicken soup recipe and never buy the canned stuff again! My cream of mushroom soup substitute would work too!
Onion Soup Mix – A packet of this mix is going to add lots of great savory flavor to this crock pot pork roast and gravy! Even my onion-hating husband likes the gravy that comes from this mix + cream of chicken soup!
What Readers are Saying!
"My wife loved it! I made it and she said "bookmark that recipe!" I confessed it as three easy ingredients. Thanks Karly!" – Jeff R.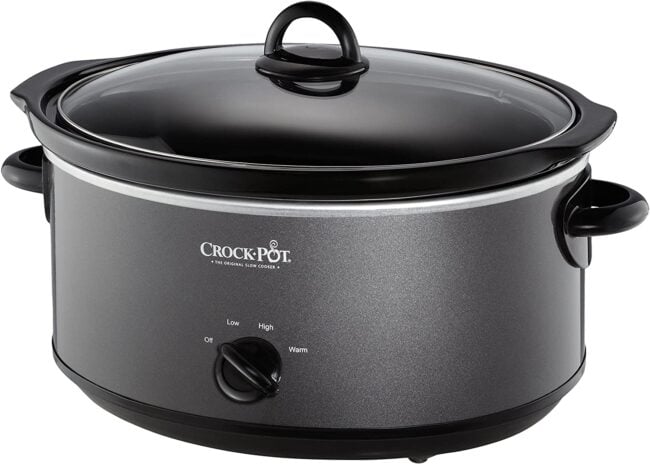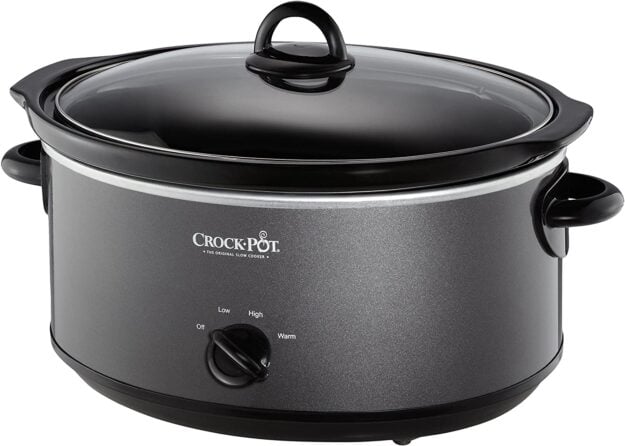 In the market for a new slow cooker? We love this 7 quart Crockpot. It's simple to use, cooks evenly, and is very budget friendly. Plus, it has a 4 1/2 star rating with over 5,000 reviews on Amazon!
How to Cook a Pork Roast: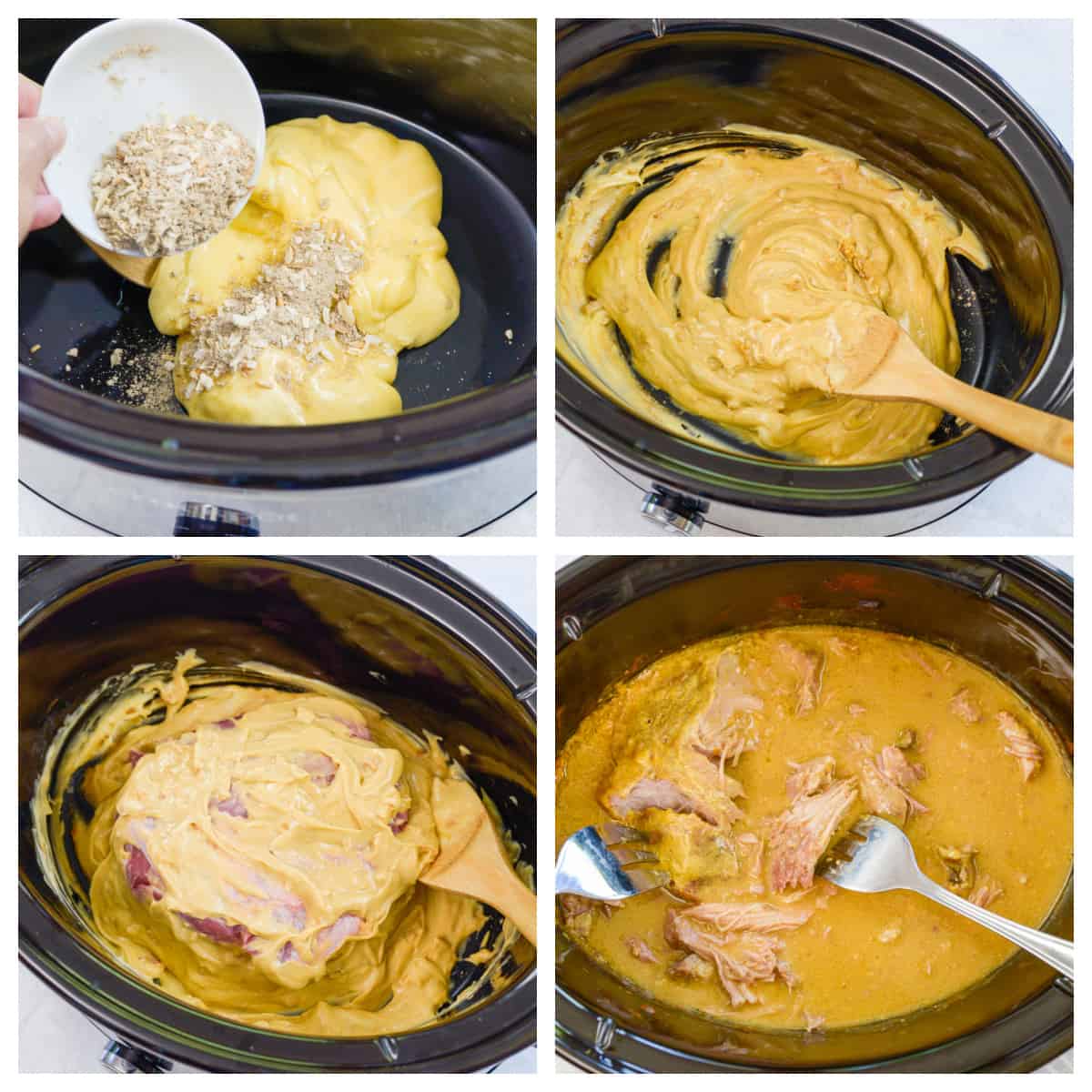 Soup & Seasoning : Before adding your pork roast to the slow cooker, dump in 2 cans of cream of chicken soup (or two batches of our homemade recipe) and a packet of onion soup mix.
Stir: Give those a quick stir to combine everything.
Coat: Pop the pork roast in the crockpot and spread some of that gravy mixture over it.
Slow Cook & Shred: You can cook this slow cooker pork roast on high for about 5 hours or on low for 8-9 hours. We use a couple of forks to shred our pork. This gets everything coated in the gravy and makes the meal perfect for serving over mashed potatoes.
Helpful Tip!
Slow Cooker Timing
It's important to remember that every slow cooker cooks a little differently. Some run hotter than others, so your best bet is to plan for the longer amount of time and then reduce the temperature to 'keep warm.'
Your slow cooker pork roast will stay nice and moist on the keep warm setting for an hour or two.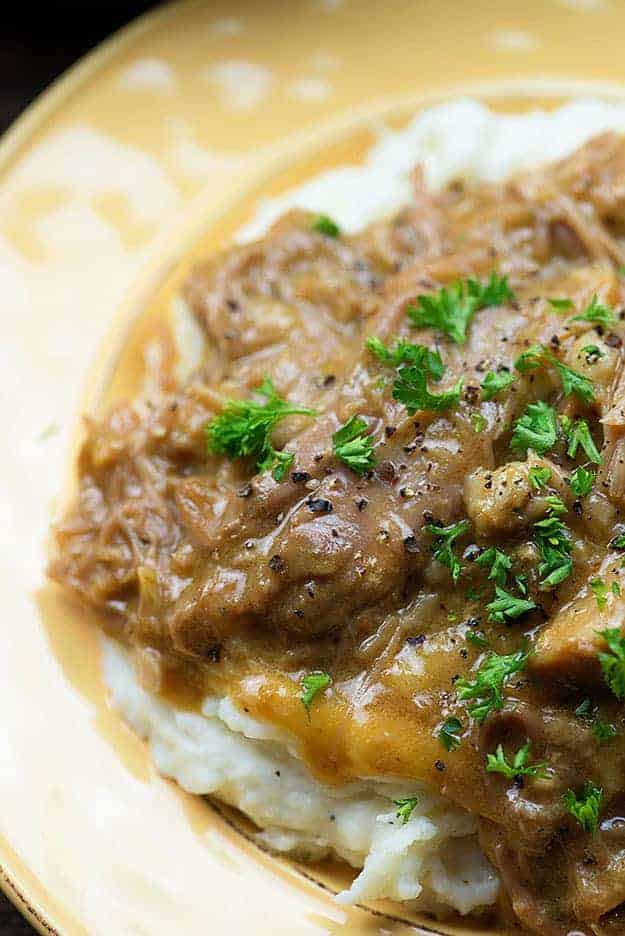 What to Serve with Crock Pot Pork Roast:
I like to serve this pork roast recipe over our Instant Pot mashed potatoes or baked mashed potatoes, but it's also good over my buttered egg noodles. Pretty much anything starchy that'll soak up some of that savory gravy is a great choice!
Want a few veggies? Try it over our rice with vegetables. The flavors work perfectly together.
Serve this up with a side of the BEST green beans with bacon along with some Bisquick peach cobbler for dessert. What a meal!
Leftover Hack!
Level up this easy air fryer poutine recipe by swapping out the beef gravy with leftover pork roast and gravy! Trust me, it'll be real good.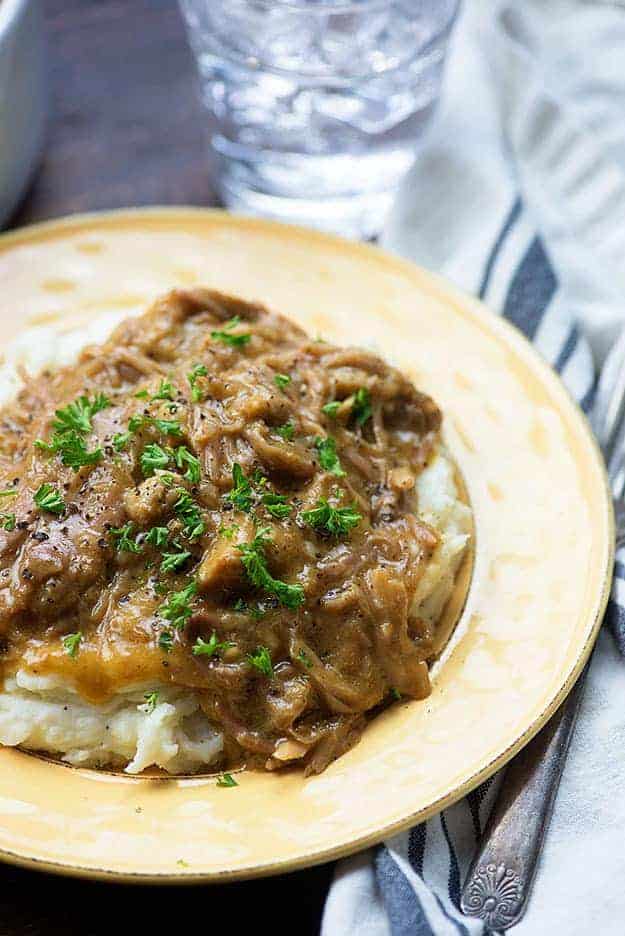 FAQs:
What type/cut of pork roast to use?
A "pork roast" can actually refer to a few different cuts of pork. I like to use pork loin ribeye roast. It's a nice lean cut. A pork shoulder or pork butt will also work but they are a bit fattier than a pork loin.
Do I need to add water?
Nope! If you aren't using my homemade cream of chicken soup substitute the canned soup works great and you don't need to add the water that the canned soup would normally require.
How to store this crock pot pork roast?
You can keep leftovers stored in an airtight container or covered in the crockpot in the fridge for about 4-5 days. The leftovers are delicious reheated in the microwave.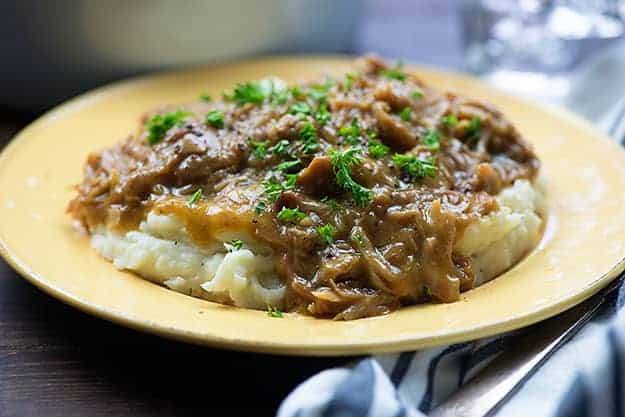 Do I need to add liquid to slow cooker pork roast?
There's no liquid needed in this recipe for slow cooker pork roast and gravy, beyond the cream of chicken soup.
The pork roast will release liquid as it cooks, which will thin out the soup, resulting in a tender roast and thick gravy.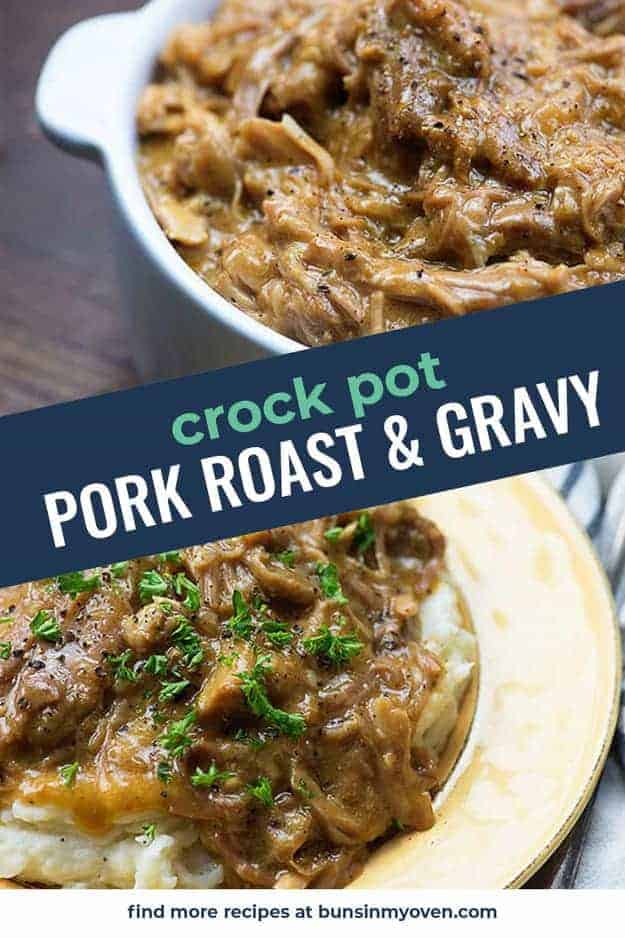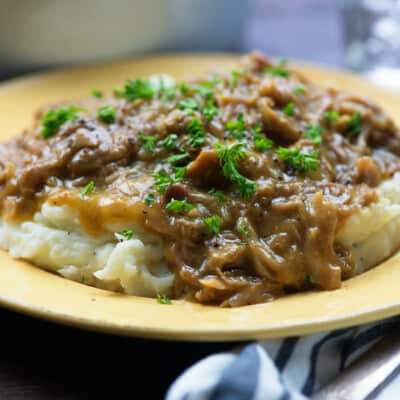 Crock Pot Pork Roast and Gravy
This crock pot pork roast is a simple set it and forget dinner! The pork cooks all day in gravy and comes out so tender, juicy, and flavorful. Serve with mashed potatoes or buttered egg noodles.
Prep10 minutes
Cook9 hours
Total9 hours 10 minutes
Instructions
Add the cream of chicken soup and onion soup mix to a 5-6 quart slow cooker and stir to combine.

Add the pork roast to the slow cooker and spoon some of the soup mixture over the roast.

Cover and cook on high for 5 hours or low for 9 hours, until pork is easily shred with a fork.

Stir the pork into the gravy and serve.
Tips & Notes:
Serve with mashed potatoes or buttered egg noodles. You may add additional seasonings, if you like. Garlic, shallots, onions, and mushrooms all cook nicely in the crockpot with this.
Nutrition Information:
Calories: 306kcal (15%)| Carbohydrates: 16g (5%)| Protein: 29g (58%)| Fat: 12g (18%)| Saturated Fat: 3g (19%)| Cholesterol: 82mg (27%)| Sodium: 1853mg (81%)| Potassium: 565mg (16%)| Sugar: 1g (1%)| Vitamin A: 260IU (5%)| Vitamin C: 0.3mg| Calcium: 40mg (4%)| Iron: 2.2mg (12%)