Our crockpot beef tips and gravy are the ultimate comfort food! Succulent beef tips cooked in a rich, savory gravy make the perfect meal, especially served over rice, mashed potatoes, or egg noodles!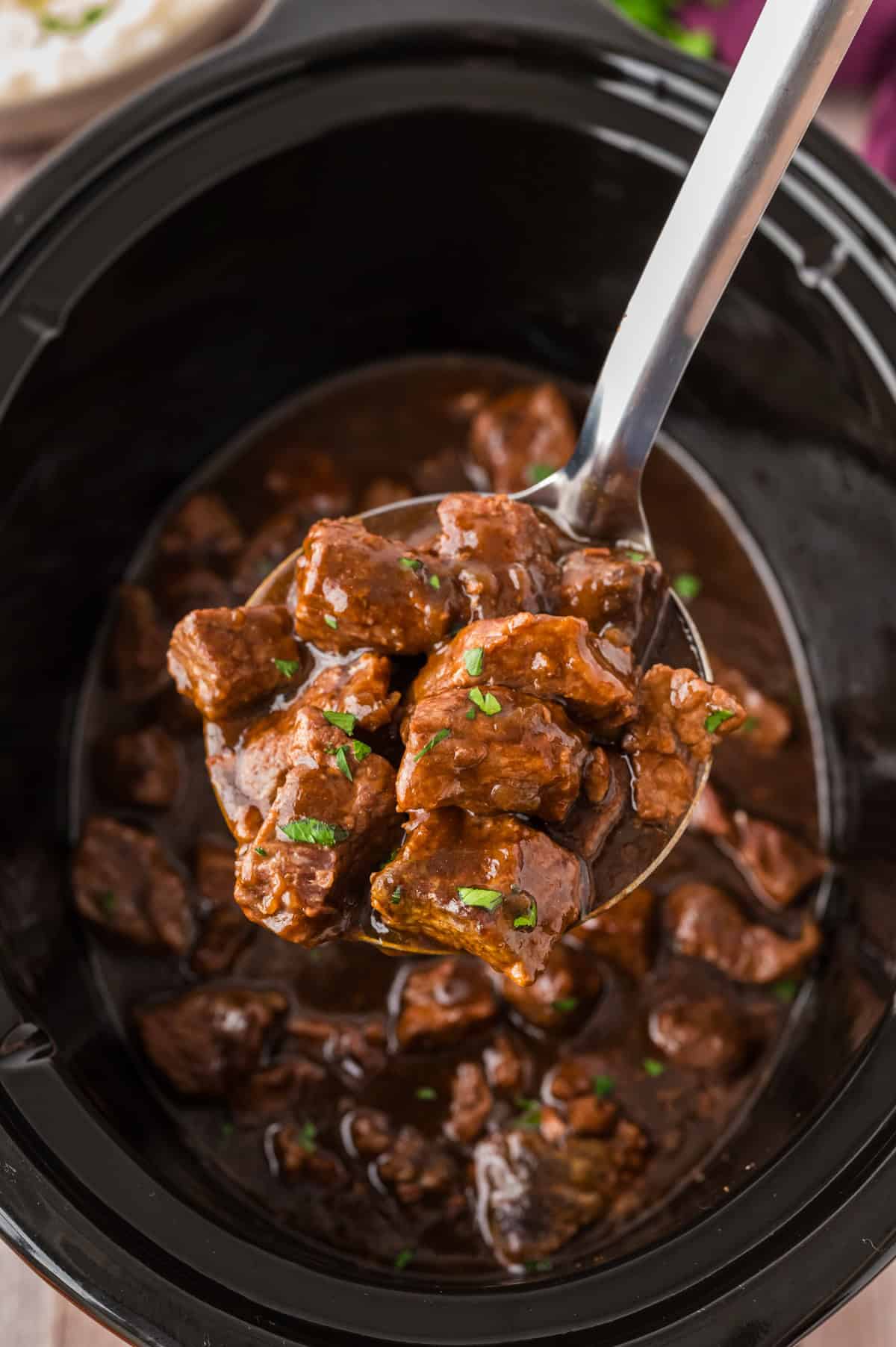 I'm a sucker for all things pot roast, and while beef tips and gravy are not pot roast, they definitely have a similar vibe, you know?
Tender, melt in your mouth chunks of beef, a rich, savory gravy, and it basically cooks itself in the crockpot while you go live your life? The perfect dinner, I'm sure of it.
Whether you serve these crockpot beef tips and gravy over mashed potatoes, rice, or egg noodles, this is pure comfort food that warms you up, feeds your soul, and keeps bellies happy.
We usually serve these over our Instant Pot mashed potatoes, but they're also perfect over our Amish egg noodles!
Ingredient Notes:
This post contains affiliate links. As an Amazon associate and member of other qualifying programs, I earn from qualifying purchases.
Beef – We're keeping it easy and using a pack of stew meat. You could also cube up a chuck roast yourself.
Beef Broth – This will be the base of our gravy.
French Onion Soup – We keep cans of this condensed soup in our pantry and use it in crockpot recipes like this. It's one of the key ingredients in our French Dip too!
Cornstarch – This will help to thicken up the gravy.
Worcestershire Sauce – This will add even more savory flavor to the beef gravy mix.
Browning Sauce – This one is optional, but recommended! Browning sauce adds a rich, deep flavor and color to your dishes. A little bit goes a long way!
Dry Beef Gravy Mix – You'll need one packet of gravy mix. This is often just called brown gravy mix, though that can be a little more generic. If you can find a packet that has real beef flavor in it, even better!
Garlic Powder – Extra seasoning for the gravy mix.
Bay Leaf – For adding flavor while everything slow cooks. You'll discard this before serving.
What We Love About This Recipe:
Brown the beef and toss everything in the slow cooker! The hard part is over and dinner is on the way!
The beef is so tender that it practically melts in your mouth and the gravy is rich and flavorful.
This dish reheats well, making it great for meal prep.
How To Make Beef Tips and Gravy:
Beef: Season the beef with kosher salt and add it to a hot, oiled skillet. Brown it on all sides but don't cook it through completely. It should take about 3 minutes or so per batch. Searing it adds some flavor, and it'll get nice and tender in the crockpot.

Cast iron skillets are my favorite! They heat so evenly, get piping hot for searing, and nothing is better than bacon fried in a cast iron skillet.
Gravy: Transfer the browned beef to your slow cooker, then in a separate bowl add the broth, onion soup, cornstarch, Worcestershire, browning sauce, dry gravy mix, and garlic powder. Whisk all that together and pour it over the beef!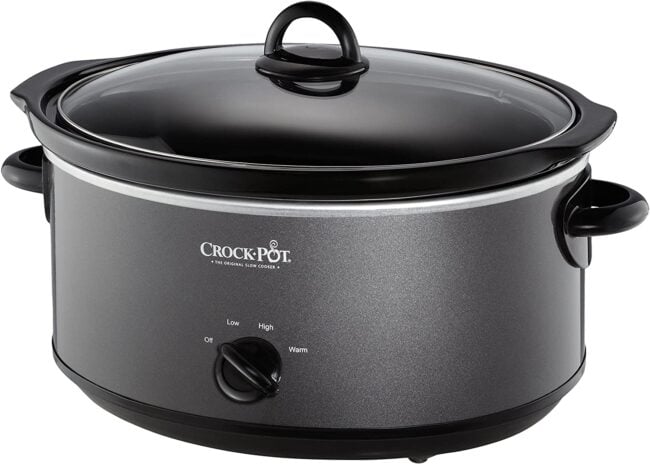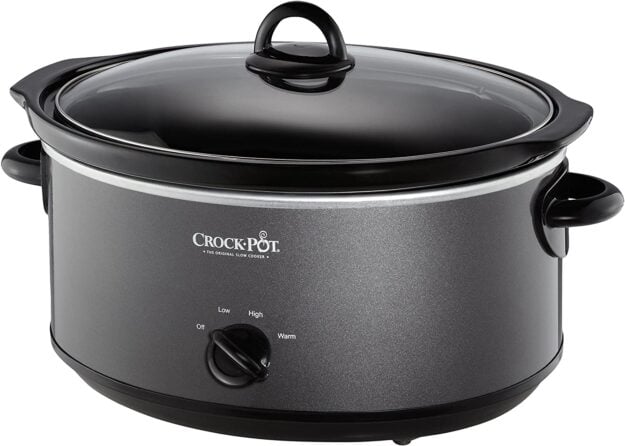 In the market for a new slow cooker? We love this 7 quart Crockpot. It's simple to use, cooks evenly, and is very budget friendly. Plus, it has a 4 1/2 star rating with over 5,000 reviews on Amazon!
Slow Cook: Toss in the bay leaf, cover the crockpot, and slow cook on low for 5 to 6 hours or until the beef is nice and tender and the beef gravy has thickened up to your liking.
Serve: Take out the bay leaf and serve these slow cooker beef tips and gravy over some egg noodles, homemade mashed potatoes, or a rice pilaf! Anything starchy would go well with this recipe.
What is Browning Sauce?
Browning Sauce is a deeply colored sauce that adds rich flavor and a deep color to stews, gravies, and more.
We use it to add a boost of color to foods, by stirring a little into gravies or by lightly brushing it over meat. Using too much can add a bitter flavor to your recipe, so you want to go lightly.
The browning sauce isn't strictly necessary in this recipe and you can leave it out if preferred. We love how the color of the gravy matches the rich, deep flavor though!
FAQs:
What are beef tips?
This term gets used in a few different ways. Technically, beef tips are from the tip of the tenderloin. But in most cases they are just cubed beef, often sirloin or chuck roast. You can use whatever cubed beef you like for this recipe!
How to store beef tips and gravy?
If you have leftovers you can keep them stored in an airtight container in the refrigerator for about 4-5 days. You could also freeze the beef tips and gravy in a container or freezer safe bag for up to a few months.
MORE SAVORY SLOW COOKER RECIPES!
Crockpot Beef Tips and Gravy
These beef tips and gravy turn out rich, flavorful, and they're so simple to make in the slow cooker! Serve over mashed potatoes, rice, or pasta for a comforting dinner.
Prep10 minutes
Cook6 hours
Total6 hours 10 minutes
Ingredients
3 pounds stew beef or cubed chuck roast
1 tablespoon kosher salt
2 tablespoons olive oil
1 ½ cups beef broth
10.5 ounces canned French onion soup
1 teaspoon browning sauce
3 tablespoons cornstarch
2 tablespoons Worcestershire sauce
1 packet dry beef gravy mix
2 teaspoons garlic powder
1 bay leaf
Instructions
Season the beef on all sides with the salt.

Heat a large skillet over high heat and add the oil. Once the oil is hot, add the beef in a single layer, working in batches if necessary, and brown on all sides, about 3 minutes.

Transfer the beef to a 6 quart slow cooker.

Whisk together the beef broth, onion soup, cornstarch, Worcestershire sauce, dry gravy mix, and garlic powder. Pour over the beef.

Add the bay leaf and cover the crockpot.

Cook on low for 5-6 hours or until beef is tender and gravy has thickened.

Remove bay leaf, add browning sauce, stir and taste, and season with additional salt and pepper, if desired.

Serve over mashed potatoes, rice, or egg noodles.
Tips & Notes:
Browning sauce is optional, but does help give the gravy a deep, rich color. You can leave it out entirely or add in extra Worcestershire sauce to replace it.
Nutrition Information:
Calories: 304kcal (15%)| Carbohydrates: 6g (2%)| Protein: 39g (78%)| Fat: 12g (18%)| Saturated Fat: 4g (25%)| Polyunsaturated Fat: 1g| Monounsaturated Fat: 6g| Cholesterol: 107mg (36%)| Sodium: 1385mg (60%)| Potassium: 813mg (23%)| Fiber: 0.4g (2%)| Sugar: 2g (2%)| Vitamin A: 4IU| Vitamin C: 1mg (1%)| Calcium: 47mg (5%)| Iron: 4mg (22%)