September 19, 2019
French Dip Sandwich
This FRENCH DIP SANDWICH is one of the most popular recipes on the blog! It's such an easy recipe and it's made in the crockpot. Your whole family will love this one and your house will smell amazing while these are in the slow cooker.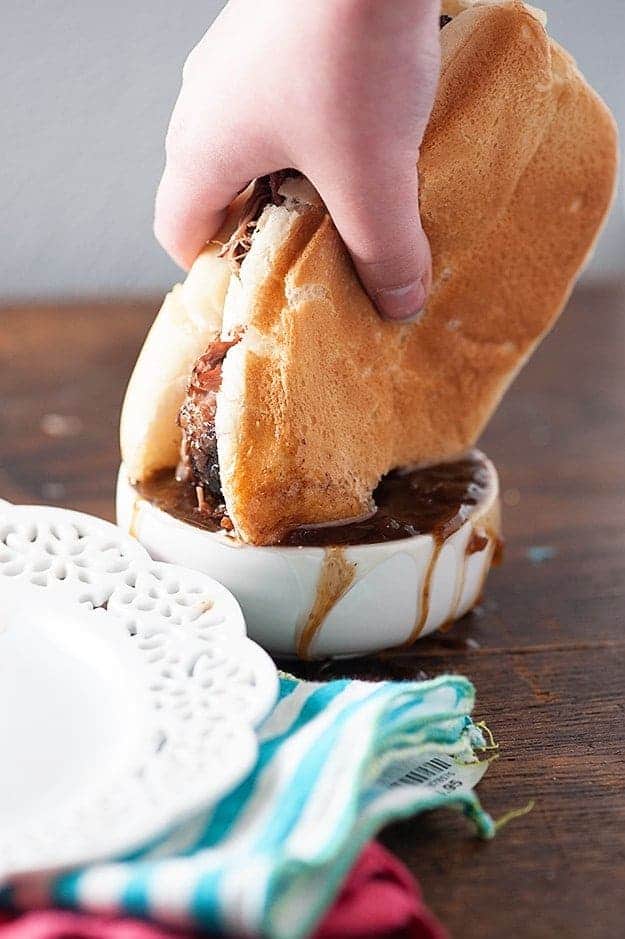 These slow cooker French dip sandwiches will just melt in your mouth! They're so easy to toss together in the morning and you'll come home to a delicious smelling house and the most amazing French dip sandwich ever!
Alright, friends that work from home – Let's talk about the slow cooker (affiliate link).
How? How do you survive it?
I mean, don't get me wrong. I super love how easy it is to toss things in there in the morning. I love what comes out of it at dinner time.
It's the in-between that I can't deal with.
My slow cooker pulled pork sandwiches (with pickle slaw or my mama's best coleslaw of course!) leave me crying from the smells. It's the same with this crock pot French dip!
An hour after the slow cooker is turned on, I'm drooling. My house smells so good all day long and it's pure torture for anyone sitting in the house.
All you do all day is dream about dinner time!
I'm, like, supposed to concentrate on work? While there is this saucy beef cooking away and the most heavenly smells are just wafting out of the kitchen? Seems unreasonable to me.
You know you've all been there!
What I love about this recipe:
It's easy. You open up a couple of cans of soup, toss 'em in your slow cooker, add a hunk of meat, and walk away.
The hardest part of the whole thing is using a can opener. Which, if you find that hard, you should maybe order take out. Or an electric can opener.
Either way, this recipe is super simple.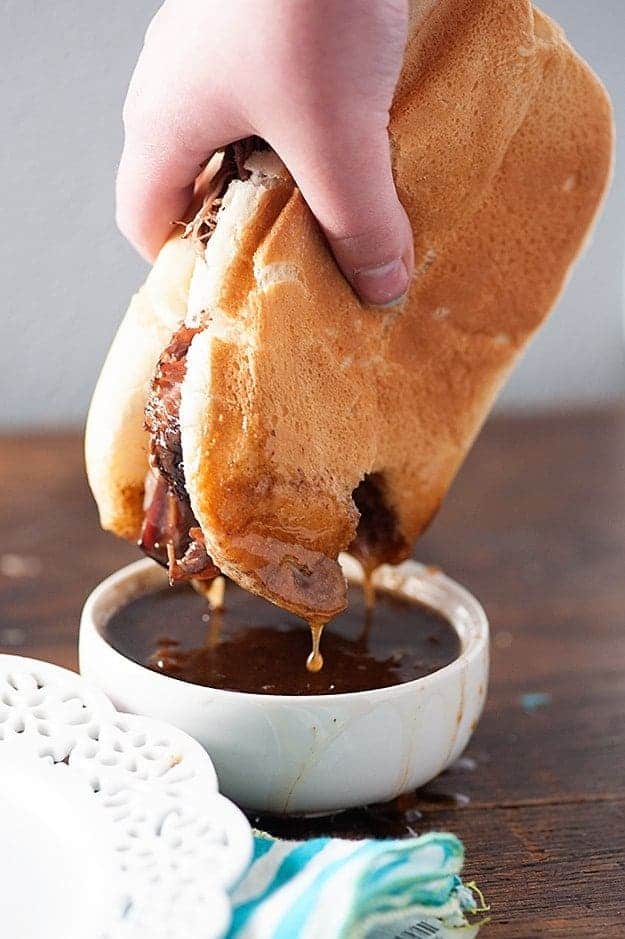 It's so tender! The meat literally falls apart when you try to remove it from the crockpot.
It's juicy and it's tender and it couldn't be more perfect.
Tip: If your meat doesn't shred, it hasn't been cooked long enough. Cover her back up and continue cooking for another hour. When the meat is done properly, it'll shred like a dream.
The dipping sauce is outrageous. I recommend adding the liquid from the slow cooker into a saucepan and cooking it until it reduces by half. It really amps up the flavor in the sauce and makes it perfect for dipping your whole sandwich in.
Some people get a little freaked out about soggy bread, so you can totally skip dipping, but…this IS a French dip.
Be sure to PIN THIS RECIPE to save it for later! It's so good, you don't want to lose it! 🙂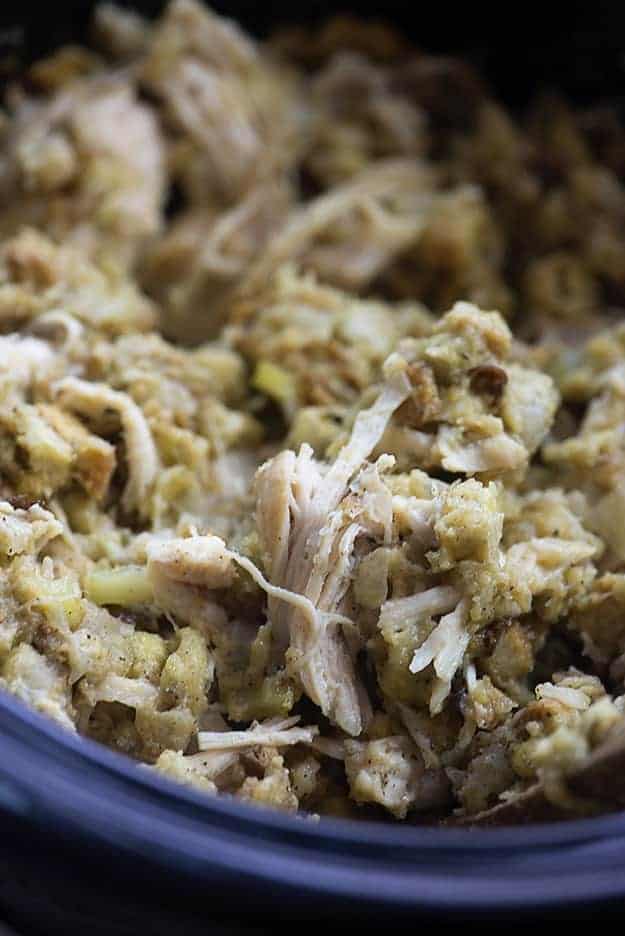 For more slow cooker favorites, try my crockpot chicken and stuffing!
I use my Ninja Slow Cooker for this recipe. I love that thing. You can sear and slow cook all in one and cooks nice and evenly.
You can find the Ninja Slow Cooker on Amazon right here. That's an affiliate link. 🙂
Alright, guys!
Give this one a shot and report back. I'm eager to hear if your family loves this one as much as mine does!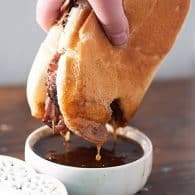 Slow Cooker French Dip Sandwiches
Servings: 8 servings
Course: Main Course
Cuisine: American
Keyword: easy dinner recipes, slow cooker recipes, weeknight dinner recipes
Calories: 600 kcal
My French dip sandwich is one of the most popular recipes on the blog! It's such an easy recipe and it's made in the crockpot. Your whole family will love this one and your house will smell amazing while these are in the slow cooker.

Ingredients
21 ounces condensed French Onion Soup 2 cans
10.5 ounces Beef Consomme 1 can
3-4 pounds beef chuck roast
8 sandwich rolls
8 slices provolone cheese
Instructions
Place the roast in a slow cooker. Pour the soup and consomme over the top.

Cover and cook on low for 8 hours or high for 4 hours.

Remove 3 cups of the juice from the slow cooker with a measuring cup or ladle and add to a small sauce pan. Turn heat to medium and bring to a boil. Reduce to a hard simmer and let cook until reduced by half, about 10 minutes.

Transfer the beef to a pie plate and shred with a fork.

Place the sandwich rolls in a 9x13 pan and spoon meat into each roll. Top with provolone cheese. Cover with foil and bake at 350 degrees for 5 minutes or until the cheese is melted.

Serve immediately with the sauce on the side for dipping.
Recipe Notes
PLEASE NOTE: All slow cookers are different and some take longer/shorter than others. If your meat is not easily shredding after cooking, keep cooking it! It will get tender and easy to shred if it cooks long enough. If you double this recipe or use a larger roast, you will need to add cooking time as well.
Nutrition Facts
Slow Cooker French Dip Sandwiches
Amount Per Serving
Calories 600 Calories from Fat 270
% Daily Value*
Fat 30g46%
Saturated Fat 14g88%
Cholesterol 139mg46%
Sodium 1215mg53%
Potassium 1015mg29%
Carbohydrates 34g11%
Fiber 1g4%
Sugar 3g3%
Protein 47g94%
Vitamin A 270IU5%
Calcium 309mg31%
Iron 5.6mg31%
* Percent Daily Values are based on a 2000 calorie diet.
Nutrition Disclaimer: All information presented on this site is intended for informational purposes only. I am not a certified nutritionist and any nutritional information shared on bunsinmyoven.com should only be used as a general guideline.
More slow cooker favorites!