Simple, comforting, and so easy to make! Our RICE WITH VEGETABLES recipe is one of those side dishes that I make at least once a week.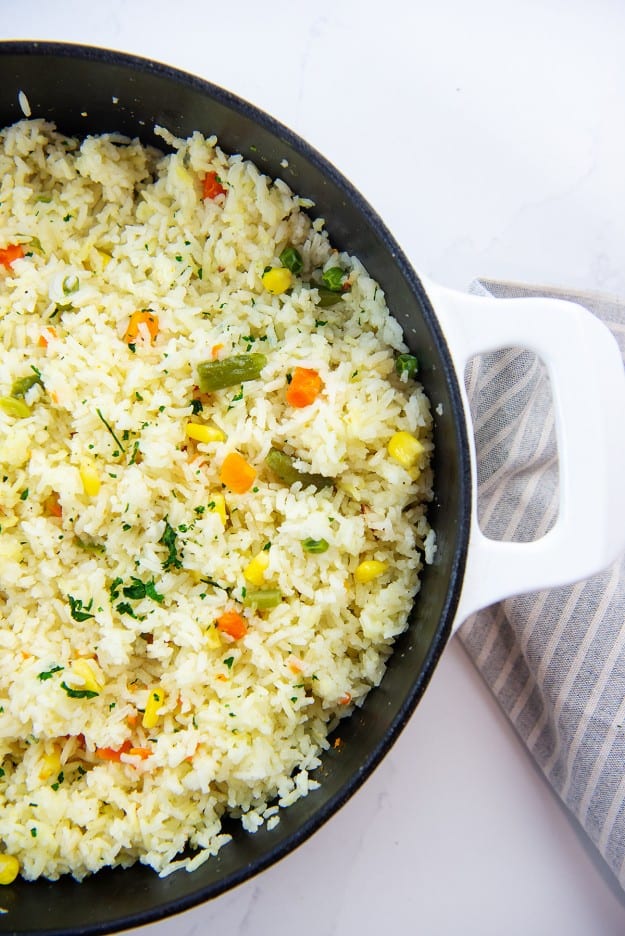 My husband worked out of state for a couple of years awhile back and that meant that he was living in an apartment through the week and home on the weekends.
It was not our favorite for many obvious reasons, but one of those reasons had to do with dinner time.
The man does not love to cook and he definitely doesn't love to grocery shop. He ate Oreo cookies for dinner regularly. <— And by regularly, I mean multiple nights a week.
He'd balance it out with bags of steamable frozen rice with mixed vegetables. Of course, he always adds nearly an entire stick of butter to those steamer bags to add some flavor, but still…it was better than cookies. I think. 😉
Anyway, we all love rice with vegetables and the steam bags are FINE in a pinch, but my homemade version is obviously so much better and not much more effort.
Perfectly cooked rice, mixed veggies, a little chicken stock to cook it all in, and a bit of butter. This is just a comforting, classic side dish that whole family loves.
Rice With Vegetables Ingredients:
Olive Oil
Rice – We used long grain white rice in this recipe.
Mixed Vegetables – The frozen kind with green beans, carrots, and corn.
Garlic
Chicken Stock
Seasoning – Just good old salt and pepper!
Butter
Parsley – We like freshly minced parsley to brighten up the flavors, but dried parsley is totally fine.
How To Make Rice With Vegetables:
Rice: You'll want to start this rice and vegetable recipe off by heating some olive oil in a skillet. Add the uncooked rice to the skillet and stir frequently, letting it heat up until it's lightly golden around the edges. That'll add some extra flavor to the rice, but be careful not to burn it.
Vegetables: When the rice has turned golden you can add in the frozen vegetables. You could definitely use fresh cut veggies if you want to do the extra work, but this is supposed to be an easy recipe so we're just going to throw in a bag of frozen mixed vegetables!
Go ahead and add the garlic in with the frozen vegetables, stir and cook for a couple of minutes before moving on to the next step.
Simmer: Now we need something for all that rice to cook in and soak up, and chicken stock is perfect for that! Pour in the chicken stock and add the salt and pepper, give it a stir and then cover and allow it to simmer.
After it has simmered long enough you can remove it from the heat and let it sit, still covered, for about ten minutes.
When you remove the cover all the liquid should have been absorbed into the rice and veggies. Add the butter and parsley and give it another stir to fluff it up, and finally you can serve!
Helpful Tip!
Get Creative
Use any combination of vegetables you prefer!
No frozen veggies? Stir in canned vegetables at the end, cover the dish, and let sit for a few minutes to heat the veggies.
Keep this vegetarian with vegetable broth instead of chicken stock.
Sprinkle with your favorite cheese for a cheesy rice situation.
Leftover Hack!
Turn leftovers into a quick lunch by stirring in cooked chicken (leftover rotisserie chicken is perfect!) into the rice and then microwaving until hot. Sprinkle on some cheese if you like.
More side dish favorites!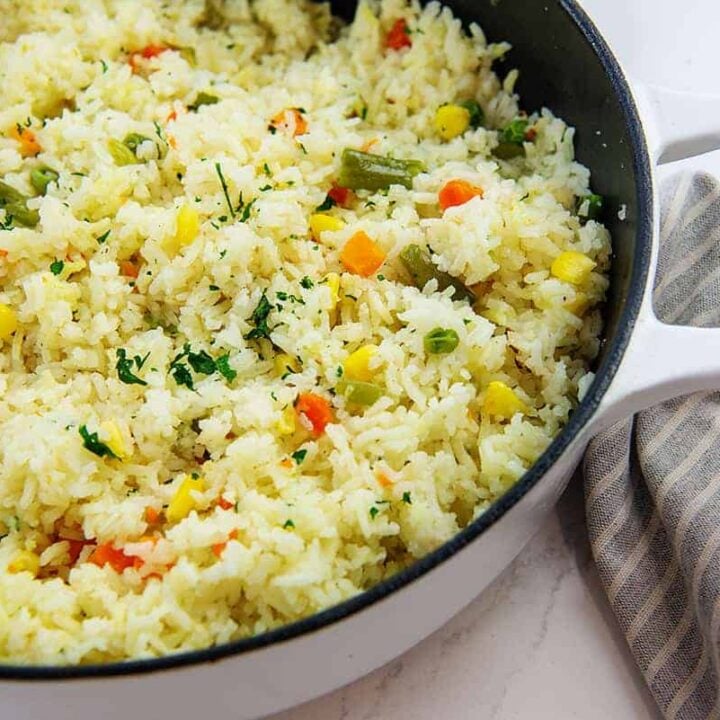 Rice with Vegetables
This is a simple, classic recipe that is perfect alongside any dinner. This is one of the easiest ways to get veggies passed my kiddos.
Prep5 minutes
Cook30 minutes
Total35 minutes
Ingredients
2 cups long grain white rice see notes
1 tablespoon olive oil
1 cup frozen mixed vegetables
2 cloves garlic minced
4 cups chicken stock
1 teaspoon salt
1 teaspoon cracked pepper
2 tablespoons butter
1 tablespoon fresh minced parsley
Instructions
Heat the oil in a large sauce pan over medium heat.

Once hot, add the rice and cook, stirring often, until the edges are turning golden.

Stir in the frozen vegetables and garlic and cook for 1 minute more.

Add the chicken stock, salt, and pepper to the pot and stir to combine. Bring to a simmer, cover, and cook for 15 minutes over medium low heat.

Turn off the heat and let the pan set, covered, for 10 minutes.

Remove the lid from the pan and fluff rice with a fork.

Stir in the butter and parsley and serve.
Tips & Notes:
This recipe calls for uncooked, plain white rice. Do not substitute minute or instant rice in this recipe as it will not work as written. You may add in up to 2 cups of vegetables with no other changes to the recipe.
Nutrition Information:
Calories: 269kcal (13%)| Carbohydrates: 45g (15%)| Protein: 7g (14%)| Fat: 6g (9%)| Saturated Fat: 3g (19%)| Trans Fat: 1g| Cholesterol: 11mg (4%)| Sodium: 501mg (22%)| Potassium: 237mg (7%)| Fiber: 2g (8%)| Sugar: 2g (2%)| Vitamin A: 1290IU (26%)| Vitamin C: 4mg (5%)| Calcium: 26mg (3%)| Iron: 1mg (6%)