Our Crockpot Chicken and Rice Soup is a perfect recipe for your slow cooker. This hands off, effortless recipe has tender chicken, perfectly cooked rice, and plenty of veggies for a cozy meal at the end of a long day!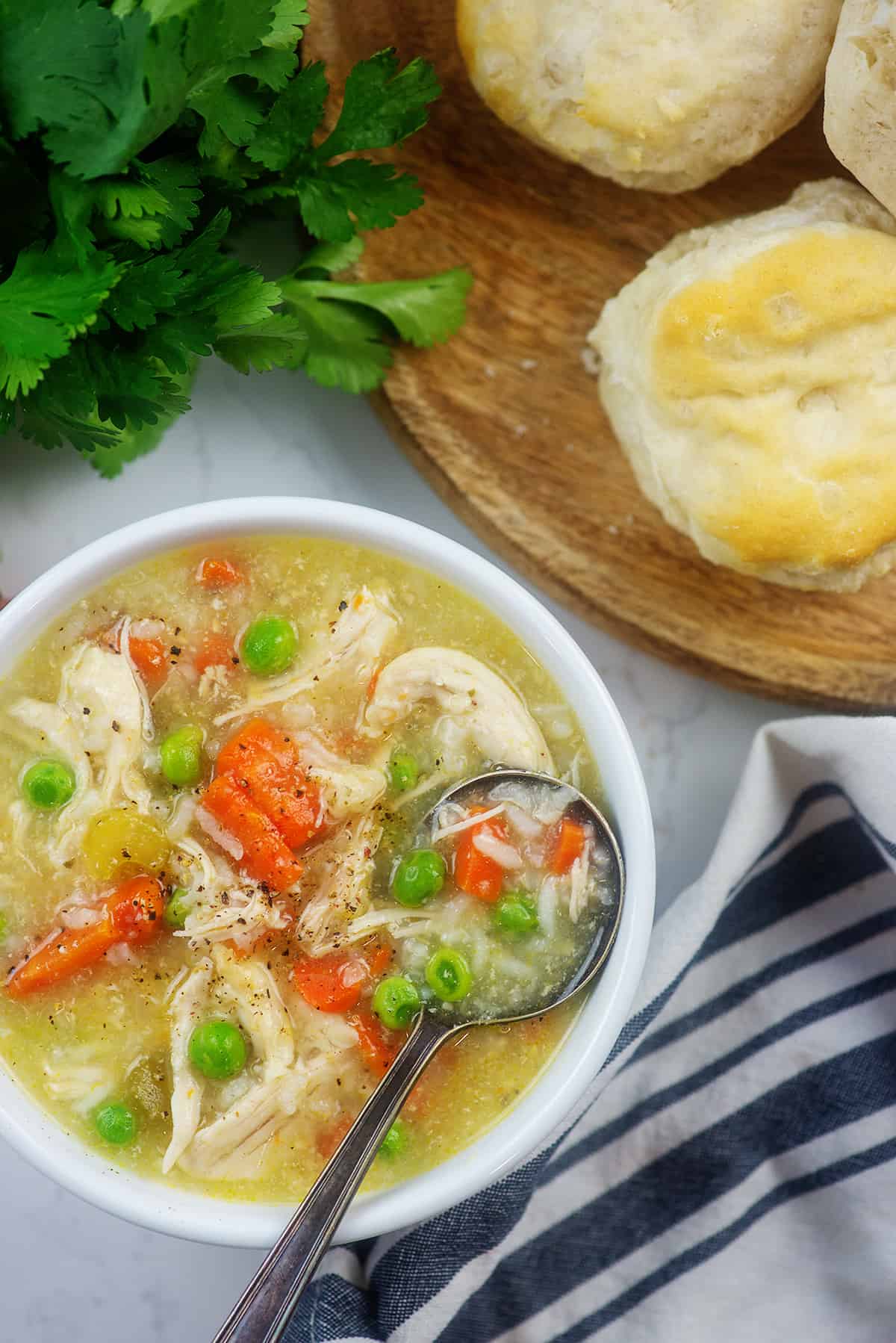 Whether it's cold out or you just had a rough day and need something cozy to make you feel better, this crockpot chicken and rice soup is the perfect bowl of comfort food.
Tender chicken, fresh veggies, rice, and a little pop of lemon juice to bright the whole dish up.
When we're feeling under the weather or it's the dead of winter and we just can't get warm, this cozy crockpot soup is a go to, along with a pile of my dad's homemade biscuits or our quick dinner rolls.
This soup is cozy and hearty, loaded with tender chunks of chicken, perfectly cooked rice, and plenty of veggies.
Ingredient Notes:
This post contains affiliate links. As an Amazon associate and member of other qualifying programs, I earn from qualifying purchases.
Chicken – You'll need a pound and a half of boneless, skinless chicken breasts. No need to chop them, they'll shred up nicely after slow cooking. You could also use chicken thighs for this soup.
Veggies – This chicken and rice soup is loaded with fresh veggies including diced carrots, celery, and onion. I'm also adding in frozen peas and some minced garlic. You can add or swap any veggies you like!
Chicken Stock – Homemade or store bought chicken stock will work just fine here.
White Rice – We've only tested this recipe using long grain white rice. Other varieties, such as brown or wild rice, may work but I've never tried. Definitely do NOT use Minute Rice – it'll be mush by the time it's done cooking.
Lemon Juice – The pop of lemon juice really brightens up this soup. You can use freshly squeezed or keep it simple and use the bottled kind. We like fresh the best!
Other – You'll also need some butter, fresh parsley, a bay leaf, salt, and pepper.
What We Love About This Recipe:
We love how easy the crockpot makes everything! Plus, the chicken gets perfectly tender after slow cooking and easily shreds.
This homemade soup is so much better than what you'd get out of a can!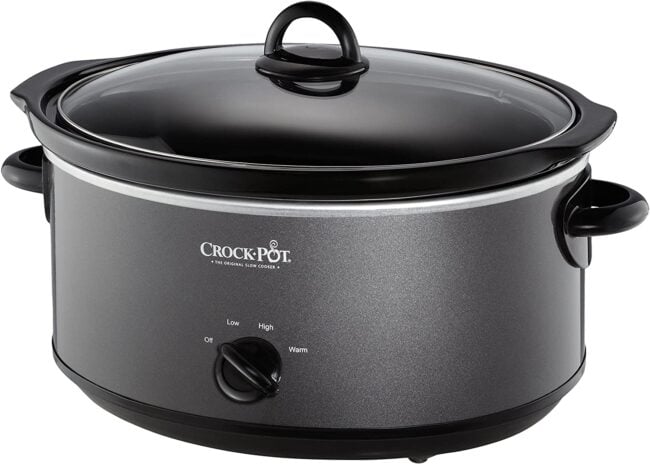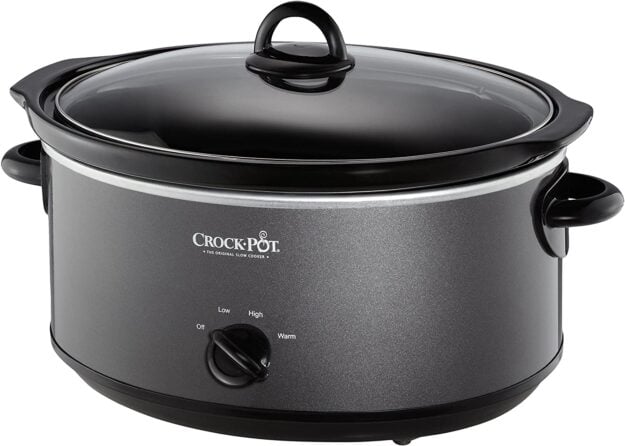 In the market for a new slow cooker? We love this 7 quart Crockpot. It's simple to use, cooks evenly, and is very budget friendly. Plus, it has a 4 1/2 star rating with over 5,000 reviews on Amazon!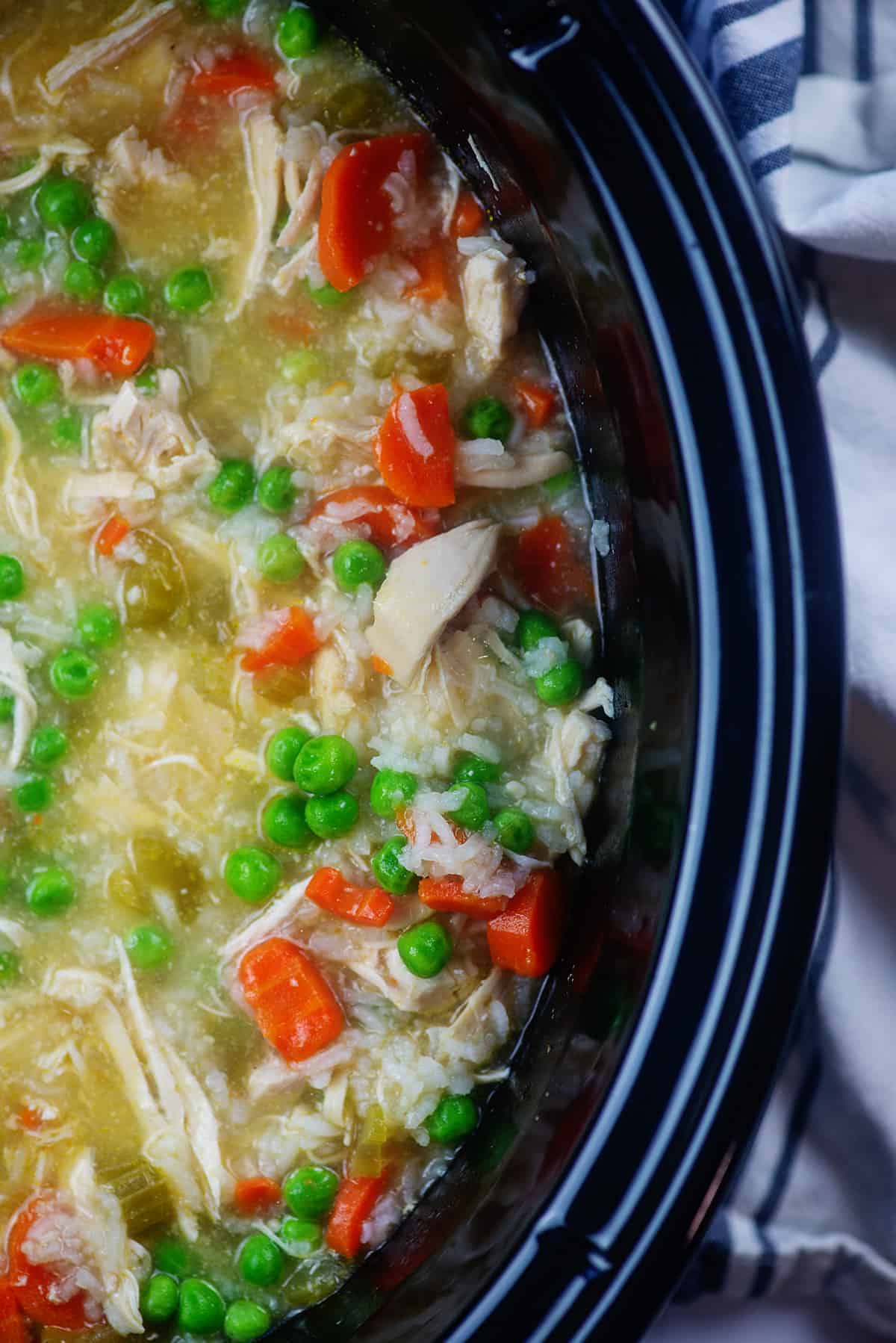 How to Make Chicken and Rice Soup in a Slow Cooker:
Sauté: Cook the carrots, celery, onion, and garlic in butter. If you have one of the newer slow cookers with multiple functions, you may be able to do this right in your slow cooker. Otherwise, cook this on the stove top and then transfer the veggies to the crockpot.
Combine: Add the chicken, stock, bay leaf, salt, and pepper to the slow cooker and cook on low.
Shred: After 4 hours the chicken should be nice and tender. Remove it from the slow cooker and shred it with a couple of forks. Althernately, put the chicken in a mixing bowl and use a hand mixer to shred the chicken in about 5 seconds. So quick and easy!
Cook: Add the chicken back to the soup along with the rice. Cook this covered for another hour.
Finish it up: When the rice is tender, give the dish a good stir and add more chicken stock if you want a soupier consistency. Stir in the frozen peas (the hot soup will heat them up perfectly, no need to cook them) and the fresh parsley. Squeeze in the lemon juice and serve!
Helpful Tips!
All slow cookers cook differently. Check the rice about halfway through cooking to avoid overcooking it.
The lemon juice adds a little pop of freshness to the soup, but you may omit it if preferred.
Add in any veggies you like to bulk up the nutrition. Frozen green beans or diced broccoli could go in with the rice.
Make It A Meal!
You'll definitely want to serve this soup up with something like bread or crackers! It's also great as a side with lots of other dishes. Here are some suggestions:
FAQs:
How long does chicken and rice soup last in the fridge?
If you keep the soup in an airtight container in the fridge it should last for up to 3 to 4 days. You can reheat it on the stove or in the crockpot.
Can I freeze chicken and rice soup?
Yes you can freeze this soup for up to 3 months. Allow it to cool completely before transferring it to a freezer safe container or bag.
MORE CHICKEN SOUP RECIPES!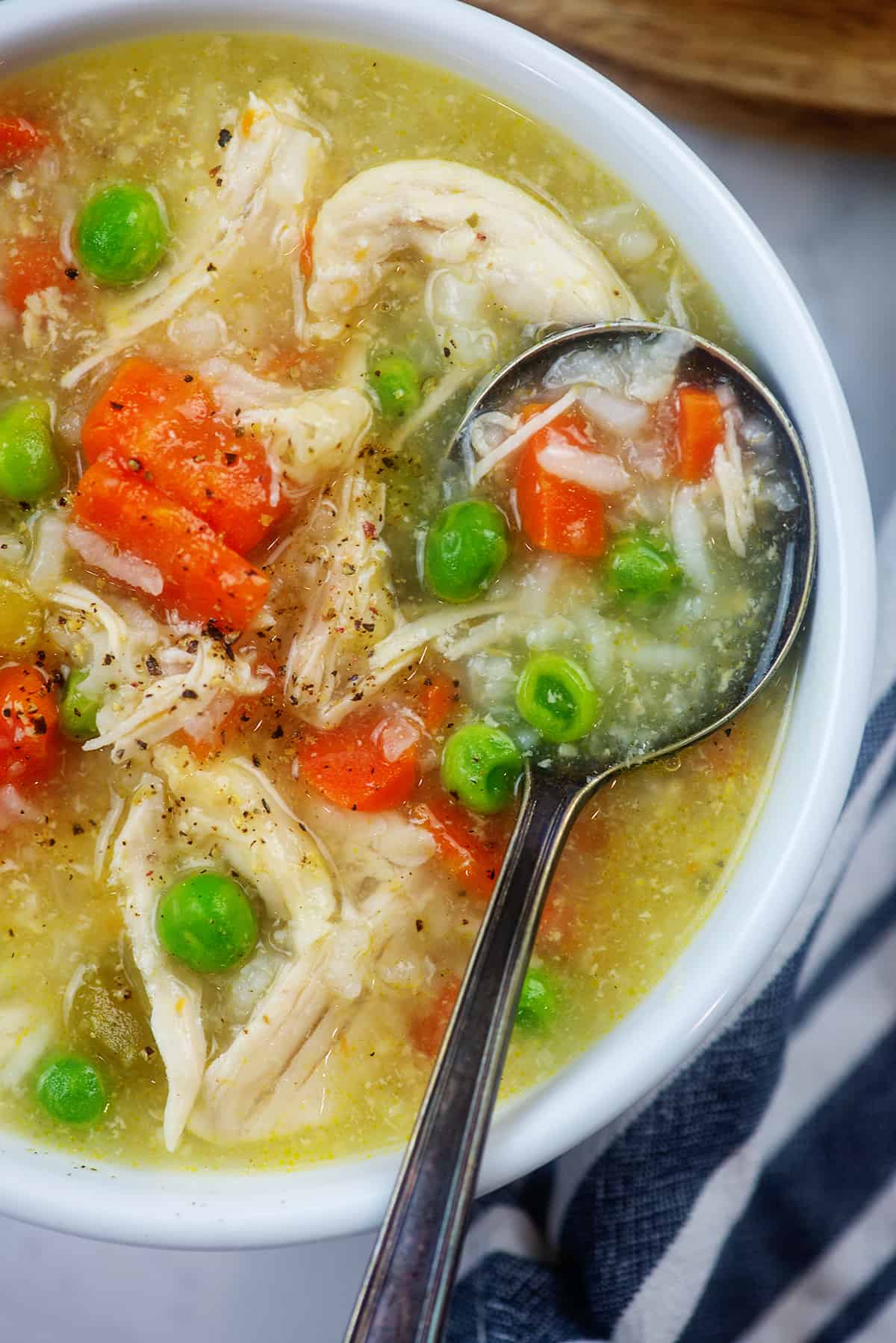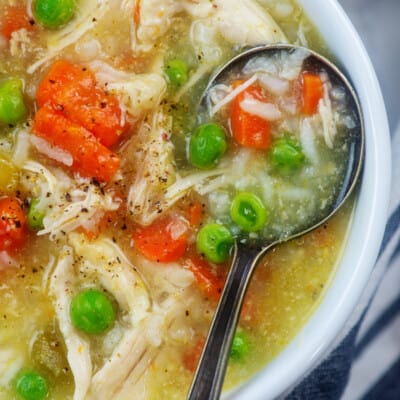 Crockpot Chicken and Rice Soup
This slow cooker chicken and rice soup is perfecty for a chilly night or whenever someone is feeling under the weather. Tender chicken, rice, and plenty of veggies make this a healthy dinner option. The lemon juice brightens the whole dish up and really makes the flavors pop.
Prep20 minutes
Cook5 hours
Total5 hours 20 minutes
Ingredients
1 tablespoon butter
3 large carrots diced
3 stalks celery diced
1/2 medium onion diced
3 cloves garlic minced
1 ½ pounds boneless, skinless chicken breasts
6 cups chicken stock plus more as needed
1 bay leaf
1 teaspoon salt
1 teaspoon pepper
1 cup white rice rinsed and drained
1 cup frozen peas
¼ cup chopped fresh parsley
1 tablespoon fresh lemon juice
Instructions
Heat a large skillet over medium heat and melt the butter.

Add the carrots, celery, and onion and cook, stirring often, for 5 minutes.

Add the garlic to the skillet and cook for 30 seconds more.

Transfer the vegetables to a 6 quart slow cooker.

Add the chicken, chicken stock, bay leaf, salt, and pepper to the slow cooker.

Cover and cook on low for 4 hours.

Remove the chicken from the slow cooker and shred. Return to the slow cooker along with the rice.

Cover and cook on high for 1 hour.

Stir well to combine and add additional stock, if desired. Stir in the peas, parsley, and lemon juice. Taste and add additional salt and pepper, if desired.
Tips & Notes:
Rinse the dry rice in a sieve to remove excess starch. Drain well before adding to the crockpot. You may swap chicken thighs for the chicken breasts. Add additional lemon juice, if desired.
Nutrition Information:
Calories: 293kcal (15%)| Carbohydrates: 32g (11%)| Protein: 26g (52%)| Fat: 6g (9%)| Saturated Fat: 2g (13%)| Trans Fat: 1g| Cholesterol: 64mg (21%)| Sodium: 694mg (30%)| Potassium: 731mg (21%)| Fiber: 2g (8%)| Sugar: 6g (7%)| Vitamin A: 4952IU (99%)| Vitamin C: 15mg (18%)| Calcium: 44mg (4%)| Iron: 1mg (6%)