August 25, 2018
Country Club Chopped Salad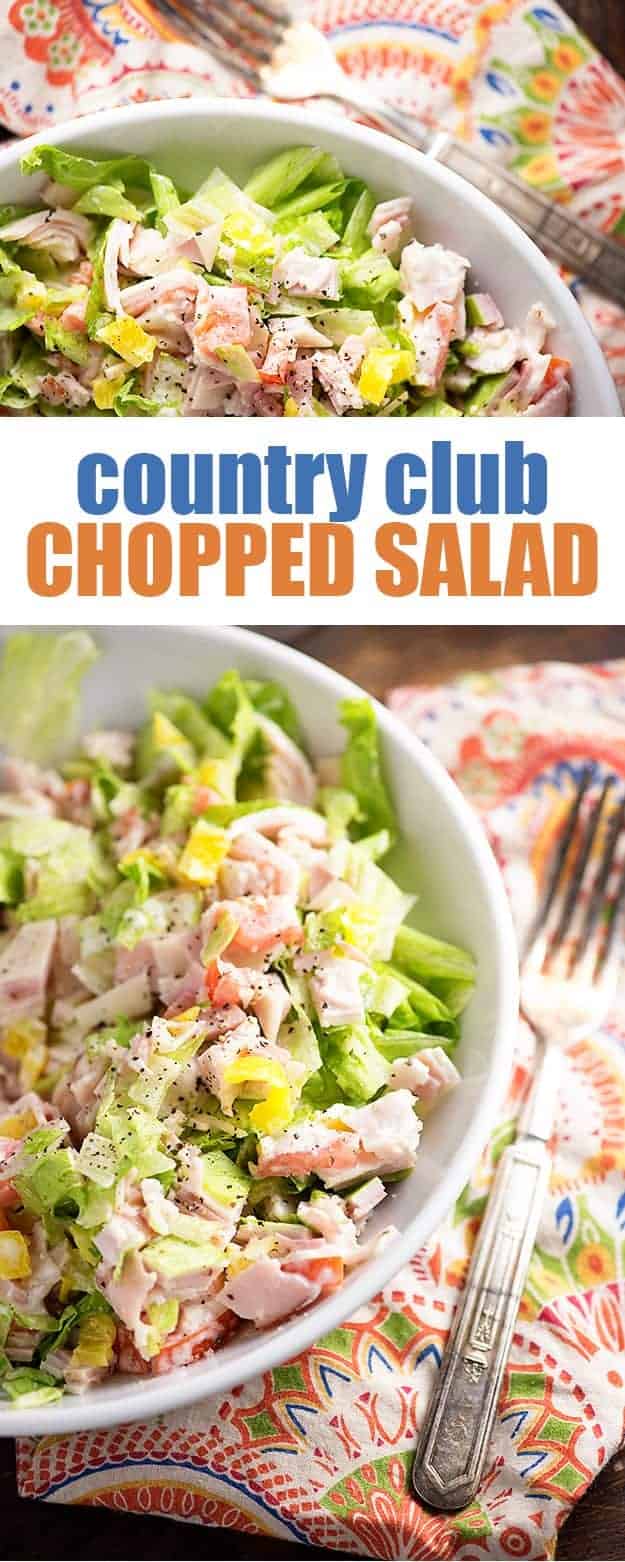 So, we recently embarked on a journey.
The Journey of The Doggy Door.
Y'all know we have an adorably fluffy little pup named Biscuit, right? Well, she was not winning any potty training awards, if you know what I'm saying. So, we fenced in the yard and we installed a doggy door and we waited for all of the potty problems to disappear.
This little dog took awhile to get used to the freedom. She understood how to go in and out and was perfectly comfortable doing so. She just really needed to be told, every. single. time, that she was allowed to do so. It was crazy-making.

So, one day, after I failed to stand at the doggy door and encourage her to use it, she did her thang in my office. Again.  I lost my mind. I shouted. I carried her to the doggy door. I shouted some more. I did my very best to get her to understand that I put a HOLE in my HOUSE just for HER. The least she could do is stop stinking things up inside, right?
Anyway, she went out and she sat on the porch and she pouted. For an hour. She is the type of dog that likes to stay inside with her people. If we're not out, she doesn't want to be out. So, for her to sit out there for an hour was strange.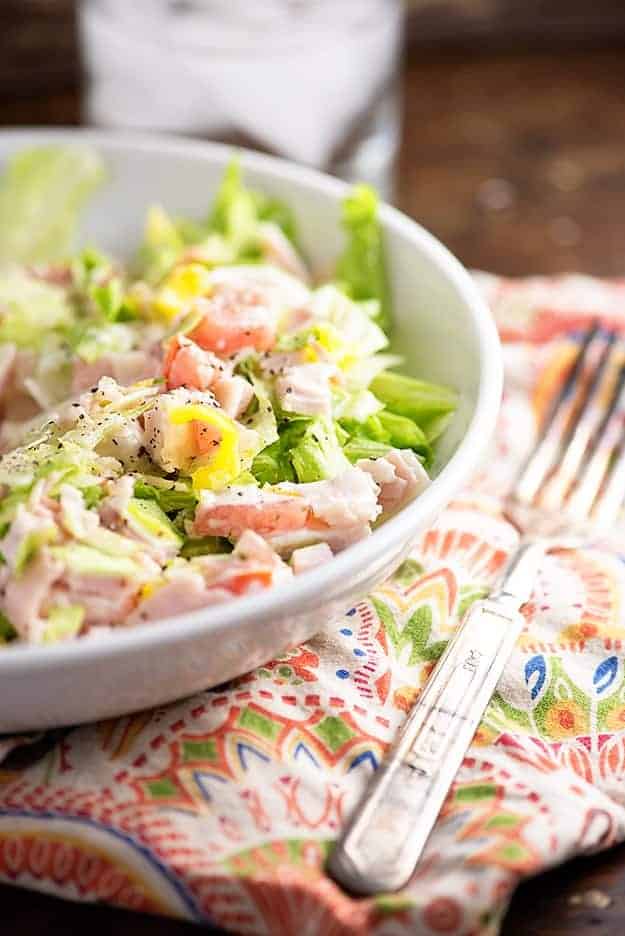 Then, when she finally did come back in, she laid on the floor. All alone. Which is weird, because I was on the couch watching TV and her most favorite thing to do is lay on my lap and get belly rubs while I watch TV.
Then I got up for bed and called her to come with me. She just turned her head and refused to look at me. I tried talking to her and she kept turning away.
Fine. Let her throw a hissy fit. I figured I'd go to bed  and she'd follow me after few minutes. She always sleeps with me and there was no way that that little fluffball of mine was going to sleep on the floor all night.
The next morning, she was on the couch, all alone, sound asleep.
So, what I'm saying is that my dog and I got in a fight. She slept on the couch. Now we need marriage counseling.
(Happy to report that we've since made up and all is well. She's even using the doggy door much better now!)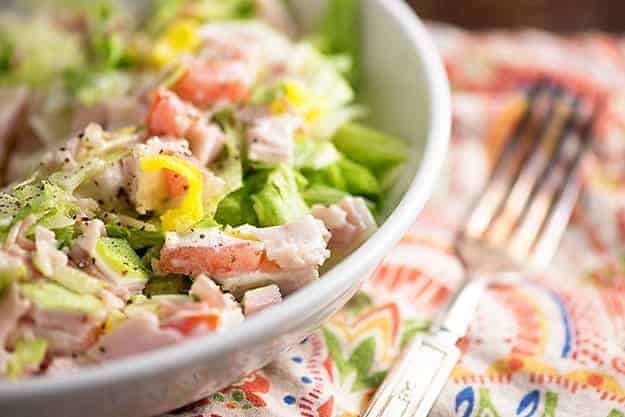 Anyway, guys, HAPPY 2016! It's so crazy that we're starting a new year, but here we are. I brought the salad, because apparently people like to eat healthy in January? I'm not sure why. Must have something to do with all of the blueberry bread we consumed and the Nutella brownies and my baked spaghetti recipe. All good things, all not so good for you fitting into your pants.
So, let's make January a little healthier. I went and turned my favorite sandwich into a salad. I don't even miss the bread in this hearty salad. It's filling and it's jam packed with all of the flavors of a big, fat sandwich. It's low carb, too! I'm back on the keto wagon, meaning I'm eating less than 20 grams of carbs a day and still managing to survive. So far, so good.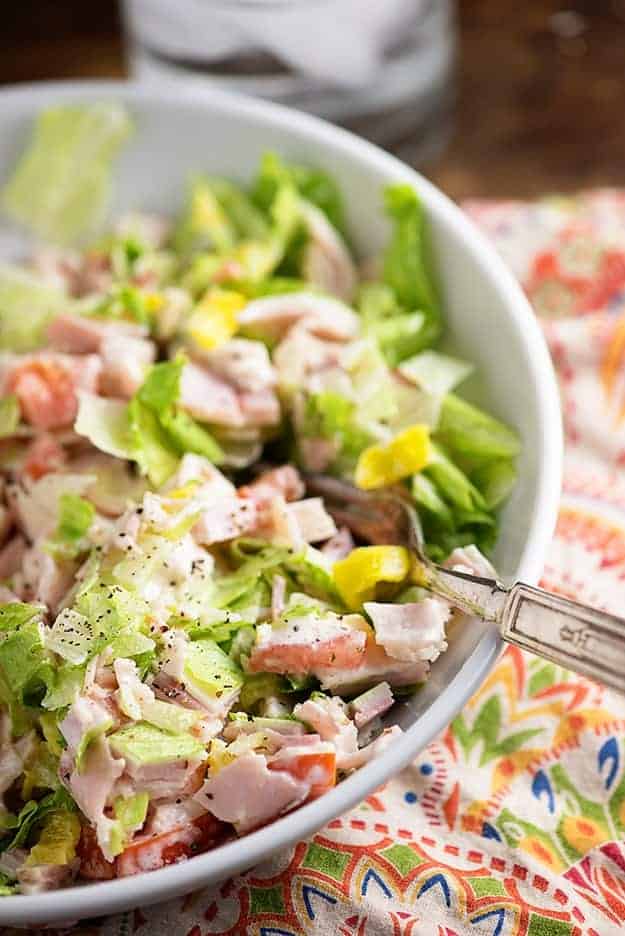 Country Club Chopped Salad
Servings: 1 large salad
Course: Salad
Cuisine: American
Keyword: easy Keto recipes, light recipes, low carb recipes
Calories: 722 kcal
I went and turned my favorite sandwich into a salad. I don't even miss the bread in this hearty salad. It's filling and it's jam packed with all of the flavors of a big, fat sandwich. It's low carb, too!

Ingredients
1 1/2 cups chopped romaine hearts
4 thin slices deli turkey
4 thin slices deli ham
2 thin slices provolone cheese
1 small tomato
1/4 cup pickled banana peppers
2 tablespoons mayonnaise
2 teaspoons yellow mustard
Salt and pepper to taste
Instructions
Add the chopped romaine to a medium bowl.

Place the turkey, ham, and cheese on a cutting board and chop into 1 inch pieces. Add to the salad.

Dice the tomato and banana peppers into bite sized pieces. Add to the salad.

Whisk together the mayonnaise and mustard. Add to the salad and toss.

Add salt and pepper, as desired.
Nutrition Facts
Country Club Chopped Salad
Amount Per Serving
Calories 722 Calories from Fat 495
% Daily Value*
Fat 55g85%
Saturated Fat 19g119%
Cholesterol 130mg43%
Sodium 2506mg109%
Potassium 844mg24%
Carbohydrates 9g3%
Fiber 3g13%
Sugar 3g3%
Protein 45g90%
Vitamin A 10130IU203%
Vitamin C 32mg39%
Calcium 459mg46%
Iron 2.7mg15%
* Percent Daily Values are based on a 2000 calorie diet.
Nutrition Disclaimer: All information presented on this site is intended for informational purposes only. I am not a certified nutritionist and any nutritional information shared on bunsinmyoven.com should only be used as a general guideline.