August 5, 2019
Blueberry Muffin Bread
This blueberry bread recipe is so soft and moist and just loaded with fresh blueberries! It is like the best blueberry muffins you'll ever try, but in bread form.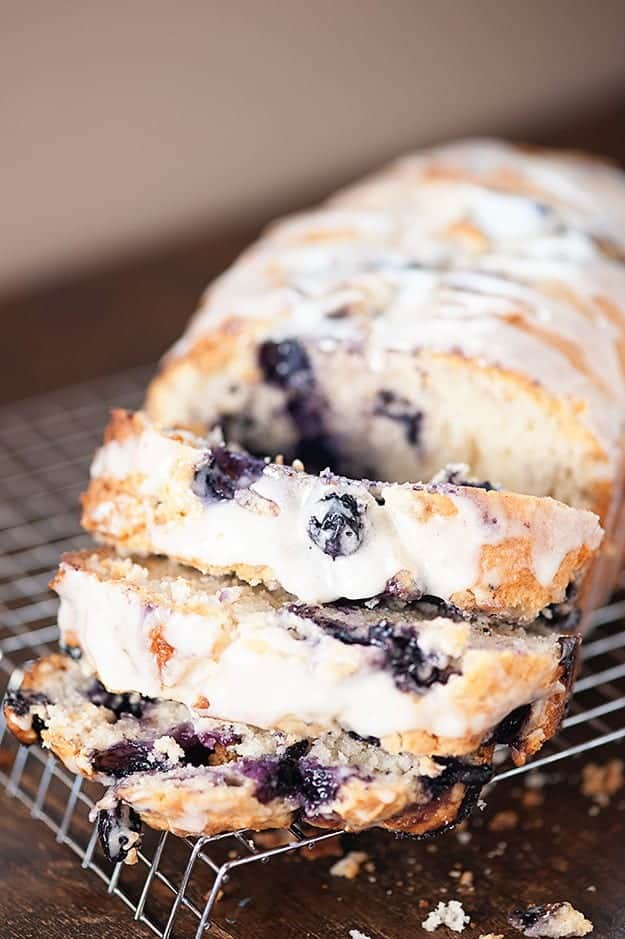 I love making easy blueberry muffins in the morning. I mean, it's like cake. For breakfast.
And errbody knows that blueberries are a superfood. I don't exactly know what a superfood is, or why there is no space between the two words (Hello, grammar, where are you?), but they are a big deal apparently.
So, let's just get on the superfood blueberry muffin train, k? Except don't. Because we aren't making no stinkin' muffins. (No, seriously, grammar. Where are you? Come back.)
This blueberry bread recipe is perfect for breakfast!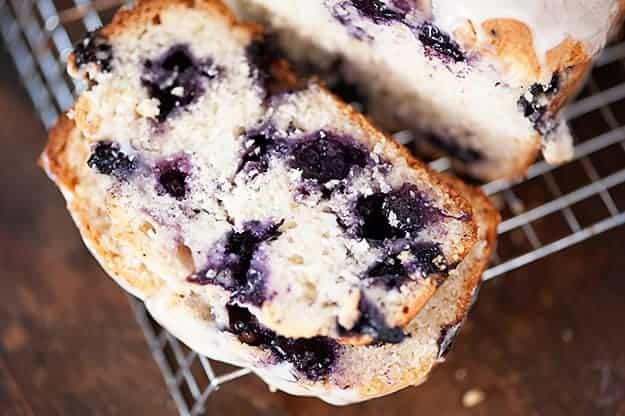 We're living on the edge here, you guys. We're busting out the loaf pan and we're telling our muffin tin to shove it. Because, seriously. Is there anything worse than scrubbing a muffin tin that has a bunch of old baked on blueberry juice stuck in every crevice? Nope.
This recipe is actually kiiiiiiiind of a cheat for me. I took this amazing recipe for a blueberry breakfast cake that is already on the site (originally from Alexadra's Kitchen), tweaked it ever so slightly, and then I poured it into a loaf pan instead of a cake pan. Because sometimes you want bread instead of cake to make you feel more healthful and grown up.
"No, Mom. Of course I'm not eating cake for breakfast. This is bread. Just look at the shape."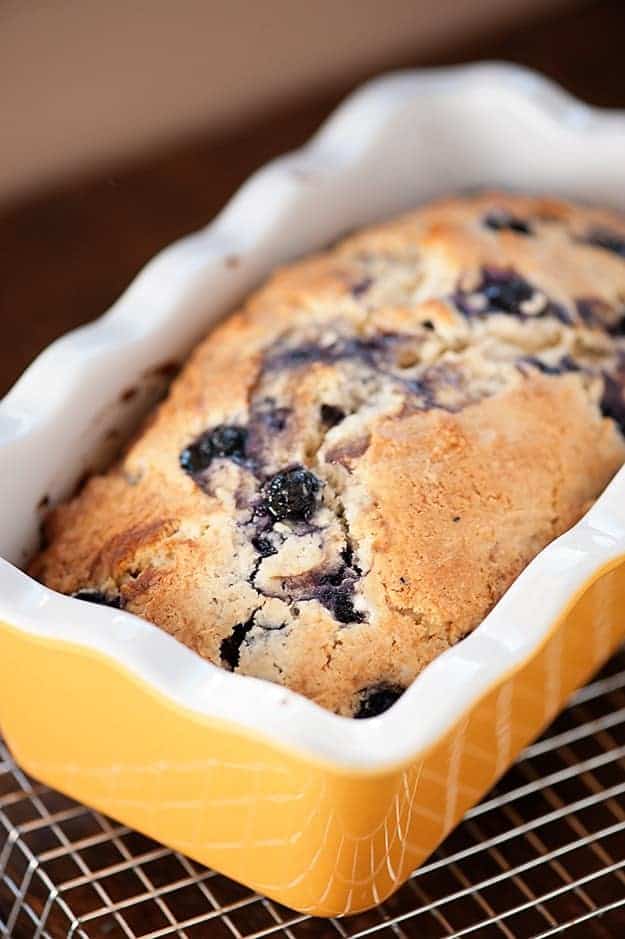 Then I went ahead and drizzled it with a simple powdered sugar glaze, but don't be like me. (Totally be like me, okay? Glaze is always a good thing.)
My kids devoured this so quickly that I had to make a second batch the very next day. And that day I hid it from them, because mama don't play. Save a little superfood for me, kiddos.
Hope you guys love this! It would even make a great homemade holiday gift!
Oh, and every time I share photos of this loaf pan, I always get asked where I found it. It's pretty, right? You can find it right here! The yellow seems to be out of stock, but the other colors are pretty too!
Give my cranberry bread a try too!
My kids devour this blueberry bread and I bet yours will too!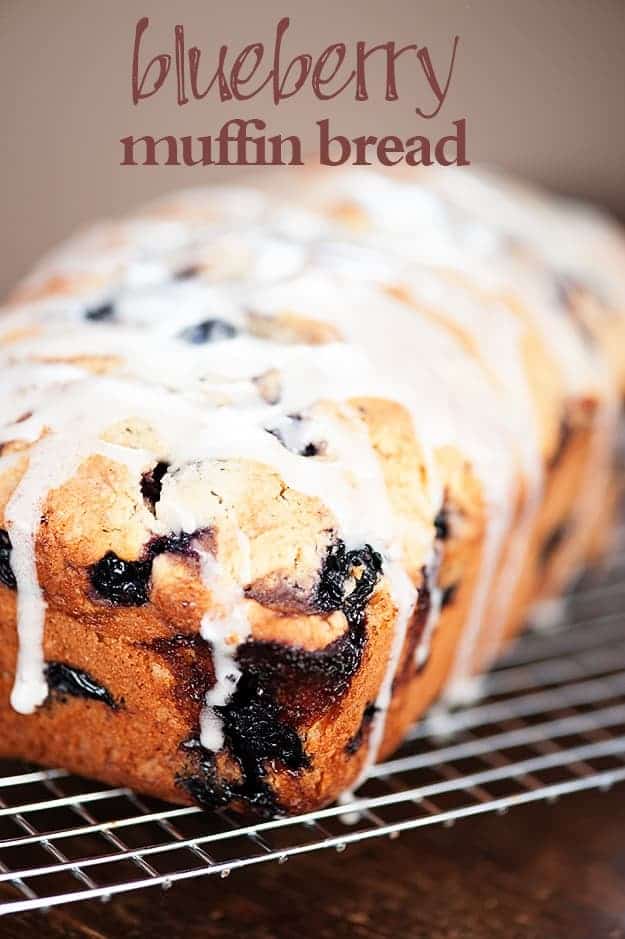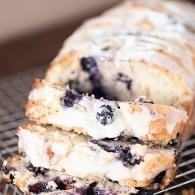 Blueberry Muffin Bread
Servings: 12 servings
Course: Snack
Cuisine: American
Keyword: easy bread recipes, easy breakfast recipes, easy snack recipes
Calories: 241 kcal
This blueberry bread recipe is so soft and moist and just loaded with fresh blueberries! It is like the best blueberry muffins you'll ever try, but in bread form.

Ingredients
1/2 cup butter room temperature
3/4 cup sugar
1 large egg
2 teaspoons vanilla
2 cups flour
2 teaspoons baking powder
1 teaspoon kosher salt
1/2 cup buttermilk
2 cups fresh or frozen blueberries
1/2 cup powdered sugar
1 tablespoon milk more as needed
Instructions
Preheat the oven to 350 degrees. Grease a 9x5 loaf pan.

In the bowl of a stand mixer, cream together the butter and sugar until light and fluffy. Beat in the egg and vanilla until well combined.

Combine the flour, baking powder, and salt in a small bowl.

Add the flour mixture a little at a time to the butter mixture, alternating with the buttermilk.

Fold in the blueberries.

Bake for 50-60 minutes or until a butter knife inserted in the center comes out mostly clean. Cool before glazing.

To make the glaze, whisk together the powdered sugar and milk. Add more milk if you'd like the glaze thinner.

Drizzle over the bread before cutting.
Nutrition Facts
Blueberry Muffin Bread
Amount Per Serving
Calories 241 Calories from Fat 72
% Daily Value*
Fat 8g12%
Saturated Fat 5g31%
Cholesterol 37mg12%
Sodium 279mg12%
Potassium 127mg4%
Carbohydrates 37g12%
Fiber 1g4%
Sugar 20g22%
Protein 3g6%
Vitamin A 290IU6%
Vitamin C 2.4mg3%
Calcium 51mg5%
Iron 1.2mg7%
* Percent Daily Values are based on a 2000 calorie diet.
Nutrition Disclaimer: All information presented on this site is intended for informational purposes only. I am not a certified nutritionist and any nutritional information shared on bunsinmyoven.com should only be used as a general guideline.

I'm also pretty obsessed with these other blueberry recipes! Bet you will be too!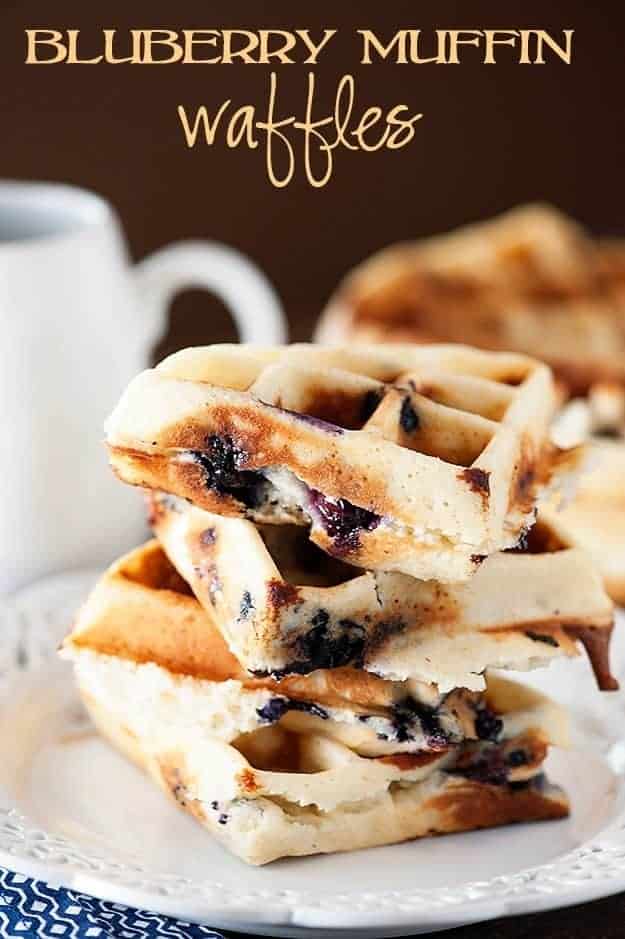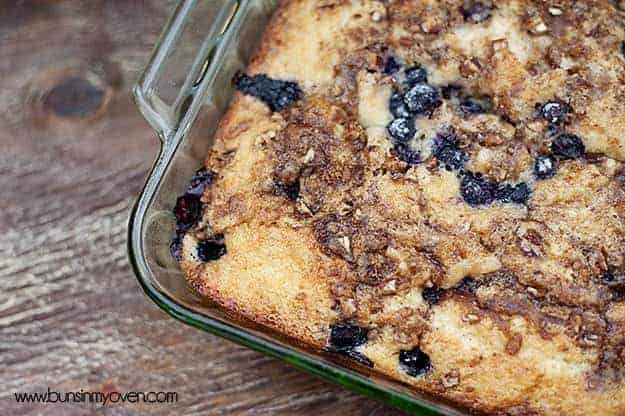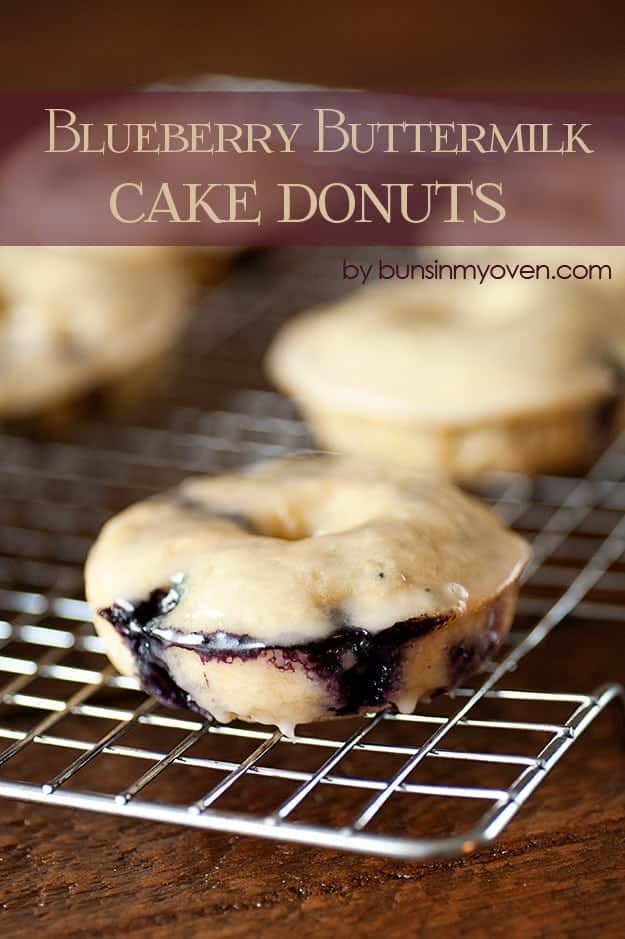 This post contains affiliate links.