August 17, 2018
Blueberry Honey Bun Cake
The other day I opened a big ol' box I found on my front porch and, you guys, it was full of cake mix.
I know. I'm a food blogger. I should make cake from scratch.
I can't do it. I mean, I can, sometimes, but usually I can't. They just don't turn out. They're dry and crumbly or they're so moist that the layers just slide right off of each other.
Cake mixes, however, usually work out for me. Not always, but usually. Cake mix is my friend.
Anyway, I opened up the box and there were cake mixes inside from The Cake Mix Doctor, along with some recipe cards. I was in the middle of cleaning the kitchen when I heard the delivery, but I stopped everything, opened the box, read the recipe cards, and turned my oven on.
The Blueberry Honey Bun Cake could not wait another second. It had to be made immediately.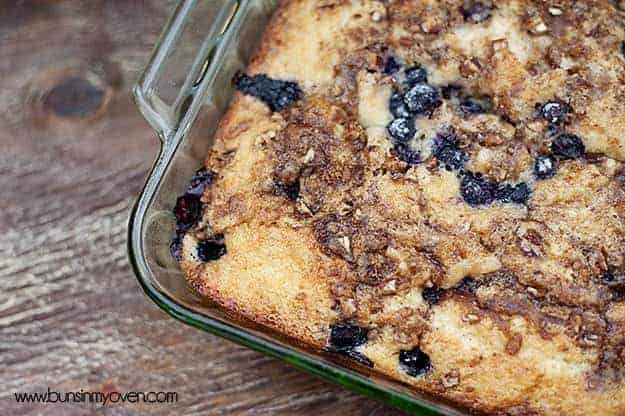 Who needs a clean kitchen anyway? Certainly not me.
This cake was super moist and the little bites of honey were pure bliss. This is, by far, one of my new favorite breakfast cakes. Make it? Share it with me?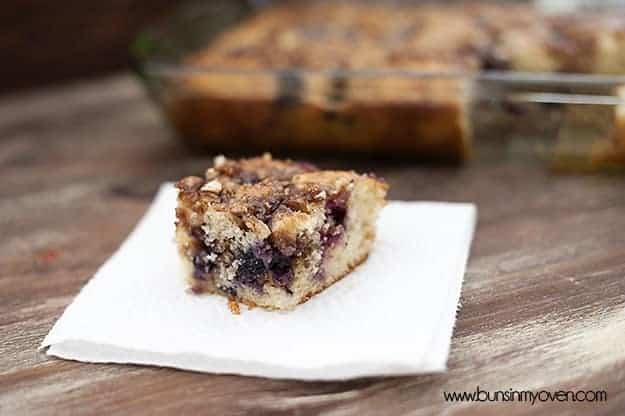 Blueberry Honey Bun Cake
Servings: 16 servings
Course: Breakfast
Cuisine: American
Keyword: easy breakfast recipes, easy cake recipes, kid-friendly recipes
Calories: 350 kcal
The Blueberry Honey Bun Cake could not wait another second. It had to be made immediately. From a cake mix!

Ingredients
For the cake:
1 package Cake Mix Doctor's Old Fashioned Yellow Cake Mix
1 cup sour cream
3/4 cup vegetable oil
1/2 cup water
4 large eggs
For the filling:
1/3 cup honey
1/3 cup brown sugar
1/2 cup finely chopped pecans
1 cup blueberries these could really be optional
For the glaze:
1 cup powdered sugar
2 tablespoons milk
1/2 teaspoon vanilla
Instructions
Preheat oven to 350 degrees. Spray a 9x13 dish with cooking spray. Set aside.

Measure 2 teaspoons of the dry cake mix and place in a small bowl. Set aside.

Place the remaining cake mix, sour cream, vegetable oil, water, and eggs in a large mixing bowl. Beat with an electric mixer on low speed until incorporated. Increase the speed to medium and beat until the mixture lightens and is smooth, about 2 minutes, scraping down the sides of the bowl. Pour batter into the prepared pan.

For the filling, drizzle the honey across the top of the batter. In a small bowl, combine the brown sugar, cinnamon, and pecans. Sprinkle the mixture evenly on top of the honey and swirl into the cake batter with a butter knife.

Place the blueberries in the bowl with the reserved cake mix and toss to coat. Sprinkle the blueberries on top of the batter and place cake in the oven.

Bake until the top springs back when lightly pressed with a finger, about 40-45 minutes. Remove the pan from the oven and let the cake cool while you prepare the glaze. (I did not glaze the cake myself.)

For the glaze, place the powdered sugar in a small bowl and whisk in the milk and vanilla until smooth. Spoon the glaze over the warm cake and serve.
Nutrition Facts
Blueberry Honey Bun Cake
Amount Per Serving
Calories 350 Calories from Fat 153
% Daily Value*
Fat 17g26%
Saturated Fat 11g69%
Cholesterol 54mg18%
Sodium 267mg12%
Potassium 86mg2%
Carbohydrates 46g15%
Sugar 33g37%
Protein 3g6%
Vitamin A 160IU3%
Vitamin C 1mg1%
Calcium 99mg10%
Iron 1.1mg6%
* Percent Daily Values are based on a 2000 calorie diet.
Nutrition Disclaimer: All information presented on this site is intended for informational purposes only. I am not a certified nutritionist and any nutritional information shared on bunsinmyoven.com should only be used as a general guideline.
Disclosure: I received 3 boxes of cake mix from The Cake Mix Doctor to try for free. I did not receive any monetary compensation for writing about this cake mix. All opinions are my own.