This creamy crockpot chicken and noodles dish is loaded with tender shredded chicken and egg noodles with veggies in a rich and creamy sauce!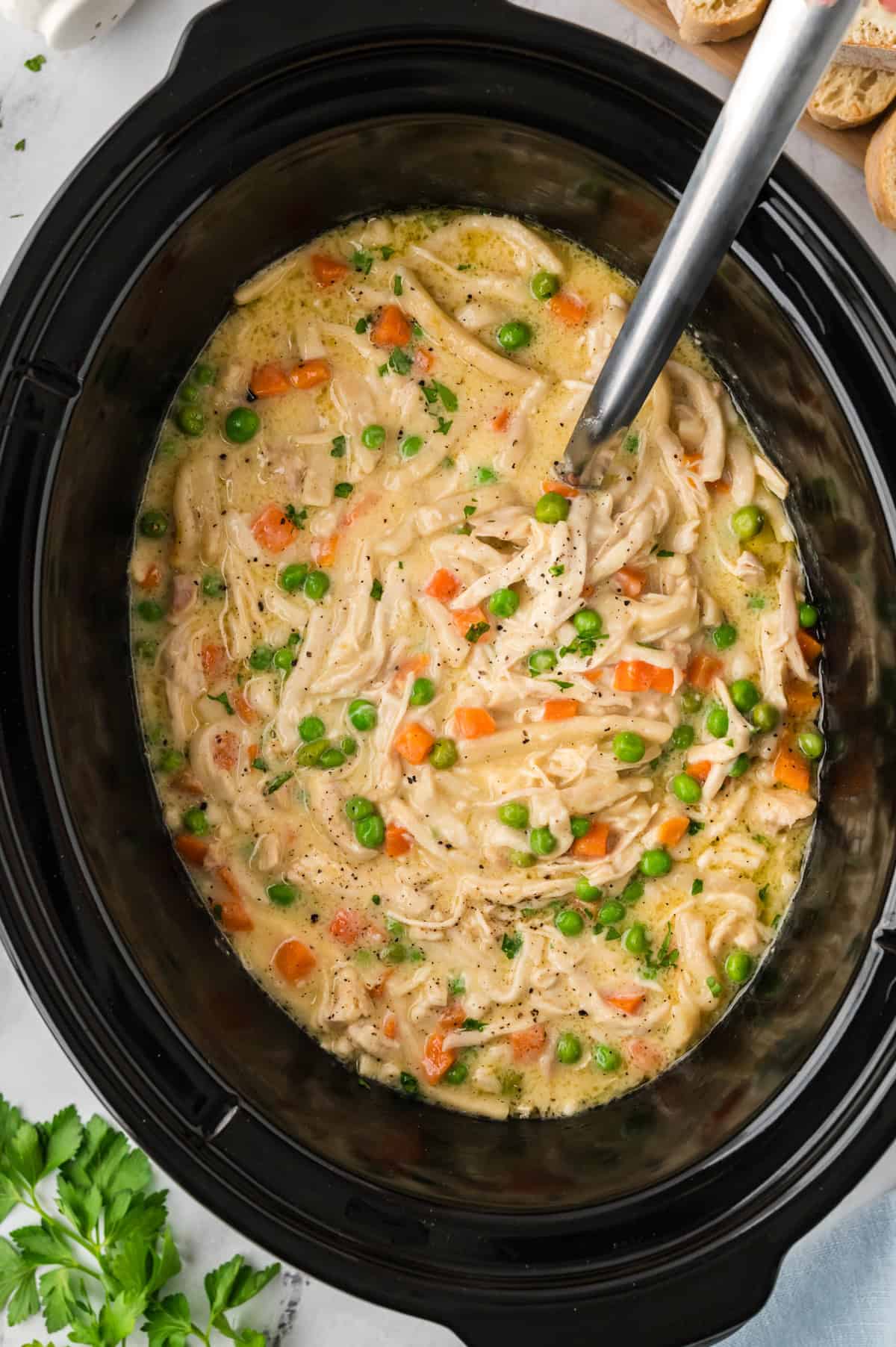 Nothing beats a pot full of creamy chicken and noodles on a cold day! There's just something so warm and cozy about these flavors and ours makes the whole house smell amazing since it cooks in the crockpot!
Now, before you think we're sharing a recipe for soup, let me be clear: This is very thick and creamy. Less soup and more hearty. Not brothy at all. Very warm and cozy. Pure comfort food. Absolute goodness.
Have I sold you yet? Because this is a must make!
We LOVE chicken and noodles in this house, as evidenced by our Amish Chicken and Noodles, Chicken Noodle Casserole, and Crockpot Chicken Noodle Soup!
Each of those recipes are different and special in their own way. And these creamy chicken and noodles in the crockpot are just total comfort food.
Ingredient Notes:
This post contains affiliate links. As an Amazon associate and member of other qualifying programs, I earn from qualifying purchases.
Chicken – I'm using boneless, skinless chicken breasts in this dish. They shred up nicely after slow cooking! You could also use boneless chicken thighs.
Cream of Chicken Soup – Try my homemade cream of chicken soup recipe! It's even better than the canned stuff, though it is a bit more work. You can use the canned soup for this recipe if you want to keep things easy!
Chicken Gravy Mix – You should be able to find a packet of this mix at most any grocery store. You'll just use the powder – no need to prepare the gravy.
Chicken Broth – For cooking the chicken and noodles.
Frozen Egg Noodles – Any grocery store will sell frozen egg noodles in the freezer section.
Frozen Peas and Carrots – These add a pop of color and sweetness. No need to thaw them first either.
Salt & Pepper – You can add as much or as little of this as you want to taste.
What We Love About This Recipe:
The chicken turns out tender, juicy, and full of flavor after slow cooking.
The noodles cook right in the crockpot – no need to boil them separately.
This has soup vibes, since you eat it in a bowl with a spoon, but it's quite thick and more hearty than soup.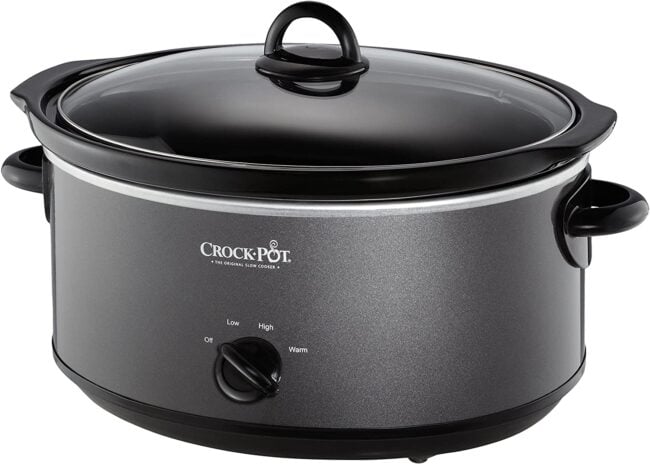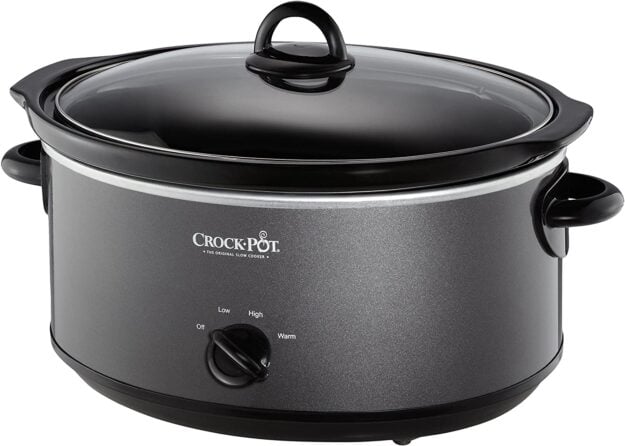 In the market for a new slow cooker? We love this 7 quart Crockpot. It's simple to use, cooks evenly, and is very budget friendly. Plus, it has a 4 1/2 star rating with over 5,000 reviews on Amazon!
How to Make Crockpot Chicken and Noodles:
Chicken: To get started you'll add the chicken to a 6 quart slow cooker.
Topping: Whisk together the cream of chicken soup and packet of gravy mix in a bowl. Spread it over the chicken in the crockpot. Pour in the broth.
Slow Cook: Cover the crockpot and cook on low for 4 to 6 hours or until the chicken shreds easily with a fork.
Shred: Remove the chicken from the crockpot and shred it up with a couple of forks. Whisk together the sauce in the crockpot and then return the chicken to the crockpot.
Noodles: You can now add in the frozen noodles and frozen vegetables with the chicken and sauce. Top it off with a few pats of butter.
Slow Cook: Cover the pot back up and continue cooking on low for 1 to 1 ½ hours or until the noodles have finished cooking through and are tender.
Helpful Tip!
We like this recipe to be thick and creamy and that's how it should come out. But if you want this to be more of a soup you can just add extra chicken broth after cooking until you get the desired consistency!
Serve: We like to season this simply with some salt and freshly cracked pepper before serving. It goes great with these easy air fryer frozen dinner rolls or go the homemade route with our quick dinner rolls!
Substitutions:
Chicken – Chicken thighs will work just as well in place of chicken breasts.
Noodles – Dried egg noodles should work in place of frozen, though we haven't tested this ourselves.
Veggies – If you don't' have frozen peas and carrots, you can stir in a can of peas and carrots towards the end of cooking. They'll only need 10 minutes or so to warm up.
Seasoning – Feel free to add in additional seasoning, such as poultry seasoning, celery salt, turmeric, or some garlic and onion powder. These can all be added to the chicken soup mix.
FAQs:
How to store crockpot chicken and noodles?
If you have any leftovers you can keep it stored in an airtight container for up to 3 to 4 days. It should thicken up and might even taste better on the second day!
Can you freeze chicken and noodles?
Yes, you could freeze leftovers but the noodles may not hold up that well. They may get a bit mushy after having been frozen, then cooked, and frozen again.
MORE EASY CHICKEN CROCKPOT RECIPES!
I've got lots and lots of great crockpot recipes! You can check out all of them here. Below are some more popular slow cooker recipes using chicken:
Creamy Crockpot Chicken and Noodles
Thick and hearty chicken and noodles are a major comfort food! This recipe cooks in the crockpot, so it's easy to throw together and the whole family loves it.
Prep15 minutes
5 hours 30 minutes
Total5 hours 45 minutes
Ingredients
1 ½ pounds boneless, skinless chicken breasts
2 cans cream of chicken soup 10.5 ounces each
1 packet dry chicken gravy mix
2 cups chicken broth
24 ounces frozen egg noodles
12 ounces frozen peas and carrots
4 tablespoons butter
Salt and pepper to taste
Instructions
Add the chicken to a 6 quart slow cooker.

Add the cream of chicken and chicken gravy mix to a bowl and whisk together to combine. Spread over the chicken.

Pour the chicken broth over the top.

Cover the crockpot and cook for 4-6 hours on low or until chicken shreds easily.

Remove the chicken from the crockpot and shred. Whisk together the sauce in the crockpot and then return the chicken.

Add the noodles and frozen vegetables to the crockpot, stir to combine, and top with pats of butter.

Cover the crockpot and continue cooking for 1 to 1 ½ hours or until noodles are cooked through and tender.

Season with salt and freshly cracked pepper before serving.
Tips & Notes:
We like this fairly thick and creamy. For more of a soup consistency, add more chicken broth after cooking to reach your desired consistency. My kids prefer this without the peas and carrots and sometimes we leave them out, depending on if I feel like making vegetables on the side. You can also use a bag of frozen mixed vegetables (green beans, corn, carrots, etc.) in place of the peas and carrots.
Nutrition Information:
Calories: 758kcal (38%)| Carbohydrates: 95g (32%)| Protein: 45g (90%)| Fat: 22g (34%)| Saturated Fat: 9g (56%)| Polyunsaturated Fat: 3g| Monounsaturated Fat: 6g| Trans Fat: 0.4g| Cholesterol: 198mg (66%)| Sodium: 1265mg (55%)| Potassium: 872mg (25%)| Fiber: 6g (25%)| Sugar: 3g (3%)| Vitamin A: 5909IU (118%)| Vitamin C: 8mg (10%)| Calcium: 80mg (8%)| Iron: 4mg (22%)