These Mississippi Pot Roast Sliders are made with Hawaiian rolls, leftover shredded roast, provolone cheese, peppers, and a savory sauce! Cheesy, savory, and perfect for feeding a crowd!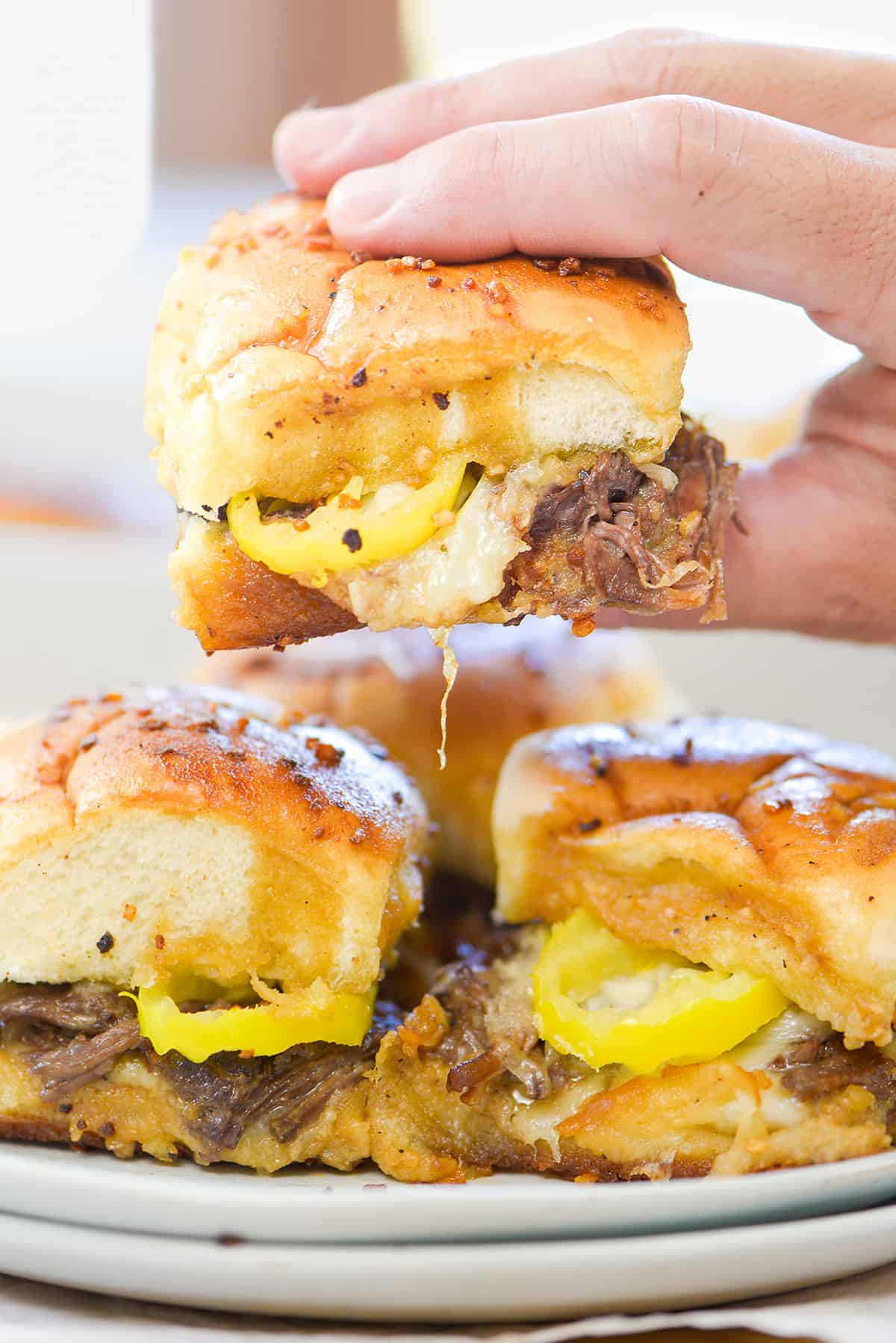 I can't believe I waited so long to share our Mississippi Pot Roast with you guys! I mean, sure, it's been done over and over on a million websites, but our version has been so popular with you guys! Makes me happy, because it's a favorite of mine!
We had some leftover roast a few weeks back and I just knew it was destined to be turned into sliders! We love sliders in this house and you'll often find me serving up our Hawaiian roll sliders filled with ham and cheese.
This time we went the Mississippi route, with loads of savory shredded beef, provolone cheese, and banana peppers! The buttery sauce on top just really takes these to the next level!
Whether you serve these up for the next big game or just a fun dinner with the family, I know you're going to be just as obsessed as we are!
Ingredient Notes:
This post contains affiliate links. As an Amazon associate and member of other qualifying programs, I earn from qualifying purchases.
Mississippi Pot Roast – You're going to need leftover or freshly made Mississippi Roast here. However, if you're not into beef, you can also try our Mississippi Chicken or this Mississippi Pork Roast! All three will make delicious sliders!
Hawaiian Rolls – The perfect sized rolls that I love to use for pretty much any slider recipe! The sweetness goes well with the roast and savory sauce. You can use any roll or slider buns for these if you have a preference!
Thin Sliced Provolone Cheese – You could really use any cheese you like – sliced Havarti is a great option too!
Banana Peppers – We like to top our sliders with mild banana pepper rings. Mississippi Roast is cooked with pepperoncini peppers and you can use those on your sliders as well. We just prefer the banana peppers for eating on sandwiches.
Savory Sauce – This simple sauce adds big flavor to the sandwiches with some butter, Worcestershire sauce, dried onion, garlic powder, and pepper!
What We Love About This Recipe:
I love my Mississippi pot roast recipe because it is so flavorful but best of all you get to turn it into these easy leftover sliders the next day!
The savory sauce topping the sweet Hawaiian rolls makes for a perfect combination that I think you'll enjoy!
This recipe is perfect for family gatherings or as a game day snack!
How to Make Sliders with Mississippi Pot Roast: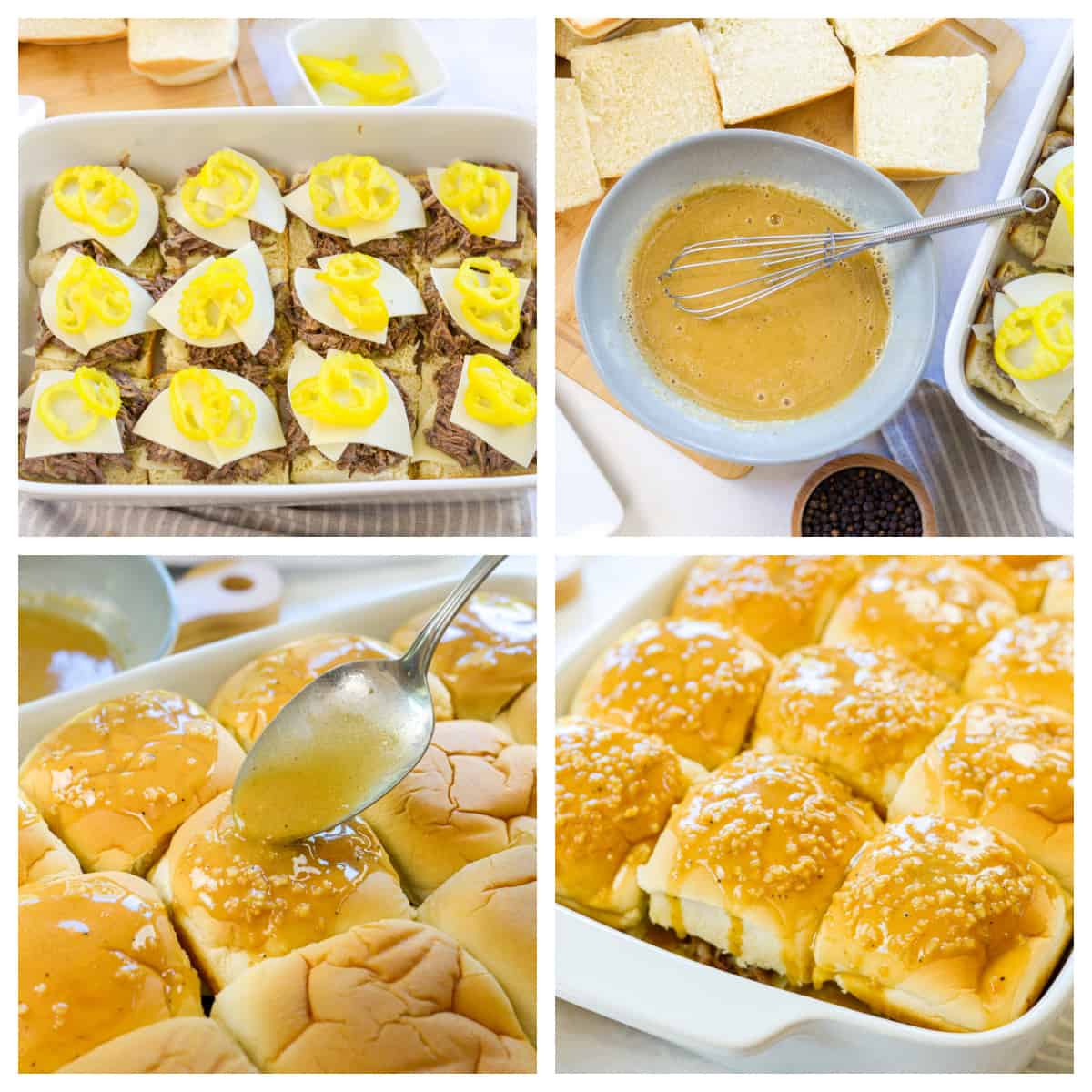 Assemble: Slice the Hawaiian rolls in half and start layering the cheese, meet, more cheese, and banana peppers over the bottom halves of the rolls. Pop the top half of the rolls on top.
Helpful Tip!
When you add the shredded Mississippi pot roast to the rolls it does not have to be hot, but you don't want it straight from the fridge either. Warm it in the microwave a bit for the best results.
Sauce: Stir together melted butter, Worcestershire sauce, dried onion, garlic, and black pepper.
Top: Once you've mixed the sauce together just spoon it over the top of each slider! It'll seep down the edges and soak into the bottom bun too. Yum!
Bake: Cover the baking dish with foil and bake for 20 minutes. At that point remove the foil and bake it for another 5 to 10 minutes or until the tops of the rolls are browned and the cheese is all melty!
These Mississippi pot roast sliders are best served good and hot! Enjoy these for an easy leftover weeknight dinner, and they're very popular at gatherings and parties too!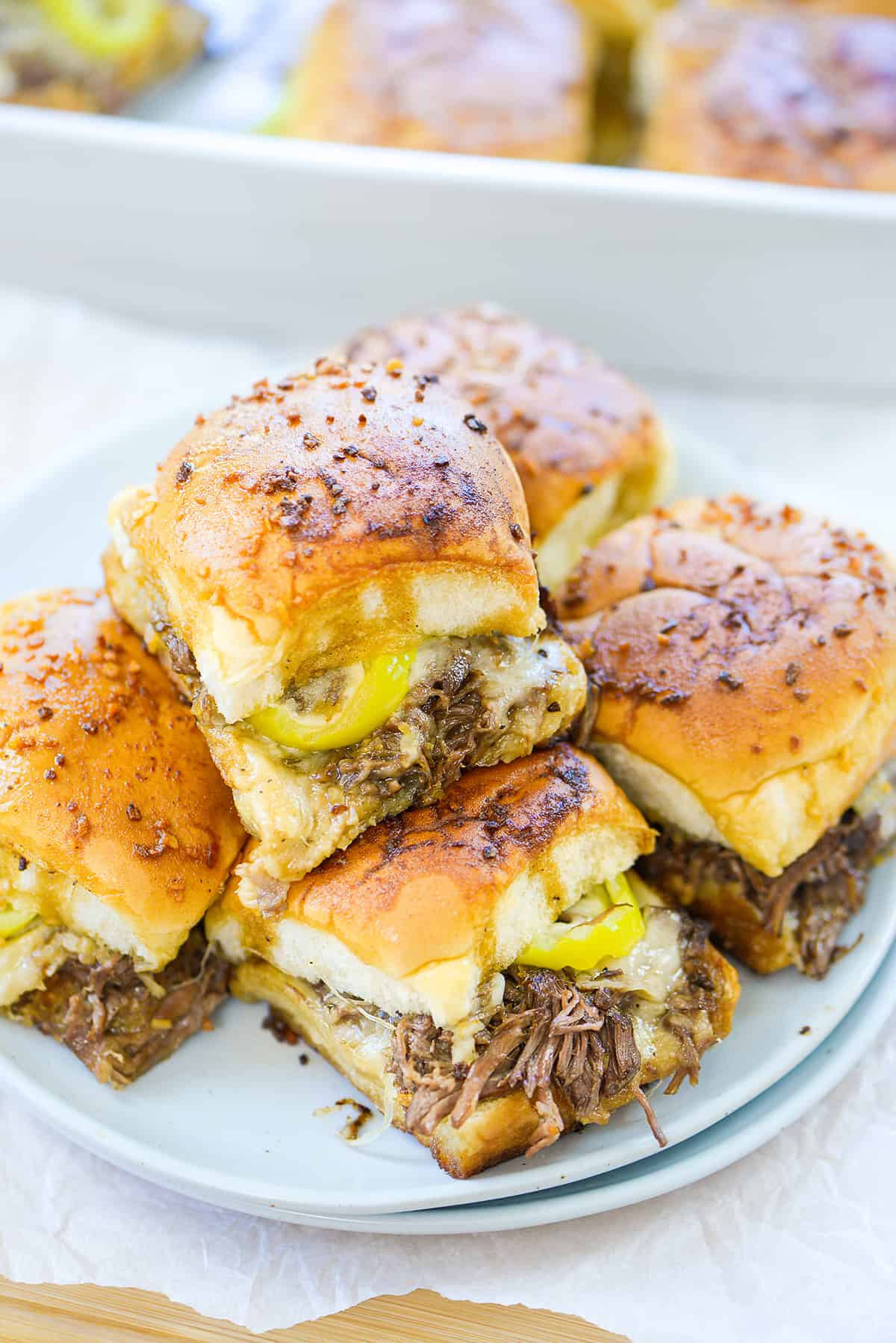 Make Ahead:
These are so simple to make ahead and the slider rolls soak up even more of the sauce and get even tastier!
To make ahead, prepare up until baking, cover the dish with foil, and refrigerate for up 24 hours.
Bake straight from the fridge, covered, for 35 minutes. Remove the foil and bake for 5-10 minutes more.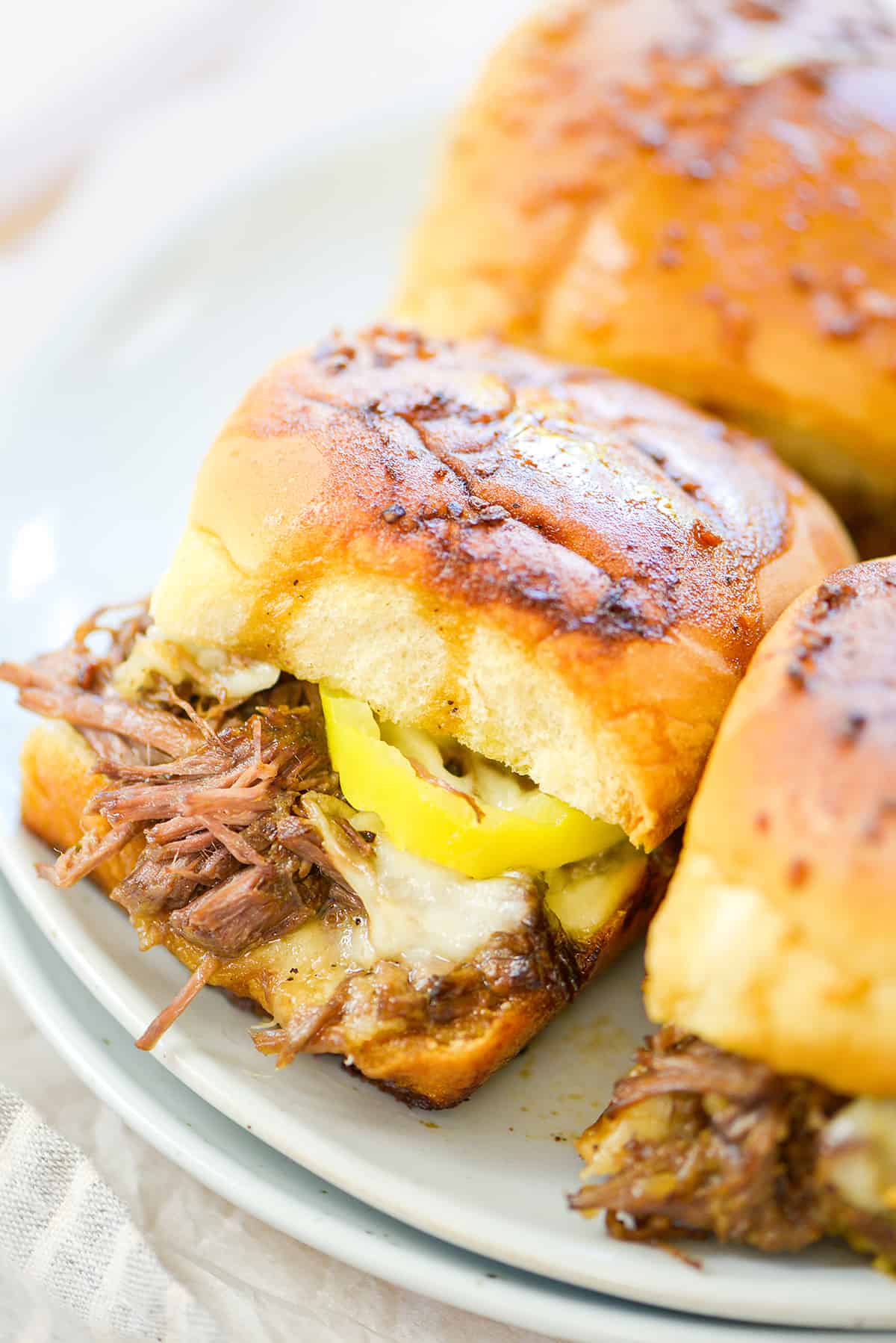 FAQs:
How to store pot roast sliders?
You can keep leftover sliders covered in an airtight container in the fridge for up to a few days, depending on when you made the pot roast.
What is Mississippi pot roast?
If you are wondering why it is called Mississippi pot roast, the answer is simple! A person in Mississippi came up with the recipe, it got really popular, and the rest is history!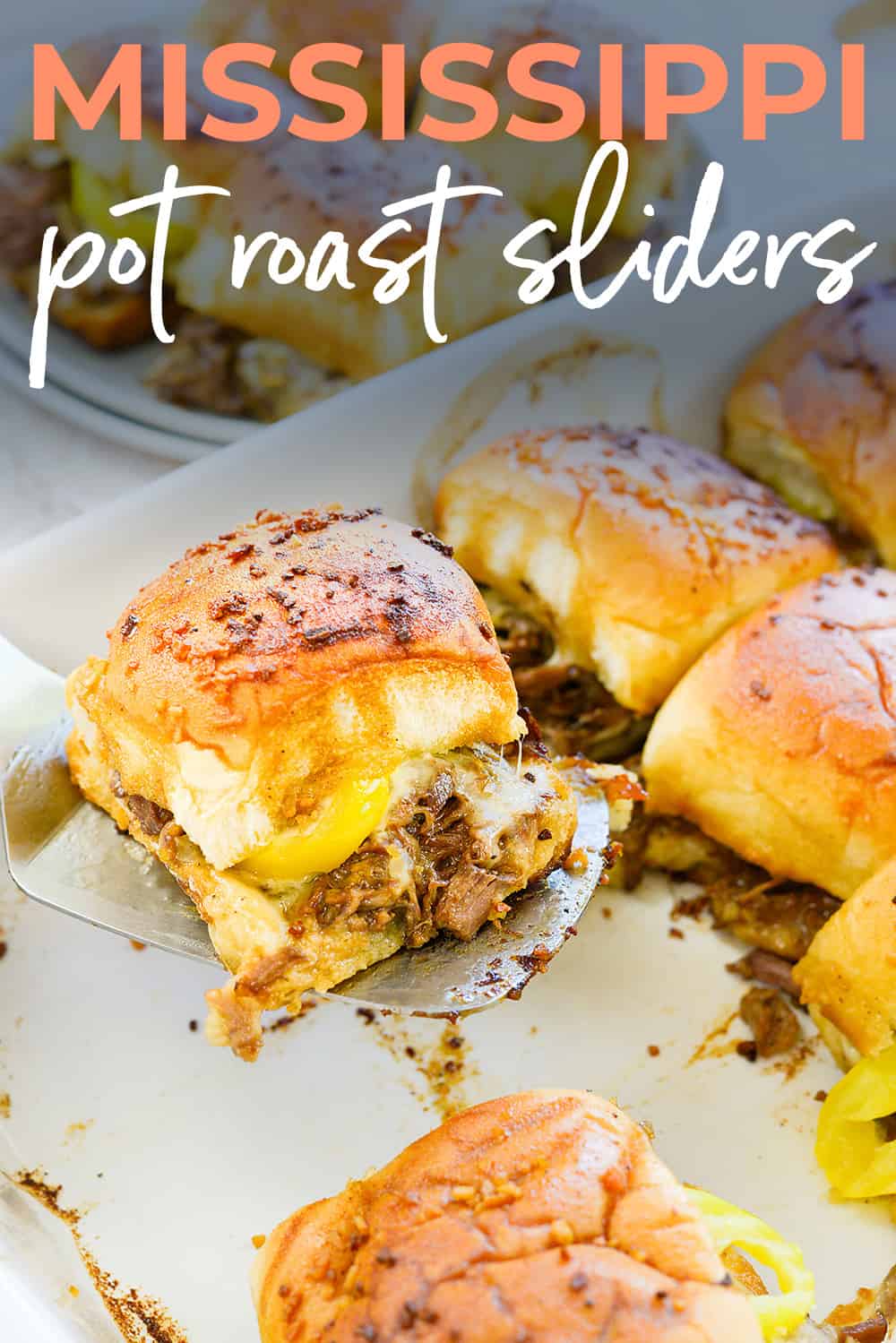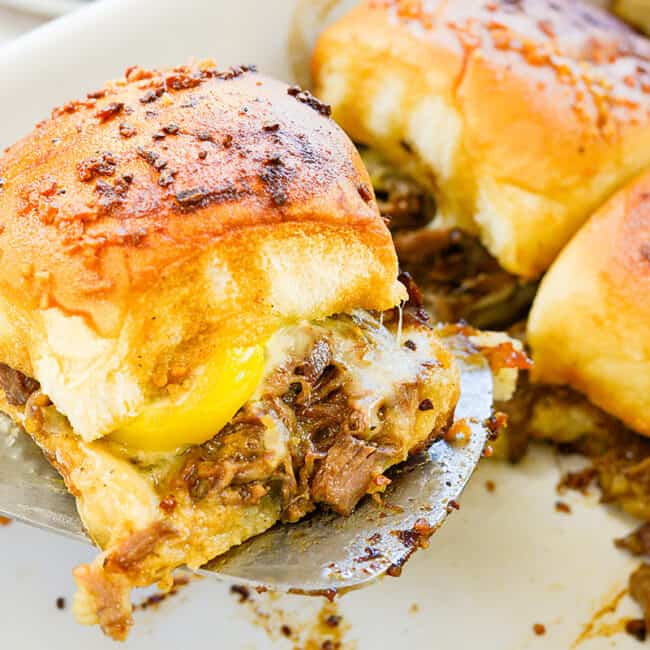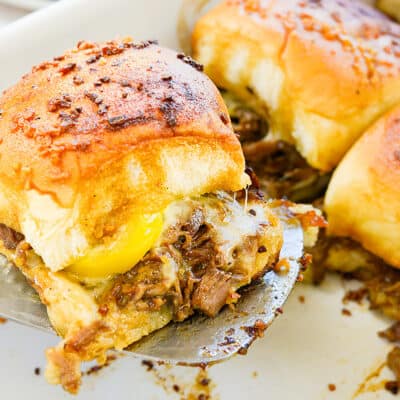 Mississippi Pot Roast Sliders
These pot roast sliders are our favorite way to use up leftover Mississippi Roast! The beef is so tender and flavorful and the addition of cheese, peppers, and sweet Hawaiian rolls just keeps people coming back for more!
Prep15 minutes
Cook30 minutes
Total45 minutes
Ingredients
12 Hawaiian rolls
12 slices provolone cheese
12 mild banana pepper rings
½ cup salted butter
2 tablespoons Worcestershire sauce
2 teaspoons minced dried onion
1 teaspoon garlic powder
½ teaspoon cracked pepper
Instructions
Preheat oven to 350 degrees.

Slice the Hawaiian rolls in half and place the bottom halves in a 9×13 baking dish.

Slice each piece of cheese into quarters.

Place 2 pieces of the cheese on the bottom of each roll. Top with the shredded roast and 2 more pieces of cheese each. Place one banana pepper ring over the cheese. Top with the top half of the roll.

Add the butter to a small bowl and microwave to melt. Stir in the Worcestershire sauce, dried onion, garlic powder, and pepper to combine.

Spoon the sauce over the tops of the sliders, letting run down the sides to coat the top and sides of the sliders.

Cover and bake for 20 minutes. Remove the foil and bake for 5-10 minutes more to brown the tops of the rolls.

Serve hot.
Tips & Notes:
The Mississippi Roast doesn't need to be hot when adding it to the sliders, but warm it slightly if it's coming straight form the fridge or it may not heat all the way through in the oven. You may use pepperoncini rings in place of banana rings if desired, but our family prefers the tang of the banana peppers. To make ahead prepare the sandwiches up until baking, cover with foil and refrigerate for up to 24 hours. Bake straight from the fridge for 35 minutes covered and 5-10 minutes uncovered.
Nutrition Information:
Serving: 1slider| Calories: 312kcal (16%)| Carbohydrates: 17g (6%)| Protein: 21g (42%)| Fat: 18g (28%)| Saturated Fat: 10g (63%)| Polyunsaturated Fat: 1g| Monounsaturated Fat: 5g| Trans Fat: 0.3g| Cholesterol: 82mg (27%)| Sodium: 365mg (16%)| Potassium: 265mg (8%)| Fiber: 0.1g| Sugar: 5g (6%)| Vitamin A: 406IU (8%)| Vitamin C: 1mg (1%)| Calcium: 160mg (16%)| Iron: 1mg (6%)