This Homemade Beefaroni recipe is loaded with savory ground beef mixed with macaroni and tomato sauce. We grew up eating this from a can (hello, Chef Boyardee!), but this homemade version is so much better! Ready in 25 minutes!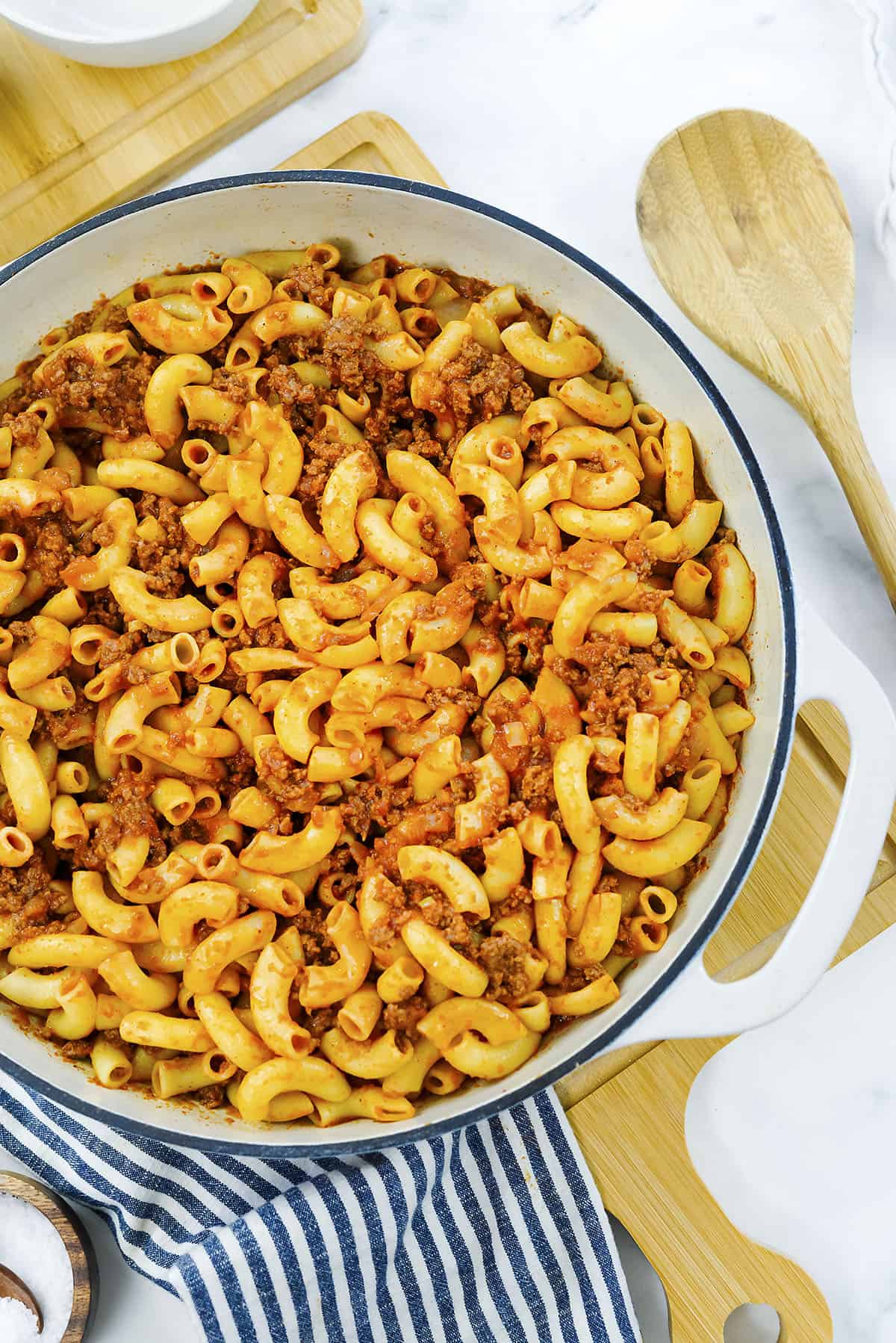 Canned ravioli, Hamburger Helper, Beefaroni, and Spaghetti-O's…all were staples of my 80s childhood!
Sometimes I'm walking down the canned goods aisle and I spot a can of Chef Boyardee and I'm transported right back. But, I don't know if you've tried those cans lately but they don't really sit well with my adult palate, if you get me.
So, we recreated our favorite Beefaroni from childhood – homemade beefaroni this time, with loads of savory beef, a delicious tomato sauce, and plenty of macaroni! Just like we remember, but better.
Our homemade hamburger helper is another childhood favorite that I make my kids regularly!
Ingredient Notes:
This post contains affiliate links. As an Amazon associate and member of other qualifying programs, I earn from qualifying purchases.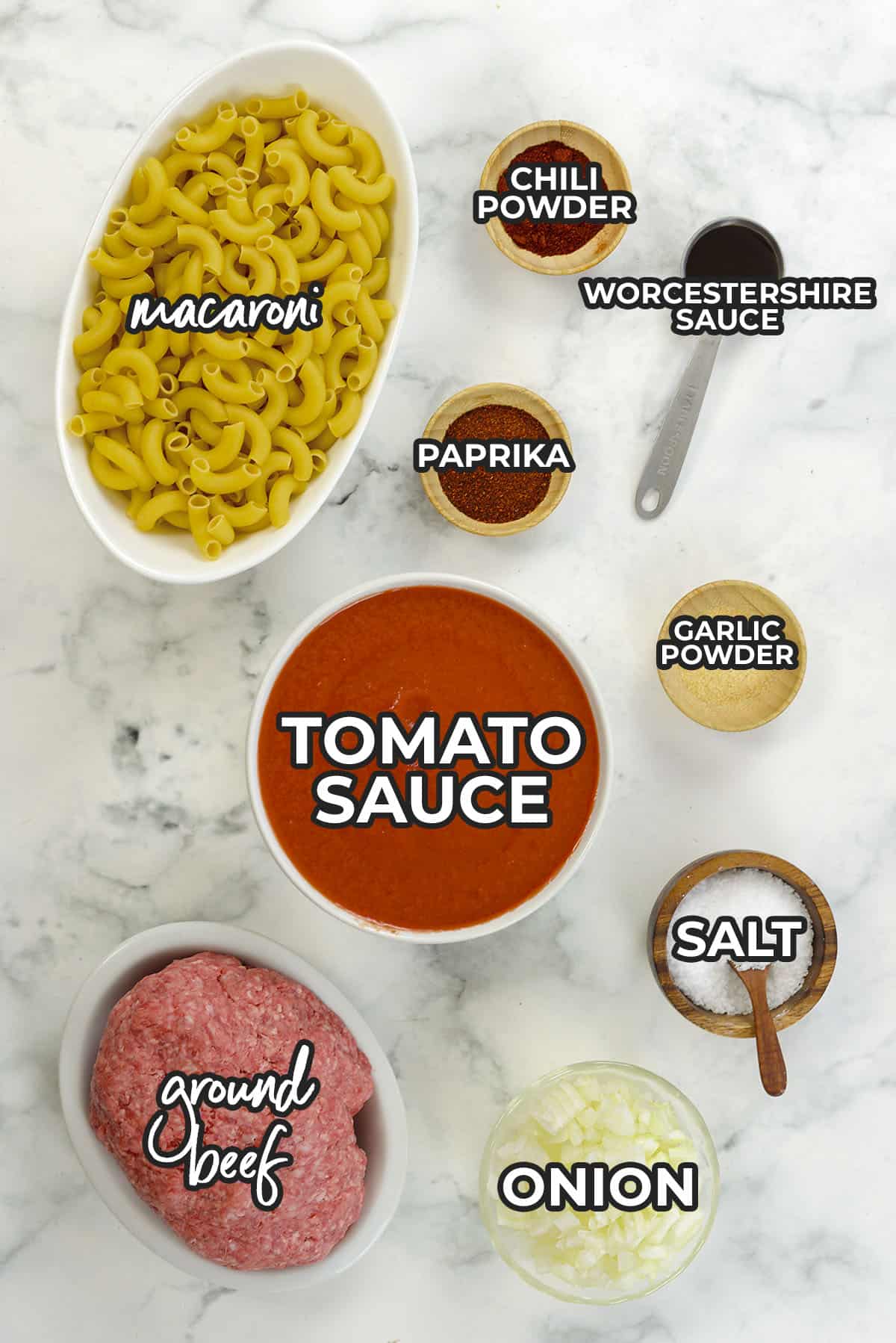 Macaroni – Any short pasta shape will work, but we're keeping it original with the macaroni.
Ground Beef – I prefer to use lean ground beef for this recipe so that there isn't as much grease. You could also use ground turkey.
Onion – One small diced onion will add flavor to the ground beef while it cooks. Swap this for onion powder if you have onion haters in the house.
Tomato Sauce – I'm using canned tomato sauce for this easy beefaroni recipe!
Seasoning – I'm using a mix of chili powder, smoked paprika, garlic powder, and salt to add all the savory and spicy flavors to this beefaroni recipe! We'll also stir in worcestershire sauce to add savory flavor.
What We Love About This Recipe:
This is a good recipe to make for weeknight dinners. It makes enough to feed the whole family, and all the ingredients are relatively cheap!
Beefaroni is the ultimate comfort food that takes you right back to childhood.
This dish is relatively simple with just 4 main ingredients and a few spices. Ready in just 25 minutes!
Helpful Tools:
Dutch Oven – We love our Dutch oven and use it in all kinds of recipes! It's perfect for making this beefaroni recipe!
Cast Iron Skillet: If you don't have a Dutch oven you can use a good heavy cast iron skillet!
How to Make Beefaroni: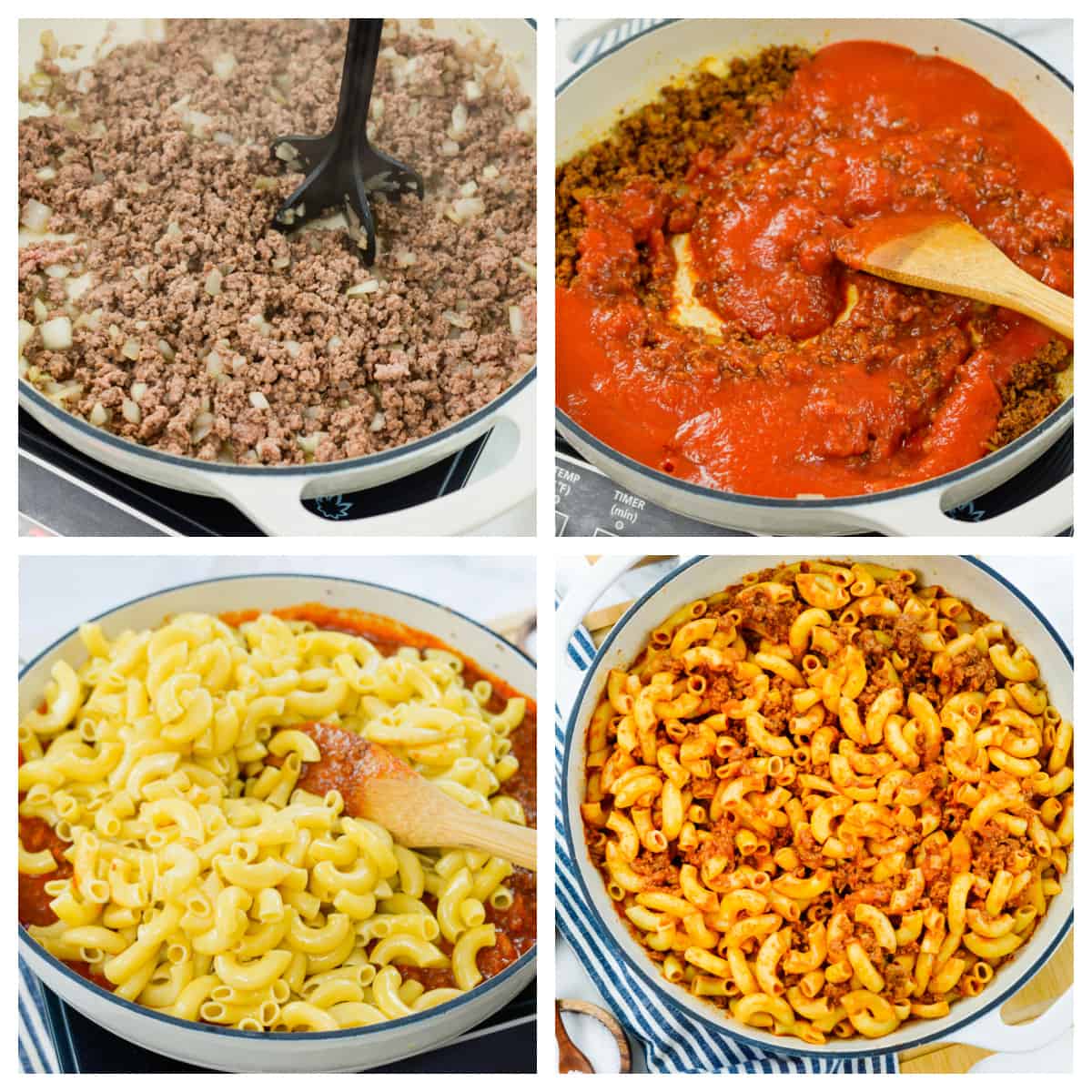 Beef: Add the ground beef and diced onion to a deep pot or skillet and start cooking it over medium heat. When it is crumbly and cooked through drain any grease and sprinkle on the seasoning.
Sauce: When the beef is seasoned and ready you can pour the tomato sauce over it with the Worcestershire sauce. Stir it until the sauce and ground beef mixture is well combined!
Combine: Add cooked macaroni to the pot and give it a stir.
Serve: After mixing it all together this dish is ready to serve! Taste and season it with some additional salt and pepper if needed. We like to to serve this as is or with a little shredded cheddar over the top.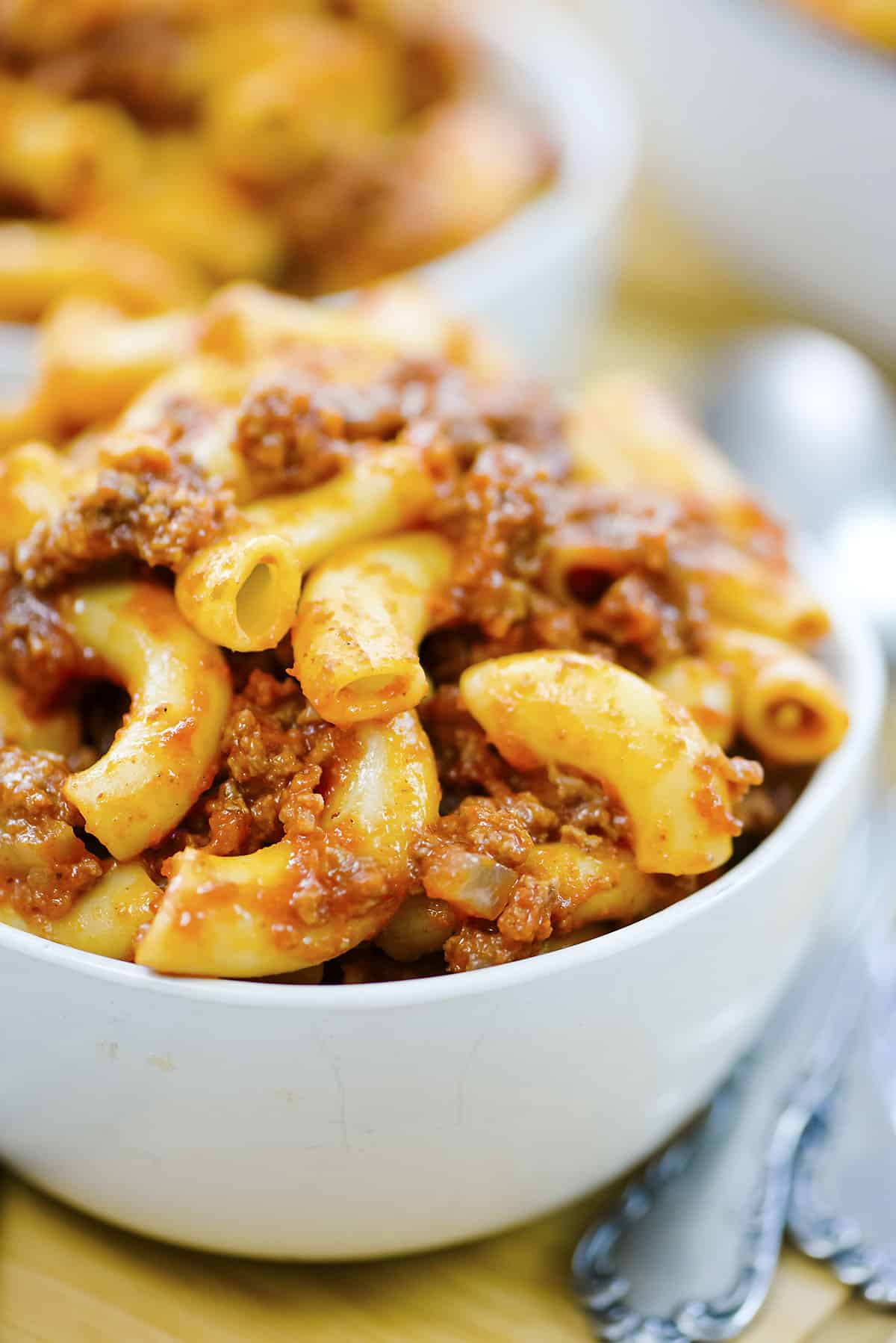 FAQs:
What is beefaroni?
It's pretty much just a combination of ground beef, and macaroni, in a savory tomato sauce. The name comes from an American canned pasta that is very popular with kids.
How to store beefaroni?
You can keep any leftovers stored in an airtight container in the refrigerator for about 4-5 days.
Can I freeze beefaroni?
Yes, you could freeze this recipe but keep in mind that pasta doesn't always freeze well and it may not have the same texture after reheating.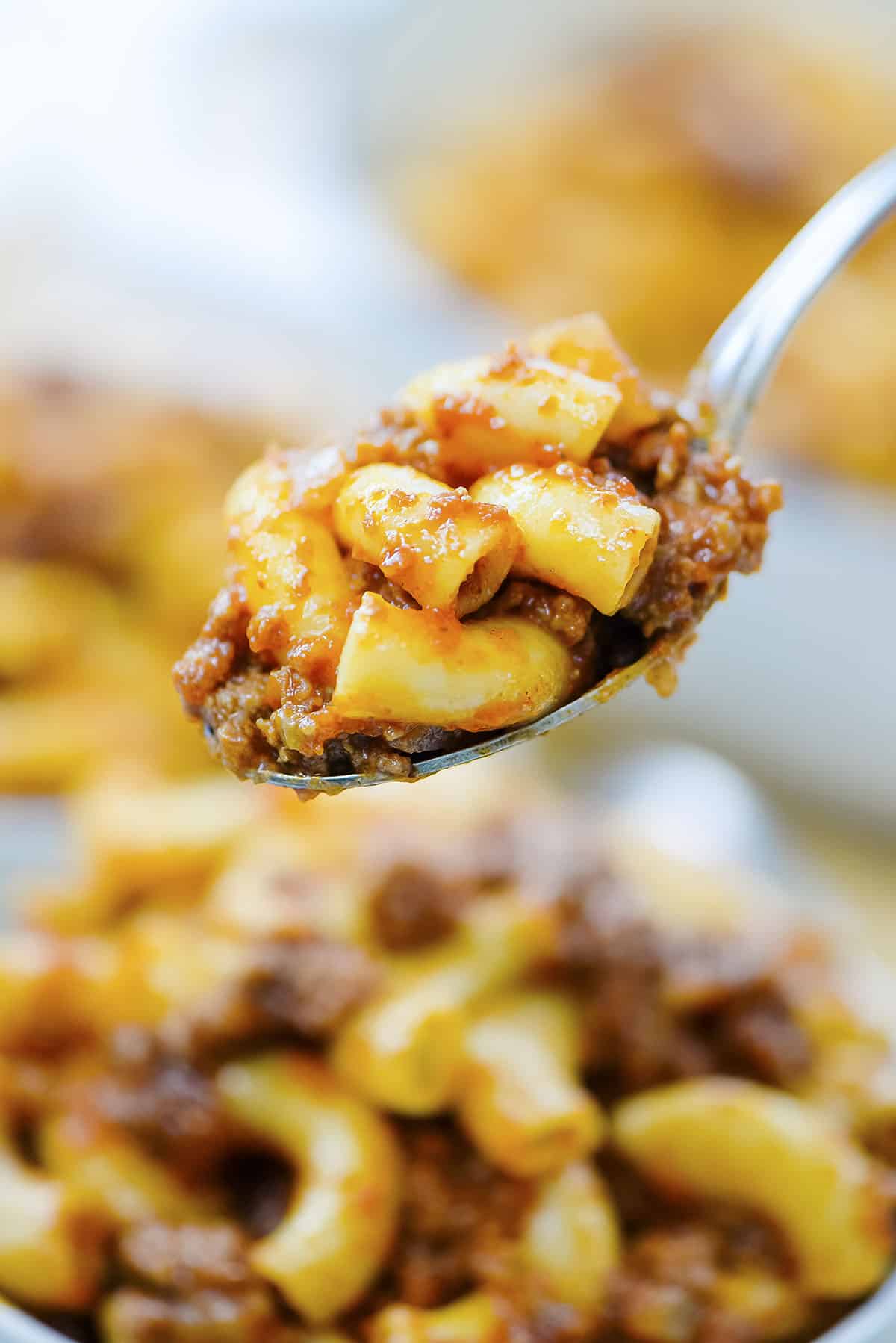 Serving Suggestions:
We like to serve pasta with a green salad topped with our honey mustard dressing or Greek dressing. Our air fryer asparagus is also great with pasta!
This beefaroni recipe is delicious topped with a little shredded cheddar or sour cream.
To add a little heat, sprinkle on some red pepper flakes or shake on your favorite hot sauce.
More Childhood Favorites: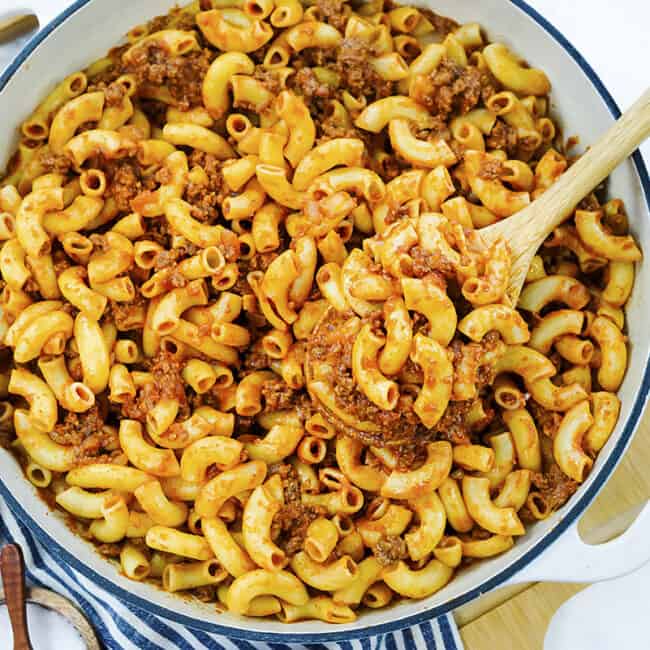 Beefaroni
This pasta dish takes me right back to my childhood when we'd eat cans of Beefaroni for lunch! Of course, our homemade version is so much better than the canned stuff – loaded with savory beef and tender pasta all in a simple tomato sauce.
Prep10 minutes
Cook15 minutes
Total25 minutes
Ingredients
2 cups dry macaroni
1 pound lean ground beef
1 small onion diced
2 teaspoons chili powder
2 teaspoons smoked paprika
1 teaspoon garlic powder
1 teaspoon salt
29 ounces canned tomato sauce
1 tablespoon Worcestershire sauce
Instructions
Cook the pasta according to package directions.

While pasta is cooking, cook the ground beef and onion in a large pot, such as a dutch oven or deep skillet, over medium heat, crumbling the beef as it cooks.

Once the meat is cooked through, drain off any excess grease.

Season the beef and onions with chili powder, paprika, garlic powder, and salt.

Pour the tomato sauce and Worcestershire sauce over the beef and stir to combine.

Drain the macaroni and stir into the meat mixture to coat the macaroni in the sauce.

Taste and season with additional salt and pepper, to taste.

Serve hot.
Tips & Notes:
This recipe also works well with ground turkey.
Nutrition Information:
Calories: 418kcal (21%)| Carbohydrates: 54g (18%)| Protein: 34g (68%)| Fat: 7g (11%)| Saturated Fat: 3g (19%)| Polyunsaturated Fat: 1g| Monounsaturated Fat: 3g| Trans Fat: 0.4g| Cholesterol: 70mg (23%)| Sodium: 1707mg (74%)| Potassium: 1231mg (35%)| Fiber: 6g (25%)| Sugar: 10g (11%)| Vitamin A: 1683IU (34%)| Vitamin C: 16mg (19%)| Calcium: 65mg (7%)| Iron: 6mg (33%)