This Cajun potato soup is a thick, creamy soup that's loaded with potatoes and andouille sausage. It has a Cajun kick to the soup that is hard to resist and perfect for a chilly night!
I'm a sucker for a bowl of creamy potato soup and our Crockpot Potato Soup has been a favorite around here for years and years. We make it all year long, but it's on major repeat during the cooler months of the year.
I think my family was finally getting burnt out on the same soup being on repeat, so I doctored it up a bit with some Cajun flair!
We've still got the same creamy, dreamy potato soup, but this time it has the addition of andouille sausage and Cajun seasoning to give things a little kick.
Try serving this with our homemade biscuits, sweet cornbread, or our beer bread recipe! All three are perfect with this Cajun potato soup!
Ingredient Notes:
This post contains affiliate links. As an Amazon associate and member of other qualifying programs, I earn from qualifying purchases.
Andouille Sausage – This sausage is mildly spicy and will add so much flavor to the potato soup! It's a common ingredient in many Cajun recipes and it pairs perfectly with the potato and creamy flavors.
Potatoes – I'm using peeled and diced russet potatoes.
Veggies – In addition to the potatoes you'll add in some diced red bell pepper, sweet onion, and some minced garlic.
Chicken Broth – This makes up the base of the potato soup recipe and it'll bring lots of flavor.
Cajun/Creole Seasoning – We love Tony Chachere's. It's our favorite Creole seasoning and we use it in all our Cajun & Creole recipes! If you have a preferred brand, feel free to use it.
Milk – You'll need regular whole milk and some evaporated milk.
Flour – Adding flour will help thicken up the soup.
Heavy Cream – It'll add even more rich, creamy flavor to the soup.
Cheddar – We like good ol' cheddar in this Cajun potato soup, but you could really use any variety of cheese that you like.
What We Love About This Recipe:
This creamy soup has a little kick from the andouille sausage and Cajun seasoning.
You'll mash the potatoes up and make the soup as thick and creamy or as chunky as you'd like.
Perfect for a busy day – just pop it in the slow cooker!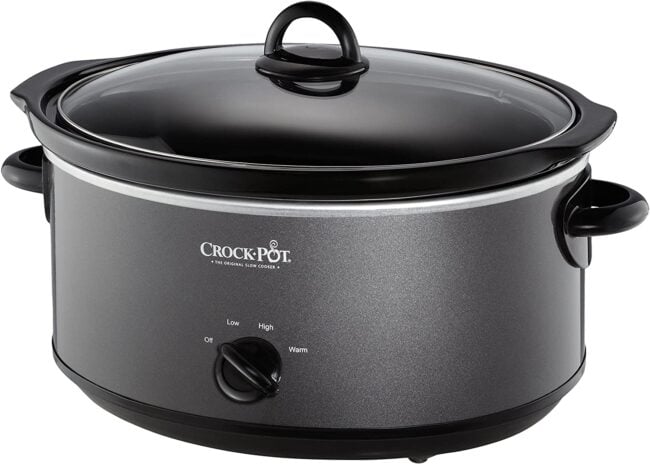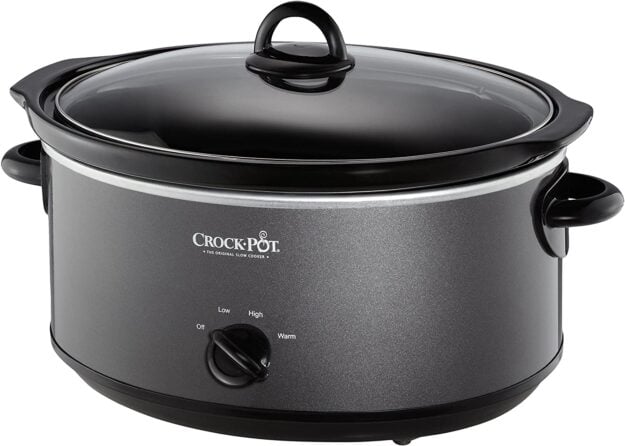 In the market for a new slow cooker? We love this 7 quart Crockpot. It's simple to use, cooks evenly, and is very budget friendly. Plus, it has a 4 1/2 star rating with over 5,000 reviews on Amazon!
How to Make Potato Soup: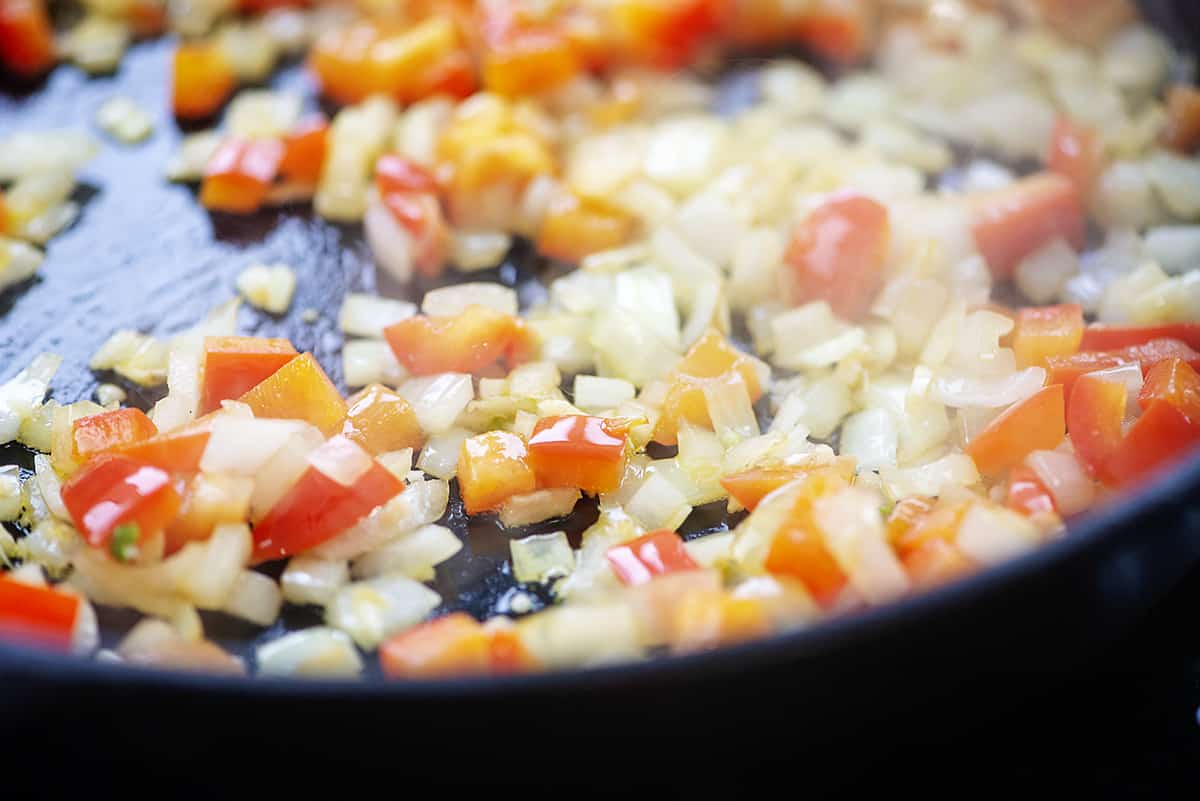 Veggies: To get started you'll dice up the pepper and onion and add it to a hot skillet with some oil. Cook until the veggies have softened and then stir in the minced garlic, cooking for another minute.
Potatoes: Add the cooked veggies to your crockpot along with the diced potatoes, chicken broth, and your favorite Cajun seasoning! Cover it up and cook on high for 3 hours or until the potatoes are fork tender.
Thicken: Add the flour and milk to a mason jar, cover, and shake well to combine, or whisk together in a mixing bowl. Pour the flour mix into the crockpot and stir to combine.
Next add in the heavy cream, evaporated milk, and grated cheddar! Stir all that up again until it is well combined. Cover the crockpot and continue to cook on high for another 30 minutes.
Mash: Now to mash up those potatoes! That's going to help to thicken up the soup even more, but it's up to you how much you mash them. Use a potato masher to mash to your desired level of thickness for the soup.
Now would be a good time to give it a taste and add some extra Cajun seasoning or salt and pepper if you think it is necessary!
Sausage: Almost done! Heat some oil in a skillet and slice the andouille sausage into 1/2″ thick rounds and start browning them up on both sides.
When ready stir the browned sausage in to complete this Cajun potato soup recipe! It's best served good and hot with some extra grated cheddar and green onion.
FAQs:
How to store potato soup?
You can keep this potato soup in a sealed container in the fridge for 4-5 days. It will thicken as it cools. To serve, add extra milk to reach your desired consistency.
Can you freeze potato soup?
Yes! This soup should freeze well. Just make sure you let it cool completely before transferring to a freezer safe bag or container. It'll last for about 2 to 3 months.
Is this recipe very spicy?
That depends on how much Cajun/Creole seasoning you use and how spicy the seasoning blend you use is. The andouille sausage will also add a bit of spice. This sausage potato soup recipe should be mildly spicy for most people.
Cajun Potato Soup
We added a little spice to our traditional potato soup with the addition of cajun seasoning and andouille sausage. This potato soup is so rich and creamy and the chunks of sausage are hard to resist!
Prep15 minutes
Cook3 hours 30 minutes
Total3 hours 45 minutes
Ingredients
1 medium red bell pepper
1 medium sweet onion
2 tablespoons olive oil divided
4 cloves garlic minced
3 ½ cups chicken broth
5 medium baking potatoes peeled and diced
3 tablespoons Cajun seasoning see notes
½ cup flour
1 cup milk
1 cup heavy cream
12 ounces evaporated milk
2 cups shredded cheddar
1 pound andouille sausage
salt and pepper to taste
Green onions and cheddar for garnish
Instructions
Dice the pepper and onion. Heat 1 tablespoon of oil in a skillet.

Add the pepper and onion to the skillet and cook until vegetables have softened, about 5 minutes. Stir in the garlic and cook 1 minute more.

Remove the vegetables to the slow cooker and add the chicken broth, potatoes, and cajun seasoning.

Cover and cook on high for 3 hours or until potatoes are fork tender.

Add the flour and milk to a mason jar and close tightly. Shake well to combine. Alternately, whisk the flour and milk together in a small bowl.

Pour flour mixture into the soup and stir to combine. Add the cream, evaporated milk, and grated cheddar to the soup and stir.

Cover and cook on high for 30 more minutes.

Use a potato masher to mash the potatoes to reach the desired consistency for the soup. Taste and add additional cajun seasoning or salt and pepper, if needed.

After the soup is your desired consistency, heat the remaining tablespoon of oil in a large skillet. Slice the sausage into ½ inch thick rounds and add to the skillet. Brown on both sides.

Stir the browned sausage into the soup.

Ladle hot soup into bowls and garnish with cheddar and green onion, if desired.
Tips & Notes:
We use Tony Chachere's Seasoning. Technically it's a creole seasoning blend, but we always use it as cajun seasoning. Tony's is quite salty, so you'll want to adjust salt depending on what kind of cajun seasoning you use and how salty it is. This soup is pretty thick – which is how we like it. You can thin it out with extra milk or broth, if you like a thinner soup.
Nutrition Information:
Calories: 539kcal (27%)| Carbohydrates: 36g (12%)| Protein: 22g (44%)| Fat: 35g (54%)| Saturated Fat: 16g (100%)| Polyunsaturated Fat: 4g| Monounsaturated Fat: 12g| Trans Fat: 0.1g| Cholesterol: 103mg (34%)| Sodium: 884mg (38%)| Potassium: 918mg (26%)| Fiber: 3g (13%)| Sugar: 9g (10%)| Vitamin A: 2126IU (43%)| Vitamin C: 24mg (29%)| Calcium: 331mg (33%)| Iron: 3mg (17%)