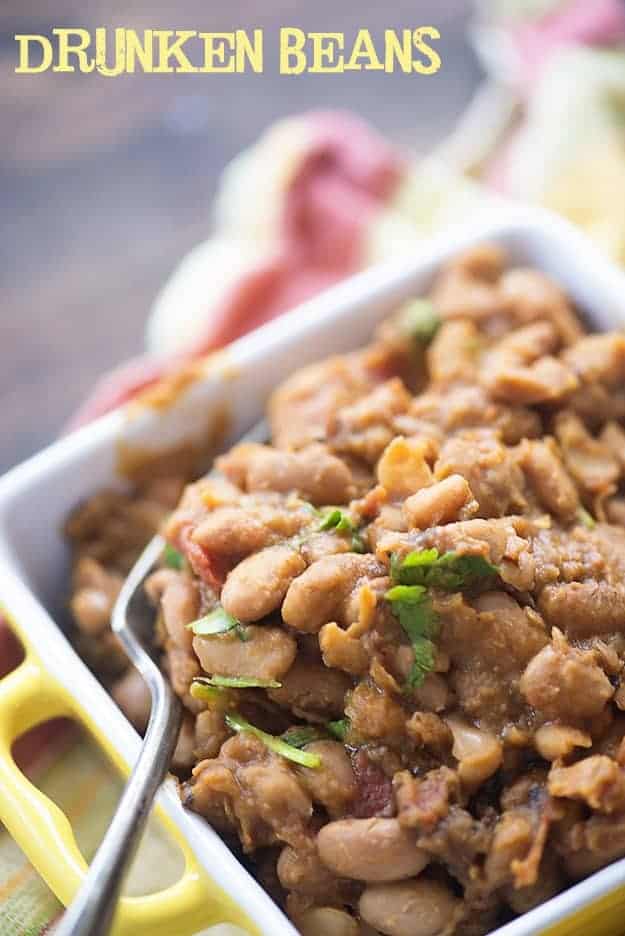 I just got back from a Disney Cruise and do you know what I was eating from the breakfast buffet every day?
Beans.
Every time I go on a cruise or leave the country, I always find beans at breakfast and I'm always a little skeptical.
I mean…beans. At breakfast! This is not an American thing, is it? I never see beans on breakfast menus and my family would look at me as if I'd lost my mind if I tried serving up some beans before noon. Although, personally, I could eat my Tex-Mex pressure cooker beans any time of the day.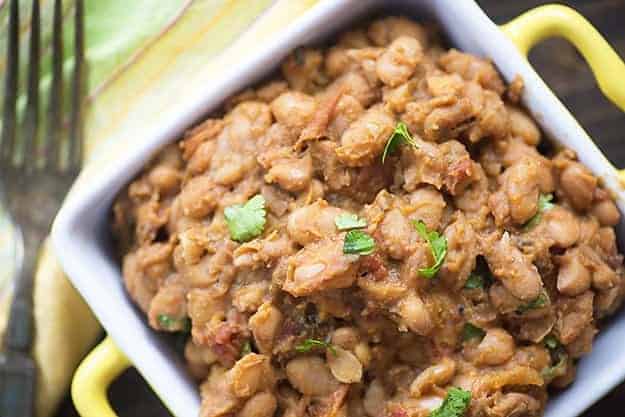 Anyway, these Drunken Beans are decidedly not breakfast food. Unless you're down with beer for breakfast. In which case, we should be friends. I think we'd get along nicely.
Have you ever had drunken beans? They're a simple but flavorful dish of creamy beans, packed with flavors from bacon, onions, jalapenos, and BEER. So good and perfect for serving alongside just about anything from tacos to ham to rice to well, anything. Maybe not waffles, though.
I've been working with my friends at Hurst's Beans to bring you new recipes featuring their dried beans. I love our partnership because it helps me get creative with bean recipes and it keeps me from resorting to canned beans. I mean, canned beans are fine, in a pinch, I guess. But, dried beans? So much better!
Hurst's Beans come with a little packet of ham flavoring in the package and I find it's the perfect seasoning for their pinto beans.
I soaked these pinto beans overnight and then cooked them up the next day. This means that I had a big ol' pot of beans ready to go as a side dish with tacos the next night and as a main dish with rice for lunch the next day. Plus leftovers! I love recipes like this.
Give this recipe a try and let me know what you think! Curious to hear if you're as big of a fan of drunken beans as I am!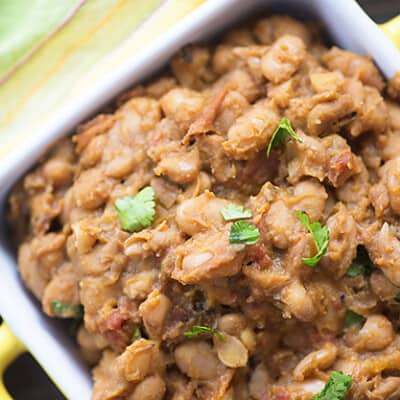 Drunken Beans
Drunken beans are such a great way to use dried beans - full of flavor and there's beer involved! 🙂
Prep10 minutes
Cook2 hours 30 minutes
Total2 hours 40 minutes
Ingredients
1 package 20 ounces Hurst's Beans Pinto Beans with Ham Flavoring
6 slices bacon diced
1 sweet onion diced
1 jalapeno diced
4 cloves garlic diced
8 cups water
12 ounces beer
14 ounces canned diced tomatoes
1 teaspoon salt
1 teaspoon ground pepper
1 handful cilantro chopped
Instructions
Rinse and sort through the beans, removing any debris. Soak overnight in a large covered bowl.

Drain the liquid from the beans and set beans aside.

Add the bacon to a large stock pot over medium heat and fry until nearly crisp.

Add in the onion, jalapeno, and garlic. Cook until softened, about 5 minutes.

Add the beans and water to the pot. Bring to a boil, reduce to a simmer, and cover.

Cook, covered, for 1 hour 30 minutes, stirring every 30 minutes.

Remove the lid from the beans and add the beer, tomatoes, and ham flavoring from the package of beans. Stir to combine.

Continue cooking for 1 hour.

Remove from the heat and stir in the salt, pepper, and cilantro before serving.
Nutrition Information:
Calories: 112kcal (6%)| Carbohydrates: 7g (2%)| Protein: 3g (6%)| Fat: 6g (9%)| Saturated Fat: 2g (13%)| Cholesterol: 10mg (3%)| Sodium: 488mg (21%)| Potassium: 192mg (5%)| Fiber: 1g (4%)| Sugar: 3g (3%)| Vitamin A: 95IU (2%)| Vitamin C: 9.2mg (11%)| Calcium: 36mg (4%)| Iron: 0.7mg (4%)