These drunken beans (or frijoles borrachos!) are the perfect Mexican side dish to serve with tacos, burritos, fajitas, and more! Why are they called drunken beans? Because they simmer away in dark beer until tender and flavorful!
We recently went on a Disney Cruise and do you know what I was eating from the breakfast buffet every day?
Beans.
Every time I go on a cruise or leave the country, I always find beans at breakfast and I'm always so darn excited.
I mean…beans. At breakfast! This is not an American thing, is it? I never see beans on breakfast menus and my family would look at me as if I'd lost my mind if I tried serving up some beans before noon. Although, personally, I could eat my Tex-Mex pressure cooker beans any time of the day. 😉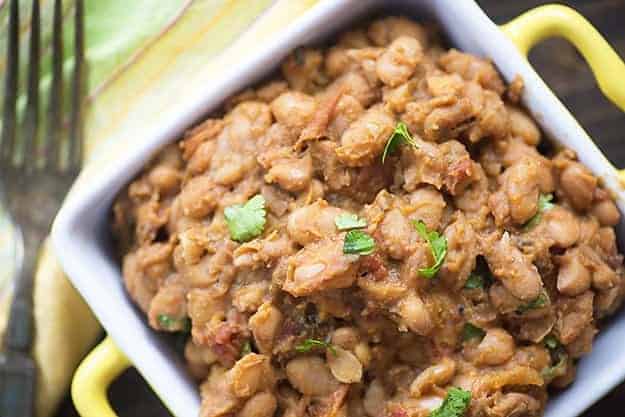 Anyway, I don't know if drunken beans are traditionally served at breakfast in Mexico, but I'd be down to try it!
Have you ever had drunken beans? They're a simple but flavorful dish of creamy beans, packed with flavors from bacon, onions, jalapenos, and BEER. So good and perfect for serving alongside just about anything, especially tacos and our easy Mexican rice!
Ingredient Notes:
This post contains affiliate links. As an Amazon associate and member of other qualifying programs, I earn from qualifying purchases.
Dried Pinto Beans – You can use any brand of dried pinto beans for this. Some will come with packets of seasoning like ham flavor. You can use that if you'd like or leave it out.
Bacon – I definitely believe that bacon makes everything better, and beans are no exception! You'll cook the pinto beans with some of the bacon grease so you know it'll absorb all that savory bacon flavor into the beans!
Diced Tomatoes – I'm using canned diced tomatoes to keep things nice and simple for this recipe, but you could dice up some fresh tomatoes too.
Other Veggies – You'll need a sweet onion, some minced garlic, and diced fresh jalapeno. Remove the seeds if you don't want it too spicy, or use jarred jalapeno slices instead of fresh which are usually milder.
Dark Beer – You'll want to use a good quality dark beer for these beans. The alcohol will cook out, but the flavor will stay behind.
Mexican Oregano – This is different from Italian oregano. It has a more citrusy lemon like flavor and it's so good in this drunken beans recipe! We order ours from Amazon.
Other Seasoning – Along with the Mexican oregano you will need some chili powder, cumin, salt, and ground pepper for seasoning the drunken beans.
Cilantro – I'm adding a half cup of freshly chopped cilantro to the beans. I like the taste and it's found in most Mexican dishes, but not everyone likes it so you can skip adding the cilantro if it is not for you.
What We Love About This Recipe:
These beans are a simple but hearty side dish that pairs well with so many other great recipes!
We love the deep, rich flavor that the dark beer adds to these beans!
These are delicious eaten as a quick lunch on their own or as a side dish. You can make them vegetarian by leaving out the bacon and swapping in some olive oil.
How To Make Drunken Beans:
Soak: You're going to need to start this recipe a day ahead of time so that you can soak the beans overnight. Rinse and sort through the pinto beans and remove any debris before soaking overnight in a covered bowl.
Drain the liquid and set the soaked pinto beans aside when you are ready to begin preparing them the next day.
Bacon: You can now start frying up the bacon in either a large stock pot or a Dutch oven over medium heat. Fry the bacon until it is nearly crisp. Do not drain the grease from the pot, that's going to add flavor!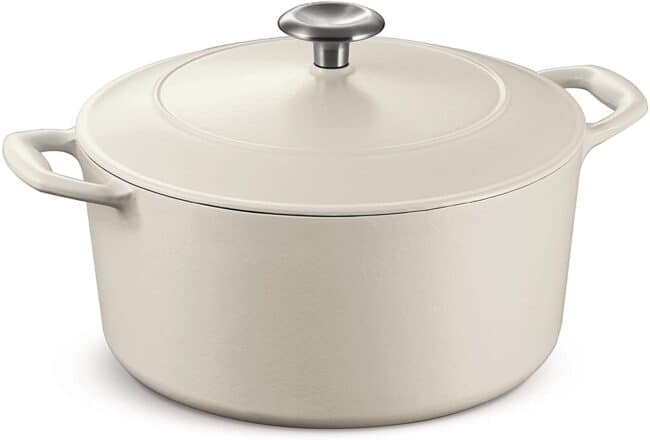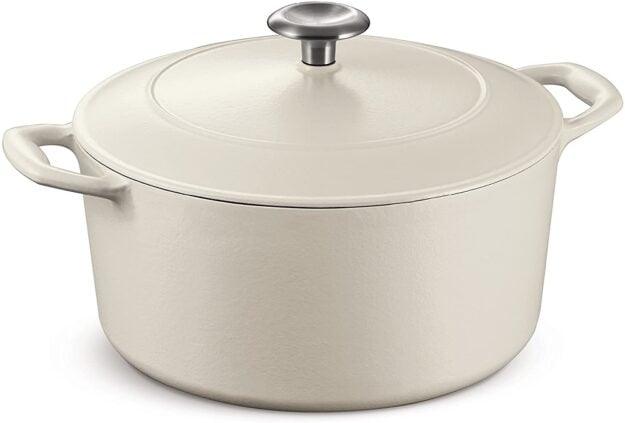 This gorgeous Dutch oven is perfect for making soup, pot roast, and more. It goes from stove to oven as needed and looks pretty enough to leave out on your stovetop as decoration.
Veggies: Dice up the jalapeno, onion, and garlic and add them to the pot with the bacon. Cook until they have softened, about 5 minutes or so.
Pinto Beans: You can now add the soaked pinto beans to the pot along with six cups of water, the dark beer, diced tomatoes, chili powder, and cumin. Stir it all up and bring to a boil. Reduce heat to a simmer and cover.
Let the beans continue to simmer while covered for 1 hour and 30 minutes. Stir the beans every 30 minutes to ensure it all cooks evenly.
Finish: After cooking while covered remove the lid and stir the beans before continuing to cook uncovered for 1 more hour.
When the beans are cooked through and tender you can add additional water to the pot to thin out the consistency if you want We like to leave the beans thick but it's up to you!
Serve: Remove the pot from the heat and stir in some salt, pepper, and cilantro before serving up your frijoles borrachos!
They make a great side dish to just about anything but are especially great with some fried tacos or maybe some air fryer fajitas!
FAQs:
What are drunken beans?
Otherwise known as frijoles borrachos these are just regular pinto beans, or other varieties of beans, that have been simmered in beer.
Do these beans taste boozy?
Nope! Most of the alcohol evaporates while cooking, leaving behind the deep rich flavors from the dark beer. These beans won't get anyone drunk, but there will be a small amount of alcohol still in them.
How to store drunken beans?
You can keep any leftover beans stored in an airtight container in the fridge for about 4 to 5 days. You could also freeze these drunken beans in smaller individual portions.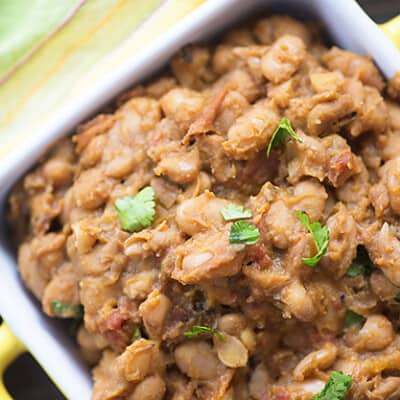 Drunken Beans
Drunken beans are a flavorful Mexican side dish (called frijoles borrachos) of tender beans that have simmered in beer.
Prep10 minutes
Cook2 hours 30 minutes
Total2 hours 40 minutes
Ingredients
16 ounces dried pinto beans
6 slices bacon diced
1 medium sweet onion diced
1 medium jalapeno diced
4 cloves garlic diced
6 cups water
2 teaspoons Mexican oregano
12 ounces dark beer
14 ounces canned diced tomatoes
1 teaspoon chili powder
1 teaspoon cumin
1 teaspoon salt more to taste
1 teaspoon ground pepper more to taste
1/2 cup chopped cilantro
Instructions
Rinse and sort through the beans, removing any debris. Soak overnight in a large covered bowl.

Drain the liquid from the beans and set beans aside.

Add the bacon to a large stock pot or dutch oven over medium heat and fry until nearly crisp.

Add in the onion, jalapeno, and garlic. Cook until softened, about 5 minutes.

Add the beans, water, beer, tomatoes, chili powder, and cumin to the pot. Bring to a boil, reduce to a simmer, and cover.

Cook, covered, for 1 hour 30 minutes, stirring every 30 minutes.

Remove the lid from the beans and stir. Continue cooking uncovered for 1 hour. Once beans are cooked through and tender, add additional water to the pot to reach your desired consistency. We like to leave the beans thick.

Remove from the heat and stir in the salt, pepper, and cilantro before serving.
Tips & Notes:
We like our beans to have a fairly thick texture, but you can easily add more liquid (water, broth, or even beer) to the beans after cooking to thin it out a bit.
Nutrition Information:
Calories: 207kcal (10%)| Carbohydrates: 29g (10%)| Protein: 10g (20%)| Fat: 5g (8%)| Saturated Fat: 2g (13%)| Polyunsaturated Fat: 1g| Monounsaturated Fat: 2g| Trans Fat: 0.01g| Cholesterol: 7mg (2%)| Sodium: 331mg (14%)| Potassium: 670mg (19%)| Fiber: 7g (29%)| Sugar: 3g (3%)| Vitamin A: 153IU (3%)| Vitamin C: 9mg (11%)| Calcium: 69mg (7%)| Iron: 3mg (17%)
This recipe was originally published in February 2017. It was updated with new photos in March 2023. Original photo below: