This mango avocado salsa is a sweet, spicy, and creamy homemade dip recipe that is perfect with crispy tortilla chips or as a topping for grilled chicken!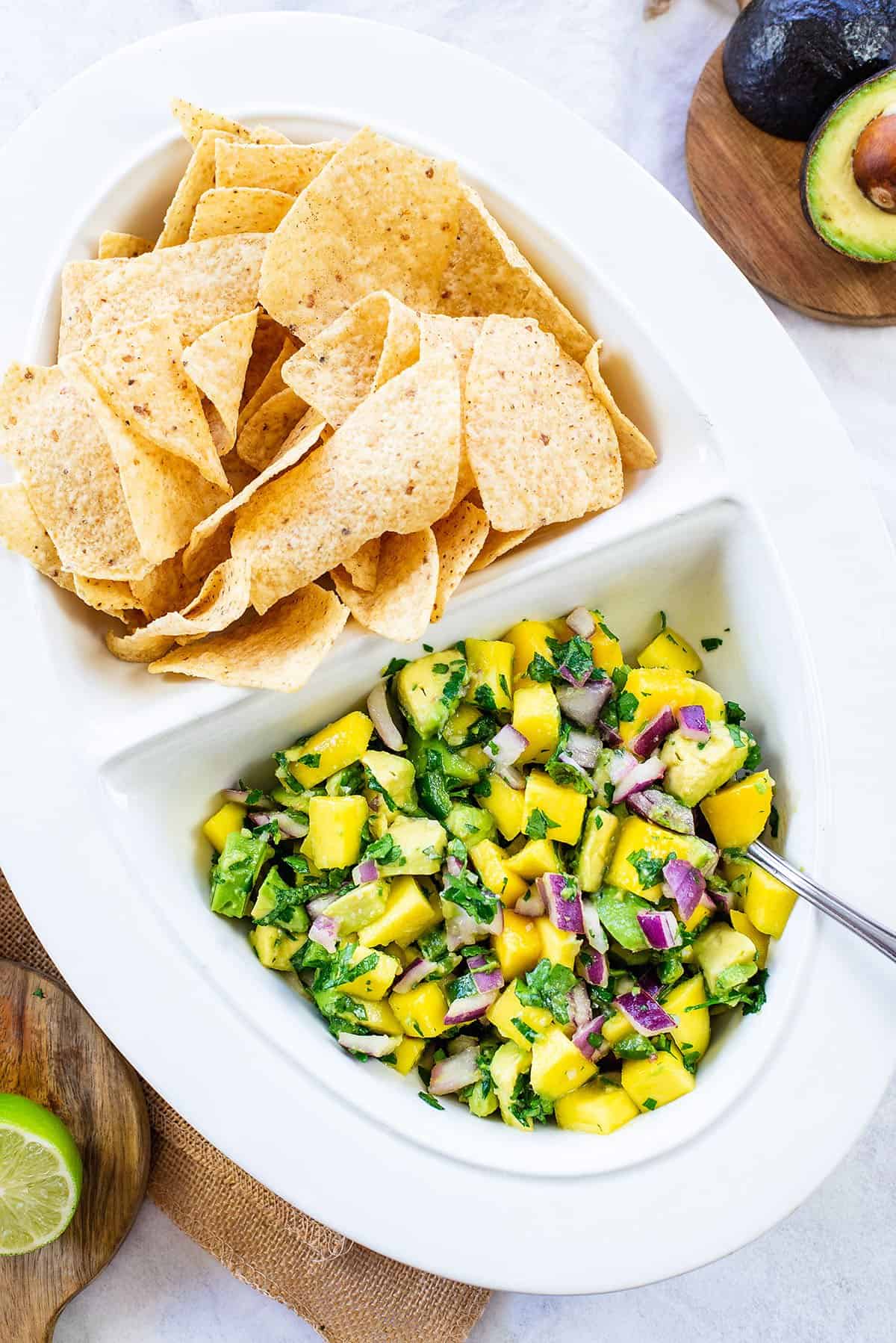 It's pretty much a guarantee that I'm happy to eat any food containing avocados. Yes – I will even pay $10 for avocado toast at the hipster restaurants. I'm not proud of it, but I just really like avocados. 😉
We've shared our favorite recipe for homemade guacamole. This avocado egg salad is a major favorite. We've even made fried avocado!
I've come a long way from the first time I looked at a pile of guac and turned my nose up in disgust. I mean, in my defense, it DID look like…well…boogers. But close your eyes, give it a try, and fall in love. The green stuff is good!
This Mango Avocado Salsa pairs the sweetness of mango with the creaminess of avocado in a tasty summer salsa that we seriously can't get enough of. This is perfect with chips, delicious over grilled chicken, and perfect for topping your taco!
Ingredient Notes:
This post contains affiliate links. As an Amazon associate and member of other qualifying programs, I earn from qualifying purchases.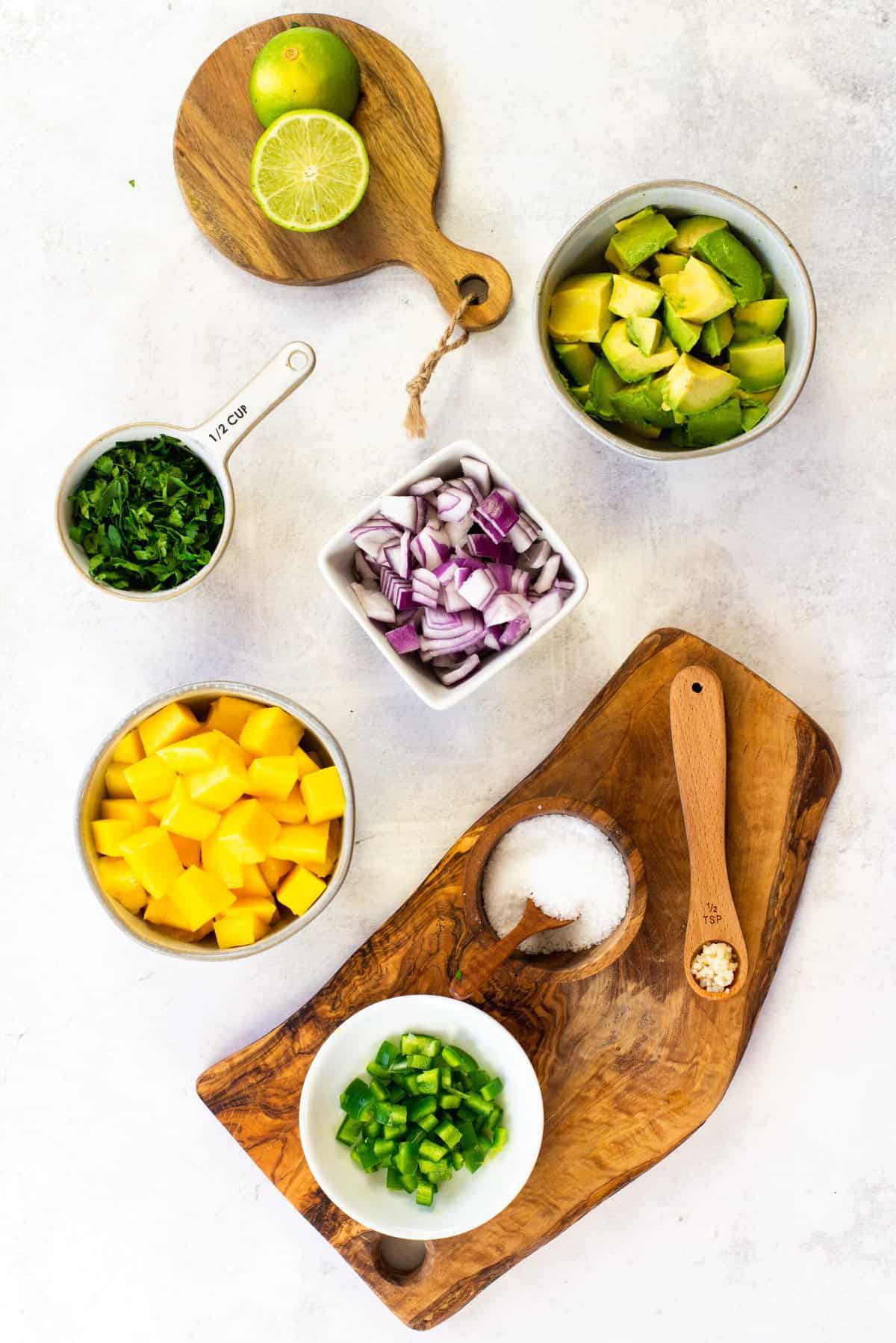 Mango – You'll want to pick out a nicely ripened mango (see below for more info) and dice it up into smaller sized pieces for this salsa!
Avocado – As with the mango, choose a ripe avocado and dice it into to smaller pieces. The avocado will break down and mix together into creamy goodness with the other ingredients when you combine them!
Onion – We prefer red onion in this salsa.
Jalapeno – Some minced jalapeno is going to add some spice to this salsa! You can use more or less depending on how you like it, or even swap it out for some hot habanero. We love spicy salsa!
Cilantro – Freshly chopped cilantro is pretty much a given in any homemade salsa recipe, and you'll definitely want to add some to this mango avocado salsa!
Lime Juice – This might be the most important ingredient. Use some fresh squeezed lime juice! It'll help break down the avocado and other ingredients and will add lots of bright zesty flavor to the salsa.
What We Love About This Recipe:
This salsa is versatile – serve it with chips, over chicken, or in a taco!
Everyone loves salsa and this is a nice twist!
The avocado makes this dish very creamy and the mango is sweet and flavorful for a fun combo.
Helpful Tools:
Citrus Squeezer – We love freshly squeezed lemon and lime! This tool makes it easy and mess free, and we use it all the time!
How to Make Mango Avocado Salsa:
Prepare: Dice the mango, avocado, onion, and jalapeno and add all that to a large mixing bowl with the garlic, cilantro, and freshly squeezed lime juice!
Mix: Stir to combine. The more you stir the more the avocado will break down. You control the final texture by how much you stir.
Serve: Finally, add some salt or more jalapeno to taste and serve it up with some homemade air fryer tortilla chips! It would also go great stuffed inside our fried tacos or served over some grilled chicken!
How to Choose a Ripe Mango:
If you're not sure how to tell if a mango is ripe I've got a few easy tips!
Squeeze: Not too hard! Just enough to see if it gives slightly from the pressure. If not, it probably still needs to ripen a bit.
Color: This actually really doesn't make much difference when choosing a mango. You don't want to go off color alone, just squeeze it to test for firmness.
Ripen Quickly: Here's a neat trick: stick the mango in a paper bag along with the avocado, assuming it also needs ripening. Storing them together will speed up the ripening process in both fruits!
How to Choose a Ripe Avocado:
Squeeze: Are you seeing a pattern here? As with the mango, the best indicator is to just squeeze the fruit. If it yields slightly to the pressure and isn't as hard as a rock then that's a good sign!
Color: You can judge the ripeness of an avocado better by it's color than you can a mango. An unripe avocado will be bright green. A ripe avocado should be a darker green, just not brown and mushy!
Stem: Pop the little bit of stem off the avocado. If it gives easily and the color inside is a nice green, your avocado should be ripe! If it's brown, it's overripe. If it's yellow, it's not ripe enough.
Ripen Quickly: If you read the section on the mangoes, just do the same here. Store them in a paper bag together. Or if only the avocado needs ripening, just store it in the paper bag alone.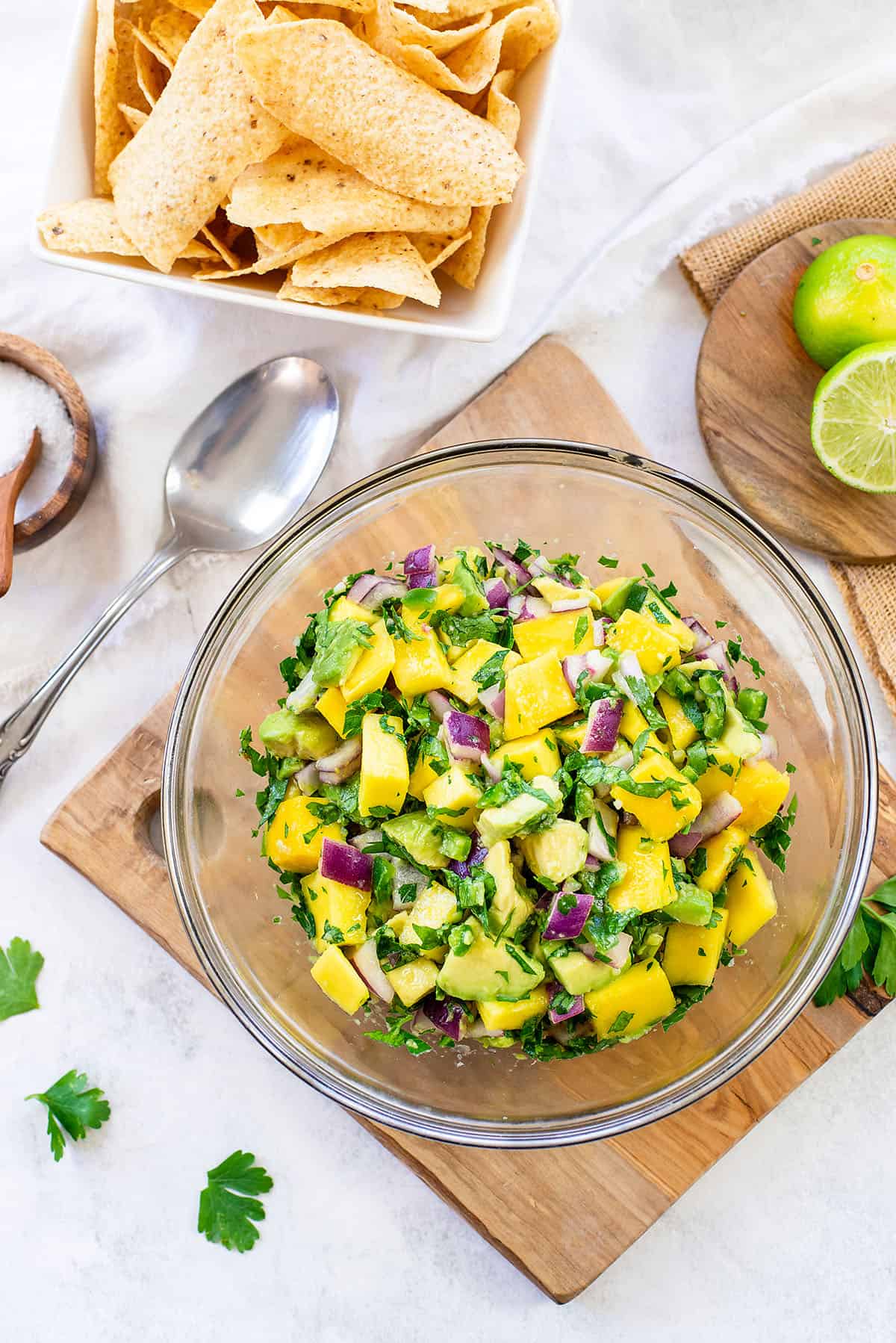 Mango Avocado Salsa
This simple salsa recipe is perfect for serving with tortilla chips or over grilled chicken. It's simple to prepare and a nice change of pace from traditional tomato salsa.
Prep10 minutes
Total10 minutes
Ingredients
2 medium avocados diced
1 large mango diced
½ medium red onion diced
½ medium jalapeno minced, more or less to taste
1 clove garlic minced
½ cup chopped cilantro
1 lime juiced
Salt to taste
Instructions
Add everything to a mixing bowl and toss gently to combine. The more you stir, the more the avocado will break down and the creamier the salsa will become.

Taste and add additional jalapeno, lime, or salt, to taste.

Serve immediately.
Tips & Notes:
We like to dice the avocado and mango quite small when serving with chips, but chop them a bit larger when serving this over grilled chicken. Taste the salsa before serving and adjust the seasonings as needed. Often, an extra hit of lime juice is all that's needed to brighten the flavors up even more. I always try more lime before adding more salt if it feels like something is missing.
Nutrition Information:
Calories: 102kcal (5%)| Carbohydrates: 10g (3%)| Protein: 1g (2%)| Fat: 8g (12%)| Saturated Fat: 1g (6%)| Polyunsaturated Fat: 1g| Monounsaturated Fat: 5g| Sodium: 5mg| Potassium: 315mg (9%)| Fiber: 4g (17%)| Sugar: 4g (4%)| Vitamin A: 435IU (9%)| Vitamin C: 19mg (23%)| Calcium: 15mg (2%)| Iron: 1mg (6%)