These GROUND BEEF ENCHILADAS are perfect for a weeknight dinner and they're always a hit with the family! You can keep it simple with canned enchilada sauce or use homemade. You can also switch things up and use either corn or flour tortillas. Either way, these enchiladas are extra cheesy and extra delicious!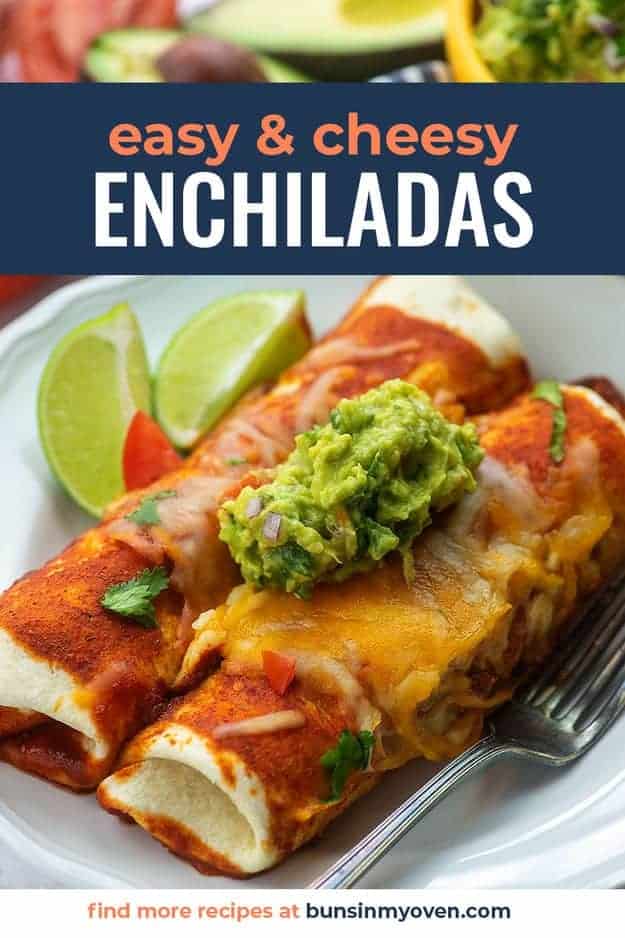 Okay, here are the facts:
If I don't eat some version of Mexican food at least every few days, I start to get cranky.
I just need a plateful of enchiladas and a pile of homemade guacamole at regular intervals to keep me happy, you know?
Pass me the restaurant style salsa or pico de gallo and no one gets hurt.
Give me all the Rotel dip and we'll be friends for life.
This is normal, yes? 😉
These easy beef enchiladas are a go to in my house. The kids love ground beef, I love enchiladas, the husband never complains when cheese is involved…they're a hit all the way around the table!
Beef Enchiladas Ingredients:
Ground Beef
Onion
Garlic
Green Chiles
Taco Seasoning
Cheese – Monterey Jack and Cheddar!
Enchilada Sauce – This homemade enchilada sauce is great, or use store bought. We are obsessed with Trader Joe's enchilada sauce.
Tortillas – We used flour tortillas in this recipe. You can use corn tortillas, but they are usually smaller so you will need more of them to use up the filling.
What Readers are Saying!
"We absolutely love these enchiladas (we are a corn tortilla loving family) and I love how quick and easy these are to make! So simple, but they sure taste like they came from the restaurant. Definitely on our weekly menu…"
– Brandy H.
How To Make Enchiladas:
Beef: Enchiladas are super easy to prepare, especially when you start with ground beef. Brown the beef in a skillet with the garlic, onion, and green chiles and add the taco seasoning to get all that flavor in there!
Tip: This barbacoa recipe also makes a great filling!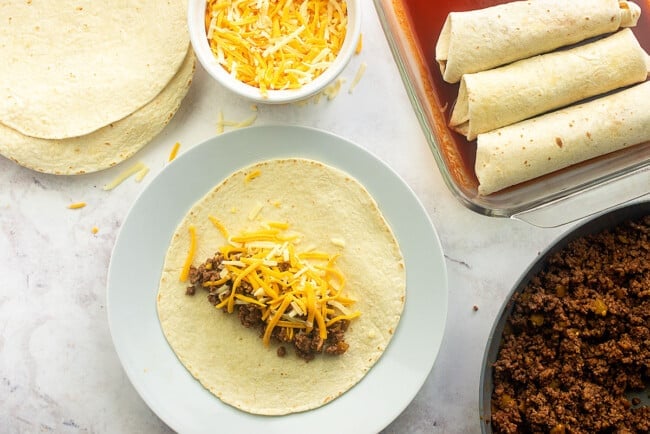 Prepare: You'll just take your tortillas (flour or corn), warm them up so they're nice and pliable, and then fill them with the beef mixture you just made and add some cheese!
You'll want to pour some enchilada sauce into the bottom of a 9×13 baking dish. This keeps the tortillas from getting hard on the bottom!
Roll up the tortillas with the beef and cheese and place them right in the sauce and then cover it all with more sauce and more cheese!
Tip: If you have a griddle they work great for heating up tortillas, or just use your microwave!
Bake: These won't take very long to make, only about 25 minutes in the oven! Cover the dish with foil before baking and allow the enchiladas to cool for a few minutes before serving.
Feel free to add your favorite toppings. We've got some suggestions below!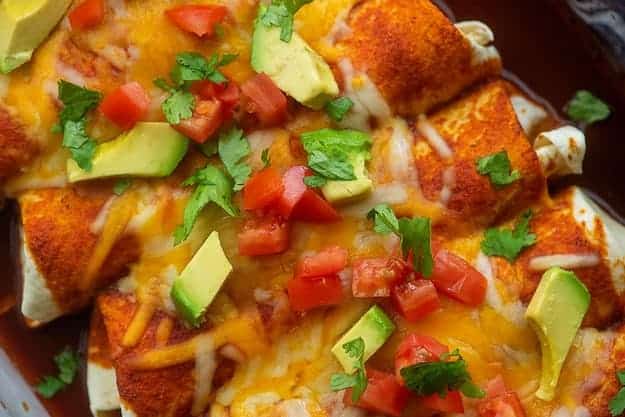 Corn vs. Flour Tortillas:
Corn tortillas are more traditional, but we often use flour tortillas. My kids just prefer the taste and texture of flour tortillas, but if your family likes corn, go for it!
We used the store bought kind but if you are really serious about your tortillas, you can always make your own!
If you're trying to cut carbs, the low carb flour tortillas work great here!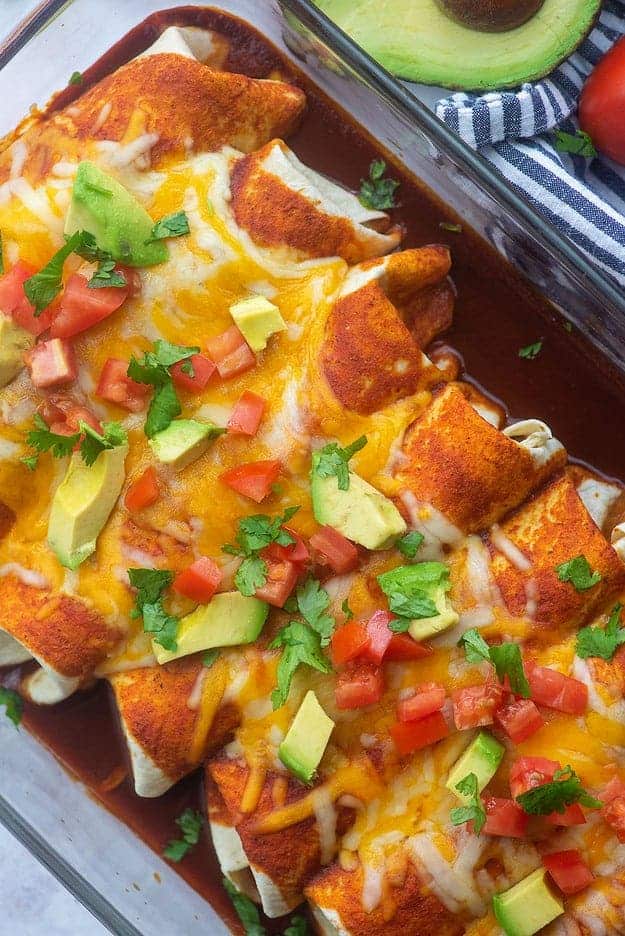 Enchilada Toppings:
We love to top our ground beef enchiladas with freshly chopped tomatoes, cilantro, and diced avocado.
Of course, a pile of guacamole and some sour cream is nice too!
Some jalapenos would add a little more kick, or add an even spicier variety of pepper if that's what you like!
FAQs:
Can I use a different meat in these enchiladas?
This is supposed to be a ground beef enchilada recipe but that doesn't mean you can't modify it! Just swap out the ground beef for ground pork, chicken, or turkey. Simple!
Can enchiladas be frozen?
Yes! You can freeze leftovers or make the enchiladas ahead of time and freeze for later. Just be sure they are in a sealed container or covered tightly with plastic wrap and aluminum foil.
How long will enchiladas keep in the fridge?
About 3 to 5 days if they are well sealed.
Why are enchiladas soggy?
There's a few reasons why the tortillas may turn out soggy or too soft. The enchilada sauce is generally the culprit, so if you prefer a firmer tortilla try using less of the sauce and also try baking without covering the dish.

Another option is to just not use flour tortillas. Corn tortillas will hold up better in this dish if you fry them up first in a little oil. This will help keep them from absorbing too much of the enchilada sauce and getting soft.
Sides:
Wondering what to serve with your enchiladas? I've got you covered with the below recipes:
Ground Beef Enchialdas
These beef enchiladas are so easy and packed with cheese! Ready in about 45 minutes and the whole family loves this recipe! You can use corn or flour tortillas – both work great!
Prep10 minutes
Cook35 minutes
Total45 minutes
Ingredients
1 pound lean ground beef
½ yellow onion minced
2 cloves garlic minced
4 ounces chopped green chiles
1 packet taco seasoning
2 cups shredded monterey jack cheese
1 cup shredded cheddar cheese
8 8-inch flour tortillas see note
2 cups enchilada sauce canned or homemade
Instructions
Preheat oven to 350 degrees. Spread ½ cup of enchilada sauce in the bottom of a 9×13 baking dish. Set aside.

Add the beef to a medium skillet over medium heat and brown, crumbling the meat as it cooks.

When meat is crumbled, add the onion, garlic, and green chiles. Continue cooking until meat is fully browned. Drain grease.

Add the taco seasoning and 2 tablespoons of water to the meat mixture and stir well to combine.

Place the tortillas on a microwave safe plate and cover with a paper towel. Microwave for 20 seconds to soften the tortillas.

Place a spoonful of the beef mixture and a small handful of monterey jack cheese in the center of a tortilla. Roll up and place the enchilada in the prepared baking dish.

Repeat the process with the remaining tortillas, meat, and cheese.

Pour remaining enchilada sauce over the enchiladas and top with the shredded cheddar.

Cover dish with foil and bake for 25 minutes.

Let set for 5 minutes before serving.
Tips & Notes:
You may use corn tortillas in place of flour, however you'll likely need more than 8, as corn tortillas are smaller than flour tortillas and don't hold as much filling. Serve with chopped tomatoes, avocado, and cilantro on top.
Nutrition Information:
Serving: 2enchiladas| Calories: 740kcal (37%)| Carbohydrates: 50g (17%)| Protein: 52g (104%)| Fat: 36g (55%)| Saturated Fat: 20g (125%)| Cholesterol: 150mg (50%)| Sodium: 2806mg (122%)| Potassium: 578mg (17%)| Fiber: 6g (25%)| Sugar: 14g (16%)| Vitamin A: 2339IU (47%)| Vitamin C: 11mg (13%)| Calcium: 705mg (71%)| Iron: 7mg (39%)