August 8, 2018
BBQ Ground Beef Casserole
This BBQ ground beef casserole tastes similar to sloppy joe's served on crescent rolls.  I love those crescent rolls!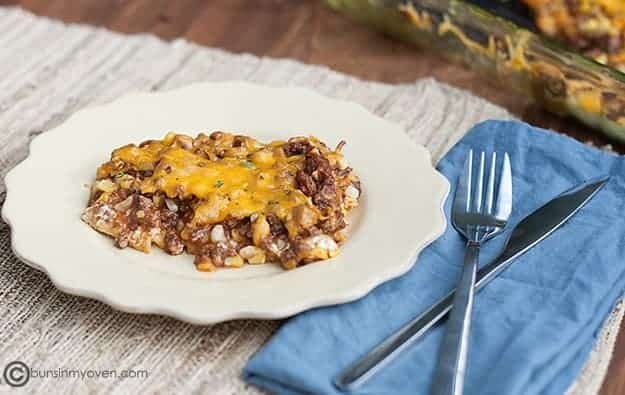 I'm fairly certain that my neighbors think I'm insane.
They pretty much only ever see me in my pajamas. I mean, yeah, I wear grown up people clothes sometimes, but it's usually only while they are away at work. When I'm outside in the evening I'm in my husband's old, ratty sweat pants. They're so comfy, y'all.
This wasn't a big problem before, because I'm allergic to nature and bugs and heat and cold, so I pretty much spent most of my life inside.
Now I have a puppy that requires me to take her outside all the time. I can just see them judging me from their windows.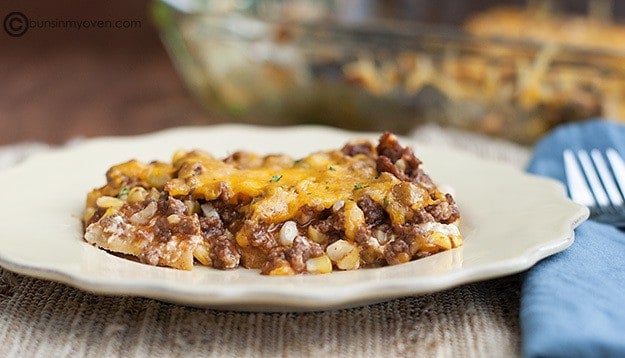 "Look at her! She's wearing those same strange pants again and, Henry, I don't think she even has a bra on!"
I'm not actually sure if any of my neighbors are named Henry, but they might be. Totally possible.
Couple the constant pajamas with my strange hobby of photographing every plate of food I eat and my neighbors think I'm crazy. I set up my little "studio" in the front or back yard depending on the time of day and where the sun is and I photograph my food in my pajamas. My neighbors totally don't get it. Neither does my husband.
"Why don't you just put on some real pants?" he asks.
"Why don't you just shut your face?" I say back.
This is a delicious, easy to make ground beef casserole served on top of crescent rolls.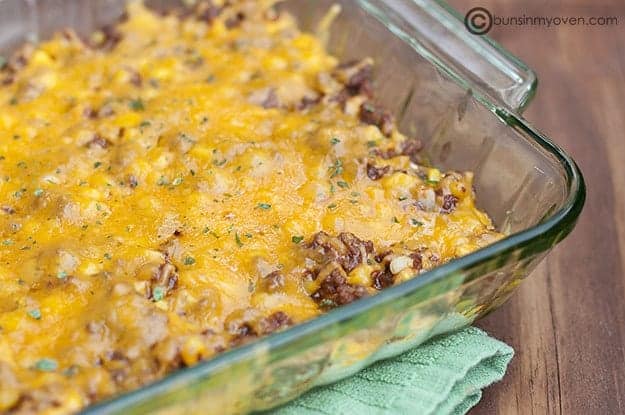 Then I bring the food in and feed him and he's happy.
This BBQ ground beef casserole was a total last minute, what the heck am I going to cook for dinner tonight kind of meal.
It came together quickly and only used ingredients that I pretty much always have around. It's a bit sloppy-joe-ish, but fancier because it's served on crescent rolls instead of buns. Wait…does that make it fancier or trashier? Hard to say.
Serve this ground beef casserole with my whipped frosting on confetti cake for dessert!
Barbecue Beef Bake
Servings: 4
Calories: 896 kcal
Cheesy barbecue goodness!
Ingredients
1 package crescent rolls
1 pound ground beef
1 cup corn frozen or canned
3/4 cup ketchup
1/4 cup brown sugar
3 tablespoons bottled Italian salad dressing
2 teaspoons yellow mustard
1 teaspoon Worcestershire sauce
3 ounces cream cheese
1 1/2 cups grated cheddar cheese
Instructions
Preheat the oven to 375 degrees.

Open and unroll the crescent rolls. Press them into the bottom of a 9x13 baking dish and pinch the seams together so that you have one large sheet of dough covering the bottom of the pan.

Brown the ground been over medium heat. While the beef is cooking, combine the ketchup, brown sugar, Italian salad dressing, mustard, and Worcestershire sauce in a small bowl. Drain the beef when it's cooked through and add the sauce and corn to the pan. Stir to coat the meat in the sauce.

Microwave the cream cheese for 15 seconds or until it's easily spreadable. Spread on the crescent roll dough.

Pour the meat mixture over the cream cheese and spread it out evenly. Sprinkle the top with the cheddar cheese.

Bake for 15-20 minutes or until the crescent rolls are cooked through and the cheese is melted.
Nutrition Facts
Barbecue Beef Bake
Amount Per Serving
Calories 896 Calories from Fat 531
% Daily Value*
Fat 59g91%
Saturated Fat 27g169%
Cholesterol 148mg49%
Sodium 1410mg61%
Potassium 641mg18%
Carbohydrates 59g20%
Fiber 1g4%
Sugar 32g36%
Protein 35g70%
Vitamin A 1040IU21%
Vitamin C 4mg5%
Calcium 365mg37%
Iron 3.8mg21%
* Percent Daily Values are based on a 2000 calorie diet.
Nutrition Disclaimer: All information presented on this site is intended for informational purposes only. I am not a certified nutritionist and any nutritional information shared on bunsinmyoven.com should only be used as a general guideline.