This whipped frosting is a lighter, less sweet alternative to buttercream. It turns out so light, fluffy, and creamy. Perfect for topping cakes and cupcakes.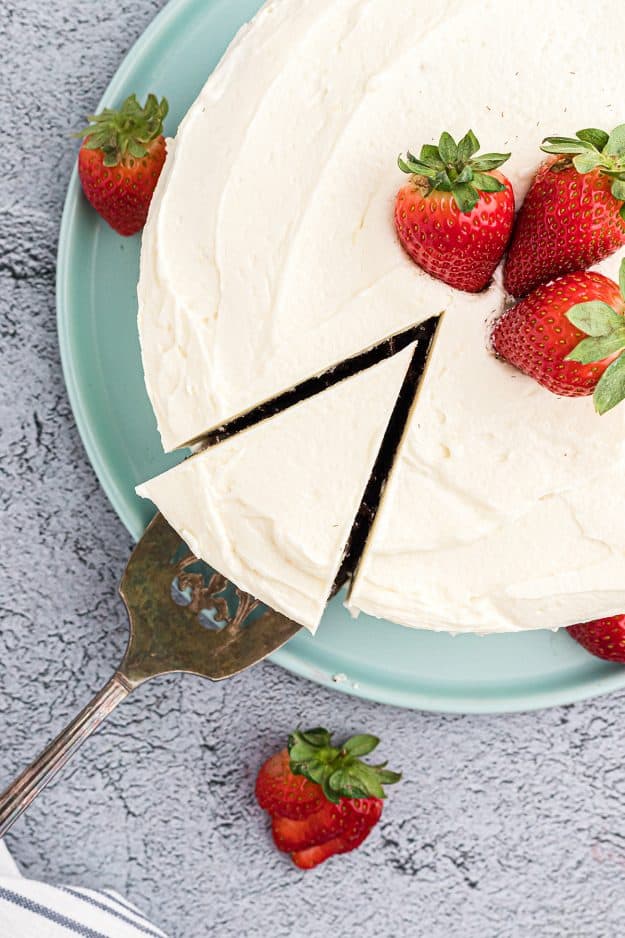 Look, I know it's not cool to talk about eating grocery store bakery cakes on a food blog, but the truth is that sometimes I eat grocery store bakery cakes.
Sometimes I buy the little mini cupcakes with the big swirl of buttercream frosting and I force my husband to eat them, not because he likes them, but because he always scrapes the frosting off and gives it to me.
I don't feel bad about eating double the frosting when I'm keeping it from going to waste. 😉
What Readers are Saying!
"Made this for my daughter's birthday cake. Added food coloring while it was in the pot because she wanted a colored frosting. It lightened up once the butter was added; which I suspected. It worked out fantastic! Everyone loved the frosting! This will be my go to frosting! Thank you for the recipe."
– PF
I am very much a buttercream frosting fan, but I have a few people that I bake for who just don't like it.
They think it's too sweet and too rich, so we've been using this whipped icing more often.
It's lighter, less sweet, and oh so creamy and fluffy!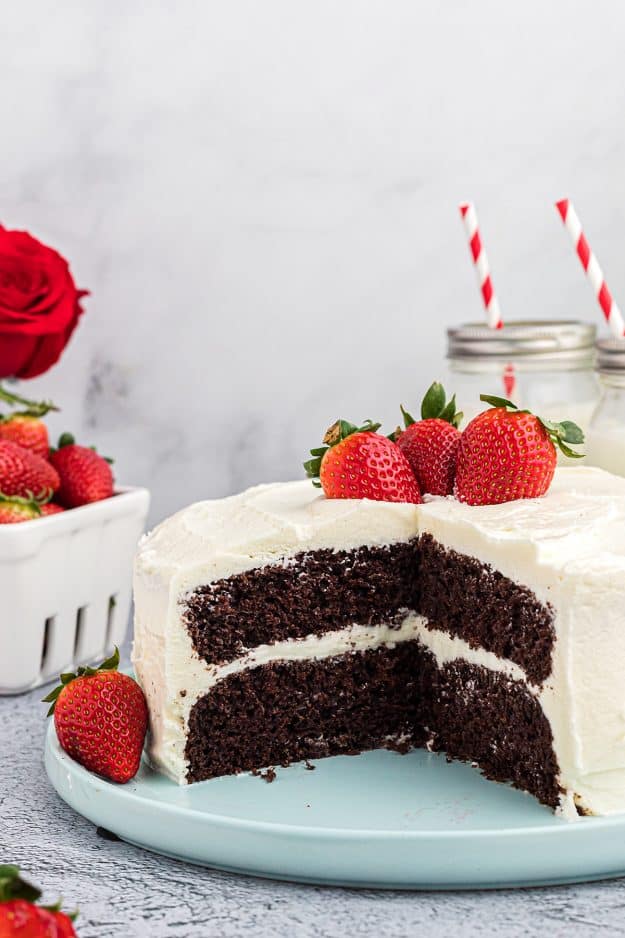 Our family calls this "the whipped frosting." As in, "does that cake have the whipped frosting on it?"
However, I believe it's proper name is ermine frosting.
What is Ermine Frosting:
Ermine frosting is a cooked frosting that starts with a roux of milk and flour. It's much lighter than a traditional buttercream that relies on butter and powdered sugar for structure.
It's light, airy, fluffy, and lightly sweetened. I'd compare it to eating a cloud, but what it really tastes like is the best whipped cream you'll ever try.
Ermine frosting was the original frosting for red velvet cake, so give this a try on your next red velvet cake too!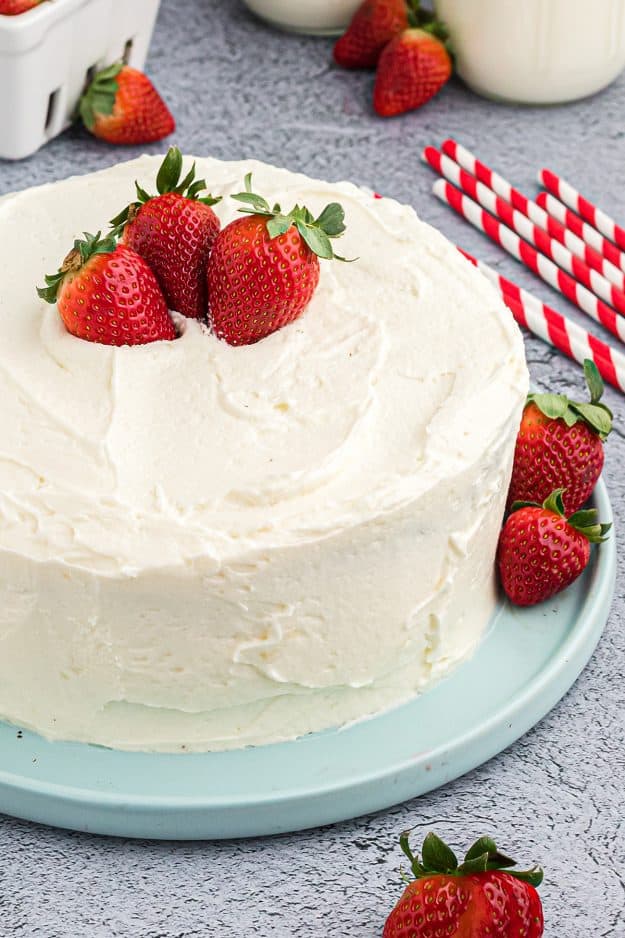 How to Make:
Ingredients: Unlike most American buttercreams that rely mostly on butter and powdered sugar, we're going to cook this frosting with a bit of milk and flour to thicken it. This will help it to be much lighter and less sweet. You'll need milk, flour, butter, granulated sugar, and vanilla extract.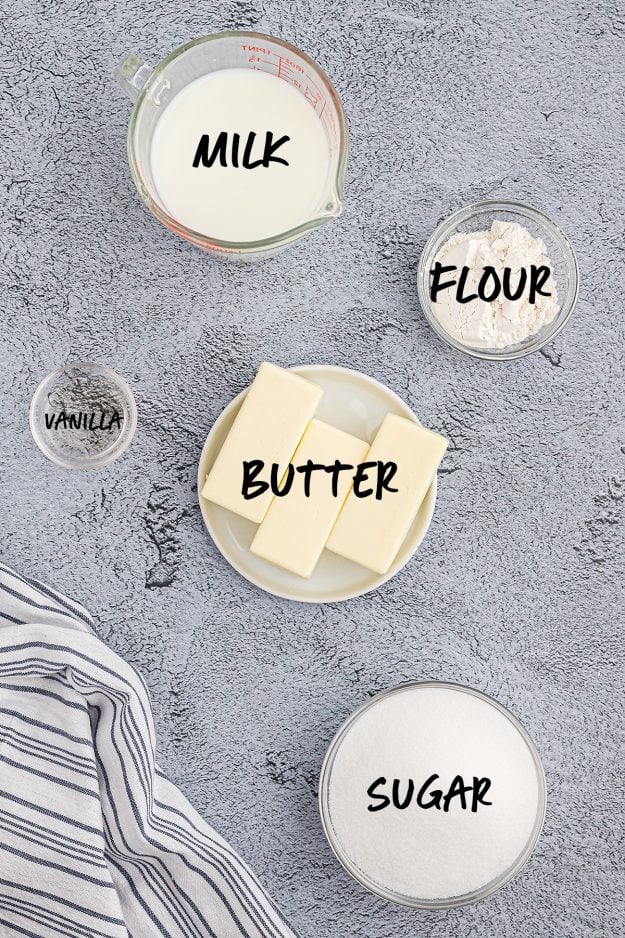 Mix: To start making this whipped frosting add flour and milk to a pot over medium heat and whisk together as it heats and thickens. The mixture will begin to thicken up like a pudding or gravy.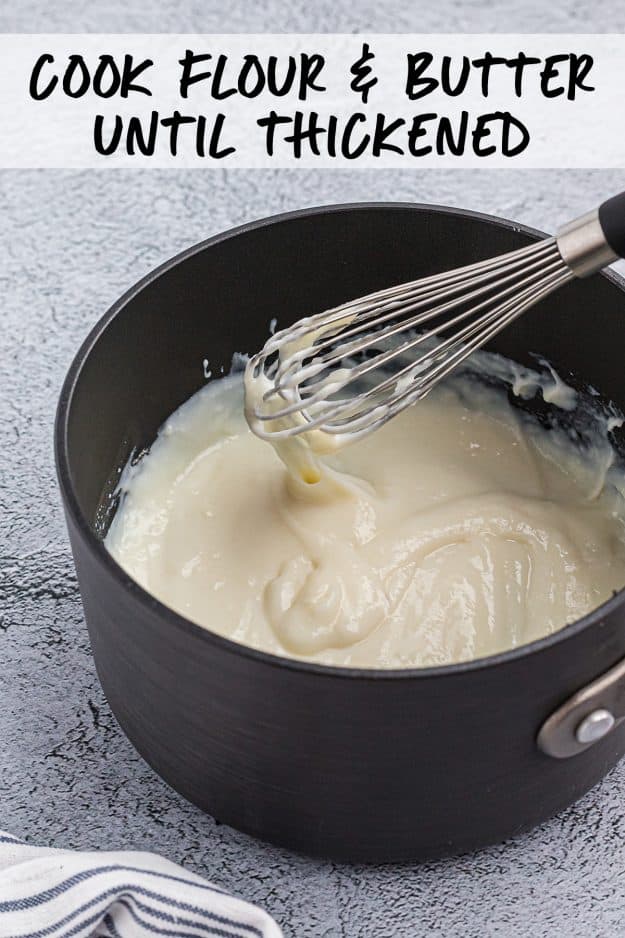 Cool: This is a very important step! Once you've mixed the ingredients in the first step you'll want to allow the mixture to cool completely. Pour the mixture into a bowl to cool down.
Moving on to the next step before the mixture has cooled down will cause issues in your frosting coming together.
Beat: While the flour mixture is cooling, beat together the butter and sugar with an electric mixer until light and fluffy. Beat in the vanilla.
Make sure to beat the sugar into the butter well to avoid a gritty frosting.
Use clear vanilla if you prefer a white frosting.
Combine: Add the cooled flour mixture to the creamed butter and mix well until the frosting is light, fluffy, and well combined.
Add in food coloring, if desired.
Allow the whipped frosting to cool in the refrigerator for 30 minutes if you like a stiffer frosting.
Add a pinch of salt if using unsalted butter.
Frost: Pile the cooled frosting onto your cake and start spreading. For a thicker, stiffer frosting, refrigerate before using.
This recipe will generously frost a 2 layer cake or 2 dozen cupcakes.
Storage:
This whipped frosting recipe does need to be refrigerated. It won't do well left out above 70 degrees for long, so be sure to store your cake in an air-tight container in the fridge.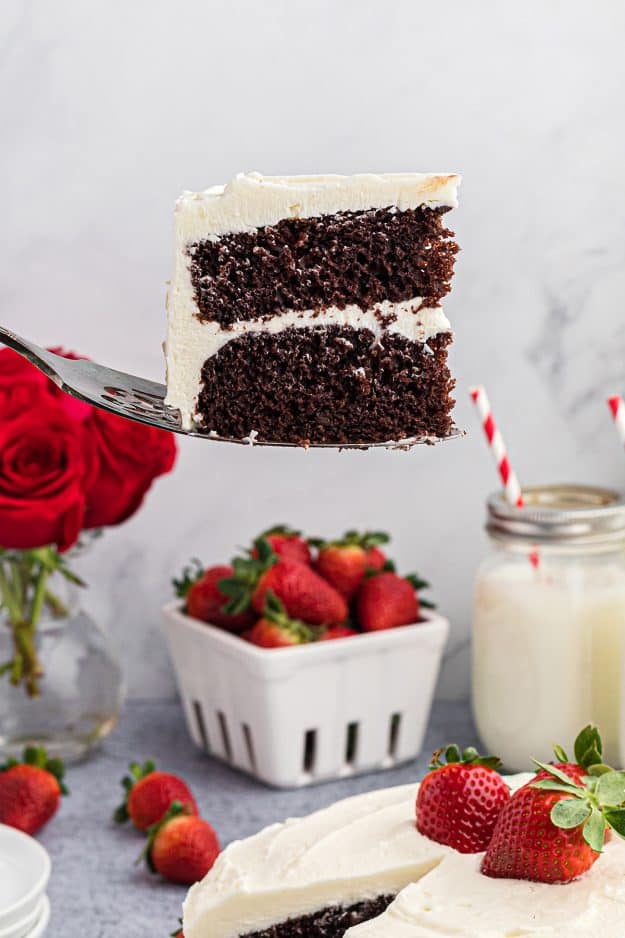 More Cake Recipes: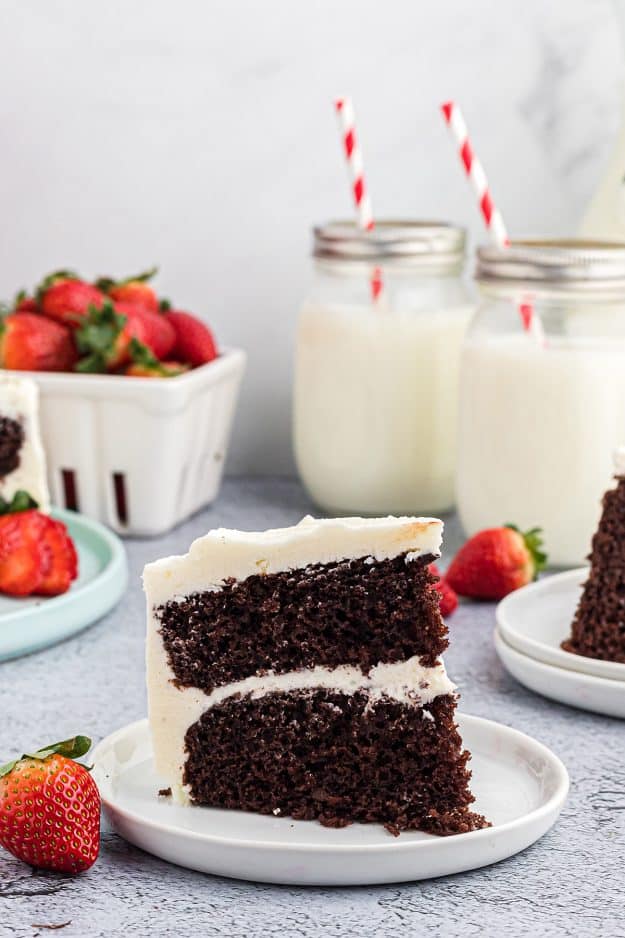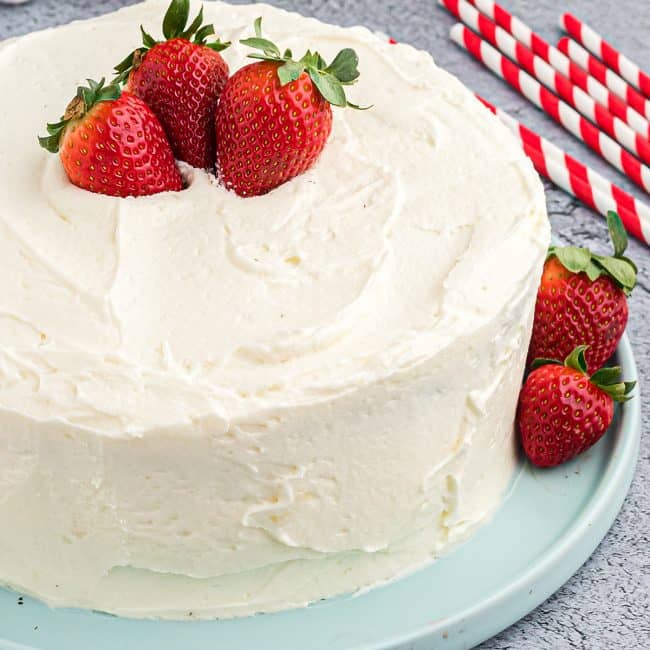 Whipped Frosting
This Whipped Frosting tastes just like the lightly sweetened version you'll find in most grocery store bakeries. This recipe makes around 4 cups of frosting – plenty for a two layer cake!
Prep15 minutes
Cook20 minutes
Total35 minutes
Ingredients
1 1/2 cups milk
1/4 cup all-purpose flour
1 1/2 cups granulated sugar
1 1/2 cups butter softened
2 teaspoons vanilla extract
Instructions
Add the milk and flour to a medium sauce pan over medium heat and whisk well. Keep whisking over medium to high heat, until the mixture begins to thicken to the consistency of a gravy or pudding. Remove the saucepan from heat and allow the mixture to cool.

While the flour and milk mixture is cooking, beat together the butter and sugar in a large bowl with an electric mixer. Beat well, at least 5 minutes. Make sure sugar and butter is well combined or your frosting will be a bit grainy. Beat in the vanilla until combined.

Add the cooled flour mixture to the bowl and beat together until light and fluffy.

Use frosting immediately or, if you prefer a stiffer frosting, refrigerate for 30 minutes before use.
Tips & Notes:
For bright white frosting, use clear vanilla. If you'll be coloring the frosting, regular vanilla is fine. To color the frosting, add food coloring in when combining the flour mixture and butter mixture. We use salted butter in this recipe as it's what we always have on hand. If using unsalted butter, add 1/4 teaspoon of salt to the recipe.
Nutrition Information:
Calories: 335kcal (17%)| Carbohydrates: 30g (10%)| Protein: 1g (2%)| Fat: 23g (35%)| Saturated Fat: 14g (88%)| Cholesterol: 63mg (21%)| Sodium: 262mg (11%)| Potassium: 46mg (1%)| Sugar: 26g (29%)| Vitamin A: 750IU (15%)| Calcium: 41mg (4%)| Iron: 0.1mg (1%)
This recipe was originally published in September 2011. The recipe has been changed based on reader feedback and is simpler to make and less finicky. Original photo below: