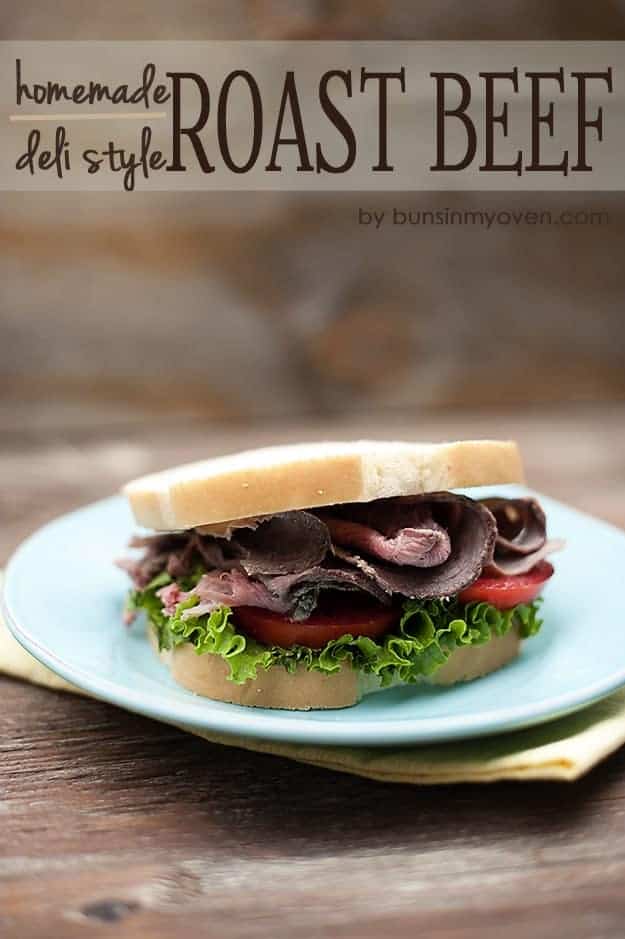 You guys have totally probably not realized this yet, but I'm sort of weird.
I know, it's shocking. I seem so normal here on the blog. (Just indulge me, okay?)
The truth is, I'm a freak. Especially about food.
If I think too hard about certain foods, I can not eat them. Eggs, for example, are pretty disgusting if you think about what they actually are. There was an episode of Dexter a couple of years ago where his girlfriend/kill partner for the week explained in horrific scientific detail what an egg actually was to Dexter's step-daughter. I'm sorry, but when the scariest part of a serial killer television show is the science lesson on eggs? Not okay.
Also, chorizo. It tastes so good! Do you know what it's made of? Do you? It's nightmare inducing, you guys.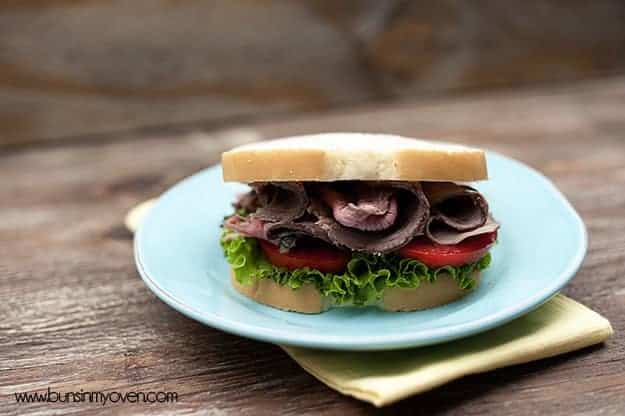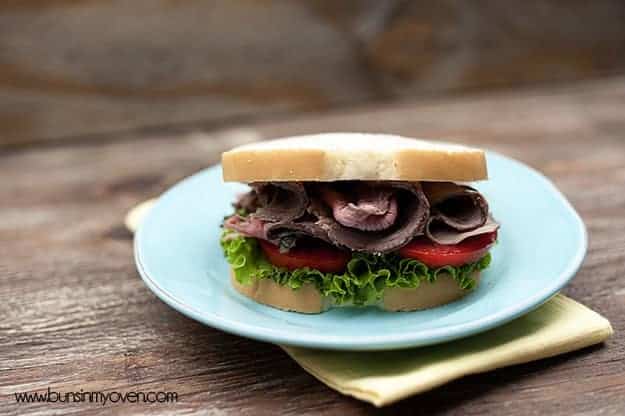 How about deli meat? It creeps me out so bad. It's meat chunks that have been chopped up and then reformed and glued back together into a normal-ish meat shape. Why not just leave it meat shaped and slice it thin? WHY, I ask you!
I can actually answer that question, if you'd like. They do that so they can use cheaper meat cuts, add all kinds of weird additives, and preserve the heck out of the meat with nitrates and nitrites. I'm not a nitrate/nitrite fan. Nitrates and ntirites? Taste like cancer. Okay, so maybe the don't taste like it, but they should, considering that consuming nitrites/nitrates leads to an increased risk of cancer.
So, I started making my own deli meat. I'm all Susie Homemaker up in here. You can be, too!
Buy a roast or a turkey breast, season it, roast it, slice it thin. It's deli meat, not deli "meat."
So easy and tastier than the processed crap you get at the deli counter!
Big Kitchen was kind enough to send me a food slicer and things are even easier now. I can whip out a pound or two of roast beef in no time at all! You can make this recipe and just slice it with a very sharp knife as thinly as possible, but I do love my food slicer! It certainly makes things simpler and quicker.
Did I mention that I also like the price of actual, real meat better than the processed kind in the deli section? I paid about $3 a pound for this roast beef, compared to the $7-8 per pound of the deli roast beef.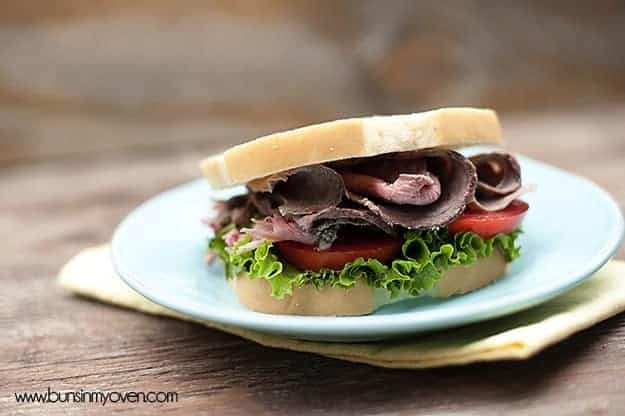 Homemade Deli Style Roast Beef
I started making my own deli meat for a bit of quality control. The taste is amazing.
Prep20 minutes
Cook1 hour 20 minutes
Rest30 minutes
Total1 hour 40 minutes
Ingredients
3 pound arm roast
2 tablespoons kosher salt
1 tablespoon garlic powder
2 teaspoons black pepper
1 teaspoon onion powder
Instructions
Preheat the oven to 475 degrees and line a baking sheet with foil.

Mix together the salt, garlic powder, pepper, and onion powder in a small bowl. Coat the meat in the spice mixture and place the meat on the prepared baking sheet.

Roast at 475 degrees for 20 minutes.

Reduce heat to 275 and continue cooking until meat reaches the

desired temperature

(about 40 more minutes for medium rare, 60 minutes for medium, 80 minutes for well done).

Remove meat from the oven and tent with foil and allow to rest for 30 minutes.

Slice as thin as possible using a sharp knife or meat slicer.

Store in a sealed bag in the fridge for up to one week or in the freezer for 6 months and thaw in the fridge as needed.
Nutrition Information:
Calories: 320kcal (16%)| Carbohydrates: 1g| Protein: 46g (92%)| Fat: 13g (20%)| Saturated Fat: 4g (25%)| Cholesterol: 132mg (44%)| Sodium: 1806mg (79%)| Potassium: 396mg (11%)| Calcium: 12mg (1%)| Iron: 4.2mg (23%)