These pot roast pinwheels are the perfect little snack or appetizer! We love to dunk ours in gravy. Big thanks to Bob Evans Foods for sponsoring this post. And thank you for supporting the brands that help support this blog!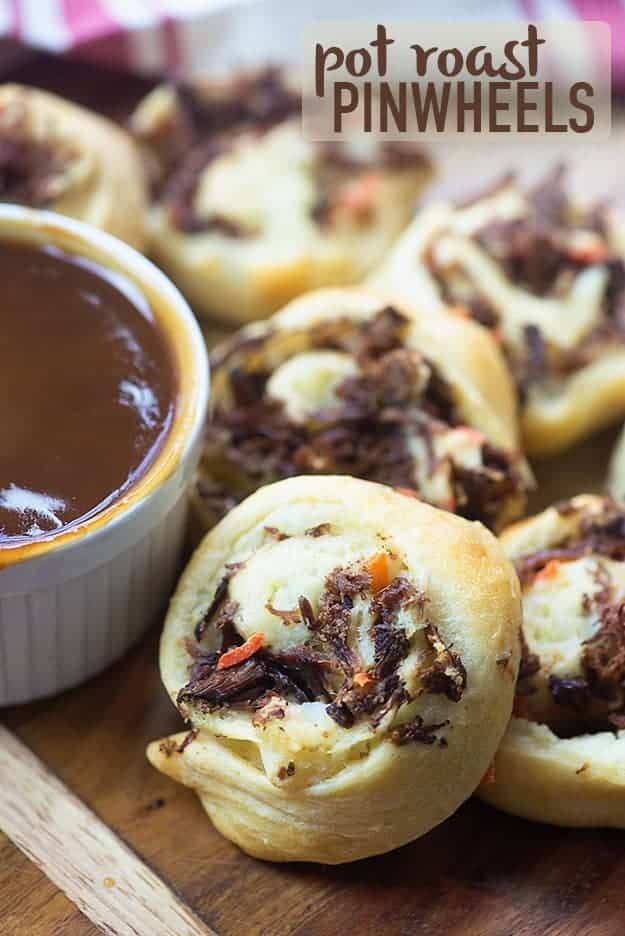 A few weeks ago, my husband was heading home from work early and I was excited to get to cook a family dinner that we could all enjoy together.
I've mentioned before that he's out of town for work quite often, so when he's home we are quick to enjoy family time. Family dinner is one of my favorite ways to bring us all back together again.
So, I served pot roast.
I mean, you guys. Pot roast just seems like the most comforting dinner in all the land. Tender beef, mashed potatoes, flavorful carrots, and a big helping of gravy to drown it all in. How can you go wrong with that meal?
I've served it many times to my family and we all love it. OR SO I THOUGHT.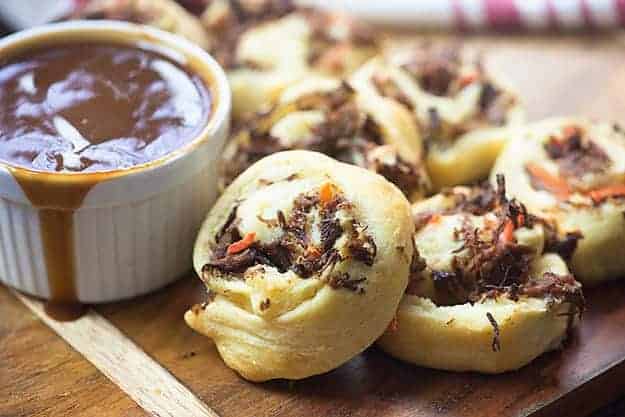 My husband, dear man that he is, was doing his thing that he does when he dislikes something I've cooked for dinner. He eats the food he doesn't like in the same bite as the food he does like. So, it was a small portion of pot roast scooped up with a big portion of mashed potatoes.

This isn't really strange – the two go together really well, of course. But I just happened to notice, for the first time in our 19 years together, that this wasn't a "mm, pot roast and mashed potatoes" face, it was a "mm, mashed potatoes – guess I'll suffer through the pot roast face."
All these years. All those pot roasts. He just quietly ate them and didn't say a single word about his dislike for pot roast until I questioned him that night.
First of all, who doesn't like pot roast?
Second of all, what a sweetheart for never telling me that my favorite comfort food family dinner was something he didn't like.
Anyway, when I find out someone in my family doesn't like a food it becomes my mission in life to prepare it in a way that they do like. (Maybe that's why he didn't tell me? Hahaha.)
Enter these pot roast pinwheels.
Y'all, they're like a pot roast dinner rolled up in crescent roll dough and they are seriously phenomenal. I'm happy to say that my husband LOVED these. Success!
I started these pinwheels with a package of Bob Evans Garlic Mashed Potatoes. I've been working with Bob Evans for a bit now to bring you some creative new ways to use their smooth and creamy mashed potatoes and I have to say, you're going to love them in this recipe!
We always keep a few packs on hand in the fridge for an easy side dish on a busy night. To be honest, these mashed potatoes are about ten times more delicious than any homemade ones I've made and they take like 5 minutes to microwave. If you haven't tried them yet, you really should! I used their mashed potatoes in these mashed potato puffs too. And I added their mac and cheese to these bacon wrapped jalapeno poppers!
Anyway, you'll just take some pot roast (leftover or prepackaged is perfect for this) along with some mashed potatoes, shredded carrots, and crescent dough. Wrap it all up tight in a sheet of crescent dough and slice into pinwheels. These are seriously amazing dunked in gravy, so definitely don't skip that. <— As if anyone would willingly skip gravy.
You could serve these as a snack or appetizer. Serve with a side salad and this would make a fun lunch too!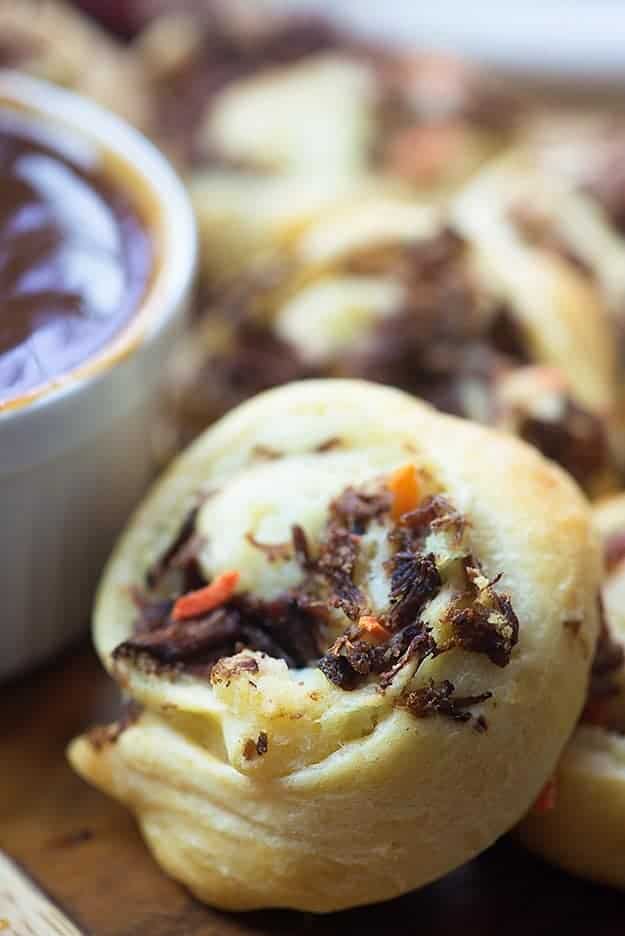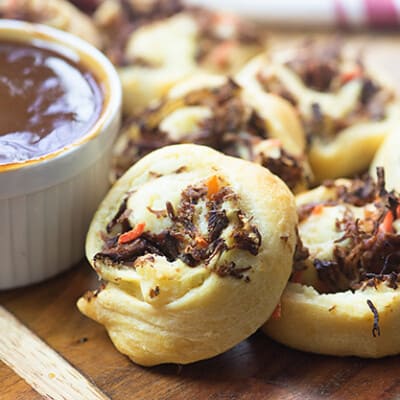 Pot Roast Pinwheels
These pot roast pinwheels are the perfect little snack or appetizer! We love to dunk ours in gravy.
Prep10 minutes
Cook35 minutes
Total45 minutes
Ingredients
2 cups fully cooked pre-packaged beef pot roast
1/2 cup julienned carrots
2 packages crescent roll dough sheet
1 package Bob Evans Garlic Mashed Potatoes
2 tablespoons chopped chives
1 cup prepared beef gravy
Instructions
Preheat oven to 350 degrees. Spray a large rimmed cookie sheet with non-stick spray.

Heat the pot roast according to package directions. Shred the meat with a fork. Let cool for 5 minutes.

Place the carrots in a microwave safe dish, cover, and microwave for 1:30 minutes to soften.

Unroll the crescent roll dough sheets and lay flat on your work surface.

Open the mashed potatoes and stir well. Do not microwave.

Divide the package of Bob Evans Garlic Mashed Potatoes between the two sheets of cresent dough.

Arrange 1 cup of the shredded beef pot roast evenly over the mashed potatoes.

Sprinkle the carrots and chives over the pot roast.

Roll the crescent dough up tightly and use a serrated knife to cut into 24 pinwheels about ½ inch thick each.

Arrange pinwheels at least one inch apart on the prepared baking sheet and bake for 35 - 40 minutes or until golden brown on the inside and the dough in the center of the roll is cooked through.

Warm gravy according to package directions and serve with the pinwheels for dipping.
Nutrition Information:
Calories: 256kcal (13%)| Carbohydrates: 19g (6%)| Protein: 23g (46%)| Fat: 9g (14%)| Saturated Fat: 3g (19%)| Cholesterol: 63mg (21%)| Sodium: 281mg (12%)| Potassium: 486mg (14%)| Fiber: 1g (4%)| Sugar: 2g (2%)| Vitamin A: 455IU (9%)| Vitamin C: 11.8mg (14%)| Calcium: 19mg (2%)| Iron: 2.4mg (13%)