These mashed potato puffs make such a fun appetizer, snack, or side! We love to dip them in my easy ranch dip. Big thanks to Bob Evans Foods for sponsoring this post. And thank you for supporting the brands that help support this blog!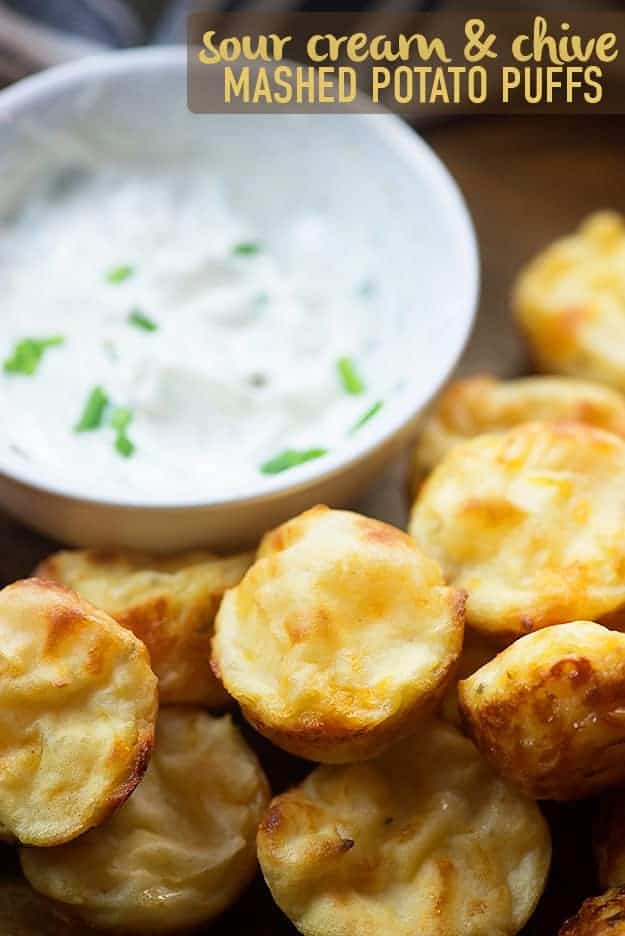 I have a thing for mashed potatoes. <— I say that like it's breaking news or something.
I mean, who DOESN'T have a thing for mashed potatoes? Nobody, basically.
The thing is, I'm not a real big fan of making them at home. I just don't do it very often. They're not exactly hard to make, but they're not exactly fun to make either. I either get them too lumpy or I over mash and they come out kind of…glue-like. Not the best.
When Bob Evans Foods reached out and asked me if they could send some of their refrigerated macaroni and cheese and mashed potatoes to me to try, I was like, heck yeah. Do it. I mean, I'd tried the mac and cheese and it was already a staple in our house, but I'd never gotten around to trying the mashed potatoes.

My friends. Have you tried these yet? They are everything you could want in a mashed potato. Like, creamy, perfectly seasoned, and EASY. You just pop them in the microwave. The first time I made these, I dumped them into a serving bowl and tried to trick my husband. He totally knew they weren't my mashed potatoes because they were so much better than the ones I make myself. Haha!
Anyway, we're kind of obsessed with these refrigerated mashed potatoes! I'm happy to be working with Bob Evans to bring you new ways to use their products.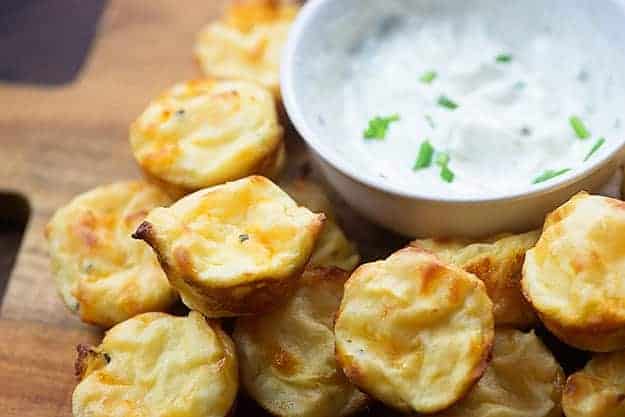 Take these mashed potato puffs, for example. OMG, you guys. These things are addictive! Once you pop one, you can't stop!!
And, by the way, these are beyond easy to make. You'll take Bob Evans Sour Cream and Chive Mashed Potatoes, a little bit of flour, an egg, and some cheese. Stir it up, pop it in a muffin tin, and voila. Perfect snack food! Or side dish. Or appetizer. Or meal, because like I said. You will want to eat them all!
I whipped up the easiest little dip to serve with these. Just a little sour cream, ranch powder, and milk. Total perfection.
Hope you give these a try for your next get-together and report back. I'd love to hear what you think!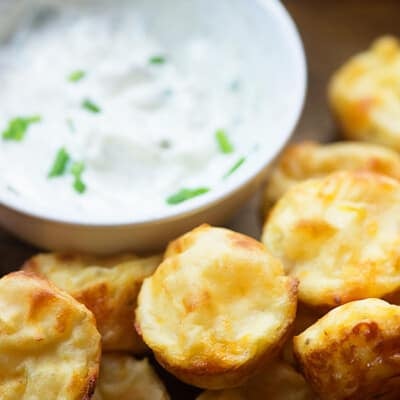 Sour Cream and Chive Mashed Potato Puffs
These mashed potato puffs make such a fun appetizer, snack, or side! We love to dip them in my easy ranch dip.

Prep5 minutes
Cook25 minutes
Total30 minutes
Ingredients
1 package Bob Evans Sour Cream and Chive Mashed Potatoes
1/4 cup all-purpose flour
1 large egg
1 cup cheddar cheese
1/4 cup sour cream
1 tablespoon milk
1 tablespoon dried ranch seasoning
1 teaspoon chopped chives
Instructions
Preheat oven to 400 degrees. Liberally spray a non-stick mini muffin tin with non-stick spray.

Remove the mashed potatoes from the cardboard sleeve and tear back one corner of the plastic. Microwave for 2 minutes.

Add the mashed potatoes, flour, egg, and cheddar cheese to a medium mixing bowl and stir well to combine.

Scoop 1 ½ tablespoons of the potato mixture into each muffin well.

Bake for 25 minutes.

While the potatoes are baking, whisk together the sour cream, milk, ranch, and chives. Set aside for serving.

Let cool 15 minutes before running using a small spoon to loosen the edges and scoop the puffs from the muffin tin.

Serve with the ranch dip.
Nutrition Information:
Calories: 83kcal (4%)| Carbohydrates: 13g (4%)| Protein: 2g (4%)| Fat: 2g (3%)| Saturated Fat: 1g (6%)| Cholesterol: 14mg (5%)| Sodium: 96mg (4%)| Potassium: 166mg (5%)| Vitamin A: 75IU (2%)| Vitamin C: 11.5mg (14%)| Calcium: 42mg (4%)| Iron: 0.3mg (2%)