This LEFTOVER TURKEY SOUP with beans and Cajun seasoning is an easy Crockpot recipe and it's a great way to use up those Thanksgiving leftovers! Serve with leftover dinner rolls or some cornbread!
Turkey leftover season is upon us and I am pretty darn excited about it.
This year I ordered a fresh turkey from a local farm and we're having them smoke it for us. I'm just a leeeeeetle bit excited.
I got a big one so there will be plenty of leftovers because I can not live my life without at least a week's worth of Thanksgiving leftovers. It's mandatory. I want to eat leftovers until I don't want to think about another turkey for an entire year. It works out well. 😉
This leftover turkey soup recipe is made in the slow cooker and it's one of my favorite things to do with leftover turkey – right alongside this leftover turkey casserole, turkey tetrazzini, and a turkey sandwich on a leftover dinner roll with a pile of sausage dressing and homemade cranberry sauce.
Ingredient Notes:
This post contains affiliate links. As an Amazon associate and member of other qualifying programs, I earn from qualifying purchases.
Beans – We love bean soups with a large variety of beans! That's why I used Hurst's Cajun 15 Bean Soup for this recipe. There are other brands that sell mixed dried beans and those will work as well.
Leftover Turkey – Now here's the easy part! This recipe is perfect for using up leftover Thanksgiving turkey. Just chop or shred it up and it'll go in the slow cooker with all the other good stuff. This also works great with leftover chicken or ham!
Cajun Seasoning – We used the bean mix that has Cajun seasoning with the beans, but you can also use our favorite brand of Cajun or Creole seasoning.
Veggies – Celery, onions, carrots, and garlic are a must.
What Readers are Saying!
"What a great way to use leftover turkey! Love it!" – Tania S.
How to Make Leftover Turkey Soup:
Prepare: To start, you'll need a bag of dried beans. We used the 15 bean soup mix, but any mixture of beans should work fine, just so long as you've got 20 ounces of dried beans.
Rinse and sort through the beans and then add them to your slow cooker along with some diced carrots, celery, and onions. All good soups start with these things, right?
Helpful Tip!
Make your own mix of beans using your favorites! Some good options include: pinto, kidney, garbanzo, lentils, lima, and black beans.
Slow Cook: Pour in the chicken broth and water, cover your slow cooker, and cook on high for 5 hours.
When the bean soup has slow cooked for 5 hours give the beans a stir and then add in the leftover turkey and your Cajun seasoning.
Helpful Tip!
If you like a thinner soup you can add in some extra chicken broth until it reaches the consistency that you prefer!
Finish: When you've added the leftover turkey and the Cajun seasoning, go ahead and give it a good stir, cover it again and let it cook on high for another hour or until the beans are as tender as you like.
Stir well, taste for seasoning, and adjust as needed.
That's it! You can serve immediately or leave your slow cooker on "Warm" until it's dinner time.
FAQs:
Can I use a different brand of beans?
Sure! But it probably won't have the seasoning with it, so you'll need to find some Cajun seasoning. A tablespoon (or more to taste) would work.
Do I have to use turkey?
Nope! This is a great recipe for using up leftovers from Thanksgiving, but if you've got leftover chicken or ham those will also work just as well in this Cajun bean soup!
Can I store this recipe for later?
This soup reheats beautifully! Store in the fridge for up to 3-4 days, depending on how fresh the leftover turkey was. Reheat in the microwave or on the stove.
More Crockpot Recipes: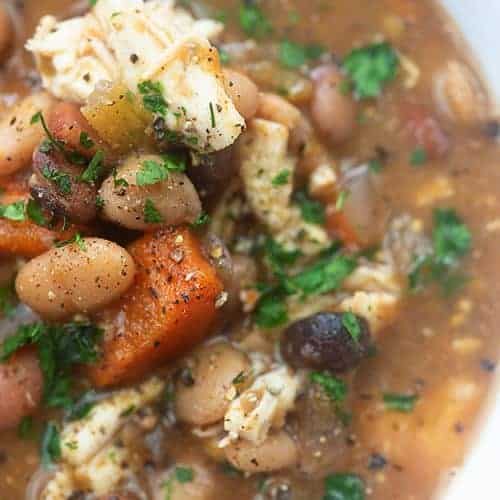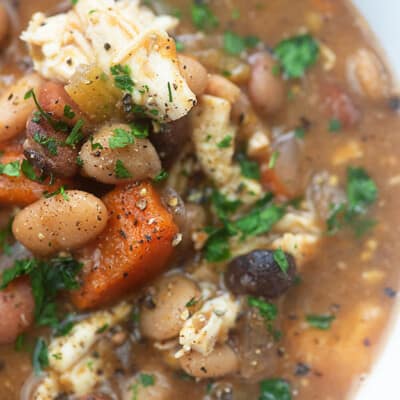 Leftover Turkey Soup
This turkey soup is extra hearty thanks to the variety of beans and it's spiced up a bit with Cajun flavor.
Prep10 minutes
Cook6 hours
Total6 hours 10 minutes
Ingredients
20 ounces dried 15 bean soup mix see notes
3 medium carrots peeled and diced
3 stalks celery diced
3 cloves garlic minced
1 medium sweet onion diced
6 cups chicken broth
2 cups water
2 cups leftover turkey chopped or shredded
1 tablespoon Cajun seasoning more to taste
salt and pepper to taste
Instructions
Rinse the beans and sort through to remove any debris.

Add the beans, carrots, celery, onion, garlic, chicken broth, and water to a 6 quart slow cooker and stir. Cover and cook on high for 5 hours.

Add the turkey and Cajun seasoning packet to the beans and stir well to combine. Taste and add salt and pepper, if desired.

Cover and cook on high for 1 more hour.

Serve immediately or reduce slow cooker heat to 'warm' until ready to serve.
Tips & Notes:
We use Hurst's 15 Bean Cajun Soup, which comes with a mix of at least 15 dried beans and has a Cajun seasoning packet inside. If you can't find this brand, you can use any mix of dried beans, including pinto, garbanzo, kidney, lima, and black beans. If you do use the Cajun soup mix that has the seasoning packet, use that instead of the Cajun seasoning called for in the recipe. Otherwise, add in the Cajun seasoning of your choice (we like Tony Chachere's) to suit your tastes. We start with one tablespoon and increase as needed. There's no need to soak the beans prior to cooking.
Nutrition Information:
Calories: 347kcal (17%)| Carbohydrates: 51g (17%)| Protein: 26g (52%)| Fat: 3g (5%)| Cholesterol: 38mg (13%)| Sodium: 724mg (31%)| Potassium: 1377mg (39%)| Fiber: 12g (50%)| Sugar: 4g (4%)| Vitamin A: 3900IU (78%)| Vitamin C: 21mg (25%)| Calcium: 121mg (12%)| Iron: 4.5mg (25%)