Our EASY TURKEY TETRAZZINI is a creamy casserole loaded with leftover turkey, fresh mushrooms, and cheese. You'll look forward to leftover turkey when you know you have this casserole waiting on you!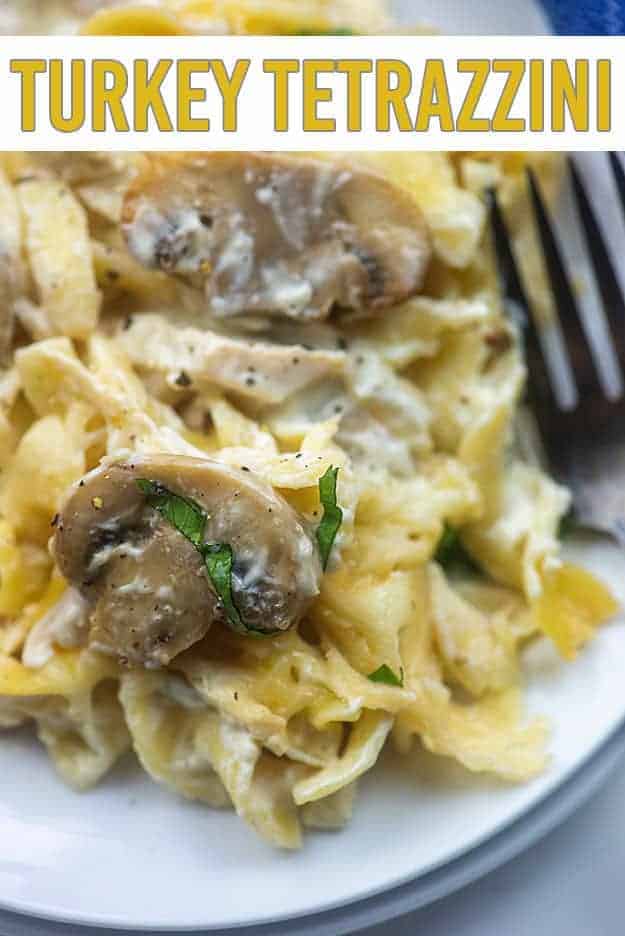 Thanksgiving is upon us and that means one thing: ALL THE LEFTOVER TURKEY. It's here and it needs to be used up before it goes bad.
It used to stress me out every Black Friday…I have all this turkey and I feel such pressure to use it. Can you relate?
I've now gotten a few favorite recipes that we make every year to use up that leftover turkey.
One of them is obviously our hot turkey sandwich. Roasted turkey sandwiched between bread and drowned in gravy? It's the best!
We also make leftover turkey soup and leftover turkey casserole every year along with this turkey tetrazzini recipe.
These days I buy the biggest bird I can find so that we have loads of leftovers, because now I have so many recipes to use the turkey in!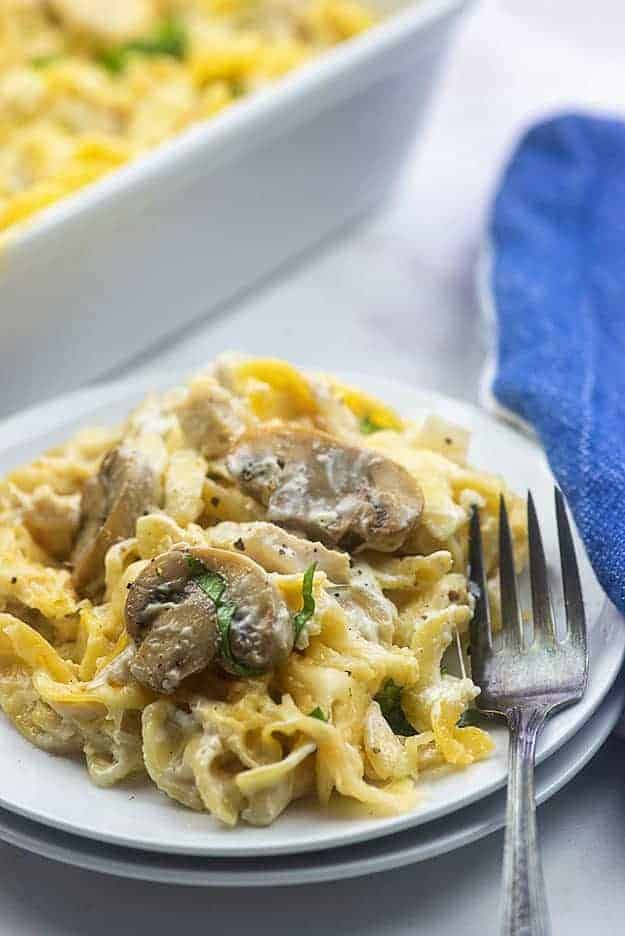 This easy turkey tetrazzini is absolutely packed with creamy, cheesy goodness, fresh mushrooms, and of course…turkey. We love it and I bet you will too!
Did I mention that it's ready to go in about 40 minutes? I love when comfort food comes together fast!
Ingredient Notes:
Turkey – This recipe is perfect for using up leftover Thanksgiving turkey! Just shred it up and you're good to go.
Egg Noodles – You can use either the dried or frozen kind of egg noodles, or even other types of pasta like penne if you don't have any egg noodles.
Veggies – You'll chop up some onion and mince some garlic to add a little extra flavor to this dish. Feel free to mix in some peas and carrots, if you want extra veggies!
Mushrooms – A must in turkey tetrazzini!
Cream – You'll add in a can of cream of celery soup along with some sour cream to really ramp up the creamy flavors in this recipe!
Cheese – Plenty of Mozzarella and Parmesan cheese will get mixed in to finish off the creamy, cheesy sauce.
Seasoning – A little salt, pepper, and onion powder is all you need to perfectly season this dish.
What We Love About This Recipe!
This turkey tetrazzini is an easy leftover recipe that is perfect for using up any remaining Thanksgiving turkey! It's also easily adapted for using up leftover chicken. It's creamy, cheesy comfort food!
How To Make Turkey Tetrazzini:
Sauté: To start, you'll want to sauté some fresh mushrooms, onions, and garlic in a bit of butter. Your house is going to smell divine! You can do this while the pasta boils. Cook the pasta for one minute less than the package instructions call for.
Combine: Add the cooked veggies to a large mixing bowl with the cooked egg noodles, leftover turkey, cream of celery soup, and sour cream. Season it up with salt, pepper, and onion powder.
Bake: Spread this creamy goodness into a baking dish and top it off with a mix of mozzarella and Parmesan.
This turkey tetrazzini casserole bakes in about 25 minutes. It'll come out hot, cheesy, bubbly, and delicious!
We sprinkle with fresh herbs before serving…parsley, basil, dill, whatever I have on hand really works great here.
Substitutions:
Turkey: Make this recipe all year long using cooked, chopped chicken in place of the turkey! Or make our air fryer turkey breast and use the leftovers here!
Cream of Celery: Use cream of mushroom or cream of chicken, if you prefer. You can even use my homemade substitute for cream of chicken soup, if you don't like the canned goop.
Dried Egg Noodles: Use the frozen variety, if you like the thicker cut! You can even swap in macaroni or penne.
Mushrooms: There are lots of people who have a strong dislike of mushrooms. If you're one of those, don't worry! You can enjoy this dish without them. Maybe add in some veggies like peas or carrots to replace the mushrooms.
FAQs:
What is tetrazzini?
Tetrazzini is a casserole style dish that is generally made from poultry or seafood with mushrooms in a creamy, cheesy sauce. It's pure comfort food, and perfect for using up leftover turkey or chicken!
Can I store turkey tetrazzini?
Yes, you can store this dish in the fridge for up to 3 days in the fridge.
Can I make this ahead of time?
You could prepare the dish ahead of time and bake the following day. Just follow the steps up until you assemble the casserole and then cover with some foil in the fridge until you're ready to bake!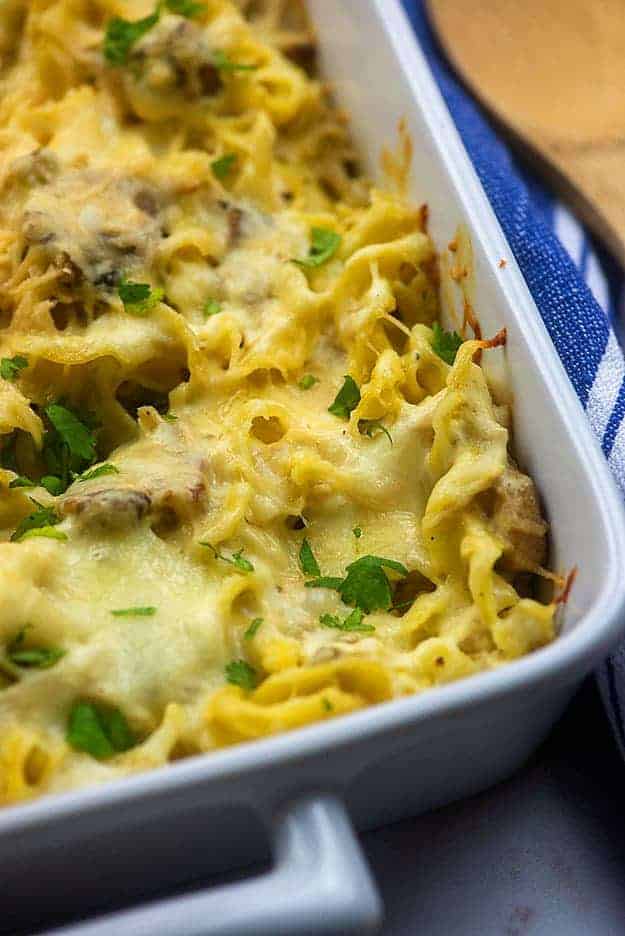 MORE FAMILY FAVORITE CASSEROLE RECIPES!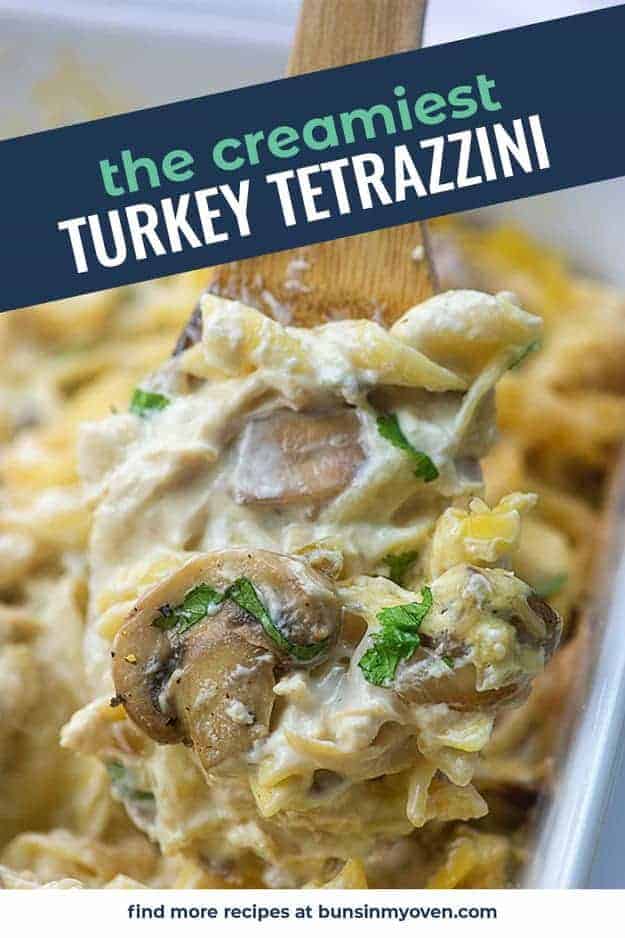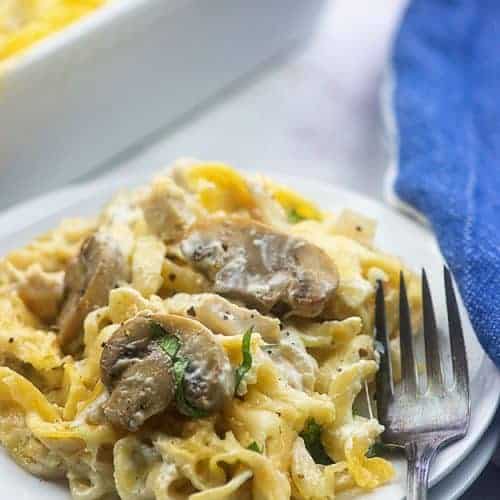 Turkey Tetrazzini
This creamy casserole is the perfect way to use up that leftover turkey!
Prep20 minutes
Cook25 minutes
Total45 minutes
Ingredients
8 ounces egg noodles
¼ cup butter
½ medium onion diced
½ cup sliced mushrooms
2 cloves garlic minced
2 cups shredded leftover turkey
10 ounces cream of celery soup
2 cups sour cream
1 teaspoon onion powder
1 teaspoon salt
1 teaspoon cracked pepper
½ cup mozzarella
1/2 cup shredded Parmesan cheese
Instructions
Preheat oven to 350 degrees. Spray a 9×13 baking dish with nonstick spray.

Boil the pasta 1 minute less than package directions state.

While the pasta is cooking, add the butter to a large skillet over medium heat to melt. Add the onions and mushrooms to the skillet and cook, stirring often, until softened, about 5 minutes. Add the garlic and cook 1 minute more.

Add the vegetables to a large mixing bowl along with the cooked and drained egg noodles.

Stir in the turkey, soup, sour cream, onion powder, salt, and pepper. Stir well to combine.

Spread mixture into the prepared 9×13 baking dish and sprinkle the top with the mozzarella and Parmesan.

Bake for 25 minutes or until hot and bubbly.
Tips & Notes:
We use the dry, curly egg noodles in this recipe, but any egg noodles or other type of pasta you like will work in this dish.
Nutrition Information:
Serving: 1| Calories: 516kcal (26%)| Carbohydrates: 36g (12%)| Protein: 21g (42%)| Fat: 33g (51%)| Saturated Fat: 18g (113%)| Cholesterol: 134mg (45%)| Sodium: 1000mg (43%)| Potassium: 406mg (12%)| Fiber: 2g (8%)| Sugar: 5g (6%)| Vitamin A: 1017IU (20%)| Vitamin C: 2mg (2%)| Calcium: 268mg (27%)| Iron: 2mg (11%)