Use your leftover mashed potatoes to make these POTATO PUFFS! Such a fun snack, appetizer, or side dish and made with just 4 ingredients! Serve with our easy ranch dip for a fun treat!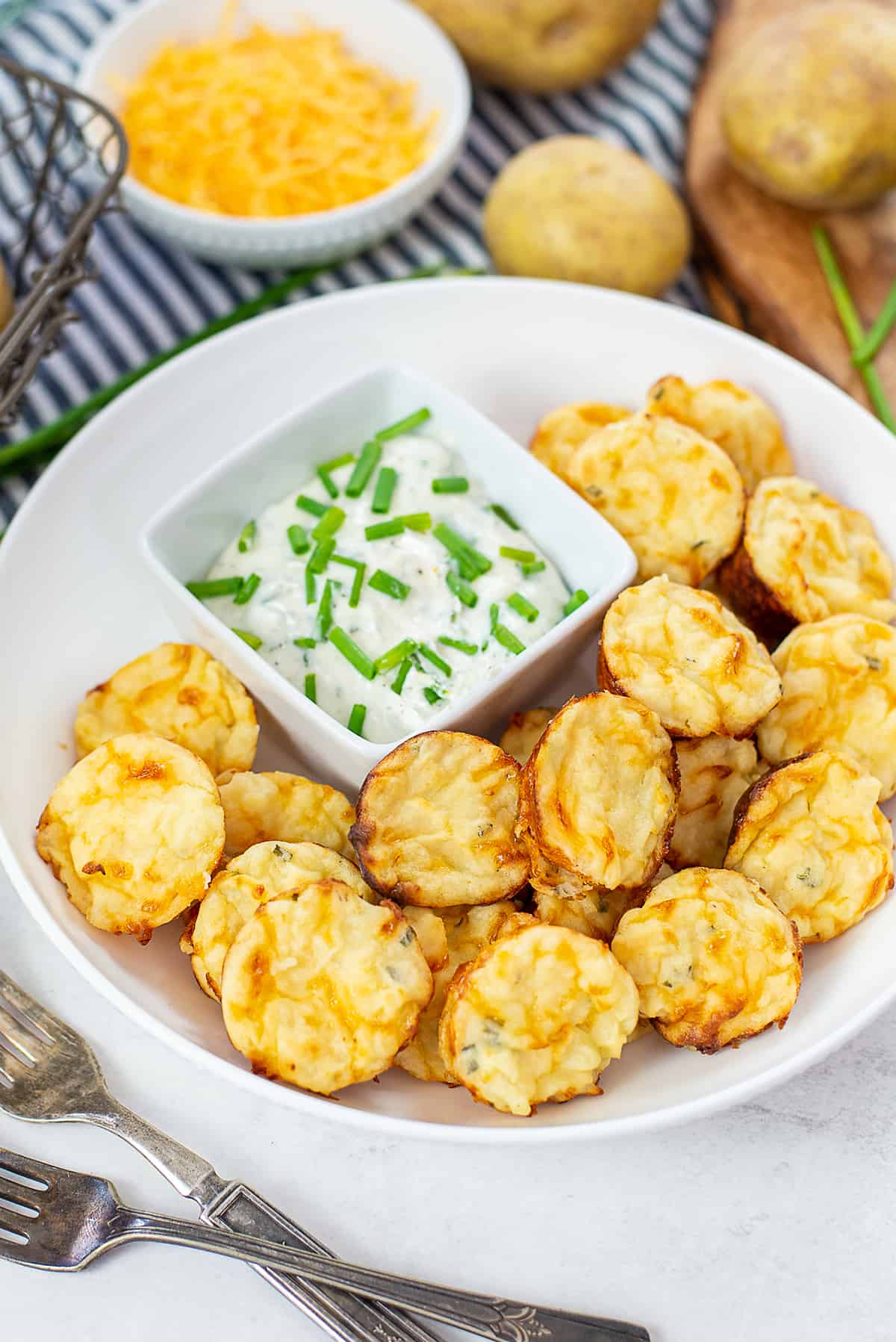 I have a thing for mashed potatoes. <— I say that like it's breaking news or something.
I mean, who DOESN'T have a thing for mashed potatoes? Nobody, basically.
I've been on a major kick lately, ever since learning how to make Instant Pot Mashed Potatoes, I've made them so often that I think my family is getting sick of them.
I needed something to do with all those leftovers! That's where these mashed potato puffs come in. OMG, you guys. These things are addictive! Once you pop one, you can't stop!!
This is the perfect recipe for using up leftovers, but it's also a fine excuse for making a fresh pot of mashed potatoes. 😉
Ingredient Notes:
This post contains affiliate links. As an Amazon associate and member of other qualifying programs, I earn from qualifying purchases.
Mashed Potatoes – You'll need some refrigerated mashed potatoes! If you are using leftovers plan to use about 2 1/2 cups worth. If you are using a package of pre-cooked refrigerated mashed potatoes from the store get the 24 oz. size!
Potato Puff Ingredients – To make these leftover potato puffs you'll need to mix in some flour, egg, and cheddar cheese with the mashed potatoes. See below for a few suggested variations.
Easy Ranch Dip Mix – I whipped up a simple ranch dip to serve with these potato puffs! Just a little sour cream, ranch powder, milk, and chives. Total perfection.
What Readers are Saying!
"Love these and have made them with my own mashed potatoes and with the Bob Evans as well. Great recipe…" – Martha
How to Make Mashed Potato Puffs:
Potato Puff Mix: Add your leftover, cold mashed potatoes to a large mixing bowl and heat them for a minute or so in the microwave, just so they are easy to stir and work with. They don't need to be hot.
Mix in the flour, egg, and cheddar cheese. Stir well.
VARIATIONS!
Make this your own recipe by switching up the ingredients!
Add some crumbled bacon or bacon bits.
Diced ham or crumbled breakfast sausage works too!
Swap the cheddar for something like swiss or Gruyere.
Fill: You'll need to prepare a mini muffin tin with some non-stick spray and then start adding the mashed potato puff mixture into each muffin well. Try and use exactly 1 1/2 tablespoons for each potato puff.
This mini muffin tin gets a workout in our kitchen. It's perfect for making these potato puffs, but we also use it to make homemade tots and baked quiche bites.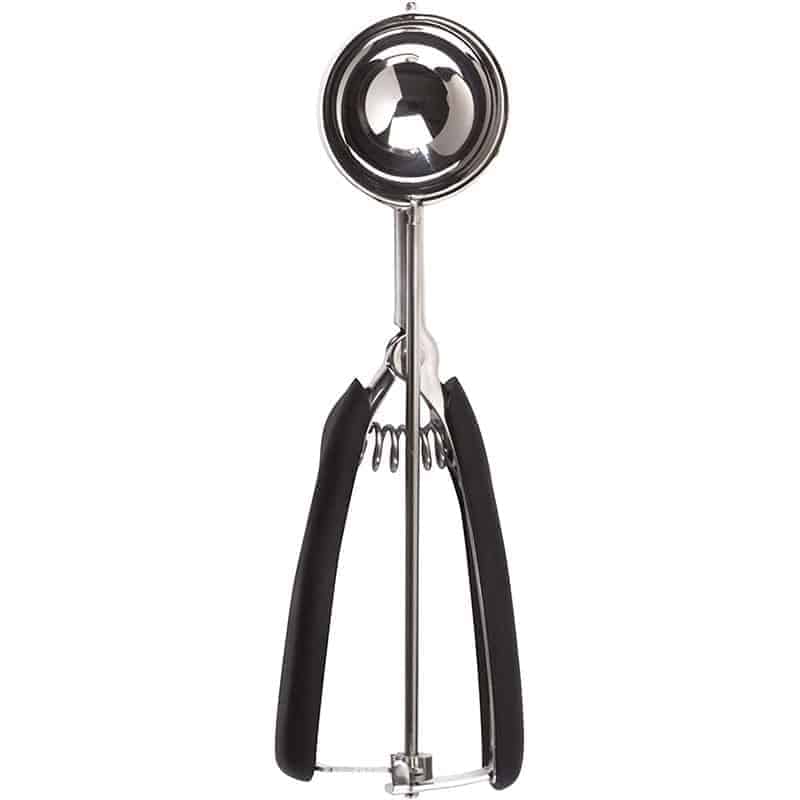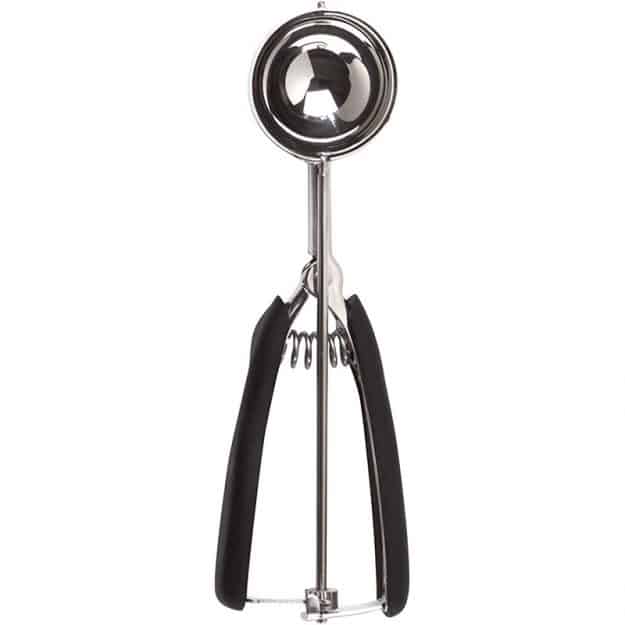 We use cookie scoops for everything from baking cookies to scooping meatballs to easily filling muffin tins. A medium cookie scoop is the perfect size for making mashed potato puffs.
Bake: Pop these in a hot oven for 25 minutes. The tops and edges will get a bit golden brown.
Ranch Dip: The potato puffs are great on their own but even better when you serve them with some of my easy ranch dip! This is a simple recipe: Just whisk together some sour cream, milk, ranch seasoning, and chives and you are ready to start enjoying these leftover mashed potato puffs!
FAQs:
What are potato puffs?
Pretty much what they sound like, little mini bites of potato and cheese that bake together into a poppable little snack or side.
Can I freeze potato puffs?
You can freeze the leftover potato puffs. Place them on a baking sheet and flash freeze for one hour before transferring them to a freezer safe bag for up to 3 months. Thaw and reheat in the oven before serving.
Can I refrigerate potato puffs?
Yep, these should keep for 2 to 3 days in the fridge depending on how fresh your mashed potatoes were when starting the recipe. You can quickly reheat in the oven or the microwave.
MORE EASY LEFTOVER RECIPES!
Mashed Potato Puffs
These mashed potato puffs make such a fun appetizer, snack, or side! We love to dip them in my easy ranch dip.

Prep5 minutes
Cook25 minutes
Total30 minutes
Ingredients
For the ranch dip
1/4 cup sour cream
1 tablespoon milk
1 tablespoon dried ranch seasoning
1 teaspoon chopped chives
Instructions
To make the potato puffs
Preheat oven to 400 degrees. Liberally spray a non-stick mini muffin tin with non-stick spray.

Add cold, leftover mashed potatoes to a mixing bowl and heat for 1-2 minutes, just to get them soft enough to work with. They don't need to be hot at this point.

Add the flour, egg, and cheddar cheese to the potatoes and stir well to combine.

Scoop 1 ½ tablespoons of the potato mixture into each muffin well. A medium cookie scoop works well for this.

Bake for 25 minutes.

Let cool 15 minutes before running using a small spoon to loosen the edges and scoop the puffs from the muffin tin.

Serve with the ranch dip.
To make the ranch dip
While the potatoes are baking, whisk together the sour cream, milk, ranch, and chives. Set aside for serving.
Tips & Notes:
We use leftover mashed potatoes from our Instant Pot Mashed Potatoes for this recipe. You can also purchase refrigerated mashed potatoes to use. You'll want a 24 ounce container. Season your mashed potatoes with chives or extra ranch seasoning, if you like.
Nutrition Information:
Serving: 2puffs| Calories: 56kcal (3%)| Carbohydrates: 7g (2%)| Protein: 2g (4%)| Fat: 2g (3%)| Saturated Fat: 1g (6%)| Polyunsaturated Fat: 1g| Monounsaturated Fat: 1g| Trans Fat: 1g| Cholesterol: 14mg (5%)| Sodium: 88mg (4%)| Potassium: 82mg (2%)| Fiber: 1g (4%)| Sugar: 1g (1%)| Vitamin A: 77IU (2%)| Vitamin C: 5mg (6%)| Calcium: 40mg (4%)| Iron: 1mg (6%)
This recipe was updated with new photos in December 2021. Original photo below.